Our guide is geared towards first-time travelers to Tokyo, but we believe that it can help you no matter how many times you've been here. Because whether it's you're a first-timer or not, there's always a "first-time experience" for everyone each time you come here.
We hope to give you a glimpse into what to expect during your visit to this fantastic city and help you to better prepare for your stay. But, be warned, once you come to visit her streets, you'll find yourself returning to her again and again.
Aside from this guide, here are a few resources to help you plan your ultimate trip to Japan:
Edo
Once a tiny fishing village situated on the banks of the Sumida River, Edo became the seat of Imperial power and was renamed 'Tokyo' in the 1800s. Since then, the area has seen major disasters, both natural and manmade, in both the Great Kanto Earthquake and World War II bombings, but has risen from both to become an economic powerhouse and trendsetter for the rest of the world.
What is Tokyo Today
Most people think of Tokyo as the capital city of Japan, but that's not strictly true. Tokyo City merged with Tokyo Prefecture in 1943 and became officially known as Tokyo Metropolis which now makes up the 47 prefectures in Japan. We mention this to clear up any confusion when talking about places like Shinjuku, Shibuya, etc. Those places simply make up the greater whole, which is Tokyo.
Tokyo is now one of the top 10 most visited cities in the world, and it's not hard to see why. It may sound cliché, but there is indeed something for everyone here. The city mixes the ultra-modern with traditional; where temples, shrines, and castles sit amongst towering skyscrapers and neon lights.
Even if you prefer small towns over large cities, you should still give Tokyo a chance; it just feels different than any city we've ever visited. And, despite it being a sprawling mega-city, it has an intimacy not felt in other cities. Everyone here sort of lives within their own little bubble, which seems to give you the illusion of privacy even while pressed into the overcrowded JR Yamanote Line at rush hour.
So we hope to give you a glimpse into what to expect during your visit to this fantastic city and help you to better prepare for your stay. But, be warned, once you come to visit her streets, you'll find yourself returning to her again and again.
How much to spend each day in Tokyo
Tokyo is as expensive or cheap as you choose to make it. But Japan is actually cheaper in many ways than most other 1st world nations. But it can also be incredibly expensive–if you're not careful.
Budget or not, prepare to spend between ¥15,000-¥25,000 per day in Tokyo. That should cover your accommodation, train or bus transportation, a restaurant, and occasional treats like desserts or street food. If you plan on shopping for clothes or souvenirs, then add at least another ¥10,000 to your budget for that day.
Food and drinks
To give you an idea of the huge price fluctuations in Tokyo, dining at a restaurant such as an izakaya (restaurant bar) can set you back ¥2,000-¥4,000 per person. Compare that to dining at family restaurant chains like Jonathan's, Saizeriya, or Cafe Gusto, where you can get a decent meal for around ¥400-¥1,500.
Convenience stores are even better since you can get a bento lunch from ¥300-¥600, and these bentos are actually better than the food at some restaurants. See our favorite restaurants in Tokyo.
→ Click here if you'd like to join some of the best food tours in Tokyo.
→ Click here for the best coffee shops in Tokyo.
Want to grab a beer?
If you're in an expensive area like Roppongi, then prepare to spend a ridiculous ¥900-1,200 per beer, or you could go to a cheaper area, such as Ebisu, and find it as low as ¥350. So, be sure to take all of this into account if you're budgeting for your trip. Perhaps add in a few bento lunches here and there to allow for some lavish dinners and drinks.
Sightsee & Sushi Culture Tip: Public consumption of alcohol is normal in Japan. And there's no arbitrary time where purchasing alcohol suddenly becomes illegal. Alcohol isn't stigmatized here like it is in western cultures. So don't be surprised to see people drinking beer in a park or seeing beer on the McDonald's menu. It's just part of the culture.
→ If you're interested, here are our recommended bar-hopping tours in Tokyo.
Accommodations
The thing to remember about accommodation prices in Japan (not just in Tokyo) is the closer it is to a train station, the more expensive it will be. So if you find a cheap one that's close to a station, then it's probably tiny and minimalistic.
Hotels and other types of accommodations in Japan typically range from ¥5,000-¥15,000 per night for budget accommodations and ¥15,000-¥50,000 per night for deluxe and traditional Japanese accommodations.
We recommend our favorite booking site for Japan hotel, Booking.com. We used to love Agoda.com, but we find that Booking always has better availability of hotels in Japan.
→ Click for our suggested areas to stay in Tokyo if you are traveling for the Olympics
Japanese tours and cultural activities
There is an abundance of travel booking websites across the internet; so it can be a bit overwhelming at times to find the best deals while traveling. And, as we discussed above, Tokyo can be pretty pricey. We tend to use (and trust) Voyagin and Veltra.
Voyagin and Veltra are online travel agencies specializing in Japanese tours and experiences and they have their own offices in Tokyo. They partner with local Japanese travel agencies that don't have English websites to buy from. So, as a result of that partnership, they offer discounted prices as part of the promotion. In our experience, we've found that sightseeing in Tokyo is cheaper than Kyoto. That's because, in Kyoto, nearly every attraction has an entrance fee.
→ Click to read our article on the average cost of travel in Japan (with the detailed expense breakdown).
When to visit Tokyo (pros and cons of each season)
The answer to this question ultimately comes down to you and what you're looking to do while visiting Tokyo. Personally, our favorite time of year has always been autumn, and that's especially true for Japan.
We suggest avoiding travel to Japan during most Japanese holidays because of overcrowded attractions, long lines at restaurants, and traffic. So we've included important holidays and significant national events to take note of for your travel dates.
Spring (March, April, May)
The average temperature in Japan during spring is between 5-21 °C (41-70 °F), with pretty chilly mornings and nights.
Pros:
Often considered the most beautiful time of the year, as Japan is surrounded by pink hues from the cherry blossoms.
Pleasant weather.
Cons:
Most touristy time, expect lots of crowds.
Expensive hotels.
The rainy season starts at the beginning of May.
Golden Week. All the major attractions will be absolutely packed!
Summer (June, July, August)
The average temperature in Japan during the summer is between 18-29 °C (64-84 °F).
Pros:
Off-season, hotels and other accommodations are cheaper.
Mt. Fuji climbing season.
Lots of greens.
Lots of opportunities for hiking around Tokyo.
Cons:
Humidity is awful. Even my wife (who's from the Philippines) is quick to find shelter in the nearest air-conditioned space.
Typhoon season.
Autumn (September, October, November)
Autumn in Tokyo has an average temperature of 9-26 °C (48-79 °F). Autumn is the second most popular time for tourism in Japan.
Pros:
Leaves are changing to golden hues.
Lots of local festivals.
A more pleasant season for hiking many mountains surrounding Tokyo.
Oh, and don't forget to visit Shinjuku and Roppongi for Halloween, it's wild!
Cons:
Is there a con here? Oh yea, lots of holidays! Prepare to be mixed with the Tokyo crowds.
In our opinion, you might want to leave Tokyo for Kyoto or other mountainous regions during this season. Being a metropolis, Tokyo isn't particularly stunning in the autumn.
Winter (December, January, February)
The average temperature in Japan during winter is between 2-11 °C (36-52 °F). For those of you interested in Tokyo nightlife, New Year is a night to remember. Note that the Japanese celebrate Christmas here by buying KFC chicken of all things (no, I'm not kidding), but it's not an official holiday.
Pros:
Great visibility of Mt. Fuji as skies are almost always clear.
Lots of skiing opportunities near Tokyo.
Less touristy and cheaper hotels.
Lots of beautiful nightly illuminations.
Cons:
Very dry season. Expect to wake up with a sore dry throat.
If visiting Disneyland and DisneySea, it can be very packed on New Year.
Earthquakes!
Japan is situated in a volcanic zone within the Pacific Ring of Fire, so expect many low-intensity earthquakes to occur during your stay. You get used to them after a while, but I remember my first experience with them left me a bit shaken (pun intended). To be better prepared in the event of a severe earthquake, you can refer to this guide designed for foreign residents: https://www.tokyo-icc.jp/guide_eng/kinkyu/05.html
Flying into Tokyo
You have two (2) airports options: Narita (NRT) for international flights and Haneda (HND) for most domestic and some international flights.
Narita International Airport (NRT) is Japan's major international hub, handling around 50% of international travelers, and is the most likely point of entry for you. However, Narita airport is a lot farther from the city, as it is actually in Chiba Prefecture, which is next to Tokyo Metropolis Prefecture.
So getting to Tokyo from Narita Airport can be a lot more complicated than you would think. That said, we recommend flying into Haneda if at all possible. From Haneda Airport, the travel to Tokyo is shorter and cheaper (30 minutes vs. 100 minutes).
How to transfer to central Tokyo from the airport
Here are some helpful resources to help you navigate from the airport to your hotel in Tokyo:
Understanding Tokyo's transportation system
1. Trains and subways
Signs are in both English and Japanese and some Chinese and Korean too. There are several railway companies that operate in Tokyo which extends to neighboring prefectures
JR East Lines.
Tokyo Metro and Toei subway systems.
Private railways (Odakyu and Yurikamome).
Tokyo Monorail.
Shinkansen or bullet train.
Trains are the primary mode of transportation in Tokyo for sightseeing — it is extensive, clean, safe, and on time.
JR East Lines. There are many JR East Lines within Tokyo metro, but you'll probably use the JR Yamanote line the most. This train makes one big loop around Tokyo and stops at every major station on a very consistent basis in both clockwise and counterclockwise directions. This means you can never actually board the wrong train as each will eventually go to all of the same stations, but boarding the wrong direction could add a LOT of unneeded time to your trip.
TIP: We recommend staying at a hotel along the JR Yamanote Line if you have the JR Pass, to get the most bang for your pass.
Tokyo Metro and Toei Subway. JR Pass cannot be used in these lines. So if you're navigating these subway systems, we recommend getting a prepaid PASMO or Suica IC Card. That way, you don't have to get tickets from the machine every time you ride the train.

A lot of blogs and websites say that navigating the Tokyo subway systems is complicated, but that's not true. All you have to do is download the Tokyo Subway Navigation app (Google Play | Apple Store) and it will give you an easy-to-understand route to take you to your desired destination.
This was the exact app I used when I cherry blossom hopped in Tokyo last spring. It saved me a great deal of time as it gave me very precise directions and is more accurate than Google Maps (which is only good for JR Lines and Private railways). Tokyo Metro and Toei subways now offer free Wi-Fi for tourists in preparation for the Tokyo Olympics 2020.
→ Click to view all important apps to download for your trip to Japan
Private railways. Odakyu Line starts in Shinjuku Station and is the gateway to the Kanagawa Prefecture; where you'll find Hakone, Kamakura, and Enoshima. Yurikamome Line, on the other hand, is the gateway to Odaiba (a man-made island) and is the only train that crosses the Rainbow Bridge.
Tokyo Monorail. The Tokyo Monorail provides the simplest and most direct access to Haneda Airport which begins at Hamamatsucho Station.
Shinkansen or Bullet Train. Tokyo Station is Tokyo's main hub for bullet trains or Shinkansen as the Japanese call it. Shinkansen trains travel up and down the northern region of Honshu and into the southwest region of Kyushu.
2. Bus
As a tourist in Tokyo, the chances of you getting on a bus in Tokyo is pretty slim, as the train is always more convenient for getting around. From my experience, I've only ridden a bus in Tokyo once because the train line that I was supposed to take was down. You may experience this at some point, but the chances are pretty slim. Buses accept cash, PASMO, or SUICA cards for payment.
3. Taxis and Uber
For those of you accustomed to Uber, GrabTaxi, or some other app-related transportation, don't expect to use this in Tokyo. Uber does exist here but is actually far more expensive than just taking a taxi. I don't really recommend using taxis to get around either. That's because the typical starting price is between ¥400-¥700 and ¥80-¥90 per 300 meters traveled. For my American readers out there, 300 meters is just under 1000 feet or 0.18 miles. And all this is before you have to deal with the language barrier.
Accessibility Guide
For great resources about Tokyo's accessibility:
TIP: Escalator Courtesy — Stand on the left, walk on the right. This also applies to moving sidewalks. If you're visiting Kyoto, this rule is reversed, so stand on the right.
Passes and tickets to get around in Tokyo
1. IC Cards
My first suggestion for those of you without JR Passes is to purchase either a PASMO or SUICA IC card from almost any ticket vendor at the train station. The primary purpose of IC Cards is to avoid having to get tickets from a ticket machine every time you ride a train–so you can just swipe and go. These cards can be charged (using cash) at ticket machines in the train stations. They can be used to pay for buses and taxis too, and even used to pay for most vending machines and convenience stores if you feel like carrying less cash.
PASMO vs SUICA: Although sold by different companies, they operate the same way and can be used at all trains and buses in Tokyo. The only difference is that, with SUICA, you can charge your card via an app on your phone.
2. Day passes
As the name suggests, it's unlimited use for the day you purchase them for. An example of these day passes would be the Tokyo Metro 24-hour ticket (¥600) and the Tokyo Metro & Toei Subway 1-day ticket (¥900). Odakyu also has day passes, called Freepass, and there are many of them here. The JR Yamanote line also has day pass called Tokyo 1-Day Ticket, and it covers the JR East lines, Tokyo Metro and Toei Subway lines for ¥1,590.
Calculate the train costs of your itinerary that day and compare the costs against the price of the unlimited ticket to see if it's worth it (the Tokyo Subway Navigation app shows the cost of routes). I've purchased both Tokyo Metro 24-hour ticket and the Tokyo Metro & Toei Subway 1-day ticket in the past and I can say that they're worth it but my itinerary was packed (and tiring).
Japan hacks to know for smarter travel
1. Consider using TA-Q-BIN.
Traveling with large luggage can be a hassle on Japan's public transportation systems, let alone when confronted with stairs or a 15-minute wait for the only elevator. Enter TA-Q-BIN!
Boy oh boy were we late to the party on this one. It's embarrassing to admit, but we must have suffered lugging around huge rolling suitcases for about 9-years, while traveling to and from Japan, before we learned why every Japanese traveler was lined up in front of the Yamato Transport counters (famous for their black cat logo) upon arriving at the airport. Turns out, they were picking-up or dropping-off their luggage!
What is TA-Q-BIN? TA-Q-BIN is a next-day delivery service which allows you to forward your luggage to your hotel, or to the airport; though same-day delivery is sometimes available. This leaves you hands-free and hassle-free to travel to between them. Yamato Transport is the genius company behind this service.
So if you want to experience the convenience of luggage-free travel in Japan, just find a TA-Q-BIN counter inside the airport. Or if you're already check-in in your hotel, talk to your hotel's reception, they'll give you more information. You'll know it by their "black cat" logo. Just make sure you have everything you need in your day pack before dropping it off at the TA-Q-BIN counter. The price depends on the size of the luggage but ranges between ¥1,555-¥2,678 per bag. The cost of convenience.
2. Consider these luggage storage options.
If you can't or don't want to use the TA-Q-BIN service, but still want to sightsee during your first and last days in Tokyo without lugging around large bags or suitcases, then there are luggage storage options available for you.
For those of you staying in a hotel, this is simple as most will hold your luggage until you can check-in. However, if you're staying at an Airbnb or hostel, chances are you won't be able to leave your luggage there.
Coin Lockers. Coin lockers are everywhere but can always be found at train stations. They come in Small (¥300), Medium (¥400), and Large size (¥500-¥800), though the per-day prices may vary. Unfortunately, large-wheeled suitcases won't fit inside these lockers, and this is why we always recommend traveling light.
Leave your luggage at the Voyagin Office in Shibuya. A rate of ¥1,000 per day per item and there's no size restriction. Their prices may change, and if it's during the off-season, it can drop to ¥500 per day. So make sure to check the price here.
3. Get some yens before leaving the airport.
Despite being a very high-tech nation, Japan still relies heavily on cash for transactions. And this is doubly true in the old quarters of Tokyo and rural areas of Japan. Your best bet is to withdraw money from the ATMs in the the airport.
4. A word about buying JR Pass.
If you're only traveling to Tokyo, you don't need it to buy the JR Pass. Japan is addicting. Visit once, and you'll find yourself coming back for more. This is why, in my opinion, getting a JR Pass isn't really a great option, particularly if you plan on returning. JR Pass is useful for visiting multiple destinations across Japan. But it forces you to "squeeze" everything is within the days your pass is valid.
How many days to stay in Tokyo
We like to suggest at least 7 days as it gives you enough time to see much of Tokyo and its surrounding areas. If you have the JR Pass, try and fit as much as you can into 3 days to cover Tokyo's important highlights.
Accommodations options in Tokyo
1. Major Hotels.
Known hotel groups such as Hyatt, Marriott, and The Ritz-Carlton fit into this section, and, of course, you know the price for hotels such as these. If you can afford it, these will almost always be your best bet.
For families, you might find the Japanese hotel rooms a bit cramped, so staying at one of these western hotels might be a better option. That said, be sure to book far enough ahead of time to get discounted rooms.
2. Business hotel.
Toyoko Inn, Hotel MyStays, and APA Hotel are all examples of business hotels. For budget travelers willing to sacrifice some in-room amenities, you have a few options.
Toyoko Inn is a favorite business hotel that's generally inexpensive and simple, while the APA hotel chain is an affordable option popular with many tourists in Tokyo, but keep in mind that most of their locations are a bit inconvenient.
3. Capsule hotel.
These are often not designed with foreigners in mind so you may not fit into them, or, you could be very cramped. Capsule hotels cater to overworked (or overdrunk) salarymen who miss the last train. This is why foreigners are not generally welcome at most capsule hotels, especially when it's located right near the bars and nightclubs. An exception to this is the 9H ninehours capsule hotel in Narita airport, built for international travelers, so their capsules are actually quite spacious.
4. Spa hotel.
Oh, how we love spa hotels. These are our favorite type of accommodation by far, especially when you're traveling with a toddler! They provide the ultimate form of relaxation after a long day of sightseeing, and you always leave feeling spoiled. If you were to ask what us for our favorite spa hotel, it's gotta be Dormy Inn. We don't care about the area or train line, we only care about finding a Dormy Inn, wherever it is located.
Why do we prefer staying at Dormy Inn?
Outstanding amenities and hotel staff. Dormy Inn has an in-hotel onsen (hot spring bath) with sauna. This is a must for us since we travel with a toddler and it helps us a ton to relax after a long day of exploration. The front desk staff is always very helpful.
Free ramen at night. My favorite part.
One free beer for each adult. Also my favorite part.
Great complimentary breakfast. It's actually pretty hard to find a good breakfast in Japan, so we always opt for breakfast with our rooms.
Most comfortable pillows and beds we've ever slept on (in hotels). Believe it or not, this is the only hotel we've managed to get a full night's sleep in; that includes our daughter.
Super blackout curtains. Dormy Inn was the only hotel in Japan we've stayed at has effective blackout curtains. I genuinely have a difficult time knowing if it's morning or not whenever we stay at Dormy Inn.
DISCLOSURE: We're not sponsored by Dormy Inn, we honestly just like it this much and want to see it succeed. Dormy Inn has 12 locations in Tokyo. If you're considering at stay here (and still curious) check out all the raving reviews here.
5. Love hotel.
Typically charged by the hour, these hotels aren't designed for overnight stays. Most of the hotels are themed and offer a variety of… amenities for their customers. These hotels are actually quite respectable in Japanese society and provide an escape for many Japanese couples still living with their families; which is still quite common here. They are best for couples traveling in a group who want some time alone, or for people just looking for a little fun.
6. Ryokan.
Ryokan is a traditional Japanese inn with Japanese style interiors such as tatami flooring and shoji (sliding doors with rice paper). You also get a traditional Japanese meals called kaiseki served with perfection. Staying at a ryokan best for those who want to experience authentic Japanese style experience.
A true Ryokan however is rare in Tokyo because this type of accommodation is usually offered in rural onsen (hot spring) towns in Japan. Hakone is the nearest onsen town from Tokyo to experience ryokan. If you happen to spot one in Tokyo, expect to be ridiculously expensive.
7. Minshuku.
Japan's version of a bed & breakfast where you share the house with your host, so privacy might be an issue. Best for travelers who wants to connect with a Japanese host.
8. Hostels.
Exactly as you would expect, bunk beds and privacy issues. Best for solo travelers.
9. Airbnb apartments.
Airbnb accommodations in Tokyo are usually in what they call a "mansion" building (small apartments). Airbnb prices in Tokyo vary greatly according to its location. We've tended to stay away from Airbnbs since having our kids, because they're always located out of the way and trying to keep our daughter from breaking everything in the room is a hassle.
If you are not registered on Airbnb yet, you should sign-up using my link to get US$53 credit.
NOTE:
Airbnb Japan has a strict rule
. Hosts are required, by law, to check you in. Yes, like a hotel check-in. Like a hotel, they need to record your name, nationality, address, and occupation (for some reason), and a copy of your passport. If you live in Japan, just show an ID that was issued in Japan. We would only recommend Airbnb if you're a large family or traveling in a large group, then Airbnb can be a great way to save.
Best areas to stay in Tokyo
Honestly, this all depends on your itinerary and budget. As a general rule, the further away from the major cities you stay, the cheaper it will be. That said, the further you stay away from your daily activities, the more expensive it will be to travel to them. So you really need to find the right balance.
Guide to choosing your accommodation in Tokyo:
Is it near a train station?
Is it near a convenience store or a drugstore?
If you're carrying a large luggage or babies in strollers, does the hotel and train station near it have elevators?
If you have kids:
Roppongi and Akasaka areas. These areas have family-friendly shopping complexes such as Roppongi Hills and Tokyo Midtown. Your kids will also enjoy Robot Park, the Mori Art Museum, and numerous family-friendly cafes and restaurants.
Tokyo Station and the Marunouchi areas. Your kids will enjoy running around the East Gardens of the Imperial Palace, Marunouchi Brick Square, and KITTE shopping malls. The downside is that, hotel prices are limited to upscale market such as Courtyard by Marriott, Four Seasons Hotel, and Shangri-La Hotel. There's also a direct train from Tokyo Station to Tokyo Disneyland (Maihama Station).
→ Click to see our recommended family & baby-friendly hotels in Tokyo
If you're on a budget:
Asakusa and Ueno areas. Hotel prices are a bit more reasonable here than in other areas. As a result, most backpackers and budget travelers stay around here.
If you're seeking vibrant nightlife:
Shinjuku and Kabukicho areas. We hate that most travel blogs always suggest staying in Shinjuku area. But that is if you're into nightlife and drinking, as Shinjuku is a hub of bars, clubs, and entertainment.
Ikebukuro area. Less touristy and much cheaper than the more popular hotspots.
If you're a shopper or fashionista:
Shibuya area. Most hotels here are actually located a ways away from the train station. The added walk won't be much of a bother though, because Shibuya is always a feast for the eyes.
Ginza, Shimbashi, and Shiodome areas. Luxury and high-end fashion stores are all centered around here.
If you're interested in modern architecture:
Odaiba. Odaiba alone has a ton of incredible engineering achievements to admire. The downside is the location is not ideal for sightseeing throughout western Tokyo, Odaiba is located on the far east side of Tokyo, making travel to and from your hotel a hassle.
I hope these area suggestions help you find your base in Tokyo. Here's our recommended booking sites for hotels in Japan:
Our top 15 neighborhoods & attractions to visit in Tokyo
Our best tip is to keep yourself to one area each day to reduce any wasted travel time. Our attraction list is based on this principle. By doing this you'll avoid wasting precious time by bouncing around the many different districts of Tokyo.
1. Ueno.
Ueno is home of Ueno Park which is undoubtedly one of the largest public parks we've ever been to, and it definitely has the most to do within it. The park is a day trip by itself if you visit all the museums and shrine within it. In fact, you can find many museums within the park such as Tosho-gu Shrine, The National Museum of Western Art, Tokyo National Museum, Shitamachi Museum, Tokyo Metropolitan Art Museum Central Building, The Gallery of Horyuji Treasures, and Tokyo National Museum of Nature and Science. So you'll not be short of activities here.
Japan's oldest and best-known zoo (due to its Giant Panda), Ueno Zoo, is also here.  It also gets absolutely packed during Cherry Blossom season. It also gets absolutely packed during Cherry Blossom season.
Ameyoko is also in Ueno which used to be a black market for consumable goods, such as alcohol and cigarettes. Nowadays, its atmosphere still feels like it because of the bargain foreign brands like Nike, Chanel, and Korean cosmetics. But the Ameyoko of old is a thing of the past, and all the items sold here are (mostly) legit, contrary to what most tourists believe. You can find practically anything here, from fresh produce to shoes, to US Navy jackets; making Ameyoko a great escape from everyday department stores!
Visit: Nearest station – Ueno Station.
2. Asakusa.
One of the most iconic places in Japan, Sensoji Temple is what most foreigners think of when they picture Japanese temples, and it's in Asakusa. The gigantic Kaminarimon Gate is the first thing you'll see before entering the Sensoji temple grounds, as locals and tourists alike flock to get a selfie.
Continuing on, you'll be greeted by a long shopping street called Nakamise-Dori selling souvenirs, kimonos, and tasty snacks, all the way to the second gate of the ground, Hozo-mon Gate. You'll find a large incense burner is in the middle surrounded by devotees puffing the smoke all over themselves, as it's believed to give good health. And last but not least, the main hall of the Sensoji Temple and the five-story pagoda; a sight not to be missed!
Visit: Nearest station – Asakusa Station
3. Akihabara (Akiba).
Also called Akihabara Electric Town, Akihabara or Akiba for short, is the otaku capital of Japan. It features all the things your geeky heart could ask for. Anime, manga, video games, electronics, maid cafes, the Gundam Cafe, adult goods, and so much more. Akiba is a must-see for all Tokyo Travelers. Don't forget to see Jimbocho, a famous used-bookstore district that is walking distance from Akihabara.
Visit: Nearest Station – Akihabara Station
4. Tokyo Station, Otemachi, and Marunouchi area.
The area of Otemachi and Marunouchi is where the Imperial Palace and East Gardens of the Imperial Palace lies. Mainly financial bank and business buildings, it's also a family-friendly area because malls around here are all family-friendly.
Please note that the Imperial Palace is only open to the public every January 2 and February 23. The East Gardens of the Imperial Palace is open year-round but is closed on Mondays and Friday and New Year holidays.
Visit: Nearest Stations – Otemachi Station, Marunouchi Station, and Tokyo Station.
5. Ginza and Tsukiji.
Ginza SIX, a large luxury shopping building complex, is filled with upscale department stores, boutiques, art galleries, and restaurants. While definitely a pricey place to shop, the streets of Ginza still make for a great experience to add to your trip. The famous Kabuki-za theater is also a walking distance, admire its nice baroque facade from the outside.
Only a few minutes walk from Kabuki-za theater, you'll find yourself in the former popular Tsukiji Fish Market. Although the famous wholesale fish auction site (the inner market) has moved to the Toyosu Market (Odaiba), the outer Tsukiji Market is still booming and still has plenty to see and eat. While historically catering to professional chefs and restaurants, the market has shifted towards ordinary customers and amateur chefs.
Visit: Nearest Stations – Ginza Station and Tsukijishijo Station
6. Shimbashi.
Located directly next to one another, Shimbashi is in the heart of the Tokyo business district and is essentially salaryman central. Expect to see lots of tall buildings, small parks, and, thanks to the high density of salarymen, cheap food and drinks. Be sure to stop by and get a photo with the old steam engine train in Steam Locomotive (SL) Plaza!
Visit: Nearest Station – Shimbashi Station
7. Roppongi.
Roppongi is Tokyo's expats' playground at night. However, during the daytime, families with kids will enjoy the Roppongi Hills shopping complex itself. Enter the Mori Art Museum Sky Deck or visit the nearby outdoor playground called Robot Park or Sakurazaka Park.
Visit: Nearest Station – Roppongi Station
8. Odaiba
Oh, we love Odaiba — Hugely popular shopping and dining district, Odaiba is actually a man-made island, which is quite impressive when you see how much is crammed into this small space. So many things to do here so you'll need the whole day to experience all the fun here! If you ever have trouble finding it just look for the life-sized Gundam or miniature Statue of Liberty. Now, how many places can you say that about?
Palette Town is also in Odaiba. Not to be confused with the hometown of Ash Ketchum, Palette Town is a massive shopping complex and a great place for families looking for kid-friendly shopping areas. The main shopping area is Venus Fort with an interior made to resemble classical marble architecture –kind of like Caesars Palace in Vegas– filled with restaurants, shops, and even a casino.
Japan's largest Ferris wheel is also here, along with the Toyota Mega Web, which showcases all of Toyota's cars; both new and old. The psychedelic MORI Building Digital Art Museum which features teamLab borderless is also here. The tuna fish auction has moved here, which is in to Toyosu Fish Market.
Visit Nearest Stations:
Daiba Station for life-sized Gundam.
Aomi Station for teamLab borderless.
Shijomae Station for Toyosu Fish Market.
NOTE: The teamLab borderless in MORI Building Digital Art Museum is a must-see! Due to its mega popularity, tickets are often sold out within the day. Book your tickets in advance f want to experience the fantastical surreal digital world exhibition.
→ Click here to get your teamLab borderless tickets in advance
TOUR ALERT: The Toyosu Fish Market tuna auction is available to the public as of January 2019. However, it's best experienced if you'll hire a private tour guide to tell you more about the fish market and food distribution in Japan. The tour guide will also accompany you to a place of your choice in Odaiba, such as the best sushi restaurant or go back to Tokyo mainland and learn more about Tokyo geography and history.
→ Click here to book a private Toyosu Fish Market tour
9. Shinjuku and Kabukicho.
Shinjuku is part entertainment red-light district (east side) and part government and office area (west side), which is why we like to describe Shinjuku as being the mullet of Tokyo (business in the front, party in the back). Shinjuku is where many foreigners and overworked salarymen spend much of their time
East Shinjuku is where you'll find Kabukicho; home of pubs, hostess bars, restaurants, karaoke, Toho IMAX, and a vast number of pachinko parlors. This is also where you'll find the infamous Robot Restaurant and Golden Gai. On the west side, you'll see the iconic Mode Gakuen Cocoon Tower, which is a 50-story educational facility. While you're on the west side of Shinjuku, don't forget to enter the Tokyo Metropolitan Government Building, as the South Observatory Deck has recently reopened and provides excellent panoramic views of Tokyo, and, if you're lucky, Mt. Fuji–best of all it's free to enter.
Visit: Nearest Station – Shinjuku Station
10. Ebisu.
Originally nothing more than a community built for the Japan Beer Brewing Company, the area underwent major urban development in the late '80s and became the major tourist and commercial hub that it is today. The must-see attraction here though is the Yebisu Garden Place, where you can learn about the history of the area and visit the beer museum.
Visit: Nearest Station – Ebisu Station
11. Shibuya.
The most popular meeting point for locals, Shibuya is the trendy place often setting trends which take off across Japan. Speaking of meeting points, you can't come to Shibuya without visiting the most loyal dog to have ever lived, Hachiko, located by the iconic Shibuya Scramble Crossing. This is also the city's primary shopping sector, which is quickly demonstrated by the fact that nearly every building is covered in advertisements. Don't miss the 230m high skyscraper called Shibuya Scramble Square which just opened in 2019.
Visit: Nearest Station – Shibuya Station
12. Harajuku.
Best known for its famous Takeshita Dori Street, Harajuku is a hotspot for teenage culture in Japan. But Harajuku isn't just for teenagers, it's also well known for Yoyogi Park, Meiji Shrine, Cat Street, a ridiculous amount of crepe shops, and vintage clothing. We suggest visiting on a weekday to avoid being trampled by the swarms of teenage girls looking for clothes.
Visit: Nearest Station – Harajuku Station
13. Omotesando.
Omotesando is great for two things: Sightseeing all the chic modern architecture, and spending copious amounts of money at name-brand luxury stores. In fact, only Ginza edges it out in terms of high-end fashion shops.
Visit: Nearest Station – Omotesando Station
14. Nakameguro.
Situated along the Meguro River, this area offers one of the most spectacular views of cherry blossoms in all of Tokyo starting at the end of March and lasting through to mid-April. We really recommend taking a nighttime hanami cruise down the river at night during this time. Outside of cherry blossoms, however, there are plenty of small cafes and trinket shops along the river as well. And, for those of you interested, this is also the home of the largest Starbucks in all of Japan.
Visit: Nearest Station – Nakameguro Station
15. Ikebukuro.
Sort of the little brother to Akihabara, Ikebukuro is an entertainment and shopping district where you can find plenty of electronics, manga, anime, video games, and whatever else your inner otaku needs. We definitely recommend this place over Akiba if you're looking to actually buy things as it's likely to be cheaper here. For those less anime obsessed you can find the Tokyo Art Space located here, as well as the Sunshine City building complex which has numerous shopping malls and restaurants, or just walk around and go on a food trip like we did!
Visit: Nearest Station – Ikebukuro Station
Our top 7 cultural experiences to try in Tokyo
1. Japanese Gardens.
Once you visit a Japanese garden and sat down, you just want to stay there forever. Japanese gardens are always a fascination to me. There's something about it that always leaves my bum magnetized to my seat once seated on a viewing porch looking at its stylized landscapes touch with miniaturization and wabi-sabi (imperfection) aesthetics. In Tokyo, my favorite garden is Rikugien Garden which is especially beautiful during the cherry blossom and autumn season.
2. Karaoke.
When most of you think about karaoke you probably picture a small bar with drunk truckers singing Sweet Caroline while spilling their beers. Instead, picture a multi-story building with hundreds of private rooms, many with zany themes to suit your interests, with drinks and food to order, and a group of your closest friends laughing and joking about your impeccable (to you at least) rendition of Sweet Child O' Mine. That's what you get in Japan. There are some bars which offer karaoke as well if you're not traveling in a large group though.
3. Tea Ceremony.
The Japanese tea ceremony also called sadou or chanoyu (the way of tea), is a part of Japanese arts of refinement along with ikebana (kado) and incense (kodo) preparation. The ritual involves a server preparing a cup of tea for the first guest starting from cleansing of utensils in a very stringent manner. In Tokyo, you can witness and experience the traditional Japanese tea ceremony in an authentic tea room but it strictly requires advance reservation.
4. Kampai!
The Japanese word meaning Cheers! You'll hear this often in bars throughout Japan. Unlike most western cultures, the Japanese have a deep and accepting culture of drinking. There are no last call laws, there are no laws against public consumption of alcohol, and, as long as you're not causing a huge public problem, you aren't going to be arrested for public drunkeness. So enjoy yourself and let loose for an evening. Just be sure to raise a toast to your hosts and loudly exclaim, kampai!
5. Sumo.
In sumo wrestling, two opposing sides both of which are called "rikishi"compete in an elevated ring called "dohyo" whose goal is to either bring the opponent outside of the 4.55-meter diameter dohyo or make the opponent touch the ground using allowable means.
In Japan, there are only one of two ways you could witness sumo wrestling—via a televised broadcast which you could view remotely or up close in person during any of these four events—Sumo Practice, Sumo Events, Sumo Tours, and Grand Sumo Tournament. In Tokyo, tournaments are held three times a year and if you're interested in watching you should always book way ahead through an authorized seller such as Voyagin.
→ Check out the type of Sumo tickets you can purchase
6. Maid Cafes.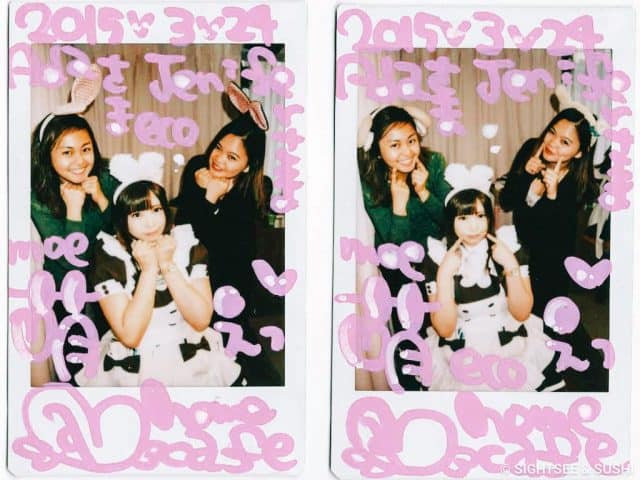 There are few things that scream "Japan" as much as a maid cafe. Most cafe's have very limited and very expensive menu, but the food is usually pretty shibgood. That said, you aren't exactly going to a maid cafe for the food. Maid cafes allow customers to partake in a "master-and-servant role play" with a young lady wearing a dainty ruffled maid dress with a matching apron and headpiece.
Now, that may sound like the only customers you'll find are single men, but they're actually pretty popular among young women in Japan as well. This is probably due to the "kawaii" factor of the cafe's and their food. You are served with small food dishes designed to be as cute as possible and seem custom made for Instagram. Some maid cafes even extend their menu to full body massages. I guess if you're really curious about what Maid Cafe is all about, then you should give it a try.
7. Kimono Dressing.
Although dressing in a kimono is best experienced in Kyoto, Tokyo offers plenty of options for this experience as well. A good kimono service will offer a large selection of colorful kimonos in gaijin (foreigner) sizes, and professional dresser who will assist you to properly select and wear your kimono.
They will also usually include a professional photographer for a few posed photos, and, if you're really lucky, who will follow you around town for a photos around town. You should also be able to store your normal clothes and belongings at the shop, so you don't have to worry about needing to carry large bags around with you. Overall, this is a great way to experience Tokyo and we highly recommend that you do the Kimono experience in Asakusa.
Our top 7 foods to eat in Tokyo
Ah food, my favorite subject. And if you're a foodie like me, then Tokyo will be a treat (pun intended). This list is just a small taste (also intended) of what is available, and when in doubt, choose the restaurant that's in the small back alley. Seriously, it's almost always the best option. While there's plenty of traditional Japanese cuisine here (obviously), don't limit yourself to it alone. Indian, Chinese, Brazilian, American, British, it's all here, so go wild!
1. Ramen
Believe it or not, this iconic Japanese dish is actually originally from China. Ramen is my favorite food in Japan. If hear that and start thinking about those cheap packages of ramen noodles, clear your mind of that abomination and get ready for one of the most filling and delicious experiences of your foodie life!
Ramen generally comes in a few different variations, including shoyu (soy sauce); shio (salt); miso (fermented soybeans); tonkatsu (pork); tsukemen (dipping noodles), and is complemented with toppings such as boiled eggs, fish cake, and nori (seaweed). And don't forget to order some gyoza (fried dumplings) to go with it! Even the famous Cup Noodles that you see everywhere are 1000% times better here, with tons of unique flavors and ingredients. So don't forget to give them a try as well!
Our ramen restaurant recommendations which have several branches in Tokyo:
Ichiran restaurant
Kosyu Ichiba restaurant
Also visit these ramen facilities:
2. Sushi
Probably the only food more iconic to Japan than ramen, sushi needs little explanation. But as simple as raw fish on rice may seem, real Japanese sushi is nothing like what you might have had before. That's because most sushi chefs spend decades apprenticing to learn the art of sushi making.
Sushi in Japan comes in a few varieties. There are the sushi rolls, which most of you are probably familiar with and probably picture when you hear the term sushi. Then there is nigiri, which is the most common form of sushi in Japan; fish on top of the rice.
There's also gunkan, temaki, and sashimi (raw fish alone) to name a few, but all have one thing in common; they're delicious. Except for natto…yuck.
Our sushi recommendations:
Sukiyabashi Jiro Sushi. From the famous Jiro Dreams of Sushi, Sukiyabashi Jiro Sushi is awarded three Michelin stars. The only way to dine in here is by reservation.
Sushizanmai. We love their branches in Tsukiji market and near Roppongi Station. Very kid-friendly too!
Uogashi Nihon-Ichi. A standing sushi bar in Shinjuku.
These are budget kaiten (conveyor belt) sushi restaurants have several branches in Tokyo. Just type the restaurant name on Google Maps for directions:
Genki Sushi
Sushi Roll
Katsu Midori
3. Japanese Curry
I know what you're thinking. "Curry? In Japan?" Well, believe it or not, curry is one of the most popular foods in Japan, and, in fact, most stores have entire aisles dedicated to nothing but curry. So, yeah, we're going to talk about curry. You've got a few choices when it comes to curry here; Indian, Nepalese, Thai, and Japanese. Each has its own thing which makes it unique, and each has fanatics willing to claim theirs is superior. But in the world of food, they're all great in their own ways.
Our curry recommendations (just type the restaurant name on Google Maps for directions):
Downtown B's Indian Kitchen
Spice Jhupadi
Ban Thai
CoCo Ichibanya (lots of branches in Tokyo)
Curry Bondy
4. Yakiniku
Ever wanted to cook your food at your table for yourself? Well, that's what you're going to do if you happen into a Japanese barbeque. You may have seen something similar to this in your own country, but with the chefs cooking the food at your table. Not so here!
In Japan, you're an adult! If you can do your own taxes, then by god, you can cook your own meat! There are two kinds of Yakiniku restaurants here; a flat-rate all you can eat, or pay for what you eat. I prefer the former, but the latter tends to have higher quality meat. Whichever you choose, have fun, and don't burn yourself.
Our yakiniku recommendations:
Yakiniku Kobe-ya
Gyu-kaku
Rokkasen
Beast Yakiniku
5. Fast Food
Don't skip ahead just yet; hear me out. The term "fast food" tends to scare off most foodies as greasy burgers and limp fries. And while Japan certainly has plenty of chains we're familiar with, such as McDonald's, Burger King, and KFC (which are all slightly different than their western counterparts), this is also a society that doesn't skimp on quality when it comes to food. Some of the places listed here aren't your traditional idea of fast food, but are delicious nonetheless.
Our fast food restaurants recommendations:
Yoshinoya
Wendy's First Kitchen
Mos Burger
Sukiya
Fatburger
6. Any Convenience Store
Go to a convenience store! Though we're partial to Ministop for desserts and 7-Eleven for bentos. Look, I know convenience stores often have a terrible reputation for mediocre food and food-related illnesses, but Japan has stepped the convenience store game up.
Sandwiches, boxed lunches (bento), ramen, and even sushi (yes, actually good sushi!) can all be found at these stores. So consider this as an alternative to an expensive restaurant to save money.
7. Everything Else
If I were to give a long write-up for EVERY kind of food available in Tokyo, this article would be a thousand pages long, and worse, I'd run out of witty remarks and friendly banter! So to speed things up a bit, I'm just going to post a few of my favorite restaurants here, regardless of the type of food it serves.
Our everything else recommendations:
The Warrior Celt; a bar, but one with the best fish and chips I've had in Japan
Devilcraft
Rize Mize
Sizzler (Yes, Sizzler. Stop judging me!)
El Pato
Tenfusa Tempura
7 Helpful Japanese Phrases
A little effort can go a long way. Here are some useful words and phrases to get you through your time here:
sumimasen (Excuse me)
gomennasai (Sorry)
arigatou gozaimasu (Thank you)
For shopping: ikura desu ka? (How much?)
At restaurants: ijou desu (I'm done ordering)
Eigo wa dekimasu ka? (Can you speak English?)
Toire wa dokodesu ka? (Where's the toilet?)