Traveling to Japan for the first time? There are two simple rules to follow when packing for your trip to Japan:
Don't panic! I get that it's your first time to Japan and you're excited as hell. But don't allow yourself to become too swept-up in the moment. You'll end up trying to prepare for every situation and leave yourself lugging around way too much extra luggage, so…
Pack light. Bring what you only need.
Our checklist is simple but offers a complete list of all things you need for your trip to Japan. This the exact packing list I wish I'd had when I first traveled to Japan.
RELATED READ: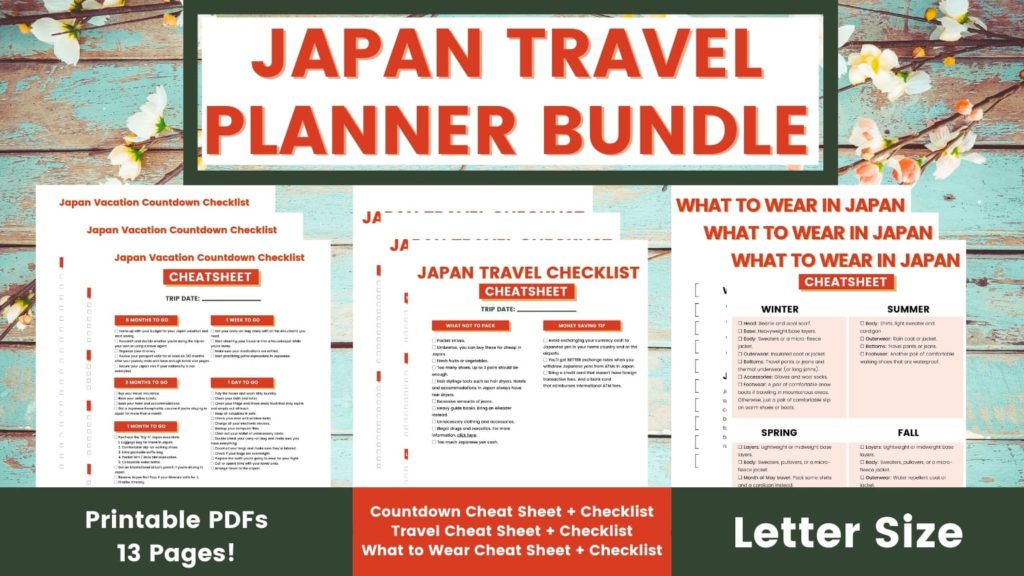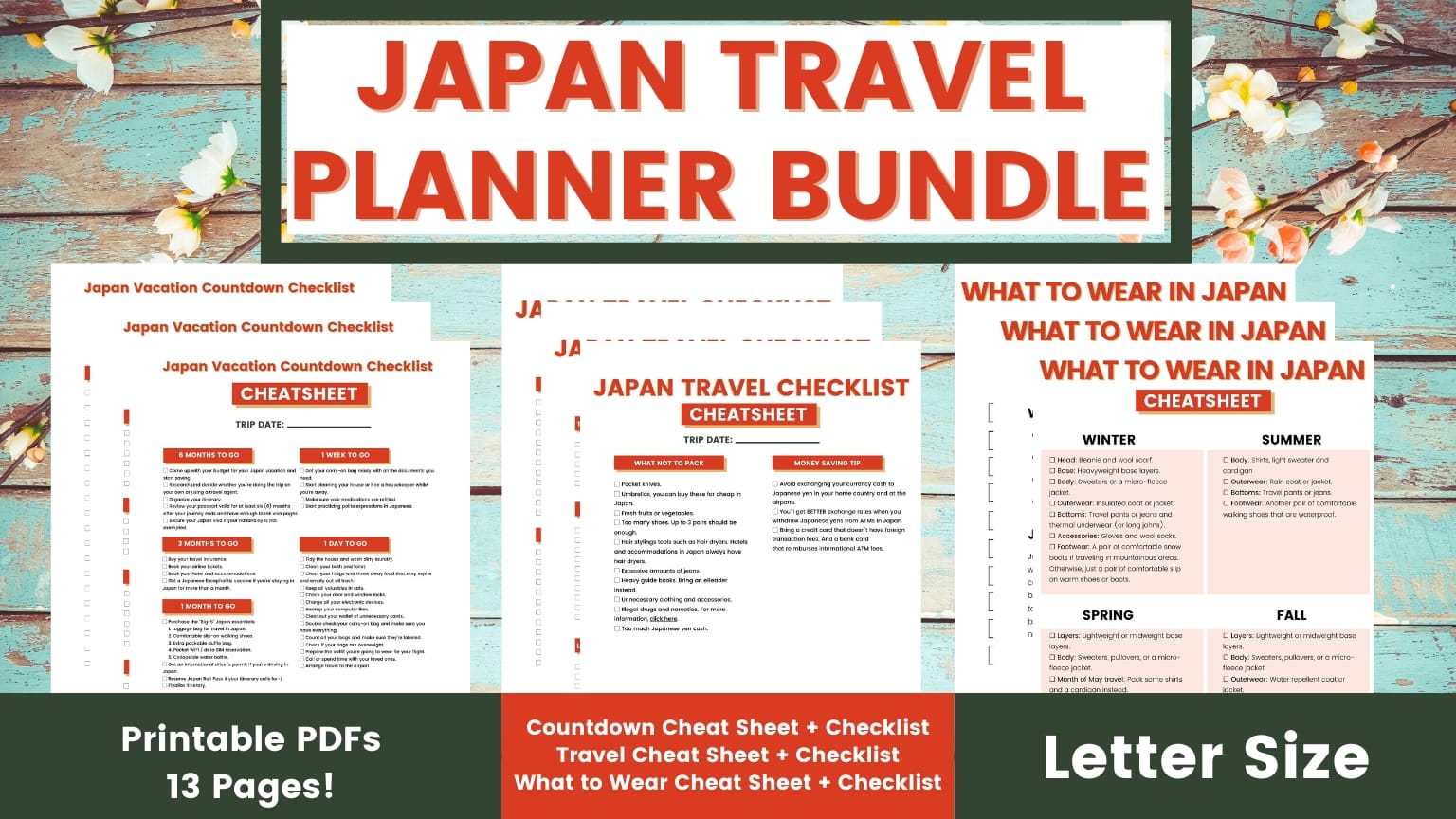 The "Big 5″ Japan Travel Essentials
There are specific problems that are somewhat unique to Japan that you'll certainly encounter. Pay attention.
1. Luggage bag specific to Japan travel.
The best luggage bags for Japan travel are the ones that convert into a backpack or easily carried. Here are a few reasons:
Elevators in Japan are mainly reserved for the elderly, disabled, pregnant, and families with strollers. As a tourist, and if you're none of those, you are expected to take the stairs. Politeness is very important in Japan.
Trains in Japan don't really have space for large luggage. It's also VERY bothersome to local commuters — especially during rush hour.
Large luggage will also take up a lot of precious space in your hotel room. Rooms in Japan are rather small.
→ Click here to view our recommended bags and packs for Japan travel
2. Comfortable slip-on walking shoes.
The best shoes for Japan travel are ones that are slip-ons (no shoelaces) and comfortable, preferably ones with memory foam. In Japan, many places REQUIRE you to take your shoes off, such as genkans (the entrance of a home), some izakayas (Japanese bars), some restaurants, ryokan (traditional Japanese inns), and temples.
Slip-on shoes or shoes without shoelaces are most convenient in these situations. Make sure your socks don't have holes in them to avoid embarrassing situations!
For comfort, opt for any pair with a good cushion as you're going to walk A LOT in Japan. And if you are traveling during the spring and summer seasons, when the chances of rain are quite HIGH, it's best to wear waterproof slip-on shoes.
Our favorite shoes for Japan travel are from the Skechers GOwalk series— they're slip-on and with memory foam. I own similar GOwalk shoes to this one while my husband owns a pair similar to this one. Many tourists who traveled from Japan swore by the Skechers brand as well:
3. An extra packable duffel bag.
Souvenirs, instant noodles, milk tea, and chuhai — if you fall in love with the flavors or culture of Japan, you need extra storage space! To avoid the cost of buying additional luggage while in Japan, make sure to pack an extra duffel bag that is foldable.
This was a mistake my mother made when she first traveled to Japan. She didn't have any extra bags so she had to buy one for all the souvenirs she bought!
→ Click here to view our recommended collapsible duffel bag
4. Reserved pocket WiFi rental or Data SIM Card.
We cannot emphasize enough how important it is to have a reliable internet connection while traveling in Japan. If you haven't reserved, do it now! If you're traveling solo and short-term, it's cheaper to get a data SIM Card.
5. Collapsible water bottle.
Tap water in Japan is safe to drink and you can find drinking fountain pretty much everywhere. Bringing a water bottle with you will save you a ton of money during your sightseeing.
Travel Documents Checklist
1. A valid passport and visa.
Before you buy a ticket, check your passport if it's VALID for at least 6-months and has a blank page. You should check with the Ministry of Foreign Affairs of Japan website if your nationality requires a Japan visa.
2. Travel insurance.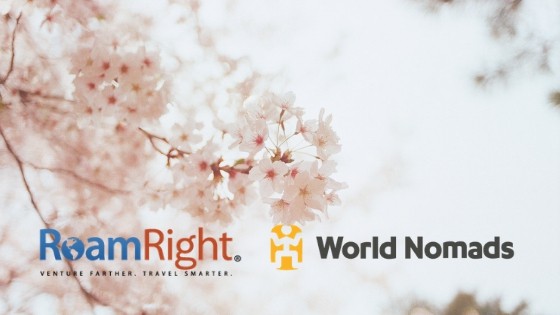 Although Japan is one of the safest countries in the world and it is very unlikely that you will run into any danger, it doesn't hurt to be on the safe side.
My friends have used World Nomads because it's affordable and provide good medical coverage. RoamRight is great for U.S. and Canada citizens. And if you're an Australian, World Nomads is a better option for you. Make sure to visit both websites to compare quotes.
3. Flight tickets.
Some people like to print it out, but personally, paper clutter just bugs me. If you're planning on showing your flight tickets through your mobile, make sure you have downloaded a copy on your phone.
Here are our recommended airfare search engines for finding cheap flights to Japan:
4. Hotel or Airbnb reservations.
Whether you have it on your phone or have it printed out, you will be asked to fill in your hotel's address on your disembarkation card. If you're riding a taxi, it's also good to have your hotel's address in Japanese.
It's also important to remember the NEAREST train station to your hotel so you'll know where to go upon landing. Lastly, depending on where you're coming from, having proof of a hotel could help make your time in immigration a bit smoother.
Here are our recommended booking sites for hotels in Japan:
5. Airport to Hotel Transfer reservation
Now, if you don't have the JR Pass, it's wise to make an advance reservation for your transfer from the airport. Not only will it save you time and money, but it'll make your arrival EASY and hassle-free.
Based on our experience, it's easier and more CONVENIENT to take a shuttle transfer from the airport rather than taking the train. These shuttles will drop you off either directly at your hotel or to a major station near your hotel.
Transfer services from Narita Airport to Central Tokyo:
Transfer services from Haneda Airport to Central Tokyo:
Transfer services from Itami Airport and Kansai International Airport to your hotel in Osaka or Kyoto:
6. Bank cards and credit cards.
Exchanging your currency to Japanese yen cash in your home country is absolutely not necessary. That's because withdrawing Japanese yen from ATM machines upon your arrival in Japan gives you a better rate.
You can withdraw cash from Japan Post ATMs and ATMs in convenience stores such as Lawson, 7-11 and Family Mart. To save money, bring a credit card that doesn't have foreign transaction fees. And a bank card that reimburses international ATM fees.
REMINDER: Make sure to contact your bank about your travel plans to avoid disruptions with your card.
7. Passport and credit card photocopies.
In case of emergencies like losing your passport or credit cards, it's good to have copies of your passports and credit cards in your email or on your phone.
All you have to do is take a picture of your passport's bio page and your credit card's front and back photos using your phone. Do this for your entire family traveling as well.
8. Pre-booked tours confirmation in Japan
If you book tours or activities, make sure to save the confirmation email on your phone or have it printed out if required by the travel agency. For tour activities and tickets, our favorite online travel agencies are Voyagin and Veltra.
Most Japanese travel agencies don't really provide English support for visitors overseas so they partner with Voyagin and Veltra. As a result of that partnership, they often have discounted deals much cheaper than the original source, and it's legit.
→ Click here for our first-timers guide to Universal Studios Japan
9. Japan Rail Pass (JR Pass) eVoucher confirmation.
If you are traveling extensively in Japan, you should consider buying a JR Pass online as it will be absolutely worth it.
JR Pass can only be bought outside Japan and through an authorized online distributor. To activate and use it, you need to exchange your eVoucher at a JR Office which can be found at the airport or main train stations.
To learn more about JR Pass and whether it's for you or not, click here.
10. International Drivers Permit.
If you plan on renting a car or go-karting, then you need an IDP or a Japanese driver's license to drive in Japan.
Long-haul Flight Essentials
Packable travel pillow. The journey is bound to be a long one, and you're definitely going to want to sleep for most of the flight. Check out this best-selling packable travel pillow here.
Noise canceling headphones or earphones. For added comfort, you can get a pair of noise-canceling headphones like this it helps your sleep can go uninterrupted.
Lip balm. I personally find the travel sized petroleum jelly works best than Chapsticks.
Hand sanitizer. Bring a travel size one.
Tummy treats. My favorite is the ginger chews from this brand. It helps a lot with nausea too. I know some people swear by this candies too!
Carry-on Essentials
All items in the documents checklist.
All items in the long-haul flight checklist.
House and car keys.
Electronics (tablets, mobile, laptops, camera, etc.). DO NOT check-in your electronic devices. We recommend getting a carry-on bag that is big enough for your electronics but still within the carry-on requirement of your airline. Check out a list of flight-approved carry-on bags here. Make sure to download these "must-have" apps as well for Japan travel.
e-Reader. Carrying books will only increase the weight of your luggage. A portable e-Reader such as a Kindle would allow you to read your favorite books, that's if you find the time too!
Chargers.
Power plug adapter. Japan uses Type A and Type B plugs and sockets just like in the U.S. and Canada. If you're not from North America, get a universal power adapter preferably with Type A & B sockets, we recommend this one.
→ Check out a list of flight-approved bags here.
Medications
Vitamins and supplements. If you have one.
Jet lag remedies. These jet lag relief pills are very useful if you're coming from a different time zone.
Prescription medications. NOTE: Some common prescriptions and over-the-counter drugs in the United States are illegal in Japan. Notable drugs such as Sudafed and Vicks inhalers, and other stimulants are strictly prohibited. "It does not matter if you have a valid U.S. prescription for a medicine/drug which is illegal in Japan: if you bring it with you, you risk arrest and detention by the Japanese authorities." For more information, ​click here​.
Personal Items and Toiletries
I'll leave this up to you since each individual varies. If you have a preferred choice of shampoo, conditioner, body wash, deodorant, etc., it is best to bring it with you. It is not likely that you would find the same brand in Japan.
It may also be difficult to find similar products since the ingredients would be written in Japanese. For liquids, pack them into a squeezable leak-proof silicone travel container like this one.
Optional But Recommended
Coin purse. You can easily find these in 100 yen stores in Japan, but if you already have one, bring it with you as you will get a lot of coin change.
Hand towel and wipes. Many public toilets in Japan don't have paper towels and restaurants don't give out napkins.
Power bank. Your mobile phone and pocket Wi-Fi devices are going to be running continuously throughout the day. Some cafes may contain power sockets for you to charge your phone. But it would be a shame to force yourself into a long wait in a busy café, nursing a donut and latte, just for the sake of charging your phone. Japan is a great place to buy tech gadgets, but that's not true with power banks. Power banks are expensive in Japan and only provide a small mAh capacity. For this reason, we recommend that you get your Power Bank from your home country and get the one with the highest mAh capacity. Our favorite power bank is this one. You may also consider the newer model with gigantic mAh capacity.
What not to bring in Japan
Meat products, plants, fruits and vegetables.
Firearms and pocket knives.
Illegal drugs and narcotics. For more information, click here.
Japanese yen cash. Avoid exchanging your currency cash to Japanese yen in your home country and at the airports. You'll get BETTER exchange rates when you withdraw Japanese yens from ATMs in Japan. As a money saving tip, bring a credit card that doesn't have foreign transaction fees. And a bank card that reimburses international ATM fees.
That's it folks, the ultimate packing list for your trip to Japan! Enjoy exploring the traditions of Japan.
WHAT TO READ NEXT: My 41 Advice and things to know before going to Japan