For a culture known for its tea, the popularity of coffee has begun to surge in Japan and many specialty cafes have started to pop-up everywhere.
Now, anyone living in Japan knows that coffee is certainly a popular drink and is a mainstay of every convenience store and vending machines. And while a bottle of cold Craft Boss Milk Coffee (yes, a bottle) is one of my favorite drinks not named Kirin Milk Tea (drools), it's far from what could be considered "quality coffee."
That's where the thousands of coffee shops come in.
Coffee Scene in Japan
Popular chains like Starbucks, Doutor, and Tully's are easily found within throwing distance of nearly every train station and are probably the main drivers of the increased popularity over the years. But there are smaller shops offering specialty roasts peppered throughout the back alleys of nearly every city.
In this article I'll be covering some popular coffee spots throughout Tokyo, and where you can go to find a piping hot (or cold) cup of joe sure to leave you wanting more.
A Brief History of Coffee in Japan
The formal term for a coffee shop in Japan is kissaten (喫茶店), however, I've never heard anyone ever refer to it as such. Instead, people opt for the far more common word, cafe (カフェ).
This may be due to the fact "kissaten" doesn't really translate well in Japanese Kanji, as well as there being a heavy western influence at the time of the introduction. Whatever the reason, asking people for the location of a kissaten will probably get you a similar reaction as asking someone for "gyunyu" (milk).
Imported to Japan in the 1800s by the Dutch, coffee didn't immediately take the country by storm, in fact, it wasn't until the Meiji-era industrial revolution that coffee shops began to grow in popularity.
The increase in popularity coincided with people increasingly moving into the cities, as coffee shops started popping up along train lines and acting as information centers for the citizenry to stop and exchange information while having a drink and a bite to eat.
While the drink had certainly gained some popularity with the Japanese urban population, it wasn't until the 70's that the demand for coffee began to skyrocket. Japan was experiencing an economic and technological boom since the war, and more people than ever were living and working in cities, and Japan was increasingly adopting western values and culture.
Today, Japan imports approximately $1.26 billion USD in coffee, and coffee shops are everywhere, from the bustling city streets of Japan's megacities to mountain villages. This makes Japan the 6th largest importer of coffee in the world, and that's with around 1/3 the population of the United States.
So it's safe to say that Japan has accepted coffee as an integral part of their culture.
Popular Coffee Chains
While not offering the same level of coffee and food found in most small independently owned shops, sometimes you just need a cup of coffee and a place to do some work, study, etc., and you don't feel like going out of your way to visit your favorite cafe.
In these cases a major coffee chain works is great because they can be found nearly everywhere and has a standard quality they need to uphold. And luckily, in Japan, that level of quality is generally far above what you'd find in America.
I'll be listing the most popular major chains in Japan and a location where you can find a well-reviewed shop. Obviously, there's no need to limit yourself to this location as the entire point of chains is that you can find the one nearest you. So feel free to do so.
1. Starbucks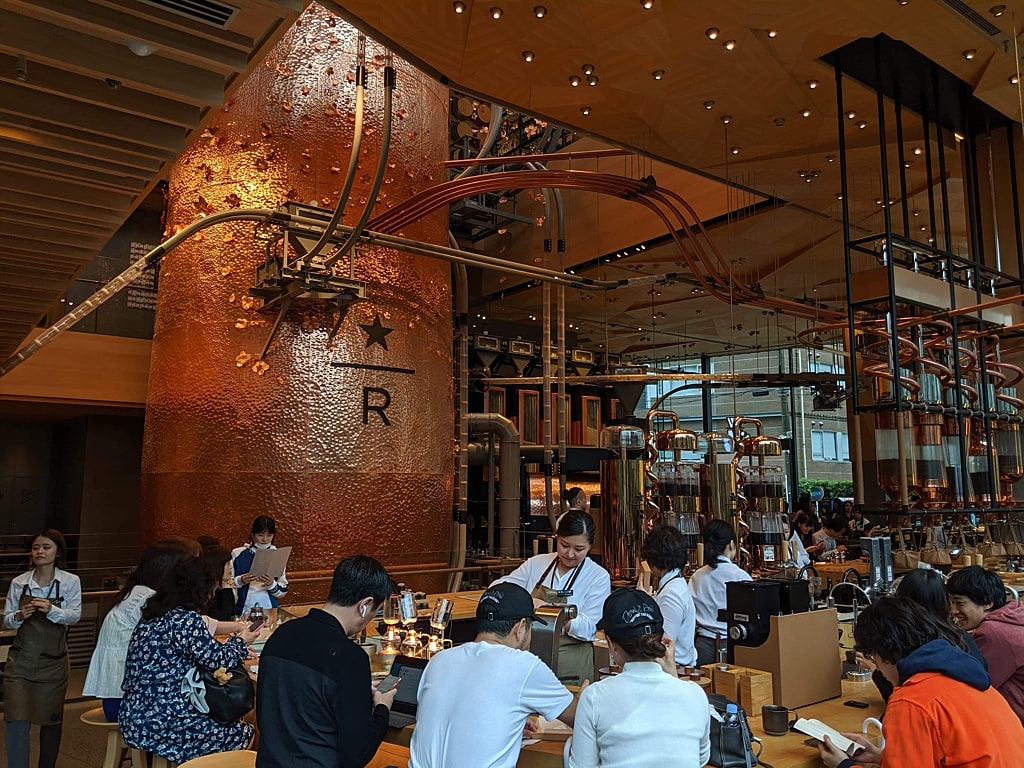 I'm sure this first one goes without saying, but Starbucks is insanely popular in Japan. In fact, not uncommon to see multiple Starbucks on the same street or mall.
The big reason behind its popularity here is the rotating specialty drinks they serve throughout the year, including their insanely popular Sakura Latte during cherry blossom season.
Now, if you're going to travel thousands of miles to visit a Starbucks you might as well make it memorable, so I suggest visiting one of the largest Starbucks in the world, the Starbucks Reserve Roastery, along the Meguro River.
Try Starbucks here: 2 Chome-19-23 Aobadai, Meguro City, Tokyo 153-0042, Japan
2. Tully's Coffee
The American chain of Tully's Coffee may have been bested (crushed) by Starbucks, but it found a foothold in Japan (under different ownership) and thrived, opening over 600 shops across the country.
Tully's is very similar to Starbucks in both menu and quality, but is generally a little less crowded, so it can be a good alternative to the mega-chain if you're looking for a familiar brew during your trip.
Try Tully's Coffee here: 1 Chome-1-31 Hanakawado, Taito City, Tokyo 111-0033, Japan
3. Komeda's Coffee
I'm a bit surprised I don't see this cafe come up more in online lists of popular coffee shops in Japan, but that's perhaps due to it being a local favorite and somewhat lesser-known to ex-pats and foreigners. Established in 1968 in Nagoya, Komeda has grown to over 700 shops throughout Japan offering quality coffee in a quiet and relaxing atmosphere.
Their signature Komeda original blend coffee is definitely worth the trip. And at only 400 yen it's quite a bit cheaper than many of the other major chains.
Try Komede Coffee here: 〒150-0002 東京都渋谷区渋谷1丁目6−5 SK青山ビル
4. Doutor
Probably the most well known Japan-based coffee chain is Doutor, with around 1100 shops throughout the country, not including the other cafes owned under the Doutor brand. It's known for its affordable menu and great coffee. The menu includes much more than just coffee, with sandwiches, yogurt drinks, and desserts available, making it a perfect spot for a light lunch.
The Doutor specialty blend coffee is a perfect companion to any of the sandwiches on offer, and can easily be paired for under 1000 yen. I recommend trying the Doutor blend with whipped cream during your visit.
Try Doutor here: 1 Chome-23-15 Kabukicho, Shinjuku City, Tokyo 160-0021, Japan
5. Excelsior
Also owned by the Doutor company, Excelsior was created to be a chain of Italian-style coffee houses without the high prices you would expect from a specialty cafe. They succeeded in their endeavor and created yet another incredibly popular coffee chain, further cementing Doutor Coffee as a cafe powerhouse within Japan.
The interior of each shop has a very relaxing atmosphere, and the menu is extensive, offering a large variety of coffee, espresso, and iced drinks, as well as modern Italian style sandwiches and desserts.
Try Excelsior here: 1 Chome-26-1 Nishishinjuku, Shinjuku City, Tokyo 160-0023, Japan
6. St. Marc Cafe
The most high-scale of the popular chains on this list, St. Marc Cafe offers a wide range of coffee, including their own house blend, espresso, and Vietnamese coffee (which I can't recommend enough). Expect to pay a bit more here than the other shops listed, but you definitely get the quality that you pay for.
Along with coffee, the shop offers an assortment of food options, but the specialty is the ChocoCro — chocolate croissant — which is a big reason behind the shop's popularity and goes great with a hot cup of coffee.
Try St. Marc Cafe here: 3 Chome-4-14 Mejiro, 豊島区 Toshima City, Tokyo 171-0031, Japan
Specialty Coffee Shops
If you're looking for the best coffee in Tokyo then you're going to need to venture out from the major chains and, sometimes, do a bit of walking. As with basically all food in Japan, the best coffee will be found in the back alleys or specialty shopping districts. But the search is worth it.
These are some of the best cafes I've found so far in Tokyo, but as with the major chains, don't limit yourself and do a bit of exploring on your own. These are thousands of small cafes throughout Tokyo alone, so you're sure to find the right one for you!
1. Turret Coffee Tsukiji
Named after the old Turret trucks which were used in the Tsukiji fish market, as well as featuring one just outside of the shop, Turret Coffee is known for its full-bodied dark roast coffee which is sure to impress. While sipping your coffee be sure to try the dorayaki (Japanese pancake filled with sweet red bean paste).
The coffee is made from beans by Hiroshi Sawada, owner of the well-respected Streamer Coffee co, and the quality shows. I highly recommend stopping in for a cup before spending the morning visiting the old Tsukiji Fish Market.
Try Turret Coffee here: 2 Chome-12-6 Tsukiji, Chuo City, Tokyo 104-0045, Japan
2. Yazawa Coffee Roasters
Known as Tokyo's "Secret Coffee Stand" Yazawa Coffee Roasters has a very simple menu, no tables, no chairs, no food, just incredible coffee. They make all their coffee via the pour-over method, ensuring the richest flavors from the coffee, and the coffee beans they have on offer can change throughout the year, giving you a nice variety of flavors.
This is absolutely a coffee connoisseur spot, so if that's you, then make sure to add this spot to your itinerary.
Try Yazawa Coffee Roaster here: 4 Chome-10-12 Tsukiji, Chuo City, Tokyo 104-0045, Japan
3. Sarutahiko Coffee
First opening in Ebisu in 2011, Sarutahiko Coffee has grown to 16 different locations across three countries. Of all those locations I'm recommending you visit the coffee stand that started it all. While not offering the same food options of the larger stores, their flagship store holds special importance to the owner, and will always have the most talented baristas running it.
Hot and iced coffee, latte and espresso, original blend and single origin, the options may seem simple but they're all expertly brewed and sure to satisfy. I recommend the Cafe Mocha during your visit, or the Cappuccino if you're looking for something a bit less sweet.
Try Sarutahiko Coffee here: 1 Chome-6-6 Ebisu, Shibuya City, Tokyo 150-0013, Japan
4. Drip Bar COFFEE AND CRAFTS
When it comes to off-the-beaten-path coffee shops, you won't find many places that fit that description quite as well as Drip Bar COFFEE AND CRAFTS.
Also known as Pencil and Paper (a source of confusion when looking for it), the cafe is located between Daikan-yama and Ebisu stations, in the middle of a residential area and hidden among the overgrown trees and bushes in front of the shop. I honestly walked past it no less than three times before finally seeing it.
The cafe is small and run by a single man who is incredibly meticulous while brewing each cup of coffee, down to the exact pouring temperature of the water. He usually has around six different roasts of coffee and offers some small snacks, such as cake, to go along with the coffee.
Upstairs is a small art gallery featuring local artists for you to peruse. You can also buy art if you feel taken with anything. I can't recommend this cafe enough.
Try Drip Bar COFFEE AND CRAFTS: 3 Chome-2-7 Ebisuminami, 渋谷区恵比寿南 Tokyo 150-0022, Japan
5. Onibus Coffee
In a small unassuming building one of the best specialty coffee shops in all of Japan. Omnibus Coffee gained a huge amount of popularity quickly with customers searching for third-wave cafes throughout Tokyo.
The aroma of coffee beans roasting on-site makes the experience all the more memorable as you sip your coffee in the delicate locally-made porcelain cup. Drip, americano, latte, or espresso, coffee takes center stage here, but there are some small sweets to pair with your coffee as well.
While the variety may seem limited you gain the ability to choose the beans used in your coffee, and there are quite a few single-source beans to choose from. Should you take a particular liking to a coffee, the shop also offers bags for sale, allowing you to take a bit of Onibus home with you.
Try Onibus here: 2 Chome-14-1 Kamimeguro, Meguro City, Tokyo 153-0051, Japan. Or check out this post.
Conclusion
This article doesn't even begin to scratch the surface of cafes in Tokyo, but I believe it's a good starting point. I can only see this wave of coffee popularity continuing to grow and I expect even more independent shops to pop-up over the years.
If during your visit you find a particularly memorable cafe not listed here, please let us know about it in the comments below! Enjoy your coffee pilgrimage in Tokyo!
Recommended coffee blogs and resources in Japan:
Good Coffee – Specialty coffee and coffee stands in Japan and beyond
Tokyo Coffee – Unique guide and stories of the author's (Eric) coffee adventures in Tokyo
WHAT TO READ NEXT: Guide to joining a bar-hopping tour in Tokyo