We've finally visited all of the Fuji Five Lakes! It took a while to explore the areas around this lake. We couldn't find any information online about activities around the area. So, after much procrastination, we decided to simply go there and find our own adventures.
Despite being the largest of all the five lakes it's a very underdeveloped area. But we still had the feeling that there was something around it waiting for us to uncover. And it turns out that our hunch was right — Lake Yamanaka indeed has some surprises to share.
So in this trip report, we're going to share the things we did and our exact itinerary during our overnight trip here.
Check out some of our articles about Fuji Five Lakes:
Hiking Mt. Tenjo
DAY 1 — We first stopped by Lake Kawaguchi for Mt. Tenjō Ropeway (also known as Kachi Kachi Ropeway). We've visited the Mt. Tenjo Ropeway before when I was still pregnant, but this time it was her daddy's turn to carry her! I also decided we needed to hike up to the top instead of taking the ropeway (mwahaha, revenge is mine!).
We got lost a couple of times trying to find the "trail" and ended up walking back to the highway hoping to see the entrance to the trail, and we're happy we did. Strangely enough, the trail signs call it "Ajisai (Hydrangea) Route" and give little other information. The name makes sense at least because the trail was really full of Hydrangeas.
Unfortunately for us though, it was off-season so the flowers were all dead which made it easy to miss. I imagine that this trail is beautiful during hydrangeas season in summer around June to July. Also, the tourist guide map told us to look for a "torii gate" and not the hydrangeas route. We saw the torii gate eventually, which was part of the small shrine called Tenjoyama Gokoku shrine, a shrine that was erected in memory of people who were killed during the Russo-Japanese war.
The hike to the top of Mt. Tenjo is about 900m but it felt like 1.5km for us because our toddler constantly wants to stop and pick up as many rocks as she can along the way. The highlight of this hike was the Nakabadaira observation area, which offered one of the best panoramic views of Mt. Fuji we've ever seen!
The Mt. Fuji view from Nakabadaira is something that a lot of people who ride the Kachi Kachi missed. It was beautiful–and made even more pristine due to the lack of people! They were all in the Kachi Kachi Ropeway observatory! We were so lucky this day, even the skies were clear so Mt. Fuji was very visible.
After we stopped to rest on one of the many benches and took several photos, we continued our trek to the peak of Mt. Tenjo, where the tourists flock. We cheated and went down Mt Tenjo via the ropeway and reached Lake Kawaguchi again in less than 15-minutes.
Check-in
Just so you know, we booked our accommodation in advance the day before our trip. The Fuji Marriott Hotel is actually around Lake Yamanaka, and while we could have stayed there for free, we chose an accommodation that's family-owned because we always get the best hospitality from our experience. We ended up booking at Pension Cottontail. I got really curious about the pension because its photos from the outside looked really adorable, and since a western farmhouse looks completely out of place in Japan.
Dinner in 食楽酒房パパさん (Papasan Curry shop)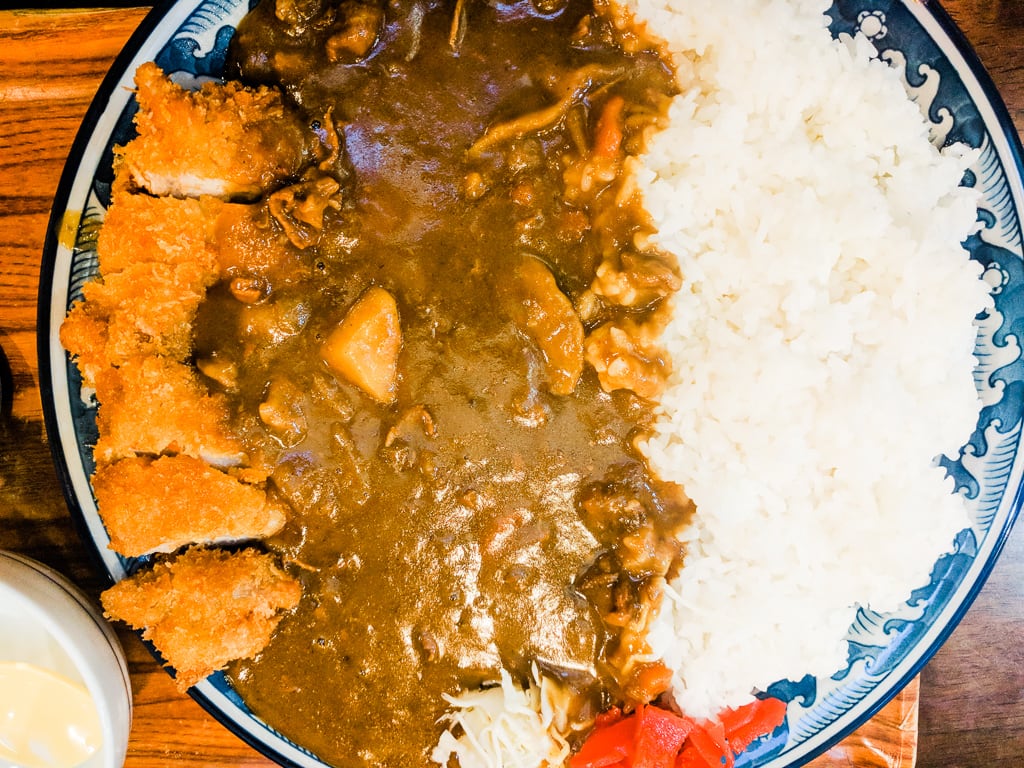 I have no idea how my husband manages to find such amazing places to eat in such unlikely places! This was AMAZING! And you'd never know it from the outside. I had the chicken katsu curry while Eric had the curry ramen with cheese (yup, that's a real thing). The portions were massive, the food was incredible, the owners were very kind, and it was pretty inexpensive. Yeah, I really don't have a lot more to say here. Just do yourself a favor and eat here!
Yamanakako Onsen Benifuji no Yu (Hot Spring)
Name a better way to relax after hiking and a whole lot of walking? Go on, I'll wait… Well, normally this is the best way to relax. Turns out that a hyperactive toddler who doesn't like being told 'no' can really make put that assertion to the test, haha! At least she (mostly) waited until the end to freak out.
The onsen here offered both indoor and outdoor baths and everything else that a regular onsen enthusiast would expect to find; like a sauna, steam room, various types of baths, and a restaurant, all at a pretty reasonable price. It was also one of the most crowded baths I've visited as well; probably because of the aforementioned price and tour groups. But that was the only real downside, so I still fully recommend giving this onsen a try after biking, hiking, or walking around the area! (Sorry, no photos)
Breakfast at Pension Cottontail
NEXT DAY — During breakfast, my husband and I had a lot of observation going on. As we ate our breakfast, our eyes were feasting around the interiors of the house, it was very adorable yet rustic farmhouse style, much like you'd find in the states. The pension, as the name implies, was inspired by the owner's fascination with Peter Rabbit, thus Cottontail. We felt like we're not in Japan. Outside of the house and its neighborhood reminded me of Maine too–logs, gardens, lumber, and a storage unit. I told my husband, it was the kind of house I wanted, cozy and warm.
The owners spoke English quite well, which gave me a chance to ask questions about the pension. I asked how long their pension was running; I asked this because the house looks new and very well maintained. So I was very surprised when he said it was in business for over 30 years (a long time for modern Japanese houses).
It was also surprising because, in Booking and JAPANiCAN, it was listed as "New Listing." It finally made sense to me that they just got their property listed on English booking websites. They're now on JAPANiCAN, Booking, and Expedia. So if you're interested in experiencing our experience, you can book it through there.
The original price was $152 per night for all us three but we only paid $54 thanks to my credit card points. I know the original price is expensive! But that's because the room we booked was supposed to be for a family of 5, which was the only room with a private toilet lol.
→ Click to check room availability at Pension Cottontail
As an aside, I have to mention that, we had the best peanut butter there!! Oh my. Before we left the place, we had to ask the owner where in the world it came from. We thought it was homemade, but they said it was from a shop in Fujinomiya. We will get that peanut butter soon!
The pension house is also near Clover Ranch, an equestrian facility where you can learn horseback riding or watch a horse racing. So if you have kids interested in horses, this is a great place to take them. Our daughter is just too young for it, so we passed on the experience.
Bicycling around Lake Yamanaka
There's a couple of places to rent a bicycle around Lake Yamanaka, but we chose the bicycle shop near the Asahigaoka Lakeside Greenspace Park because it looked like the main area for boating activities too. Apparently, the shop where we rented the bike is the oldest bicycle rental shop in Lake Yamanaka, opened in 1955.
We rented 2 bikes for 2 hours, one with a child seat to accommodate our daughter. The bikes were old but functioned well enough, and the staff was all very nice. The shop staff said the entire biking route around Lake Yamanaka was 14km, which was just short enough to cover in 2 hours.
The entire biking trail was really relaxing and we saw many interesting places along the way. Shops and restaurants that scream American countryside rather than Japanese lake. Trailer parks, wooden cabins for camping, and an interesting Hammock Cafe, all looking like you're not in Japan. Indeed, Yamanaka has something really unique to offer that you won't see Lake Kawaguchi.
Here's the price for bicycle rental:
1 hour – ¥700
2 hours – ¥1,200
Half day (within 4 hours) – ¥1,700
1 day (4 hours or more) – ¥2,500
By the way, while researching this bike shop, I found that you could get 10% discount by printing this coupon. I cannot guarantee you though that it will work, but you might as well give it a try when going to Lake Yamanaka to rent a bike.
Our Hammock Cafe experience
We only saw the Hammock cafe upon ending our bike trip. The place looked really interesting and unique, so we decided to try it after we returned the bikes. Hammock Cafe is actually part of the Pica Yamanakako Village, a cottage resort that offers glamorous lakeside camping experience or "glamping."
Hammock Cafe's menu was very limited (and pricey). You can select from coffee or tea, then sandwich and their gelato. That's it.
We both got drinks and we've got to be honest here, it was terrible. LOL. Really, nothing special. I guess we're just paying for the hammocks. But we got our daughter gelato and it must have been good since she finished it.
Other than that, we still enjoyed the hammocks since they were very comfortable and relaxing! We could stay here all day!
Lunch at 浅間茶屋 山中湖畔店 (Asama Chaya)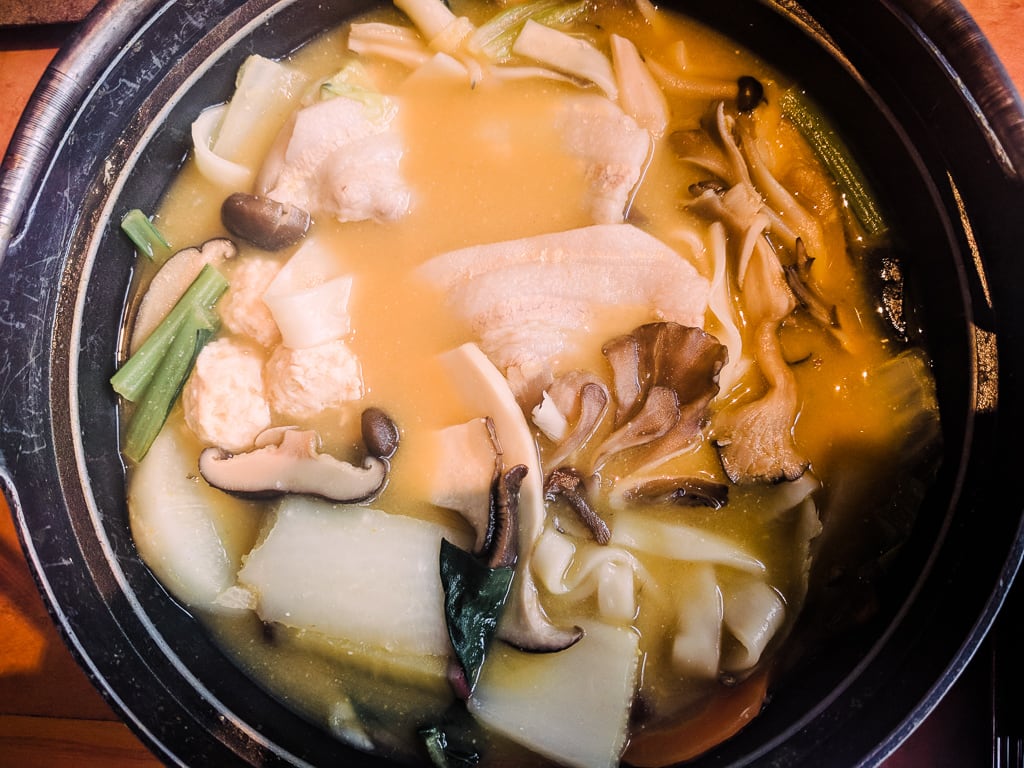 After a lot of searching, we finally decided on houtou udon for lunch. Like most houto restaurants this one had a somewhat traditional feel to it. The udon was delicious but it was the sides (included with the set meal) that seemed to steal the show. The restaurant can get very busy as it seems to be a stop for group tours, and of course, we arrived during one of these tours so it took a while to be seated. I wish I could say more, but, to be honest, I can't remember much about this place because our daughter was being VERY hyper, so we couldn't fully enjoy ourselves.
Bottom Line
Lake Yamanaka was indeed a surprise for us. This was one of the first places we visited without a set itinerary and little to no information before arriving, and it actually worked out for the best.
So this is something we'll definitely try again when visiting an unfamiliar place in Japan. It also really reinforces our belief that Japan is so much more than Tokyo, and to truly experience it you need to go off the beaten path to find what really makes Japan great!
WHAT TO READ NEXT:
→ Kofu City: Our 2-Day Itinerary
→ Fujinomiya: Our Itinerary to the "Other Side" of Mt Fuji