Spring and fall are exceptional when planning a trip to Japan, where the country has the most exciting cultural festivals and temperate weather. But there's more to Japan than cherry blossoms and autumn leaf color. Let's take a closer look.
What is the climate like in Japan?
You would likely make Tokyo the focal point of your trip. So let's try to understand the city's climate a little better.
Tokyo lies on the eastern shore of Japan's largest main island called Honshu, with a temperate seasonal wind zone closely resembling the East Coast of the U.S. — warmer summers and snowier winters.
The main difference is that Tokyo doesn't get much snow in winter and experiences an unbearable "urban heat island" effect similar to Florida and Washington, DC, in summer.
Above all, expect to rain at any time of the year when traveling in Japan, except in Hokkaido's northernmost part.
We recommend visiting the Japan Meteorological Agency website at https://www.jma.go.jp/en/yoho/ for the most accurate daily weather forecasts.
What to expect in Japan, season by season:
Here are some guidelines to keep in mind when visiting Japan:
Winter (December, January, and February) is marked by snow in many areas, especially in the regions close to the Japanese Alps (Niigata, Toyama, Yamanashi, Nagano, Gifu, and Shizuoka Prefectures). Southern Japan, however, enjoys a warm and generally mild climate. The northern part of Japan has a humid continental climate, where they enjoy cool summers but experience windy and heavy snow.
Spring (March, April, and May) is famous for cherry blossoms blooming throughout Japan and is the year's most popular time. Expect large crowds and peak season pricing. The monsoon season, however, starts in May.
Summer (June, July, and August) is when most people go to Mt. Fuji for the climbing season. So if you're looking into conquering Mt. Fuji's summit, summer is the best time to go, or early September.
Fall (September, October, and November) is among the best times to visit Japan, particularly an explosion of autumn foliage colors surrounding the areas of rural Chubu and Tohoku regions.
What are the best months to visit Japan?
Japan has objectively no best time to visit as each season offers a different experience and spectacular beauty.
Mid-March to early May and mid-October to early December are the best months to visit Japan due to its stunning colors and mild weather.
If you enjoy the snow, low crowds, and value season pricing, January and February are the best months to visit.
What are the worst months to visit Japan?
Japan's hottest, most humid, most crowded, and busiest season is from June to August. It's a combination of unbearable heat and humidity in urbanized areas and extremely crowded attractions and theme parks such as Tokyo Disney Resort and Universal Studios Japan. School vacation times in Japan are also from July to August.
If you're visiting during the summer, it's a good idea to skip large metropolitan areas such as Tokyo. You will enjoy the cooler temperatures if you plan your trip around beautiful mountain ranges like the Japanese Alps or Hokkaido.
Winter in Japan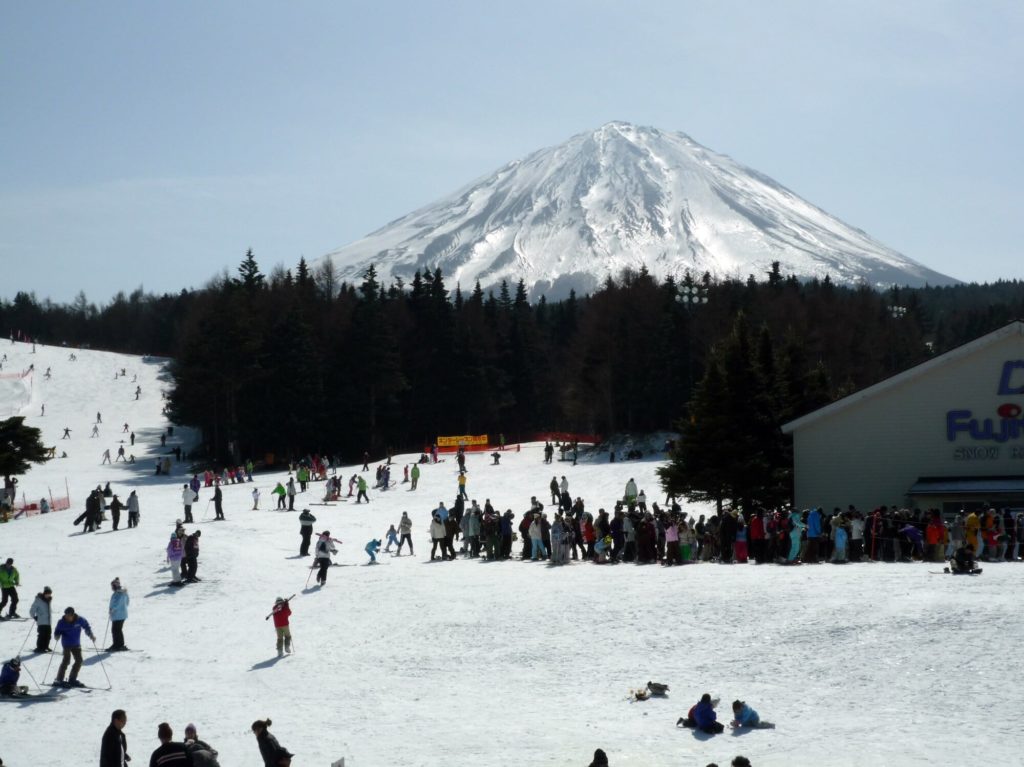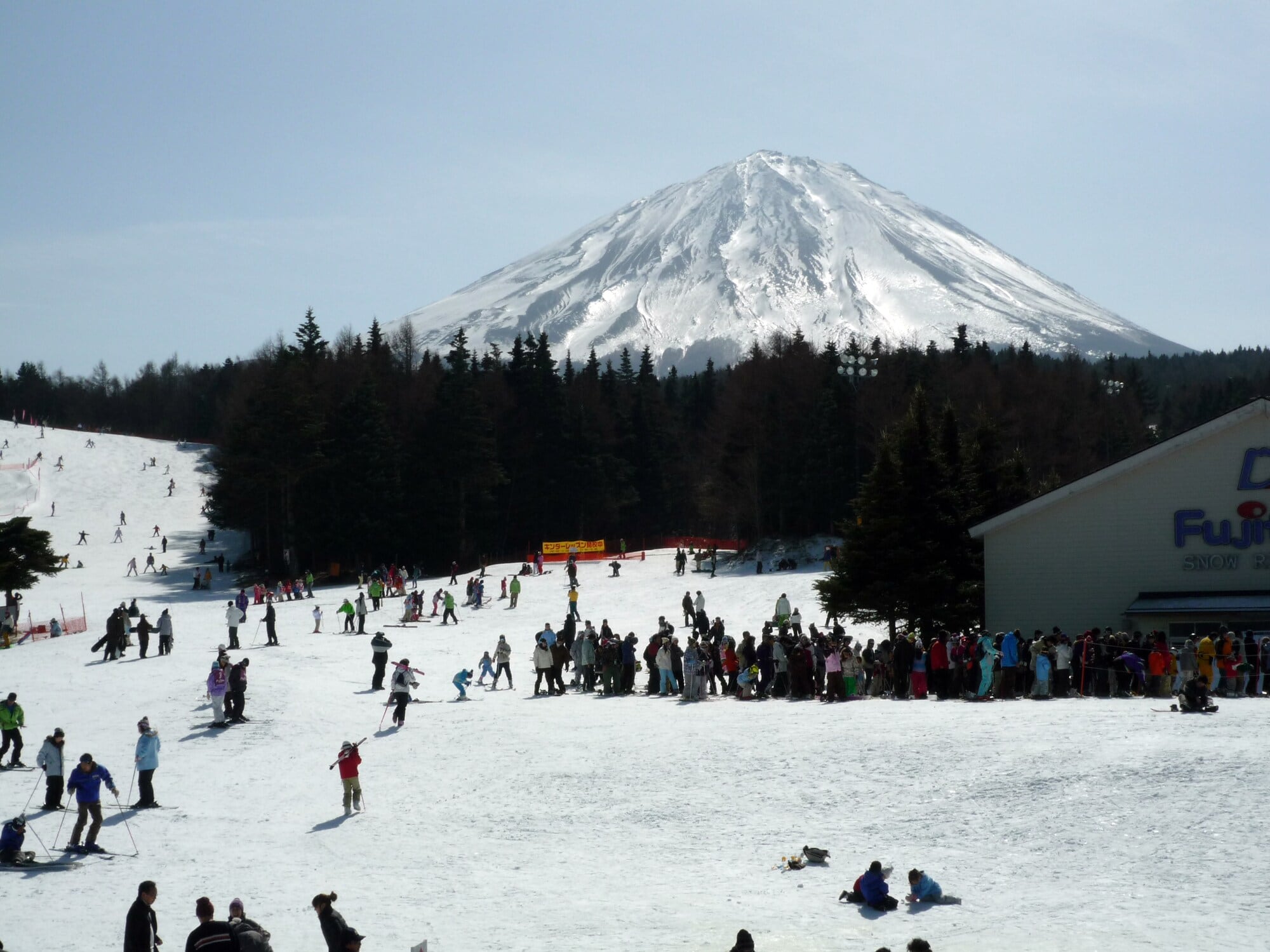 Winter in Japan lasts from December to February.
The average temperature ranges from 2-11 ℃ (36-52 ℉).
Our second favorite time of year due to low crowds and traveling in Japan is cheap. The weather may sound unpleasant to most, but one can easily manage it with the right clothes and preparation. Larger cities have mostly clear skies and offer magnificent views of the snow-capped Fuji from as far away as Tokyo and Yokohama. If you find yourself visiting in February, you can catch the plum blossom season and experience ume matsuri (plum festivals) in Tokyo's suburbs. 
Winter also brings magical, sparkling white blankets to Japan's mountainous areas, so make sure to visit the popular winter illumination event in Shirakawa-Go for a winter wonderland and Hallmark Christmas experience. Hokkaido in northern Japan takes the cake in winter festivities, however. Their annual Ice Festival in Sapporo offers some of the most incredible ice sculptures you'll ever see and plenty of opportunities to indulge in local cuisine like the Hokkaido ramen.
The famous Japanese macaques (snow monkeys) in Jigokudani Monkey Park is another full winter experience. They are the only wild monkeys in the world known to bathe in natural geothermal hot springs. Just merely observing them is a unique experience.
Winter in Japan also means visiting museums, slurping ramen, enjoying sake, and soaking in an onsen (hot spring) if you want to stay indoors. On the other hand, Okinawa has a different nature with a subtropical climate where they enjoy mild winters, hovering comfortably from 15-20 ℃ (59-68 ℉) in January and February.
Tips When Visiting Japan in Winter
The air in Japan in winter is arid, often below 40% humidity level. We'd recommend that you stay in hotels rather than cheap Airbnbs. Hotels in Japan provide humidifiers in each room to prevent dry and sore throats while sleeping.
Spend some time exploring the many onsen (hot spring) towns surrounding Japan's many mountains. Relaxing in an outdoor onsen can be a surreal experience, not soon forgotten.
While Nagano might be the most famous, there are plenty of destinations to ski and snowboard, such as Niseko Winter Resort and Furano Winter Resort, so consider them as well.
Unless you're explicitly required to travel so, avoid visiting during New Year as the prices for flights and accommodations skyrocket during that time.
Spring in Japan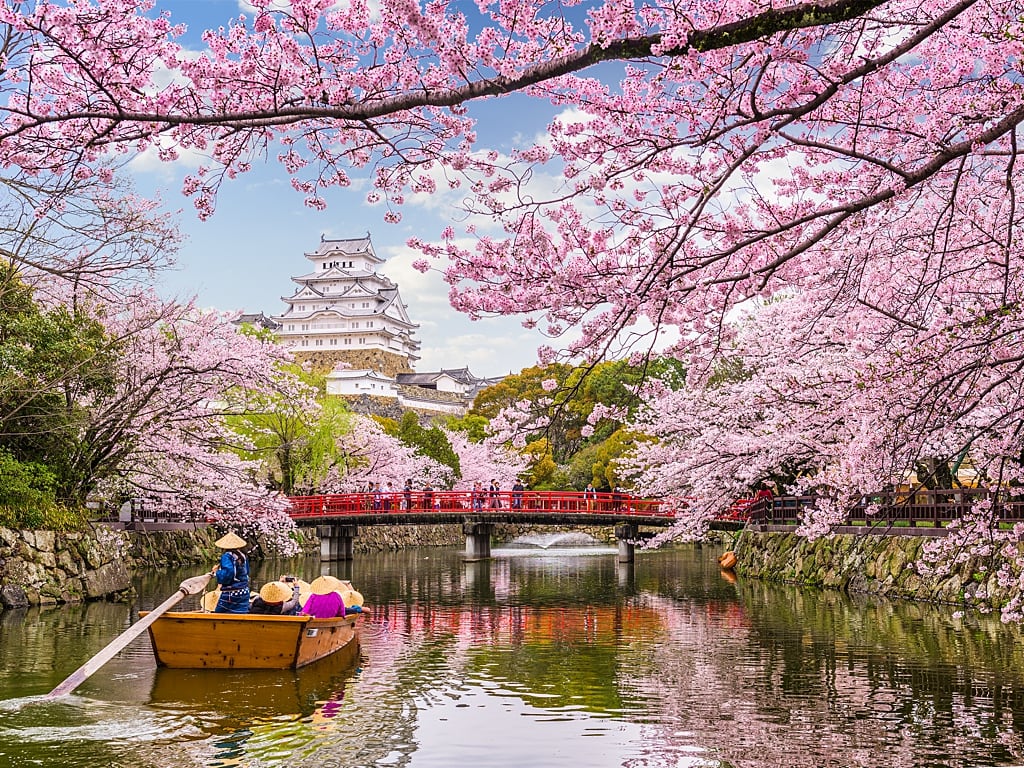 Spring weather in Japan lasts from mid-March to May.
The average temperature ranges from 9-20 ℃ (48-68 ℉), mostly warm and cold, but not hot or extreme cold. However, in early March, you will still feel freezing, especially in the morning.
Thanks to cherry blossoms, botanical wonders, numerous festivities, and mild weather, spring is the most popular time to visit Japan, and tourists will overrun every popular tourist attraction. Accommodations will book up months in advance, leaving few vacancies and peak season rates due to demand.
The cherry blossoms in Japan usually bloom around the end of March until early April. These are the loveliest days in larger cities like Tokyo, Yokohama, Osaka, and Kyoto for hanami (cherry blossom viewing). The entire blooming period can last for 10-14 days. But frequent rains can knock the petals off pretty quickly.
Should you miss the cherry blossoms, you can still experience plenty of spring promises in Japan. Watch a spring Grand Sumo tournament in May, traverse the Japanese alpine routes, or visit other floral hotspots throughout Japan. The wisteria tunnel of Kawachi Fujien Garden in Fukuoka, the Nemophila blossoms of Hitachi Seaside Park in Ibaraki, and shibazakura (pink moss) in Motosuko near Mt. Fuji are just one of the best places to experience the botanical wonders of Japan.
Tips When Visiting Japan in Spring
Prepare and book everything in advance, ideally 6-12 months before traveling.
Pack your weatherproof coat for unexpected showers.
Japan has an incredible amount of pollen from sugi (Japanese cedar) and Japanese cypress trees. Bring some allergy medications even if you don't usually suffer from allergies, especially if you travel from mid-March until mid-April, the peak pollen season.
Try and find a smaller park with cherry blossoms if possible. Tourists will pack the significant city parks in Tokyo, Kyoto, and Osaka.
Summer in Japan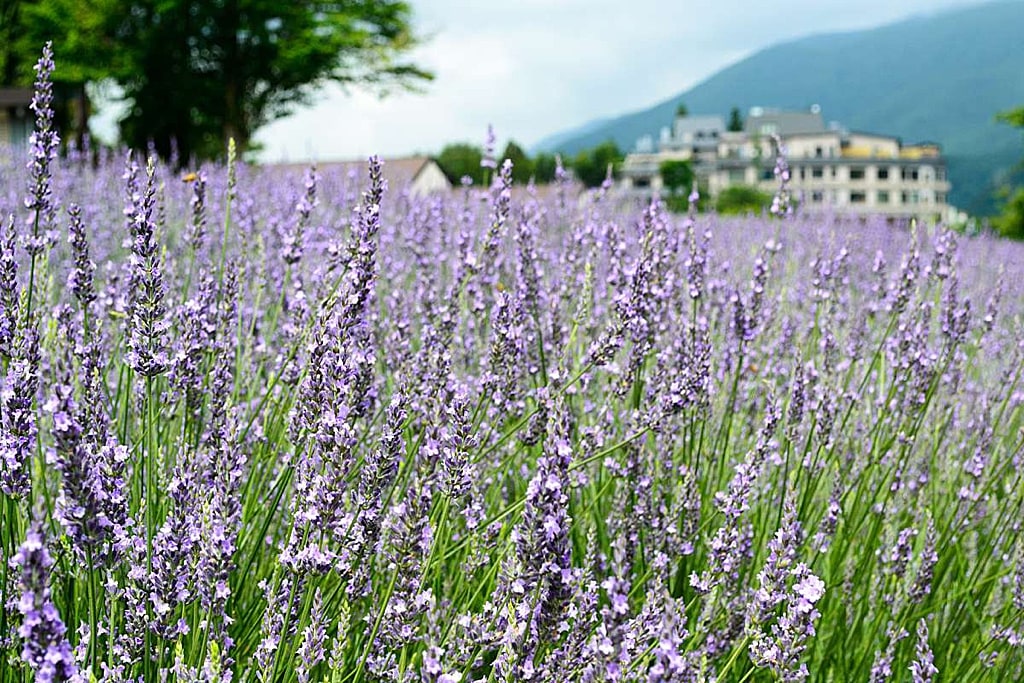 Summer in Japan lasts from June to August.
The average temperature ranges from 18-30 ℃ (64-85 ℉).
Still, it often feels much hotter due to the humidity with weeks of rain, which eventually gives way to steamy and often unbearably humid summers. The Japanese have a term for it: mushi atsui which literally translates to "steam and hot."
Summer also means enjoying vibrant matsuri (festivals), barbeques, ice-cold beer, camping, and witnessing dazzling fireworks. The annual Obon Festival is one of the biggest and most important festivals in Japan. If you're lucky, you may even get a chance to participate in them as well! For the adventure rush, Japan offers plenty of outdoor activities scattered throughout the country, from the best stretches of whitewater rafting in the town of Minakami to Okinawa's exquisite underwater seascape perfect for scuba diving.
Many climb Mt. Fuji from July until early September. But if you are not ready to conquer its summit, there are plenty of things to do in the surrounding area, especially at Lake Kawaguchi. Fuji-Q Highland, Oshino Hakkai, Chureito Pagoda, and the Lake Kawaguchi Mt. Tenjo Ropeway are just some of the top places where you can admire Mt. Fuji's majesty from below.
To escape the brutal heat, tailor your itinerary with a visit to the mountain towns such as Matsumoto, Hida-Takayama, and Toyama. Or visit Hokkaido which is charmed by several national parks and sparkling, glittering lakes. These places have much milder climates in summer while still offering plenty of activities and festivals.
Tips When Visiting Japan in Summer
Summer is a time for yatai (food stalls). Indulge your inner bon vivant! Carry cash when you visit food stalls.
Bring a small towel for wiping away sweat.
Typhoon season peaks in August, so keep a close eye on the weather forecasts.
Fall in Japan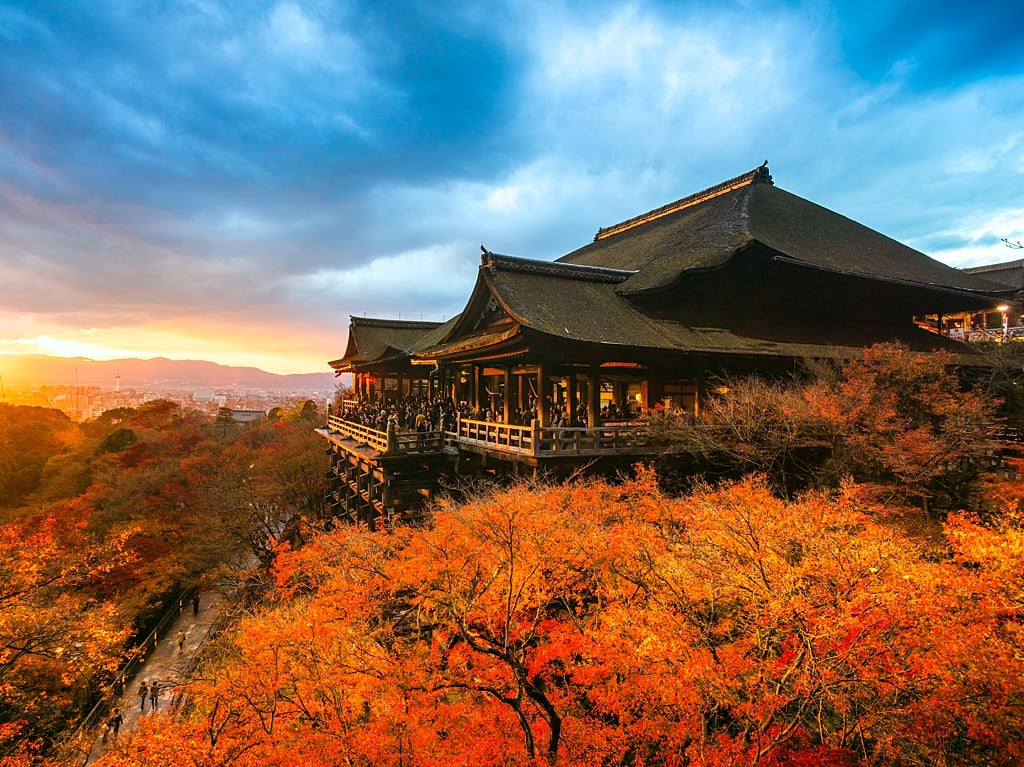 Fall in Japan lasts from September to November.
The average temperature ranges from 9-26 ℃ (48-79 ℉).
The colorful maples and ginkgo leaves make fall the apparent alternative to Japan's spring cherry blossoms, so it is the second most popular tourist season. Koyo (red leaves) in larger cities such as Tokyo, Yokohama, Kyoto, and Osaka start to change from mid-November to early December. The clear skies and changing leaves make for some spectacular views from atop the many mountains, so hiking and landscape photography are prevalent this year.
Cultural activities take center stage during this season as well. Make sure to include Japanese experiences such as watching the autumn Sumo Grand Tournament, cooking classes, tea ceremonies, kimono experiences, and traditional arts and crafts. Many festivals throughout the country also happen in October. One of the most impressive festivals is the Takayama Autumn Festival which takes place every October 9-10. German Christmas markets and winter illuminations in Sapporo, Tokyo, and Osaka starts in November.
Tips When Visiting Japan in Autumn
As with the spring, autumn travel requires a bit of lead time when booking your trip. So try to plan and reserve everything at least six months ahead of your flight.
To avoid the large crowds of tourists (or 'leaf peers' as we call them in Maine), visit more rural areas of the Chubu and Tohoku regions where their vast deciduous forests cast aside their emerald hues for vivid reds, yellows, and oranges.
To avoid the peak typhoon months, consider delaying your trip to November until early December. There are still plenty of places for fall foliage viewing if you can deal with the slightly cooler temperatures.
Conclusion
Planning a trip to Japan requires extensive research and preparation. Deciding on the best time to visit ultimately comes down to your personal preference. Do you want to see the cherry blossoms, climb Fuji, or take part in winter activities? Then you'll need to travel during the corresponding season for each. Take a look at the activities and experiences you find most important to your itinerary and plan around that.