Main Takeaways:
Tokyo, Kyoto and Osaka are must-visits destination for first-timers.
Our 10-day Japan itinerary is designed to inspire you and give you an outline, it's not written in stone. We encourage you to customize this based on your interests and needs that you've identified.
Every person's personal interests and needs will vary so it's important to focus on what your main travel goal is, rather than simply copying someone else's itinerary.
It's impossible to see everything in Japan, so to create an itinerary with realistic pace, narrow down your destination wish list and Japanese experiences that are important to you.
If after reading this guide you find yourself still looking for help, we are Certified Japan Travel Specialists and Japan Travel Counselors. We can handcraft this itinerary to suit your Japan wish list. Contact us here.
What makes Tokyo, Kyoto, and Osaka ideal cities for first-timers
Our itinerary is based on what is commonly dubbed "The Golden Route of Japan" as it traces the Old Tokaido Road that connected Edo (modern Tokyo) with Kyoto and Osaka. But unlike other active and rushed Japan itineraries, ours is designed to keep you at a leisurely pace, limited to 1-2 areas per day, and highlighting 3 major destinations. Add-in authentic and culturally immersive activities and it's perfect for first-time visitors.
So, if you're looking for a stuffed itinerary, that you'll have to rush from one to the next to see them all, this is NOT it. Japan is such a diverse country filled with regional experiences and cuisine that are far better enjoyed if you simply travel slower and take the time to connect with locals.
Even the most meticulously planned itinerary won't allow you to see even a fraction of what Japan has to offer. Be it 12 days, 14 days, or more, it's simply isn't enough. In Tokyo alone, it's easy to spend 10 days in a single district.
Heck we've lived in Japan for over 10 years and we feel like we haven't scratched the surface! Use our itinerary as a way to knock out the major destinations during your first trip to Japan.
Then, on your next Japan trips, expand your reach to include places like Fuji Five Lakes, Takayama, Setouchi Region, Koyasan, Fukuoka, Hokkaido, and the countless other destinations you want to discover! Simply put, visit Japan as many times as possible.
Why visit Japan?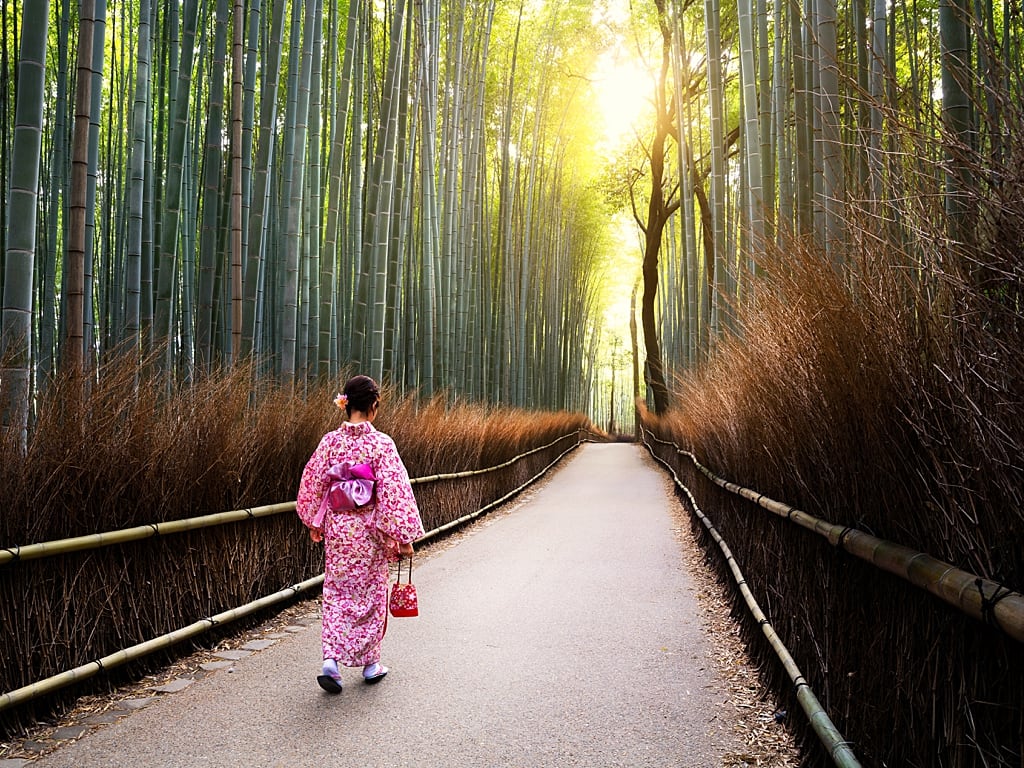 Japan is a strange mix of traditionalism and modernity, giving you the ability to go from historic castles, shrines, and temples dating back to well before the founding of America, to robot greeters at the entrances to towering skyscrapers.
The Japanese people are incredibly polite, the cities are incredibly clean, and the transportation system is second to none. Seriously, a major train company actually issued a public apology for leaving 20 seconds early! I can't think of a better example of Japanese politeness and transportation efficiency.
Another area we've found that sets Japan apart from all other international destinations is how far they go to accommodate tourists, the omotenashi culture (Japanese hospitality). This is actually rather surprising considering that Japanese tourism is still heavily dominated by in-country tourists. In other words, the main tourist in Japan are Japanese people.
This is pretty astounding when you consider the Japanese government stated their 2020 foreign tourism goal of 40 million people! This isn't to say it'll be necessarily easy to navigate or ask for directions.
There is a common misconception that the Japanese are taught English in school and can all speak a basic form of it. This is only partly true. The Japanese are taught English in school, but it's similar to when Americans learn French or Spanish; a compulsory class taken that is soon forgotten by most.
So brush up on your charades skills and download a translator app, you're going to need them both! More than anything though, you're going to need a well thought out itinerary due to the incredible amount of activities and attractions vying for your attention in Japan.
This is what we believe makes Japan so special and the reason it's one of the most traveled to countries in the world. There's just so much to see and do! You may also be concerned about budgeting.
Well, after years of living and traveling in Japan, we've personally found that having a mid-range budget ($$-$$$) gives you the right balance of experiencing Japan and its culture overall.
→ READ: Is Japan expensive? Average cost of Japan vacation.
You might also find these articles helpful to prepare for your trip to Japan:
What you won't find in this 10-day Japan itinerary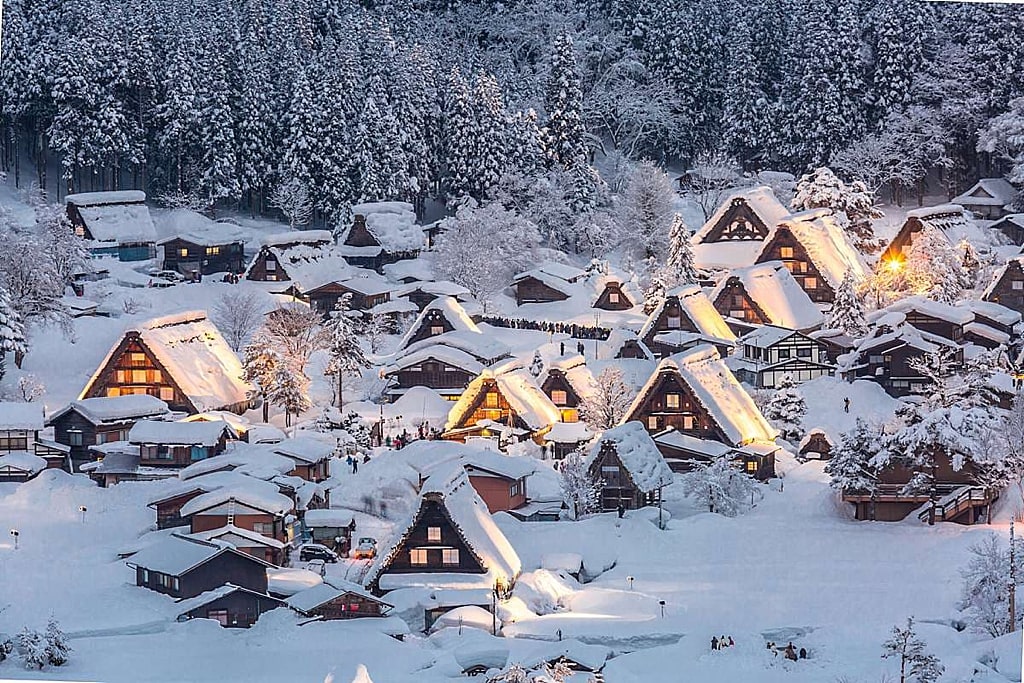 1. We don't promote activities that disrupts Japanese way of life and animal welfare.
You won't see us suggesting the city go-karting tours or visiting animal cafes. Instead, we'll be encouraging activities like attending a tea ceremony or sado, dinner with a Maiko (a geisha apprentice), watching a sumo tournament, or taking a cooking class to fully immerse yourself in Japanese culture.
2. You won't find an active or backpacking-style itinerary here.
Such as an overnight stay at temple Koyasan in Wakayama, or cycling the Shimanami Kaido bridge in the Setouchi region. Those destinations and activities deserve a specialized itinerary of their own.
3. You won't find seasonal activities here.
Japan can be enjoyed year-round. But some places and activities that are extraordinarily beautiful during certain times of the year.
Such as cherry blossom viewing, Shirakawa-go illumination, Nikko in autumn, and seeing the snow monkeys in Jigokudani Monkey Park are a few that come to mind.
This is why we created an itinerary based on the destinations that are not dependent on the time of year.
We don't want to set limits on when you should visit.
The ideal 10 days in Japan itinerary
Here's our 10-day Japan itinerary overview:
| Day by Day | Overnight |
| --- | --- |
| Day 1 | ようこそ!YOKOSO! Tokyo |
| Day 2 | Tokyo |
| Day 3 | Tokyo |
| Day 4 | Hakone |
| Day 5 | Hakone |
| Day 6 | Kyoto |
| Day 7 | Kyoto |
| Day 8 | Kyoto |
| Day 9 | Tokyo |
| Day 10 | さようなら!SAYOUNARA! |
Day 1: Arrival in Tokyo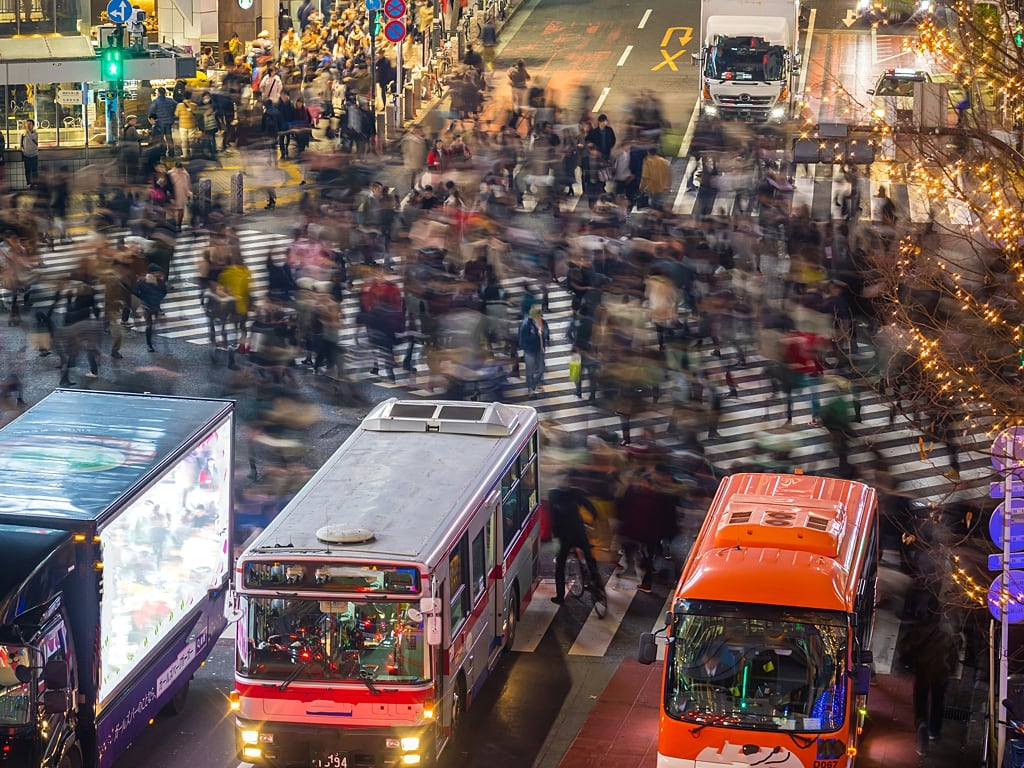 YOKOSO! (Welcome)
Read "Your First 1-Hour in the Airport" section at the end of this article for smoother arrival.
I bet you're happy to be off the plane after that long-haul flight!
This day is yours to do with as you see fit. You can use it to recover from jet lag or explore Tokyo independently at your own leisure.
If you choose to stay at one of our recommended hotels, our suggestion would be just to explore the area around it because they are all located in sightseeing districts.
HOTELS WE RECOMMEND IN TOKYO:
These are all strategically located in central Tokyo and are all within a short walking distance to major train stations, making your sightseeing to and from one place to another short and easy. All of these also offer breakfast options!
Day 2: Tokyo mainstays and Shibuya
Tsukiji and Ginza are Tokyo itinerary mainstays.
That's because Tsukiji is an important piece of Tokyo's history due to its famous tuna auctions, as well as being where you'll find the freshest sushi possible. The other, Ginza, has an interesting history itself, and is one of Japan's finest high-end fashion districts.
Conveniently, both are within a short walk from each other, which makes the completely contrasting atmospheres even more fascinating.
Tsukiji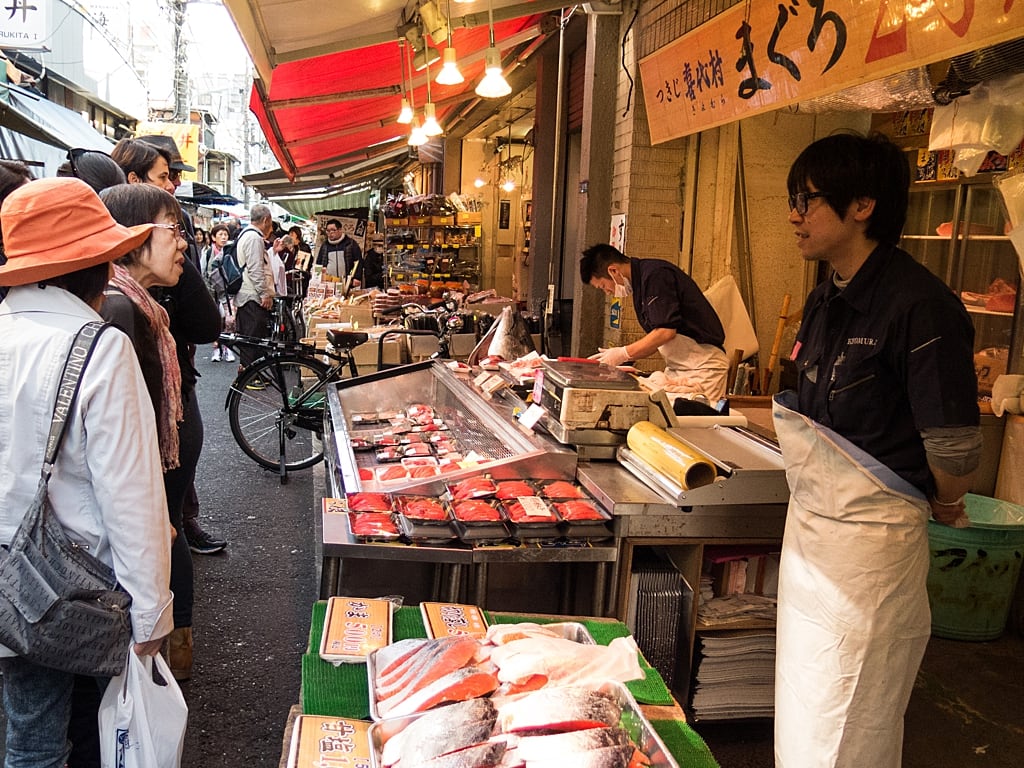 Get an early start and head to Tsukijishijo Station to meet up with your tour guide for the Tsukiji Fish Market. Tsukiji is a fantastic district filled with an assortment of culinary delights.
Although the main tuna auction has moved to Toyosu in Odaiba, the outer market is alive and kicking, filled with unique retail shops, sushi restaurants, chefs gathering ingredients, and restaurant supplies. Basically, all things food!
We absolutely recommend this professional and licensed guide known as the "Tsukiji King" who has an extensive knowledge about the Tsukiji fish market. Make sure to reserve your spot in advance.
Ginza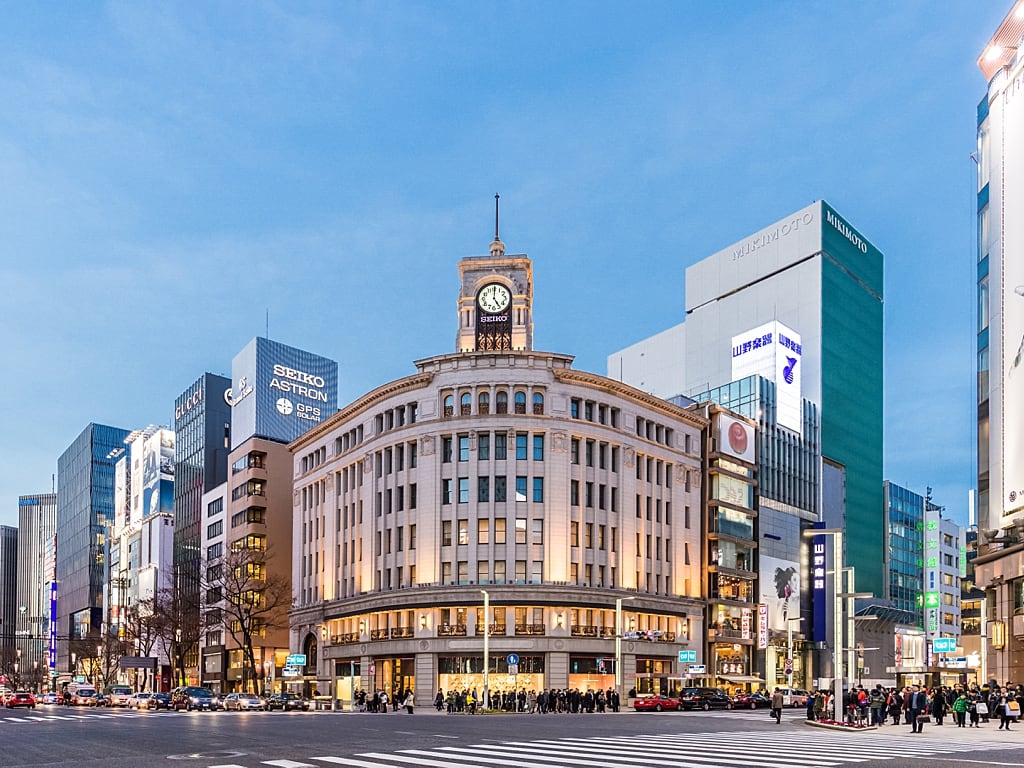 After your Tsukiji tour, it'll be time to explore the neighboring district of Ginza, which is just a short walk from the famous fish market.
On your way to Ginza, we suggest taking the small detour to pass by Tokyo's primer kabuki theater, Kabuki-za. If you are interested with Kabuki Arts, you can watch a performance which runs everyday.
However, to get in, make sure to reserve your tickets in advance online as they sell out quickly. There are morning and evening performances.
Moving on, Ginza itself is such a feast for the eyes, living up to its nickname "Ginza Pedestrian Paradise". It has numerous upscale shops, high street fashion stores, boutique shops, and lots of local and international flagship stores, UNIQLO Ginza being most famous flagship store here with 12 floors in total!
Walk into any of Ginza's department stores such as Ginza SIX, Mitsukoshi, and Matsuya and explore the underground world of "depachika," a Japanese term for the basement floor, which is dazzling maze of food halls and gourmet shops ranging from wine salons, tea shops, to cake & chocolate cafes.
Best of all, there are several food tastings available here!
After Ginza, you can either head back to your hotel to continue recovering from jetlag and recharge for Shibuya or head straight there since it's only a 15-min train ride from Ginza.
It's totally up to you.
Tsukiji Tour Alternative:
Shibuya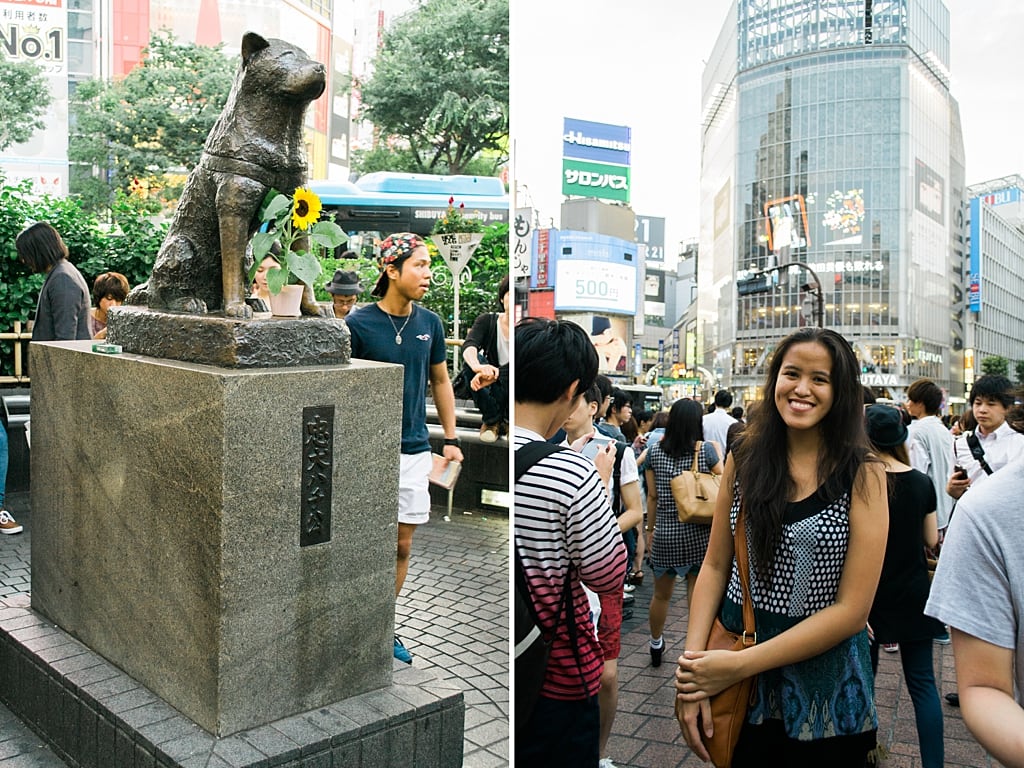 Next, is the trendy Harajuku district, the shopping complex of Omotesando Hills, the famous Shibuya Scramble Crossing, and see the even more famous Hachiko statue. All of which are part of the Shibuya ward (city-level municipality of Tokyo).
Start from Meiji-Jingumae Station. Behind Harajuku is Meiji Shrine, which you might have heard often from travel websites or blogs. You will be seeing more shrines in Kyoto, so Meiji Shrine is definitely omittable.
However, there are often traditional Japanese weddings taking place here, so if you'd like a chance of seeing the bride and groom making their way through the grounds, it may be worth the detour.
Some people hire a tour guide in Harajuku to cover its backstreets and hidden shops and cafes, but it's definitely unnecessary in this case. The whole area of Shibuya is an absolute sensory overload so you might not even pay attention to the tour guide at all.
An exception to this is at night, where joining an izakaya or bar-hopping tour is definitely an experience not to be missed in Shibuya. If you're looking for the most authentic izakaya experience, a guide will be needed to take you to the local hideaways.
→ Click to see bar-hopping tours in Tokyo or walking food tour here.
Here's the ideal walking path from Meiji-Jingumae Station:
Day 3: Asakusa and surrounding neighborhoods
Asakusa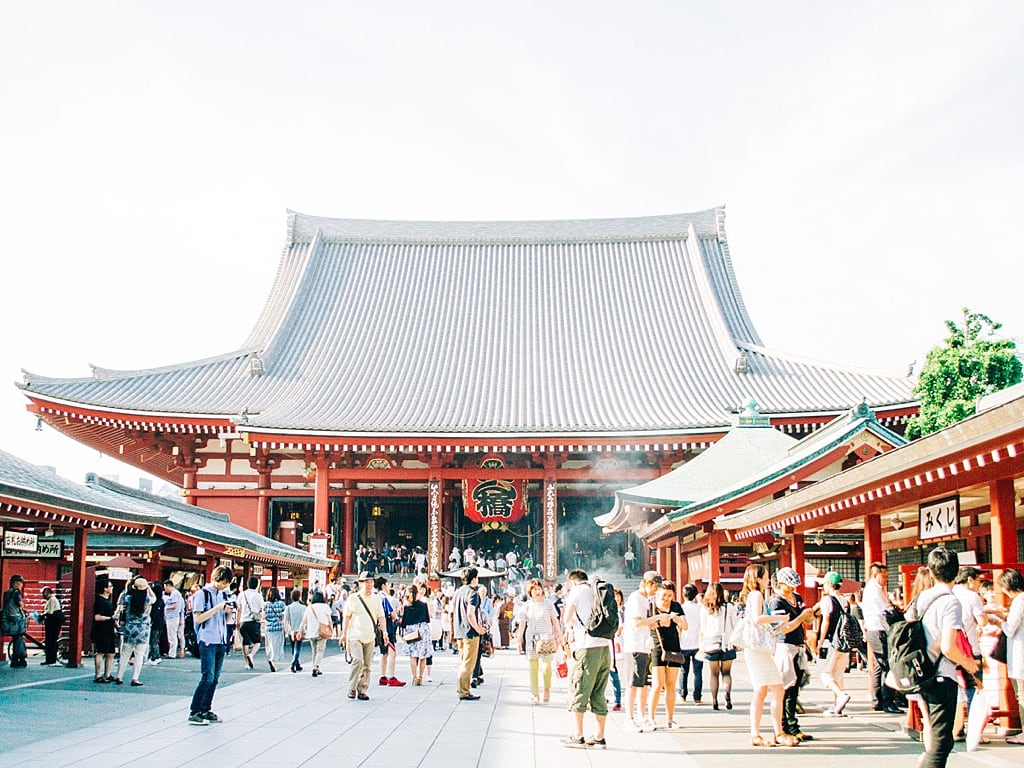 Asakusa has Tokyo's ancient and oldest Buddhist temple, Senso-ji, dating back to 628 AD. As you enter the temple grounds you'll see a massive gate called Kaminarimon (lit. "Thunder Gate") with a giant lantern in the middle and golden statues on either side.
As you approach Senso-ji you'll walk along the long Nakamise-dori and you'll see another giant structure, a 2-story "house gate" called Hozomon.
Since Senso-ji is an important temple, be prepared to tackle the grounds with crowd. The Tokyo Skytree, the world's tallest tower, is also visible from temple grounds of Senso-ji, so you might want to take a few photos of it!
For the best experience, there is a FREE insightful guided tour in Asakusa that you might consider joining. Tipping is encouraged (an exception to the Japanese etiquette of no tipping).
These are local volunteer guides who work hard to give tourists the best experience. Since it's FREE, it can fill up fast, so you must book at least 10-14 days in advance.
Surrounding Neighborhoods
After your Asakusa tour you can either head back to your hotel and rest or continue exploring.
Should you decide on the latter, here are our suggested sightseeing neighborhoods around Asakusa for your afternoon excursion, all which are only short train rides away from Asakusa.
The choice is yours, but just choose one!
1. Imperial Palace.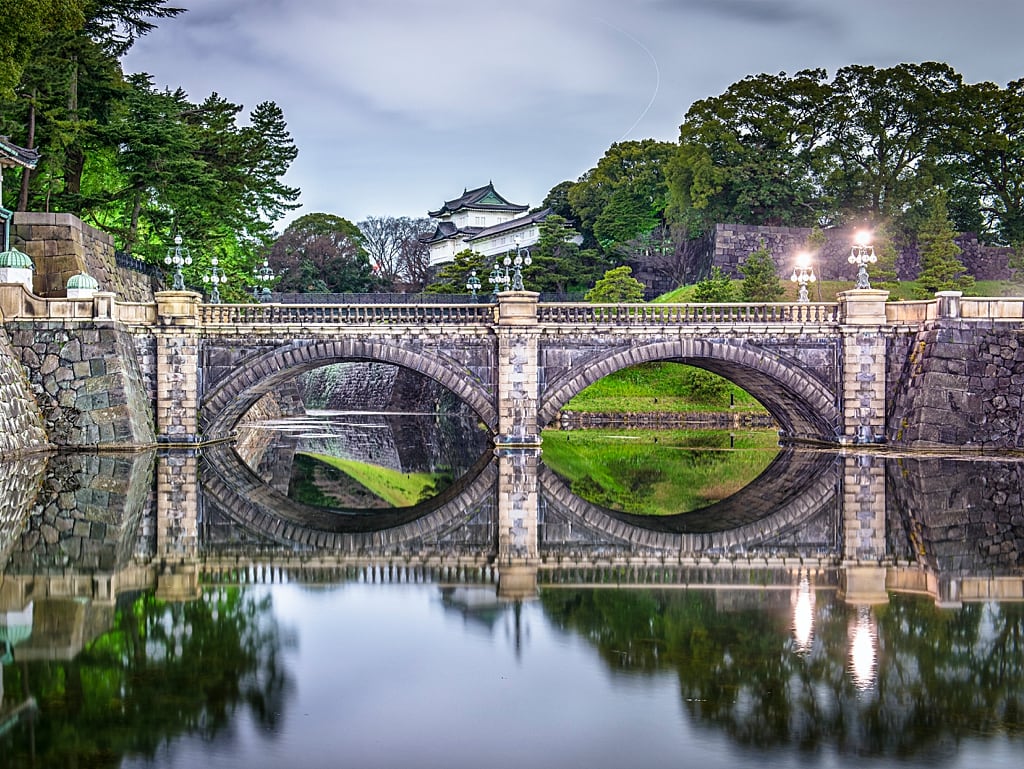 Closest Station: Nijubashimae
The old Edo Castle which now serves as the main residence of the Imperial Family. They only open their gates publicly twice a year, New Year and the Emperor's Birthday.
Even if you cannot enter the inner grounds, the surrounding moat and its spectacular bridge is just as visually appealing and a sight that's hard to beat even when exploring other castles throughout Japan.
If you'd rather explore more by foot, you can go around to the east entrance of the castle and visit the Imperial Palace East Garden, which is open to public but closed on Mondays.
2. Yanaka and Nezu Districts.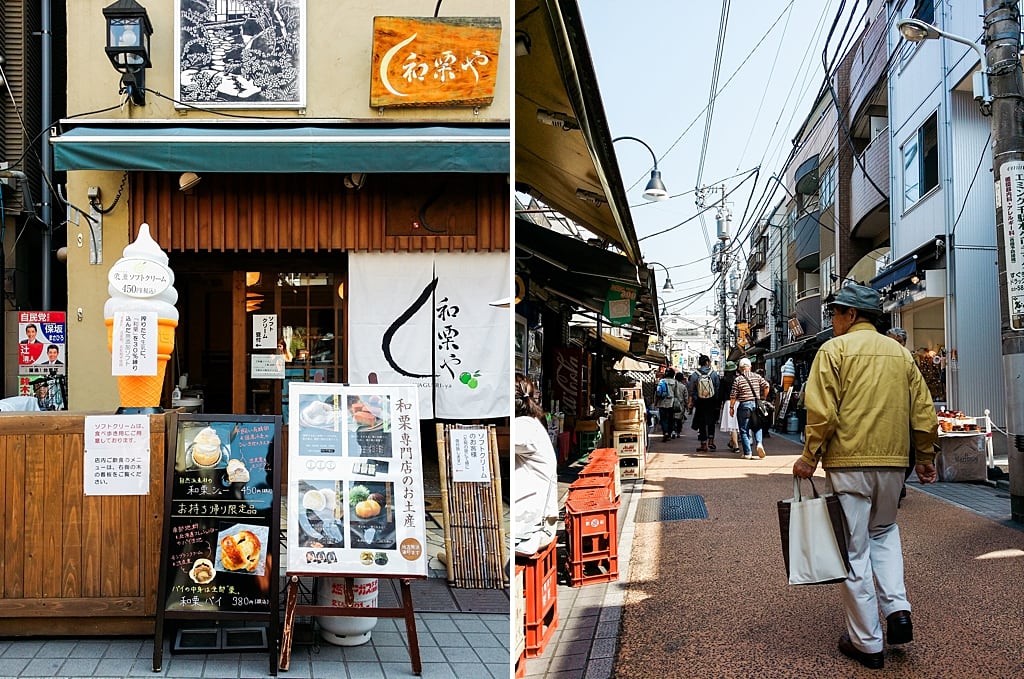 Closest Station: JR Nippori
Yanaka is the only old quarter town in Tokyo where the Shitamachi (downtown Tokyo) atmosphere from the Edo period still resonates. Just by strolling around, you'll be fascinated by its rustic ambiance and feel like you're back in Old Tokyo (Edo).
One of the attractions here is the Yanaka Ginza, a cute shopping street filled with locally-owned shops and coffeehouses. Many tourists enjoy having a tour guide here as it's slightly off-the-beaten path.
If you'd like to have one, do this in the morning and make your visit to Asakusa in the afternoon.
3. Akihabara (Akiba).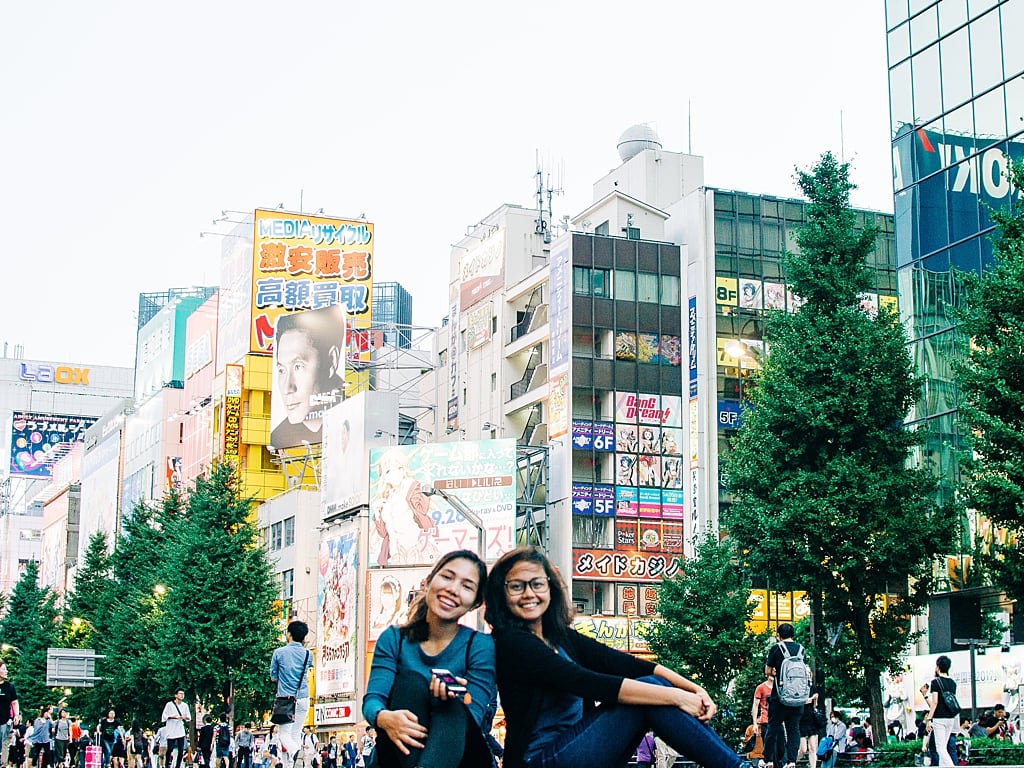 Closest Station: Akihabara
The epicenter of electronics and otaku culture, Akiba is a must-see for fans of anime, manga, video games, maid cafes, and Japan's geek culture.
Even if you're not a particular fan of some of these things, Akiba is home to one of the largest electronics stores in Japan at Yodabashi Camera, which offers a ton of tax-free international goods.
The only thing I would recommend against is choosing to eat here. The food is drastically overpriced and made more for Instagram pictures than flavor.
4. Tokyo Skytree.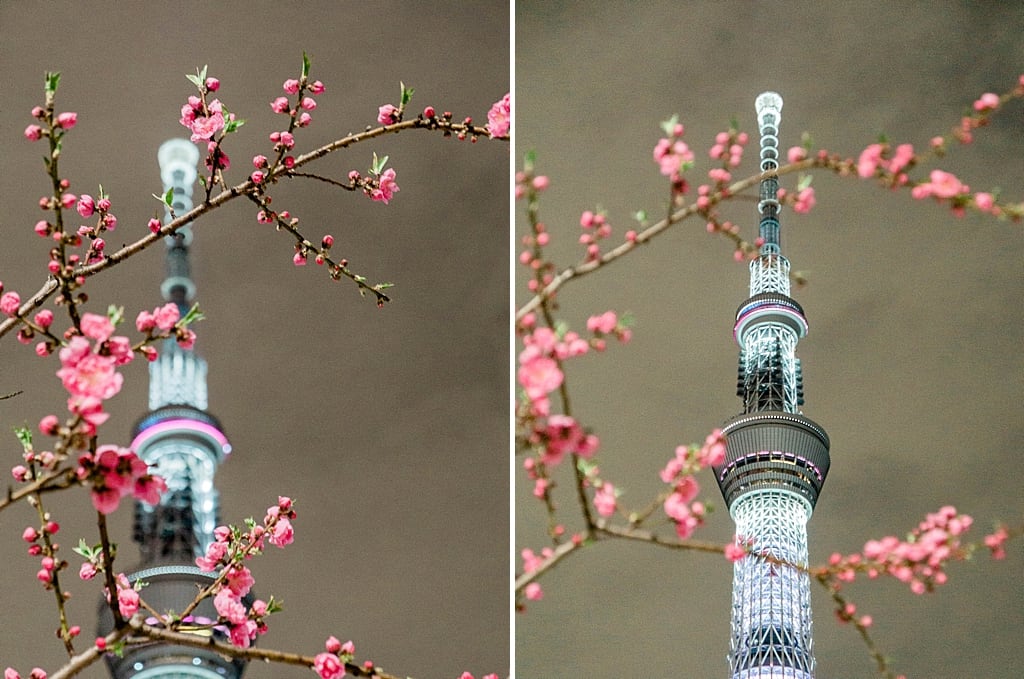 Closest Station: Tokyo Skytree
Personally, we found that it's more enjoyable to just explore the sprawling mall with numerous restaurants and shops outside the Tokyo Skytree than going inside the Tokyo Skytree itself.
If you're still interested in seeing the view from the top, we recommend going inside the Tokyo Skytree on a clear day only.
→ Click to get discounted tickets for Tokyo Skytree
Day 4: Relax in Hakone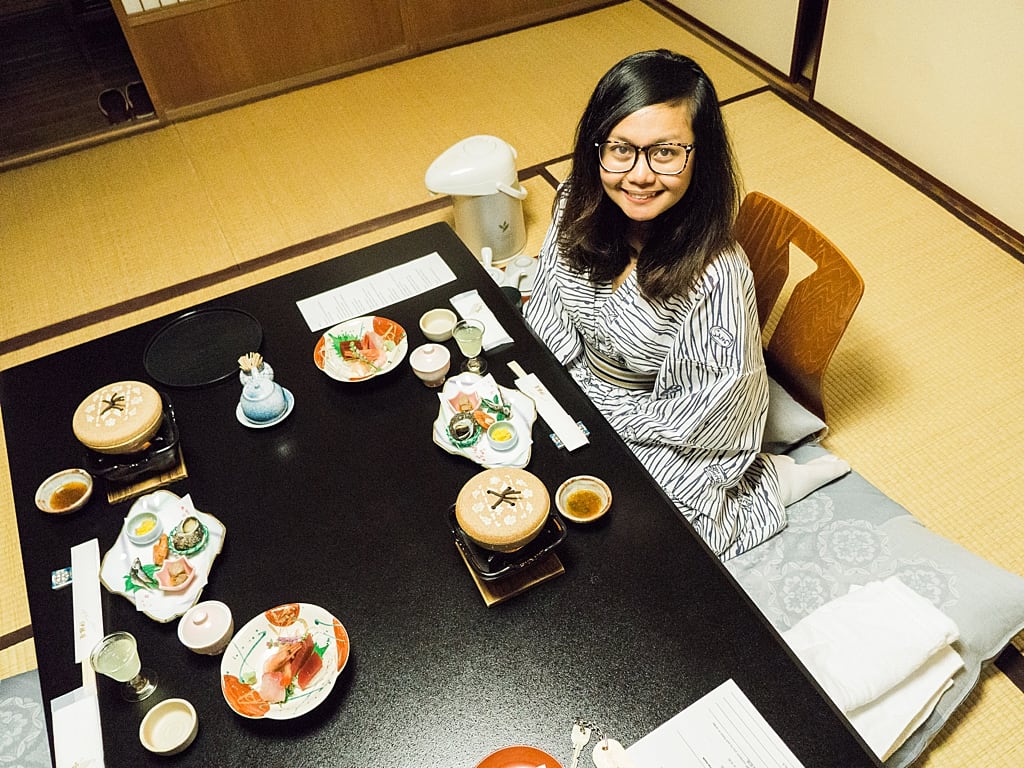 Hakone, part of the Fuji-Hakone-Izu National Park, is a charming small onsen town (hot spring town) with lots of art museums and nature. It's a perfect place to unwind and soak in the mineral-rich onsen (hot spring) and escape from the hustle and bustle of Tokyo.
In Hakone, your accommodation choice will absolutely play a huge role.
Truth be told, it is not the attractions and things to do you're after here, but your immersion in the traditional Japanese inn that's known for its top-notch omotenashi (Japanese hospitality). Something you should absolutely experience.
Many Tokyoites come to Hakone to seek relaxation first and sightseeing is just secondary. We believe that should be your goal as well.
To achieve this goal, we highly recommend staying at a ryokan, a traditional Japanese inn, for an authentic experience.
We suggest finding one offering full kaiseki meals (traditional Japanese set meals), yukatas (traditional Japanese clothing), and have an onsen bath.
If you have tattoos or can't be bothered with being naked in public, choose a ryokan with private onsen (hot spring bath).
How to get to Hakone
Activate your JR Pass on this day!
The easiest and fastest way to go to Hakone is via the bullet train from Tokyo Station (or Shinagawa Station) to Odawara Station which is covered by your JR Pass.
Once you arrive in Odawara Station, purchase the 2-day Hakone Freepass, a discount excursion ticket that will cover unlimited rides for all sightseeing transportation in Hakone such as the ropeway, cable car, Lake Ashi cruising, and buses.
The from Odawara Station, transfer to Hakone Tozan Line Local (covered by your Hakone Freepass) towards Hakone-Yumoto Station.
With your Hakone Freepass, you can start sightseeing using the recommended sightseeing course in your pamphlet which should be provided when you purchased the Hakone Freepass. Or just completely relax in your ryokan.
RYOKANS AND ACCOMMODATIONS WE RECOMMEND IN HAKONE:
Many of the accommodations in Hakone have onsens (hot springs). Since Hakone is within the border of Fuji's volcanic regions, having a hot spring bath in your accommodation is almost a guarantee.
There is a Hyatt Regency in Hakone, but rooms with traditional tatami mat flooring are very limited and have outrageous prices. In addition, you WON'T feel the "true" omotenashi culture here.
So it's best to stay at a traditional ryokan in Hakone.
When it comes to selecting your ideal accommodation, the best location depends completely on what you want to achieve.
If you're visiting for views of Mount Fuji, the hotels and accommodations around Lake Ashi are your best choice, it's also near the walking trails of the peaceful and beautiful Hakone shrine.
If sightseeing is your goal, then we recommend staying in the Gora area. From here it's also easy to reach top attractions such as the Hakone Open Air Museum and Owakudani Valley "Valley of Hell."
If you're looking to do a little bit of shopping and/or want quick access to great food options, then you are to love staying near Hakone-Yumoto Station. There are many cute rows of stores around here and the number of restaurants in the area outnumbers what's found in the other areas of Hakone.
The area itself has a rich history as the Hakone-Yumoto Station opened in 1888 and is a significant part of the old Tokaido Road.
Day 5: Hakone attractions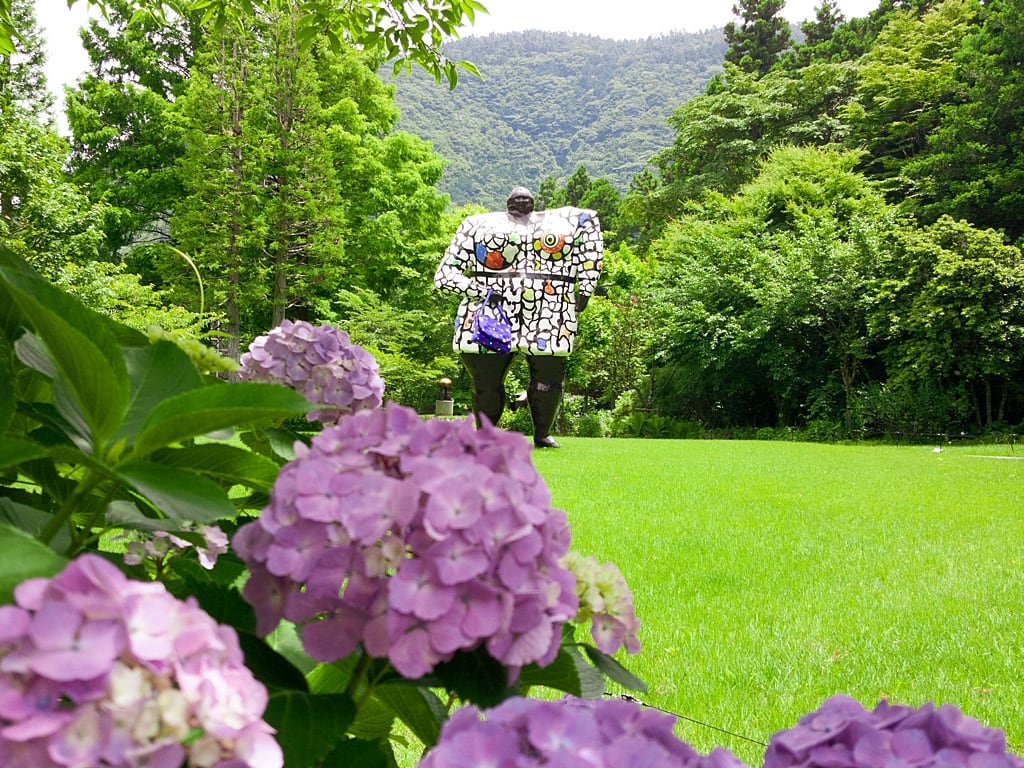 With your Hakone Freepass, you can cover pretty much every attraction in Hakone, but which attraction to go is totally up to you. Again, the goal in Hakone is to relax and take in the nature of Fuji-Hakone-Izu National Park.
Having said that, from our experience, 2-3 attractions are enough to see in Hakone.
Here are some ideas for you to see in Hakone we've arranged in order in a matter of easy sightseeing:
1. Surrounding areas of Hakone-Yumoto Station. Hakone-Yumoto Station itself is an attraction to those who love to shop and for those who love quick bites. It has rows of stores of food souvenirs and street food and some sweet treats that's worth checking out. Also check out the red bridge directly across from it.
2. Hakone Open Air Museum. Admission fee ¥1,400. Definitely skippable unless you like art. It's quite huge, so this museum might consume your time.
3. Owakudani. A geothermal valley with hot springs famous for its black eggs cooked in its sulphuric hot springs. Legend has it that eating these eggs will prolong life.
4. Lake Ashi. If you're lucky and get a clear day, you can see the beautiful Mt. Fuji from here. The Pirate Ship Cruising is included in your Hakone free pass so take advantage of it. Note that depending on the weather, the cruise will not operate.
5. Hakone Shrine. Where the famous giant floating torii gate stands. This is an excellent photo spot! The main shrine is nestled in nature and going to the giant torii gate is a bit of a hike.
Day 6: Welcome to Kyoto!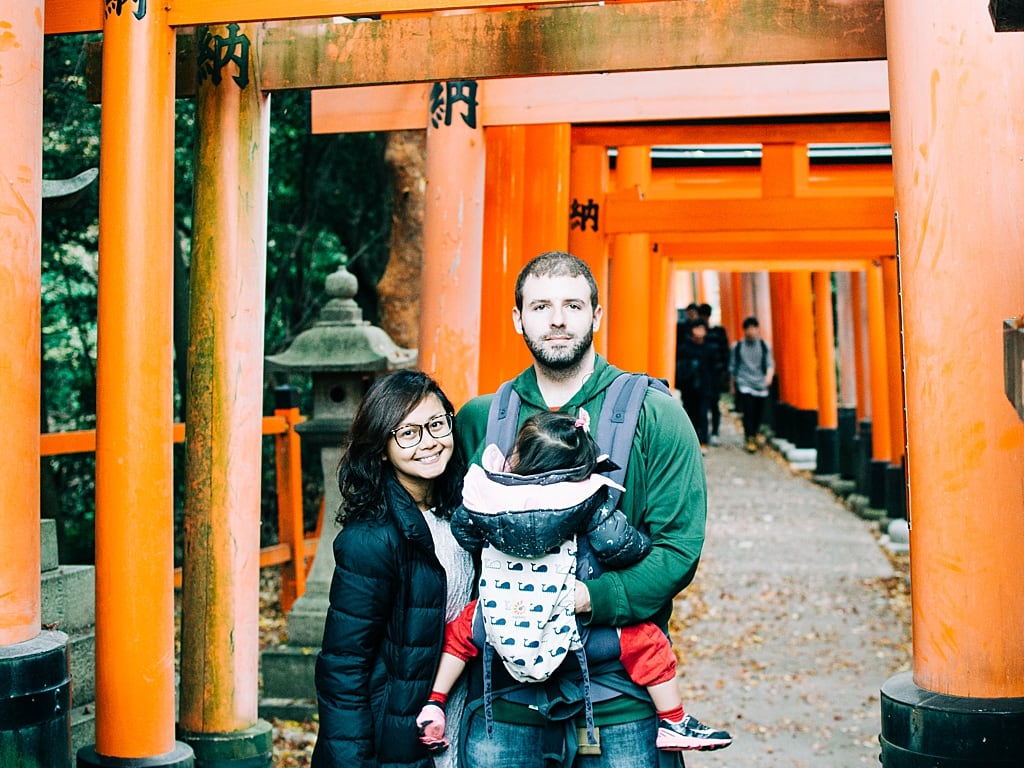 After breakfast, check out of your hotel in Hakone early and head to Odawara Station for the bullet train to Kyoto. Travel time is about 3 hrs.
We also suggest that you get a lunch or meal in the Shinkansen (yes, they serve food! And yes, it's surprisingly good!)
Welcome to Kyoto! Here are some of our pre-arrival notes about Kyoto:
1. Stand on the right side of escalators. Kyoto follows the Osaka's rule where it forces people to walk on the left and stand on right when riding escalators, the opposite of Tokyo. It is EXTREMELY RUDE to stand on the walking side.
2. There are a few railways here that are covered by JR Pass. Just like Tokyo, you're going to use your IC Card here to ride the trains or buses. You also have the choice to buy a Kyoto Pass with unlimited rides via Kyoto's subways and buses.
For this itinerary however, we don't recommend getting a Kyoto Pass. It can make you feel obligated to cram in as much travel as possible and is only valid for a certain number of days, so it's not really worth it.
3. Expect attractions in Kyoto to be very crowded. Kyoto has become overcrowded over the years because Japan has relaxed the visa requirements for neighboring asian countries such as China, Thailand, Indonesia, and Malaysia.
In addition, Kyoto has gotten a lot of attention from Westerns foreigners because it's cheaper than Tokyo. So consider hitting major attractions during the weekdays to avoid some of the crowd.
4. You are going to walk a lot in Kyoto. If you walked a lot in Tokyo, expect even more walking in Kyoto.
This is because, while still boasting a very efficient transportation system, there are a lot fewer train stations in Kyoto. So the activities require more walking to reach.
This is why we recommend staying at an accommodation with an onsen, to rest your sore feet after a long day!
5. You absolutely don't have to see each and every attraction here. Just like in Tokyo, only prioritize attractions that are important to you.
I actually have a friend who got sick of seeing shrines and temples in Kyoto after following the recommended itinerary of a certain travel blog. He expressed that it wasn't only tiring, but it was repetitive and expensive due to paying entrance fees at each.
Another friend also expressed that she wasn't that impressed because she's seen temples in places like Cambodia and Thailand, where the temples are extraordinary. So really think about what to include in your itinerary. But of course, to each their own.
6. Wearing a kimono. Many tourists visiting Kyoto rent a kimono to experience a bit of traditional Japanese culture while sightseeing.
Think carefully which day you'd like to rent your kimono, and be sure to consider here the rental location. It should be convenient and easily accessible from the train station and near where you will start and end your tour.
It's also important to make your reservations online as this is a very popular activity for both foreign and local tourists.
Fushimi Inari Shrine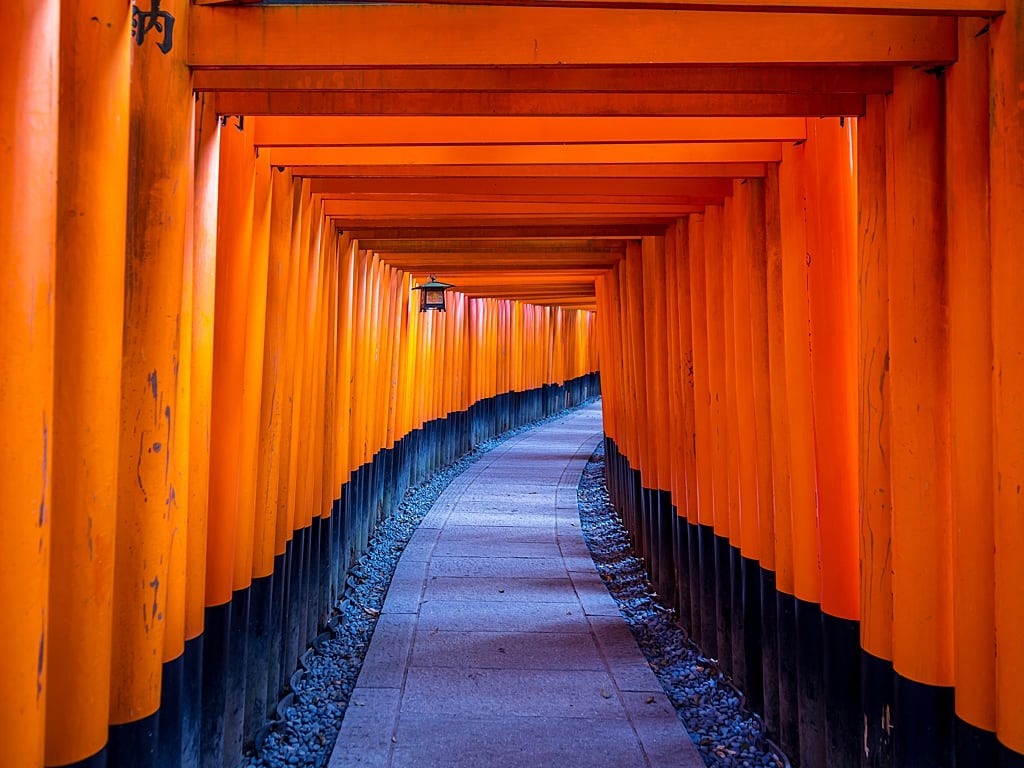 I am really hoping that you've utilized the luggage forwarding service here. Upon arrival in Kyoto Station, if you're hands-free and have already eaten on the Shinkansen ride, Fushimi Inari Shrine is very convenient to reach via a short 5-min train ride (Inari Station covered by JR Pass).
Home to Senbon Torii (Thousands of Torii Gates), Fushimi Inari is Japan's most important shrine to Inari, the Shinto God of Rice. The shrine has very ancient roots, dating back to before 794 A.D., and has a peaceful hiking trail offering some fantastic views of the city.
Take some time and try some kitsune udon (fox udon; don't worry, it's not made of fox) and inari sushi!
Want to visit Fushimi Inari in a kimono? Make an advance reservation through this shop. It's only a few minutes from the Inari Station.
RECOMMENDED RYOKANS AND ACOMMODATIONS IN KYOTO:
Day 7: Kyoto walking tour or Japanese culture experience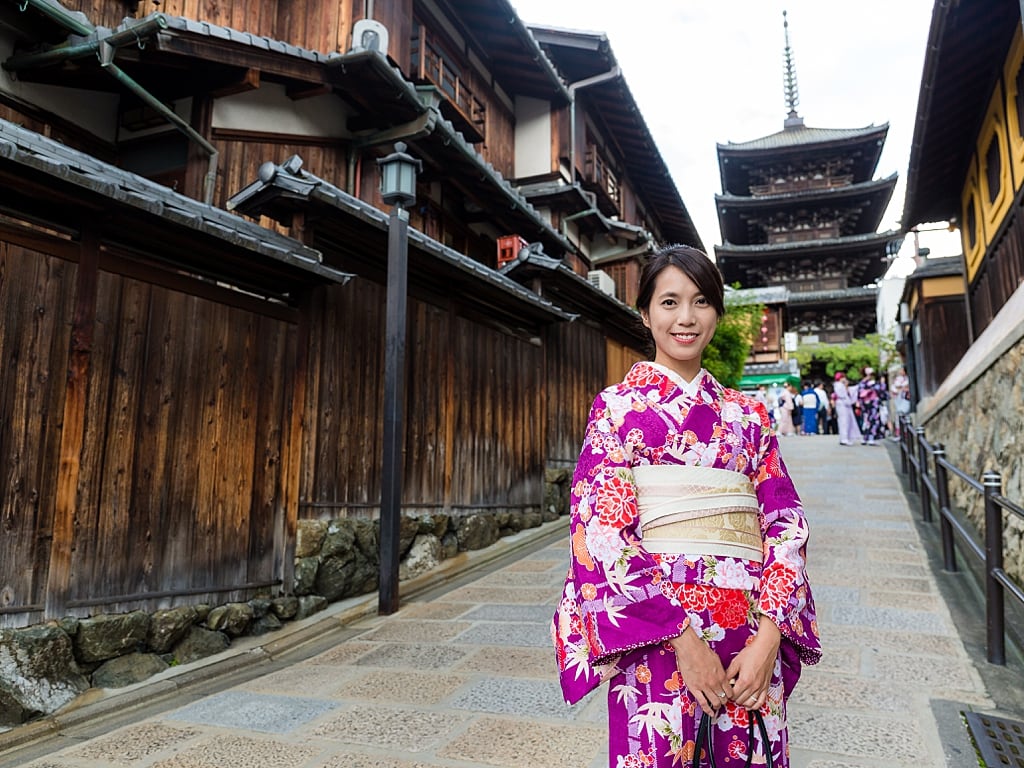 You have plenty of options here so think carefully on which activity you'd like to experience the most.
Version 1: Walking Tour of the Higashiyama area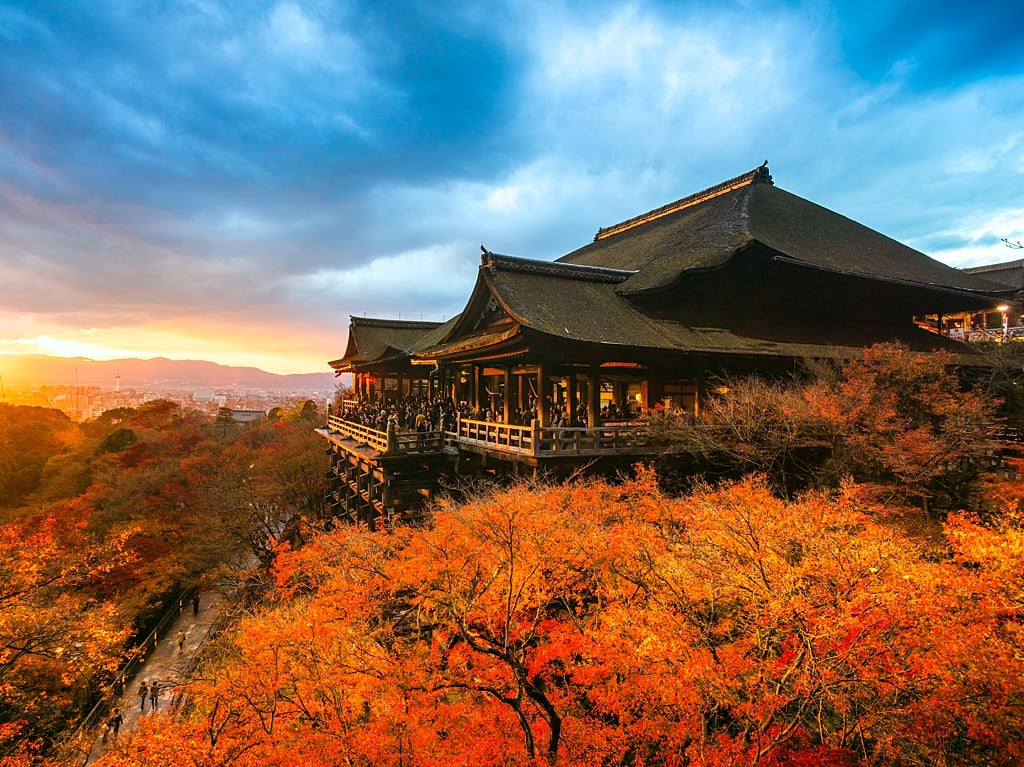 After breakfast, head to Kiyomizudera temple, one of the most important and ancient temples in Japan, founded in 780 AD. It has a massive temple grounds and is also a UNESCO Heritage site.
UPDATE: Kiyomizudera is currently under construction and is scheduled to be finished in March 2020. Entrance fee is ¥300. Skip it if it's still closed.
After your visit to the Kiyomizudera, head down to the nearby streets around the Kiyomizu-dera Temple and continue along to the popular shopping streets, Sannen-zaka and Ninen-zaka.
The area has a very old town feel as all the shops are wooden and built in a very traditional manner. The shops sell a variety of goods including local treats, tea, wooden dolls and other crafts, so be sure to bring an extra bag along if you're interested in picking up any souvenirs!
Other notable sightseeing streets in the area are:
Yasaka-no-To pagoda. One of the iconic sites of the city, featured on most Kyoto postcards.
Ishibe-koji. An interesting stoned street lined with wooden corridor and narrow entrances to traditional Japanese restaurants and ryokans.
Nene no Michi. Stretching from Gion to Sannen-zaka, this area retains the look and feel of old Kyoto.
Please note that the Higashiyama area is very small. So the sightseeing areas here are quite compact. Even though we've listed many notable attractions here, don't become overwhelmed because it's easy to see them all!
→ Click to use our walking route map.
It will only take around 31-35 minutes due to how compact the areas are. You'll definitely spend time stopping here for photos. Be wary though, this route is crowded, especially on the weekends!
You'll most likely end your walk at Hanamikoji Street. From there, Gion-Shijo train station is just 4 min-walk. You can take the train to your hotel to relax or continue exploring on your own.
Version 2: Walking Tour with the "Last Samurai"
A really good alternative to the Higashiyama tour, is the one of a kind walking tour led by "The Last Samurai" Joe Okada, the oldest licensed English-speaking tour guide in Japan!
This is a truly insightful tour as Joe knows every corner of Kyoto, but he won't take you to touristy places. Part of the tour is a mini show, "Cutting Apple in the Air."
NOTE: Samurais in Japan were abolished a long time ago, in 1868. So Joe Okada is not actually a samurai.
The title is honorary and given to him after teaching two American students how to rapidly cut apples in the air within 60 seconds. This led to both ending up in the Guinness World Records book.
In 2011, he was also appointed by the Kyoto City to be the city's Omotenashi Ambassador.
→ Check pricing for one-of-a-kind walking tour with Joe Okada
Ideas in the evening of versions 1 and 2 itinerary
If you haven't yet done so, explore downtown Kyoto, which is a great place for shopping. A good place to start is the Shijo Kawaramachi Intersection near Kawaramachi Station, then walk your way towards Pontocho Geisha Alley and Gion Tatsumi Bridge.
Version 3: Experience a Traditional Japanese Culture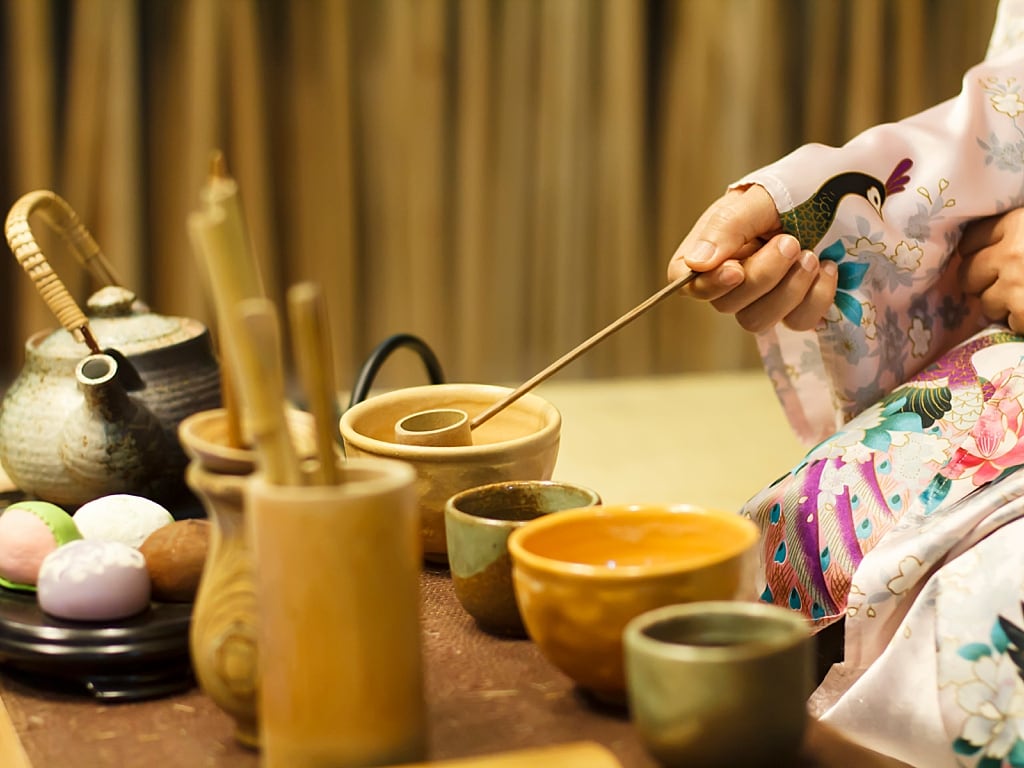 Experience an authentic traditional tea ceremony performed by a tea master.
In the evening, enjoy a spectacular dinner with a Maiko (a geisha apprentice) . With this experience, you'll enjoy a fantastic dinner at the famous Yasakadori Enraku restaurant along with a Maiko.
You'll watch an elegant dance, play some traditional parlor games, chat, and enjoy a rare photo session. It's truly an unforgettable experience.
Version 4: Arashiyama Bamboo Forest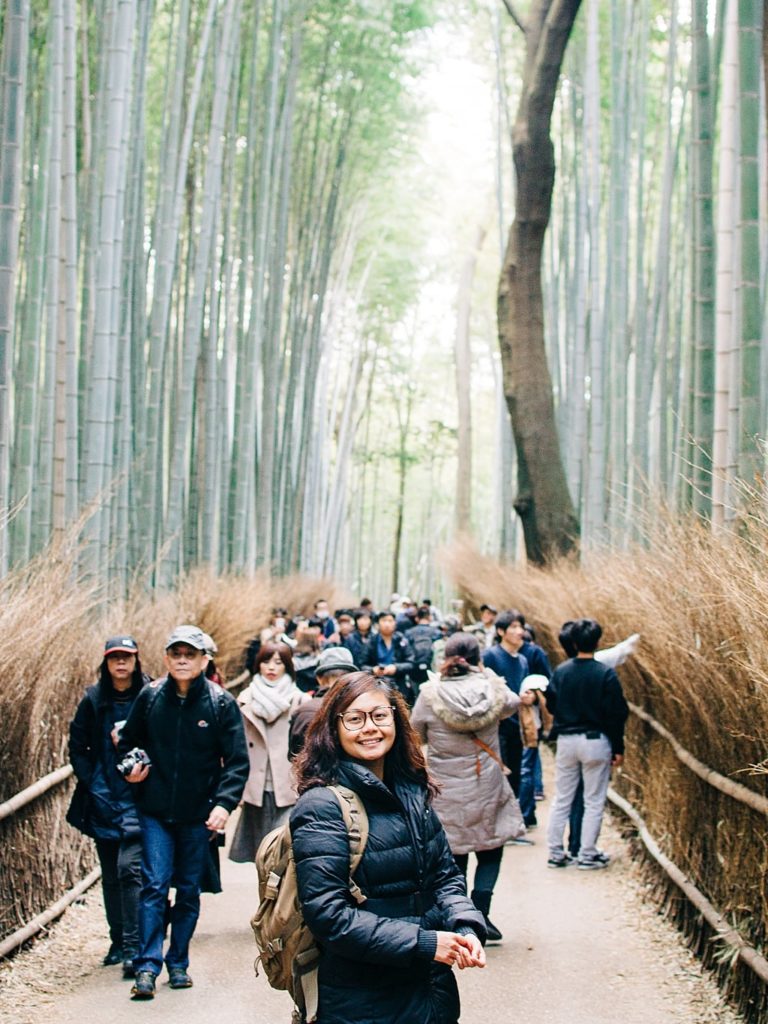 The trip to Arashiyama Bamboo Forest is a full day trip in itself as there are plenty of things to see and do here aside from just the Bamboo Forest.
However, you absolutely need to hit the train very early to really enjoy it's pristine beauty as it suffers from enormous crowds after 8 a.m.
Many tourists, us included, didn't enjoy the forest because it was packed by the time we arrived at around 10 a.m. So if you think you can get there before 8 a.m., do it.
If not, you can either save your time and skip it, or try and visit around 6 p.m. after the crowd has died down. But of course, it's likely going to be dark. The choice is totally up to you.
How to get to Arashiyama Bamboo Forest
There are 3 train stations around the Bamboo Grove. Since you have JR Pass, take the JR Line to Saga-Arashiyama Station. From there, the Bamboo Grove Forest is only a 5-10 minute walk.
Day 8: Day trip to Nara or Osaka
Version 1: Day trip to Nara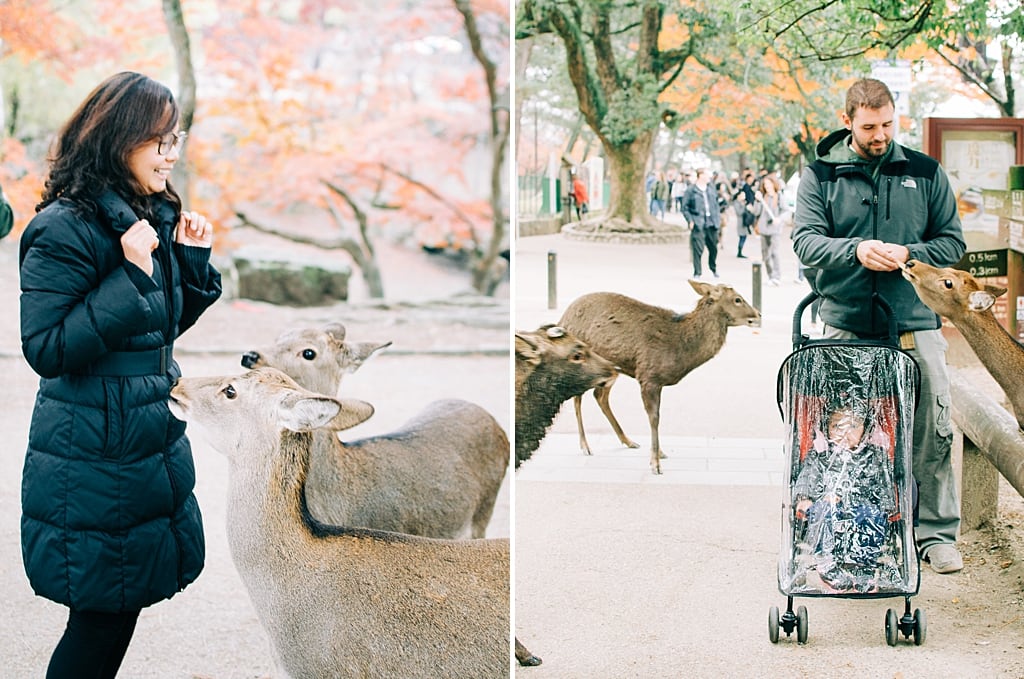 Closest Station: Kintetsu Nara
Nara is only an hour away from Kyoto. And although you've visited temples and shrines in Kyoto, Nara offers another out of this world temple, Todaiji-Temple, the largest wooden temple in the world.
Oh, and the entire town is filled with deer! Please be wary of the deer here and don't abuse them. Also, don't feed them too many deer cookies as they will chase you!
Please be careful not to catch any ticks here. Although Japan has declared that deer in Nara is free of Lyme borreliosis, you should still be careful and protect your skin with long clothes and tick repellant.
Version 2: Day trip to Osaka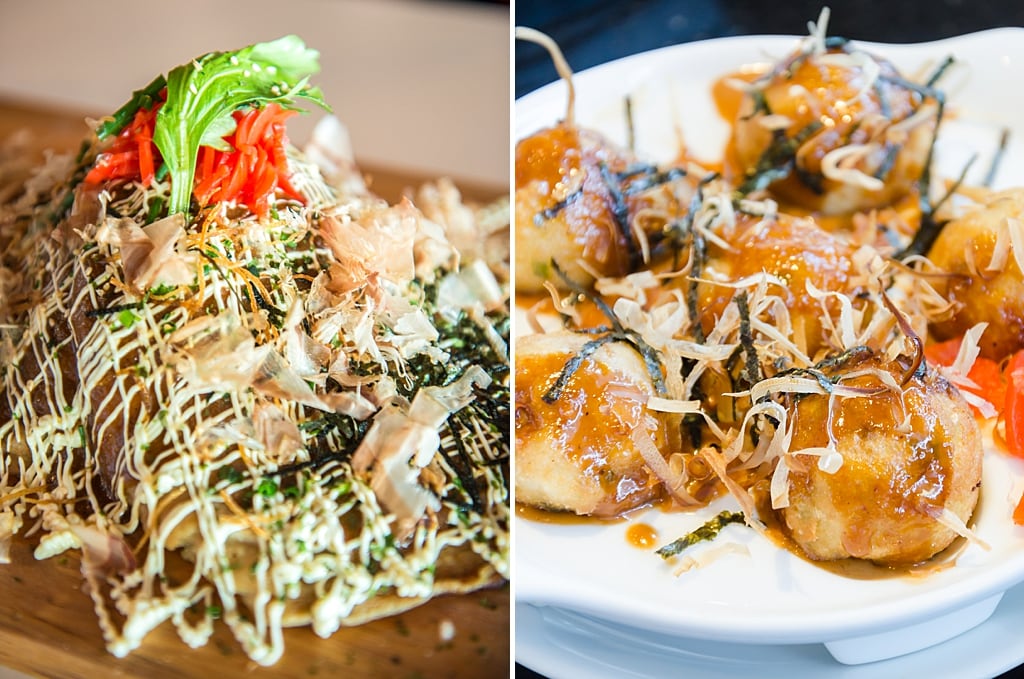 Best Station to Start: Namba
Another option if you want to just take a break from temples and skip the deer of Nara, is to go to Osaka on a day trip.
Osaka, however, is just like a smaller version of Tokyo, only older and cheaper. But the food scene here is extraordinary, earning the nickname "Japan's Kitchen."
Should you decide to visit Osaka over Nara, make sure to join a food walking tour to elevate the experience and eat where the locals eat. The tour starts at 11 a.m. and Osaka is only 30-40 minutes from Kyoto Station. So it's not difficult to arrive on time. There's also an evening bar-hopping tour here.
The remainder of the day is your own. Explore whichever city you've chosen and then return to Kyoto.
Day 9: Back to Tokyo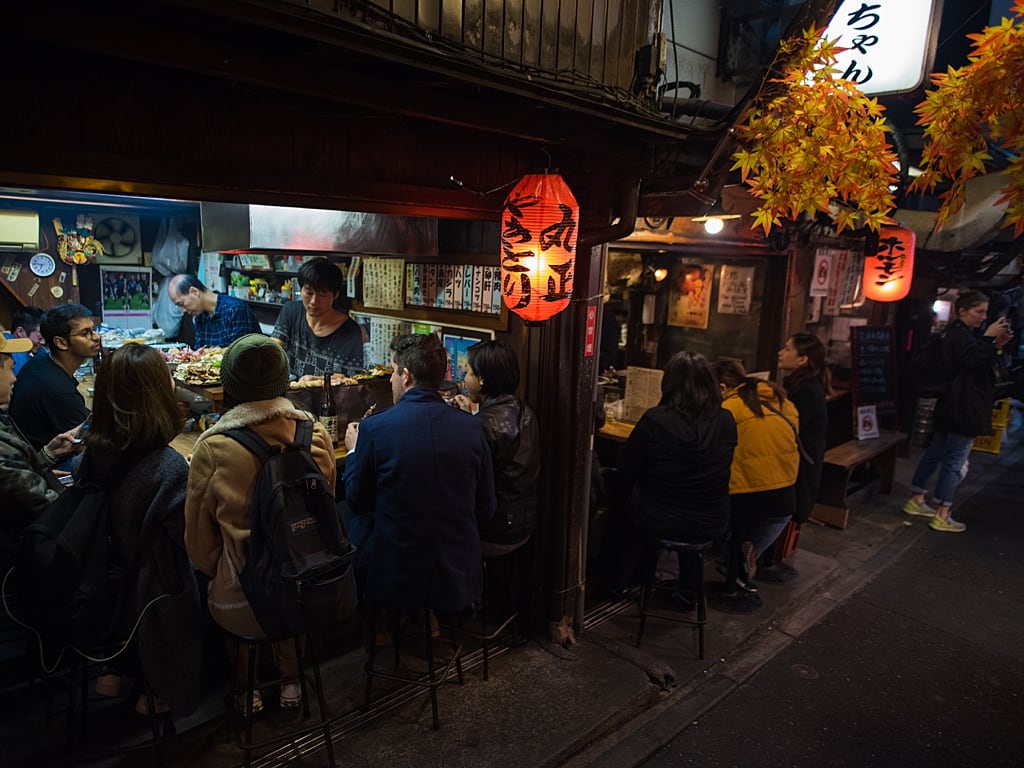 After returning, we recommend heading out to do a little shopping and sightseeing. We've got a few suggestions for this day as well.
Here are some ideas:
1. Visit Studio Ghibli Museum in Mitaka. For fans of Studio Ghibli, this is a must-see. The museum makes you feel like you've walked into the world of animation creation.
Just be sure to book ahead of time because is sells out fast! You can click here to learn how to buy your tickets.
Afterwards, either take a stroll through Inokashira Park or explore Kichijoji, an interesting area like a mini-Shibuya, but cozier.
2. Explore Shinjuku. Walk around and feel small in Shinjuku's business district with towering skyscrapers surrounding you, then make your way to the Tokyo Metropolitan Government Tower. It's free to enter and offers a nice view of the entire Tokyo Metropolitan area.
End your evening with at either the crazy Robot Restaurant or another food and drink tour to izakayas in Shinjuku.
If you're looking to experience a bit more of the nightlife, explore the "Sleepless Town" of Tokyo, Kabukicho, which is filled with many night clubs and bars, loves hotels, shops and restaurants.
Or visit Don Quijote store near the Giant Godzilla statue hiding behind the Hotel Gracery and beside Toho Cinema.
3. Explore Roppongi. Roppongi is both a major business and entertainment area, as it transforms from a family-friendly location of art, shopping and culture into an 'expat playground' at night. This place is VERY expensive for food and drinks, so be prepared to spend.
Be careful in Kabukicho and Roppongi and avoid talking to foreign men that are trying to scam you.
Day 10: Train to Tokyo Airport
Some people like to do a bit of last-minute shopping and sightseeing in Tokyo if their flight is in the evening.
This is why forwarding your luggage to the airport the day before makes your final day far more enjoyable.
Just don't forget that extra duffle bag that you packed to up stock on last-minute souvenirs!
Sayonara!
Upon boarding the airplane I guarantee that you'll already be thinking about your next trip to Japan.
The best thing about our 10-day itinerary is that it covers many of the highlights of Japan in-depth.
So, when planning your next trip, it'll be easier for you to focus on a more specialized itinerary, giving you more freedom with other destinations in Japan you have yet to discover.
Maybe during your second trip, you just want to stay in Kyushu or do the Nakasendo route. How about Hokkaido? Many people only stay in Tokyo, and that's robbing yourself of some incredible experiences!
I can guarantee you, you are going to want to come back and see more of Japan!
See you soon! じゃあ、またよ
Your First 1-Hour in the Airport (Arrival)
1. Pocket Wi-Fi. Once you've been cleared by immigration and have picked up your luggage, pick up the pocket Wi-Fi that you reserved online. Click here to read our article on ordering your pocket Wi-Fi.
NOTE: Solo travelers? Get a data SIM card instead.
2. Get some cash. Before you leave the airport make sure to pull out some Japanese yen from an ATM, which are plentiful throughout the airport; just look for the 7-Eleven signs.
We don't recommend exchanging your home currency at a currency exchange at the airport because of the poor rates. ATMs always give you better rates.
3. Get an IC card. Not all trains and buses in Japan are covered by your JR Pass, so buying a SUICA or PASMO reloadable IC card will make things much easier later.
The IC Card is very useful as it makes paying for train and bus travel simpler by avoiding the need to buy tickets everytime you ride one that isn't covered by the JR Pass.
You can get it from the train station ticket machines in the airport, and it costs around ¥500 as a card creation fee.
Top it up initially with ¥10,000 and you're good to go.
Upon departure, return it at the train station office at the airport and you'll be refunded if it still has some charge on it.
4. Travel luggage-free (life-saving!) Lastly, most hotels in Japan have check-in time of 3:00 p.m. If it's an Airbnb or a budget accommodation, they will often not allow you to store your bags in them.
So you have 2 options to avoid walking around Tokyo with all your luggage:
Option 1: Use large-sized lockers at the train station near your hotel. Be warned though, large-sized lockers have very limited availability, and you'll probably need a couple of them.
Option 2: Have your luggage delivered to your hotel the same-day. There are over 10 luggage forwarding kiosks in Narita Airport, just look for the "Hand-Free Travel" logo (it's a red logo) as they are the ones that will deliver the same-day.
Of course, make sure the luggage being forwarded doesn't have the essentials you need for traveling. The cost varies between ¥1,000-¥3,000 per bag depending on the size and weight.
When to activate your JR Pass
Our itinerary starts in Tokyo where most trains are not covered by JR Pass and thus, we recommend activating it on Day 4, before you head out to Hakone.
To activate it, look for the JR East Travel Service Center in Tokyo Station or Ueno Station and exchange your JR Pass eVoucher for the actual JR Pass.
Transfering from the airport to central Tokyo
Don't activate your JR Pass upon arrival because you'll just end up wasting it. Instead, use any of the other transportation options listed in the resources below: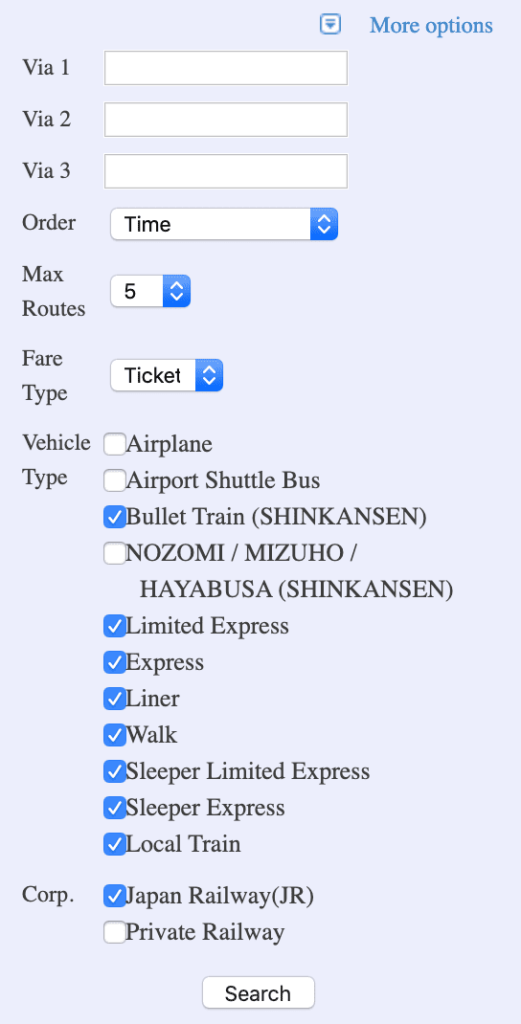 Navigating Japan
There are two tools you'll use for train navigation.
To make the most out of your JR Pass, use Hyperdia and set the "Search Settings" like the screenshot here.
That way it will only show you railway routes that are covered by your JR Pass
In Tokyo and Kyoto, however, there are a few JR railways that connect to the activities we're suggesting.
Instead, use Google Maps and use your handy IC Card.
And yes, you need constant internet to access these tools in real-time.
Pre-Booking Tips and Information
1. Public transportation. Our itinerary involves traveling across 3 major destinations and suggests a day trip to two other destinations before returning to Tokyo via the Shinkansen (bullet train).
So getting a JR Pass is definitely an option. There are some itineraries where it's cheaper to buy individual Shinkansen and ordinary train tickets, but a JR Pass will be worth it for this itinerary if you plan on taking a lot of the suggested side trips. Specifically, get the JR Pass that is valid for 7 days.
NOTE: The JR Pass can only be bought online and while outside of Japan. Buy your JR Pass at least a week before your trip. The JR Pass Exchange voucher will be mailed to you, usually overnight. Click here to order yours.
2. Hotel & accommodations. To save time, pick a hotel near a train station. A 15 to 20 minute walk from the train station is quite far and will be very inconvenient.
Most hotels in Japan listed mention the nearest train station, so make sure they are a 10 min or less walk from the train station.
We recommend Booking to book all your accommodations as they have the largest database of hotels and accommodations in Japan. If you're not a fan of the platform, Agoda is also great booking site for Japanese accommodations.
3. Book your room with breakfast. Restaurants that open as early as 6 a.m. are rare in Japan. So make sure your hotel reservations comes with breakfast.
That way, after eating breakfast at your hotel, you're ready to tackle the day instead of spending half an hour searching for "breakfast near me" and wasting another half an hour walking to the place.
An exception here is if your hotel happens to be near a breakfast buffet restaurant, then that's worth trying.
Must-not miss: Sumo Grand Tournament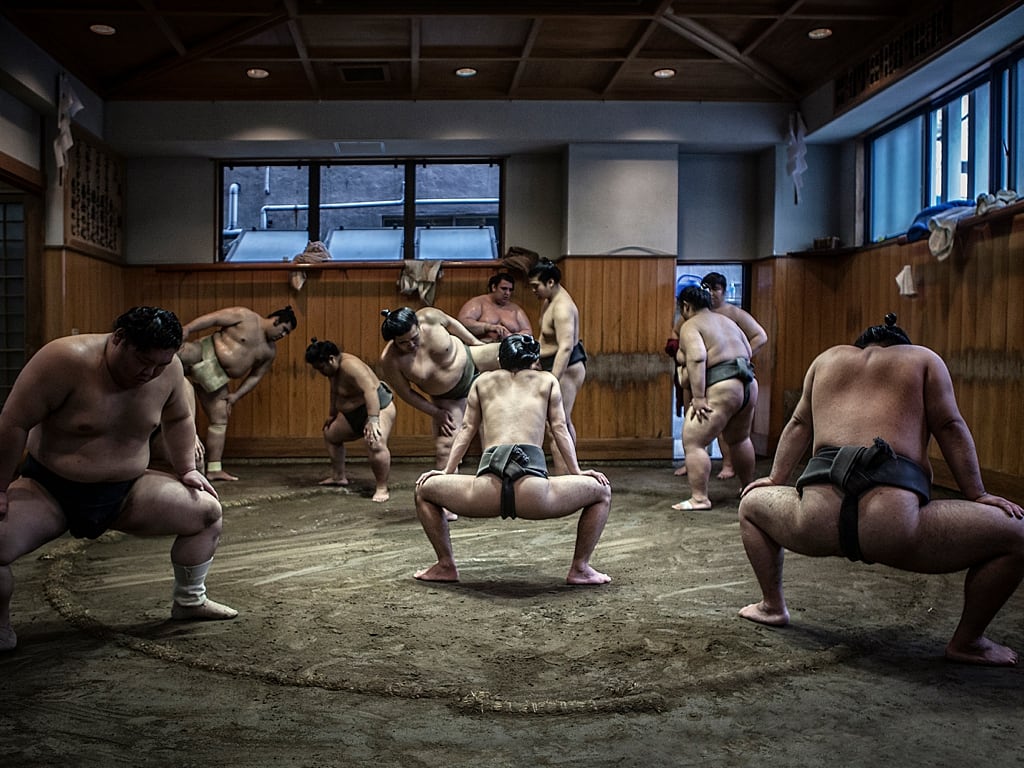 The Sumo Grand Tournament in Tokyo takes place 3x a year and 1x in Osaka, and each tournament event lasts for 15 days.
Sumo is an important sport in Japan and watching the wrestlers do their rituals inside the ring is quite an experience.
If you happen to be in Tokyo or Osaka during the tournaments, make sure to reserve your tickets well in advance as tickets sell-out fast. Please see this link for the sumo schedule.
Cost Comparison: JR Pass vs without JR Pass
Total costs of long-distance transportation without JR Pass:
Narita to Tokyo (roundtrip) – ¥4,070
Tokyo to Odawara – ¥3,610
Odawara to Kyoto – ¥12,100
Kyoto to Tokyo – ¥13,650
Total cost without JR Pass for this itinerary: ¥33,430
Total costs with the 7-day JR Pass: ¥29,650 + ¥3,050* = ¥32,700
*The ¥3,050, is for the one-way Narita Express train from Narita Airport to central Tokyo.
This was such a close call for this itinerary! But don't let the numbers above fool you. Getting the JR Pass for this itinerary can really be worth it since you'll be taking a few trains in Tokyo and Kyoto that are covered by JR Pass and those trains aren't covered in this cost comparison.
If you're arriving from Haneda airport, the JR Pass won't be worth it.