Key Takeaways:
The best luggage for Japan travel is the one that's easily carried, such as a backpack or a duffel bag.
Train stations in Japan have a lot of stairs. Be ready to carry your bags quickly.
Japanese trains don't have space for bulky luggage. Large-sized luggage is also very bothersome to local commuters.
Elevators and platforms are mainly reserved for the elderly, disabled, pregnant, and families with strollers in Japan. As a tourist, and if you're none of those, you are expected to take the stairs (politeness is essential in Japan).
Pack light! This avoids your dependence on large-sized coin lockers, which are very limited in number despite the demand from less prepared tourists. Travel with a carry-on if possible.
The worst type of Travel Bag to bring in Japan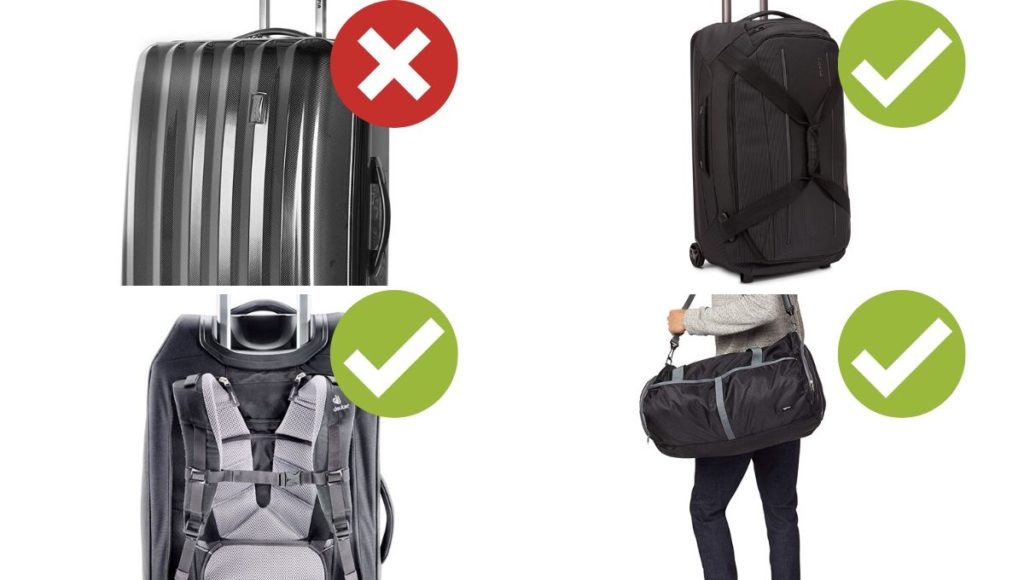 The worst type of travel bag to use in Japan are those large-sized 4-wheeled spinner suitcases. They are very bulky, wide, and tough to carry when taking the stairs and escalators at train stations. Japanese train stations surprised us a lot during our early days of living and traveling in Japan. Many train and subway stations are packed with people, and large baggage is quite challenging to navigate with.
In major cities, almost all have elevators. However, we find it generally inappropriate to use as they're designed to be used by elderly and disabled commuters. Hence, it isn't very comfortable to line up. That large-sized 4-wheel suitcase that you have will undoubtedly cause significant inconveniences, not just for you but also for Japanese commuters.
What Luggage size should I bring to Japan?
Each luggage piece must be under 250 cm (98 inches) of the total height, width, and length and with a maximum weight of 30kg (66 lbs).
Best Travel Bags for Japan
The ideal way to travel is to keep everything to one bag per person, or one extra large bag if you're a family traveling with a baby. Travel with a carry-on if possible. Those staying longer in Japan opt for bags with a bit more space, not additional luggage. Before packing, I recommend evaluating what is needed for your trip to keep everything to just one piece of luggage. Read our packing list and tips here.
Here are the best luggage bags we recommend for your trip to Japan:
1. Wheeled Backpack
Wheeled backpacks are designed for maximum convenience and have a narrower profile than a typical large-sized 4-wheeled spinner suitcase. It's perfect for those who have heavy items and plans to travel extensively in Japan. This type is beneficial for those who have the JR Pass, as you'll need a bag that's easily backpackable, and the wheels are a nice bonus should you get a bit tired from carrying it. Deuter HELION and Osprey Meridian are some the bestselling wheeled backpacks.
2. Wheeled Duffel Bag
Wheeled duffel bags are when traveling in Japan for two weeks or more. They are best for those who need maximum storage space, making them very useful if you're traveling with kids or as a family. Just like the wheeled backpacks, these types of luggage are much narrower. They can usually be stored on the overhead luggage rack of Japanese trains. Thule Subterra, Thule Crossover 2, Osprey SOJOURN are some of the bestselling wheeled duffel bags. Thule brand is known for high sturdiness and durability.
3. Backpacking Backpack
If you're joining multi-day tours or pilgrimage excursions in Japan, then you're going to need something that's just a backpack. Wheeled luggage won't stand the road, so you're going to need backpacking designed for prolonged wear, comfort, and offer enough storage for a couple of days' worth of clothes. Deuter FUTURA VARIO, Osprey Farpoint Trekpack, and Osprey Atmos AG 65 Backpack are some of the bestselling backpacks worth checking out, which are known for being durable and weather-resistant.
Additional Packing Tips for Japan Travel
Bring a spare duffel bag. If you're like us, then you're probably looking to bring home souvenirs from your trip. This is where a packable duffle bag comes in handy. My husband is a hoarder of Japanese food during travel, like local versions of cup noodles and instant noodles, milk teas, and chuhais (a flavored white liquor). Keeping these extra bags with us allows us to use them specifically for these souvenirs.
Use packing cubes. Packing cubes are the single best investment we've ever made in travel. We bought a set several years ago and haven't traveled without them since. Packing cubes serve the purpose of organizing, separating, and compressing your clothes. You'd be amazed at how much more you can fit into your 60L bag with proper organization. We have two different colored sets, which lets us quickly distinguish whose bags are whose. If traveling in the winter (or if you want more space), consider using compression packing cubes. They're perfect for sweaters and down jackets, which are notorious space hogs.
Bullet Train (Shinkansen): Luggage Rules and Tips
If you're going to ride bullet trains in Japan, it's important to know how to properly store your bags and luggage properly.
1. Dedicated luggage storage space.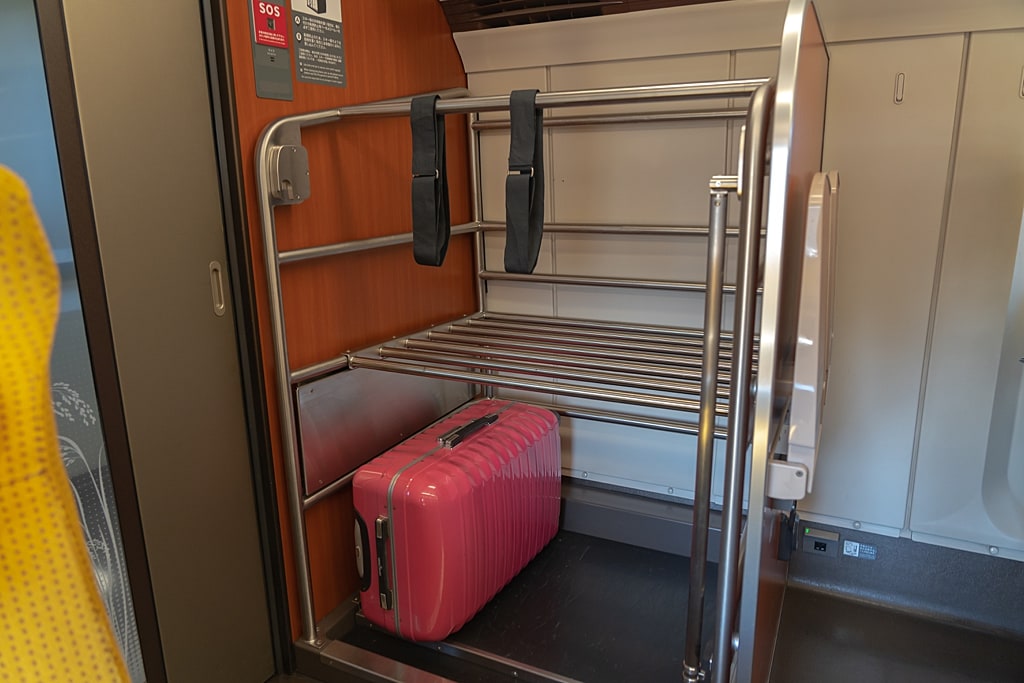 Some bullet trains have a dedicated luggage storage space. However, the official rules only allow you to store two pieces of luggage in this storage space. There's a competition to get this space during peak season, and a train attendant will label your luggage matching it against your shinkansen ticket. If they find a piece of unlabeled or unattended baggage, they will remove it and drop it off at the next station!
2. Storage space behind the last row seats. There's also extra storage space behind the seats of the last row.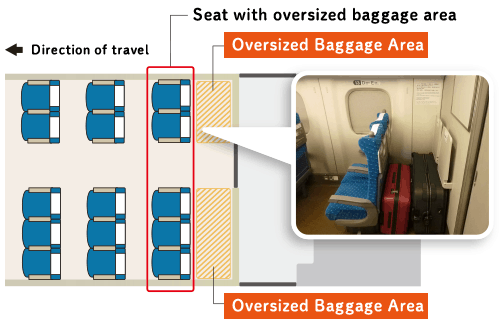 For security reasons and convenience, only the passengers sitting in the last row seats are supposed to use it.
May 2020 New Rule: For storage space behind the last row seats, starting in May 2020 those looking to travel with oversized luggage, with overall dimensions over 160 cm/62 inches, on the Tokaido Shinkansen will need to reserve specific seats to store them. According to the JR website, you may still travel on the train without a reservation. Still, they will charge you an additional ¥1,000 fee for each bag, and the luggage will need to be stored in a space designated by the conductor. This new rule does not apply to musical instruments, sports equipment, wheelchairs, or strollers, but finding storage for these things can be a bit difficult.
3. Overhead rack. For luggage smaller than 160 cm — roughly the same size as carry-on luggage on a plane– you can make use of the overhead storage rack. If the train is incredibly crowded, this space can be at a premium, which is another good reason for compact luggage while traveling in Japan.
4. In front of your legs. As I said, the overhead rack could fill up pretty fast, and there is no space beneath the seats for luggage. In this case, you'll be forced to keep the bags on your lap or in front of your legs. Fortunately, the legroom is spacious in a shinkansen. Still, keeping your luggage there may make your ride a bit uncomfortable if you have larger bags.
Note: If you're getting close to your destination station, you must stand up to prepare to get your luggage. Japanese people move fast, and the trains are on strict schedules, so you need to pay attention to get off the train quickly, or the door will close on you, causing a ton of problems.
Japanese Secret to Traveling Luggage Free
If you're an observer like me, you'll notice that Japanese people seem to travel nearly luggage free to and from the airport. That's because they utilize a service called Ta-Q-Bin, a luggage forwarding service. How does this work? You drop off your luggage at the "hands-free" counter in an airport, 7-Eleven, or your hotel concierge, and have it forwarded to your next destination. Delivery is usually within 1-2 days.
Bottom Line
There are plenty of other excellent travel bag options out there, but these are the ones that stand out to us as being perfect for Japan travel. This list may change in the future as new bags are released, but for now, I hope you find this information helpful in your decision-making process
WHAT TO READ NEXT:
→ What to really pack for your trip to Japan (travel checklist guide)