Japan is a great destination to visit with kids. But there are specific instances that you need to know to better prepare you in choosing the right hotel for your family. Let's take a closer look!
Where should a family stay in Tokyo?
The best districts to stay for families with little kids and teens visiting Tokyo are Marunouchi, Ginza, Shibuya, Shinjuku, and Ueno. They're all near parks, sightseeing areas, and tourist facilities. If you have a baby, these districts also have department stores and convenience stores, where you can grab some essentials. For families visiting Tokyo Disney Theme Parks, Tokyo Station in Marunouchi is worthwhile being close to it. The only downside is that hotels here are at a premium price. Ginza and Shimbashi are also just minutes away from Tokyo Station, where there are hundreds of shopping and dining options.
As much as possible, avoid Airbnbs. Airbnbs in Tokyo, although maybe less expensive, are often too far from a train station. Booking is our top choice for booking hotels in Tokyo. They have an extensive database of hotels in Japan, are easy to book, and offer great rates. We also like Agoda as they occasionally provide deals. Make sure to compare prices using both. Most importantly, choose a hotel with an onsen (hot spring) facility, free breakfast, and coin laundry. These things can make your trip a lot more relaxing and more manageable, especially when you have a kid in tow.
RELATED READS:
Best Family and Baby-Friendly Hotels in Tokyo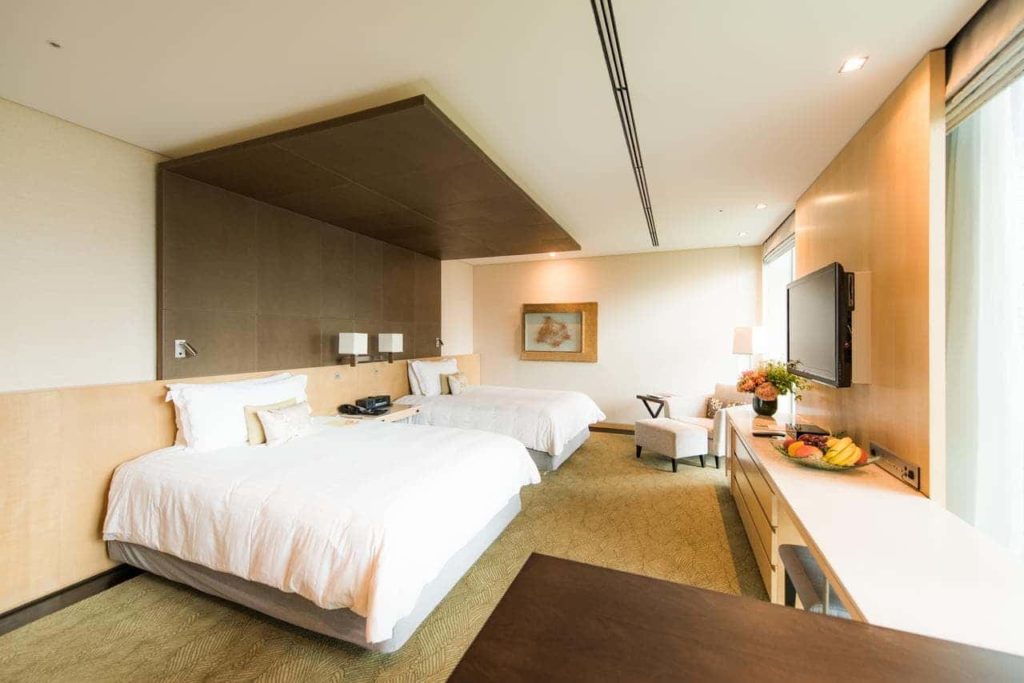 Luxurious rooms with reviewed as the most child-friendly hotel in Tokyo. This hotel has connecting rooms which are perfect for family of 4 or more. However, connecting rooms are subject to availability and must be requested by contacting the property using the number on the booking confirmation. Four Season is located at the heart of the city and is easily accessible from the JR Tokyo Station. Babies and young children get complimentary toiletries, bedtime snacks, and milk.
Its central location makes it easier to access the must-visit spots like the Imperial Palace, Ginza, and Tsukiji. If you want to visit trendier places, Shibuya or Harajuku are only 20 minutes away by train.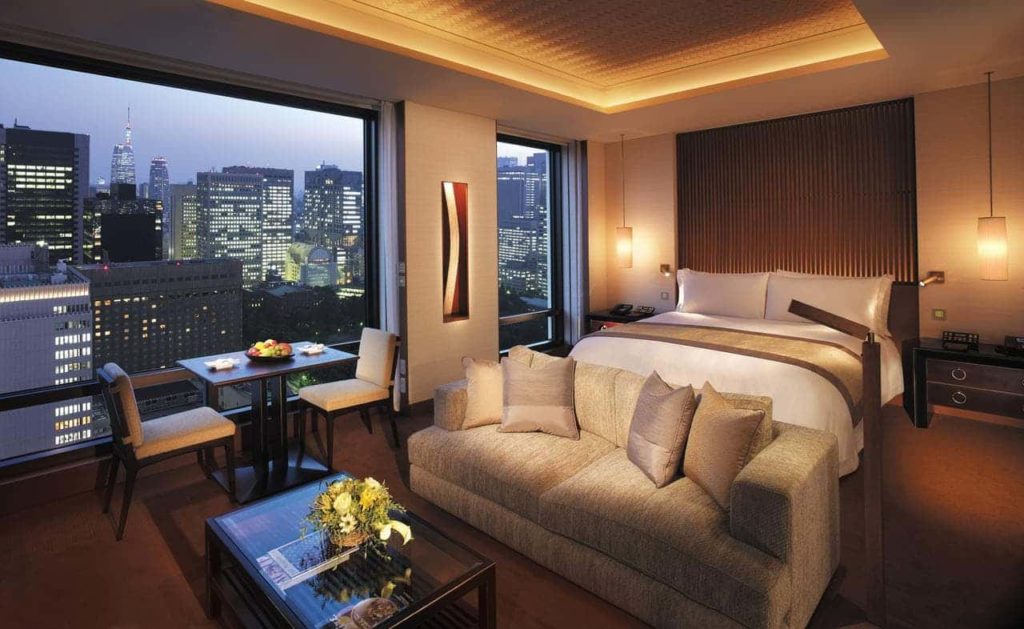 Short walking distance from Yurakucho Station, fun Pokemon activities, try asking for Very Important Baby (V.I.B.) package, available by Special Request, during the reservation process. The traditional Japanese designs coupled with luxurious furnishings sets The Peninsula Tokyo apart from other hotels.
If staying for more than 2 nights, they offer fun activities for children, such as a scavenger hunt. Children 11 years old and below also eat for free from the children's menu and enjoy a range of amenities and programs tailored just for junior guests.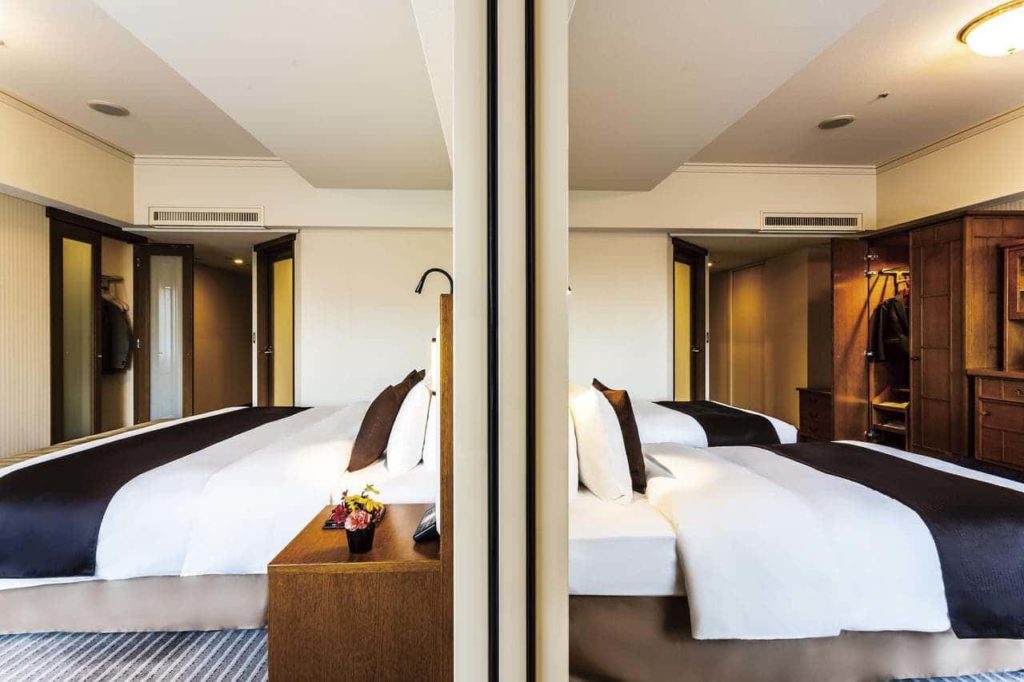 One word – grand. But what else should you expect? Great location, short walking distance from Tokyo Station, sightseeing spots and drug stores. The Imperial Hotel Tokyo has been in business for over a century. They offer babysitting and child care services, which is great if you want a day out as a couple. There are also several shops like hair salons (for Mom's time), a flower shop and a newsstand.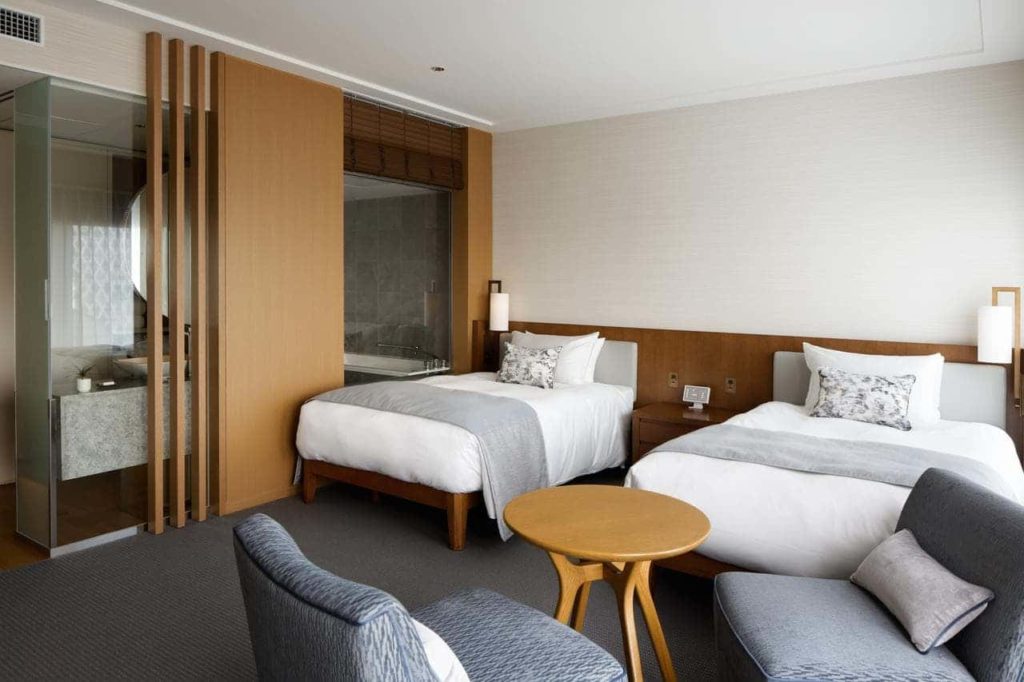 Although recently opened in 2016, the Keio Plaza Hotel has been garnering loyal clients due to their impeccable service. The hotel offers complimentary transport to Tokyo Disneyland and DisneySea. Baby cribs and bed rails are available upon request but are in limited stock, so make sure to inform them in advance.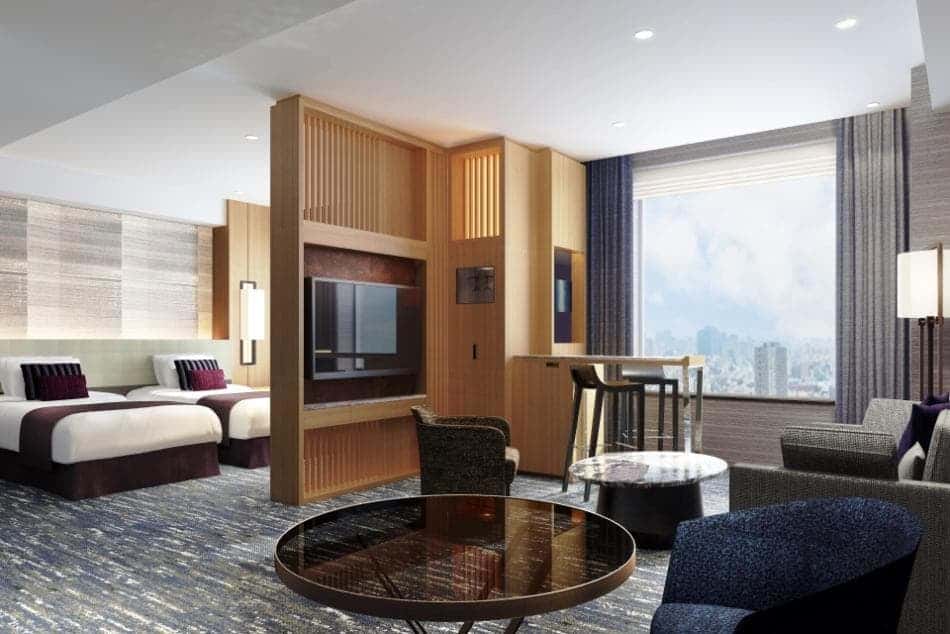 Cerulean Tower is located in the center of Tokyo, near Shibuya Station. All their rooms are on the 19th floor and above, giving you a wonderful view of the entire city. They offer babysitting and child care services so you can enjoy their sauna or salon while having your kids being properly taken care of.
6. Palace Hotel Tokyo, Otemachi Station (near Tokyo Station)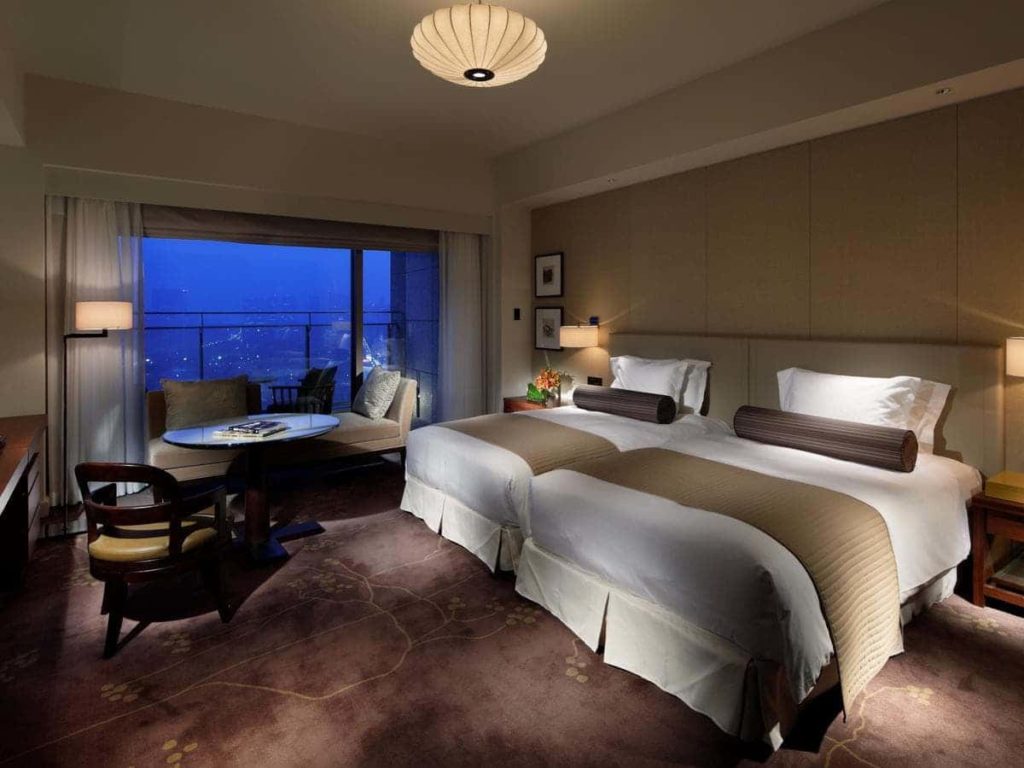 Palace Hotel Tokyo is the ideal destination for business travelers who bring their family along. It is located in the Marunouchi business district and is well connected to various forms of transportation. The hotel also has several restaurants that cater to international cuisines, so for parents who want to try various dishes or those with toddlers who are picky eaters, never fear as you will surely have something wonderful to eat.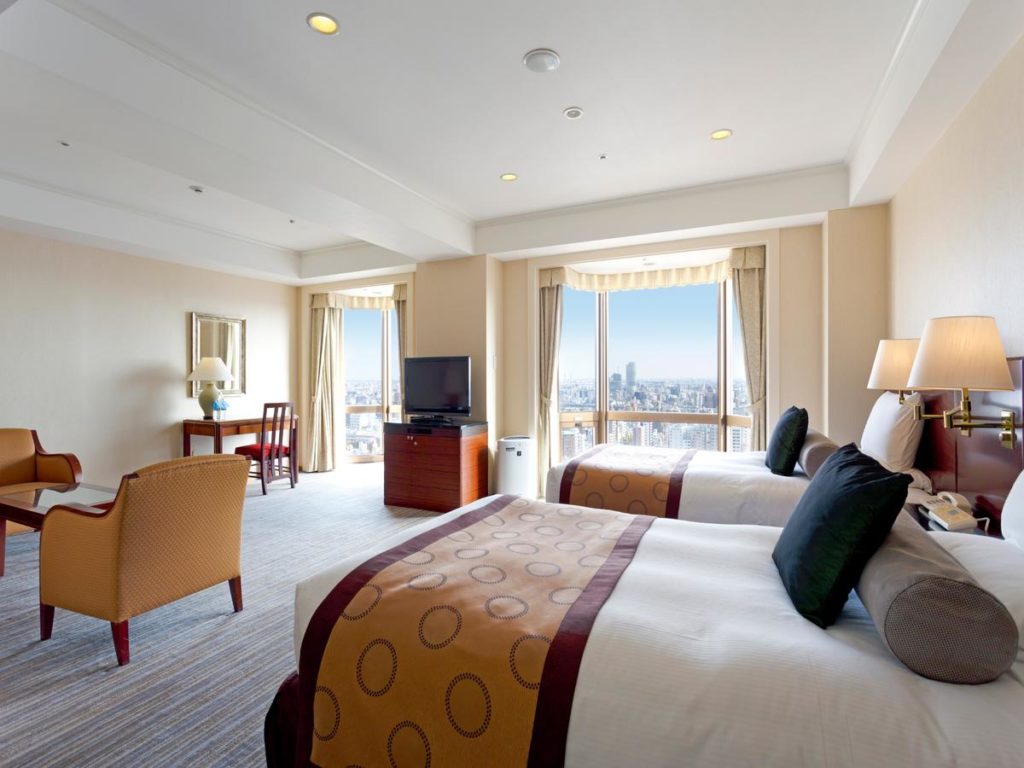 Most of the hotels here in this list feature amazing skyline views, but Asakusa View Hotel takes the cake for the best view ever. The hotel features floor to ceiling windows overlooking the city and Senso-ji Temple. Cribs or a bed guard are also available upon request at no charge but limited in stock so make sure to let them know in advance.
While Daiwa Roynet Hotel is relatively new to the hotel industry, it is among the top travelers' choices when staying in Tokyo. This hotel is near the Tsukiji fish market and the famous Ginza Mitsukoshi mall. They have both Japanese and Western buffet choices for breakfast, so your food cravings are covered. Their services also include laundry, dry cleaning, and luggage storage.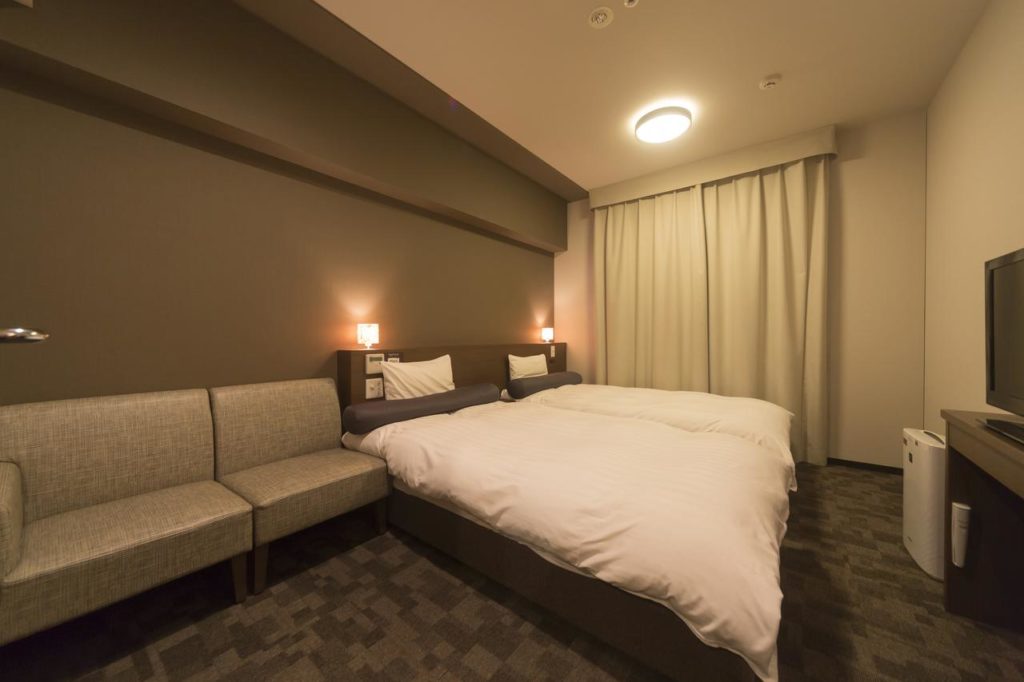 ALRIGHT. Time for our our family's favorite hotel, everything we've been looking for a hotel is here — walking distance to major sightseeing spots in Tokyo, free breakfast, ramen and beer, comfortable beds, coin laundry, kid-friendly, and with an onsen facility!
NOTE: This is NOT sponsored! Dormy Inn a type of deluxe business accommodation in Japan. It's cheap, nothing fancy. WARNING: Rooms are tiny. But for us, what's really important are the outstanding amenities.
This hotel lies at the heart of Shinjuku, only a 10-minute walk from Shinjuku Station. We recommend staying here because of the friendly staff, free fresh buffet-style breakfast that is kid-friendly, and of course a large public bath to soothe your muscles at the end of the day. They also offer coin laundromats, vending machines and massage services on site.
Sotetsu Fresa Inn is a minimalistic style hotel. They are ideal for business travelers and families alike. The location of the hotel makes it easy for guests to explore Tokyo on foot. The hotel offers free luggage storage, complimentary coffee, vending machines, and even a coin launderette.
Conclusion
The bath culture in Japan is our favorite form of relaxation after a long day of sightseeing and, if you're like us, doing it with a very hyperactive child. This is why if you should stay in a hotel with an onsen facility, it really helps you unwind and relax.
To take advantage of this when our daughter was an infant, my husband and I would simply take turns using the baths and sauna. Once she was old enough, I would bring her to the baths with me, unless I wanted to use the sauna as well, then we would take turns again.
If you happen to be alone with a child, many of these facilities offer tiny tubs for infants and toddlers, but you'll need to skip the sauna.