This is the hotel guide that I wish I had while exploring Tokyo with our baby!
Traveling throughout Japan with a baby can be very stressful. So try to find a hotel with an onsen (hot spring bath — more about this later), free breakfast, and coin laundry.
These things can make your trip a lot more relaxing and easier especially when you have a baby in tow.
Should you find a hotel with each of these, we recommend booking it immediately.
Tokyo Hotel Booking Tips and Recommendations:
Staying near a train station and within walking distance to a drugstore are the most important factors when traveling with a baby in Tokyo (or Japan in general).
Having easy access to a drugstore is critical because it's where you buy diapers and formula milk.*
Space is a luxury in Tokyo, expect family rooms to be expensive.
Avoid Airbnbs if possible. Airbnbs in Tokyo, although maybe less expensive, are often too far from a train station and drugstores.
From our experience, the top baby-friendly areas we've found in Tokyo are Tokyo Station-Marunouchi, Ginza-Yurakucho, and Roppongi-Akasaka areas. They're all stroller-friendly, within walking distance from sightseeing spots, and are surrounded by drugstores and department stores with baby rooms and nursing facilities. I would only suggest avoiding Roppongi at night with your children.
Booking.com is our top choice for booking hotels in Tokyo. They have a large database of hotels in Japan, are easy to book, and offer great rates.
*Note: Diapers and baby formula can also be purchased in grocery stores and many convenience stores, but there are fewer choices and at higher prices.
Best Luxury Hotels in Tokyo highly rated by families:
Imperial Hotel — great location, short walking distance from Tokyo Station, sightseeing spots and drug stores.
The Peninsula Tokyo — short walking distance from Yurakucho Station, fun Pokemon activities, try asking for Very Important Baby (V.I.B.) package, available by Special Request, during the reservation process.
Four Seasons Hotel — short walking distance from Tokyo Station, luxurious rooms, great reviews as the most child-friendly hotel in Tokyo.
Best Mid-Range Hotels in Tokyo for families:
Dormy Inn Premium Shibuya — our family's favorite hotel, EVERYTHING we've been looking for a hotel is here — walking distance to major sightseeing spots in Tokyo, free breakfast, ramen and beer, comfortable beds, coin laundry, kid-friendly, and with an onsen facility!
Daiwa Roynet Hotel Ginza — just a 1-min walk from the train station, with coin laundry, within walking distance to Tsukiji market, Ginza shopping complex, and several drug stores.
Best Japanese accommodation (ryokan) for families:
NOTE: We don't recommend staying in a ryokan if you have a very challenging child. The walls are paper-thin, so crying, playing, and screaming can be easily heard by other guests.
Related Resources for Traveling in Japan with your Baby:
Best Super Baby-Friendly Hotels in Tokyo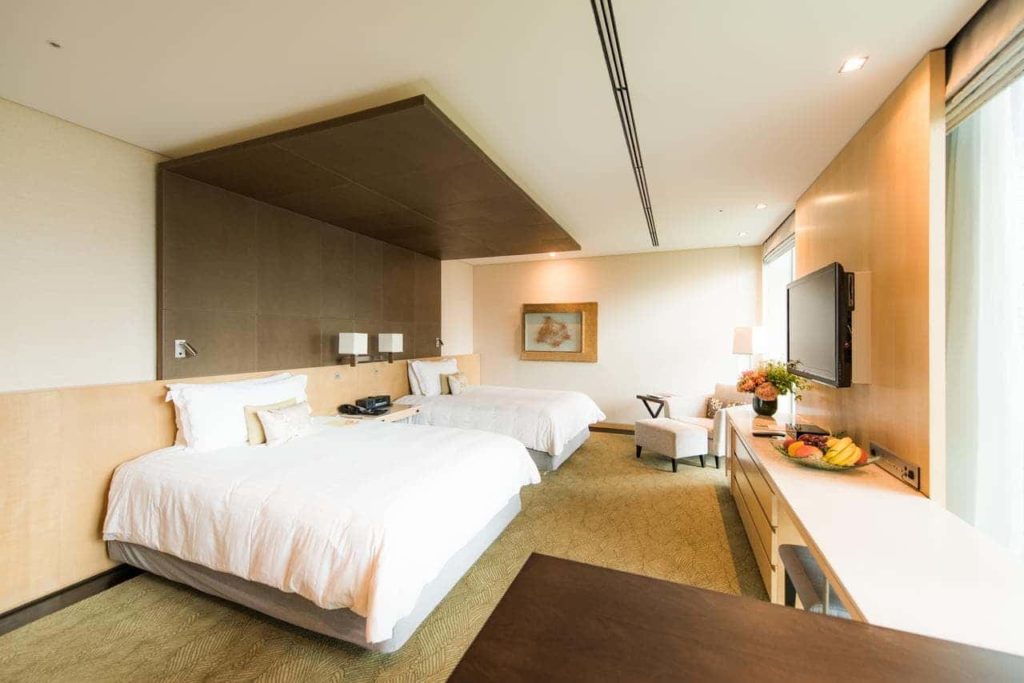 Nearest Train Station: Tokyo
This hotel is located at the heart of the city and is easily accessible from the JR Tokyo Station. Babies and young children get complimentary toiletries, bedtime snacks, and milk. Its central location makes it easier to access the must-visit spots like the Imperial Palace, Ginza, and Tsukiji. If you want to visit trendier places, Shibuya or Harajuku are only 20 minutes away by train.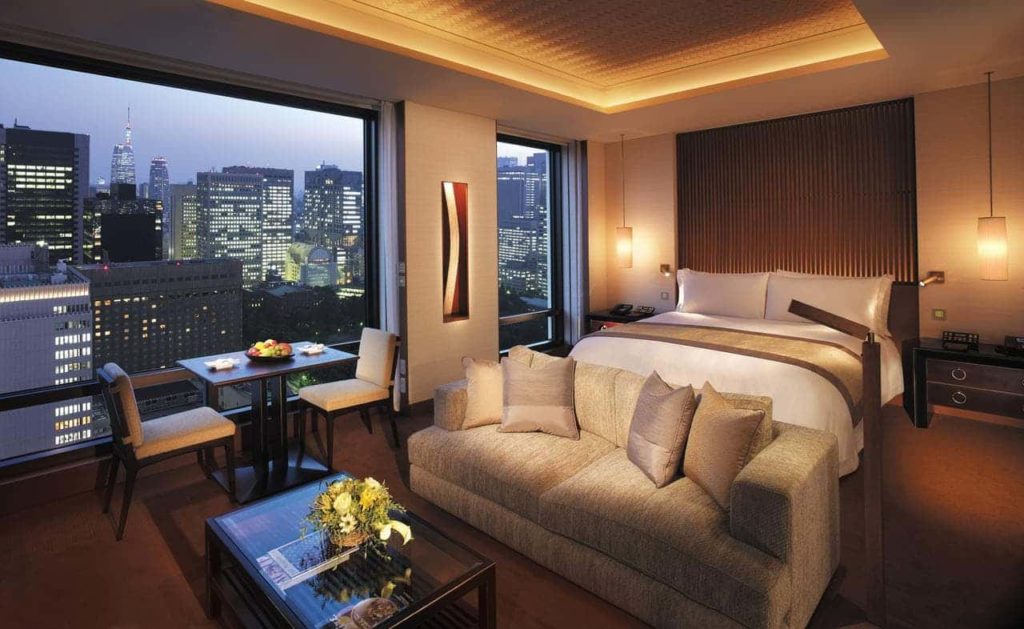 Nearest Train Station: Yurakucho
The traditional Japanese designs coupled with luxurious furnishings sets The Peninsula Tokyo apart from other hotels. If staying for more than 2 nights, they offer fun activities for children, such as a scavenger hunt. Children 11 years old and below also eat for free from the children's menu and enjoy a range of amenities and programs tailored just for junior guests.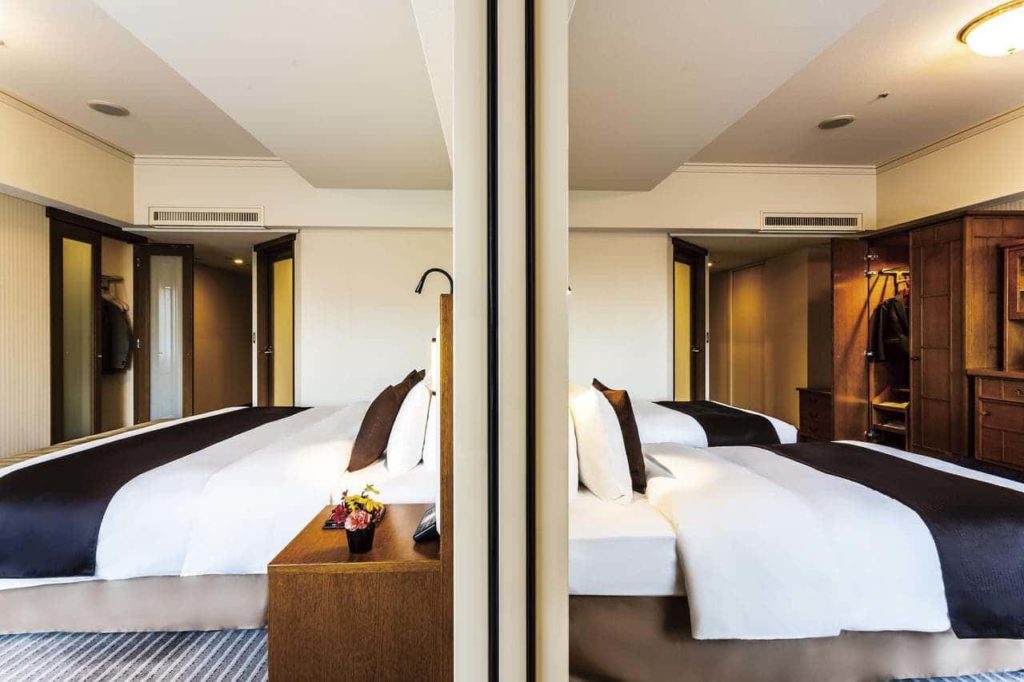 Nearest Train Station: Hibiya or Ginza
One word – grand. But what else should you expect? The Imperial Hotel Tokyo has been in business for over a century. They offer babysitting and child care services, which is great if you want a day out as a couple. There are also several shops like hair salons (for Mom's time), a flower shop and a newsstand.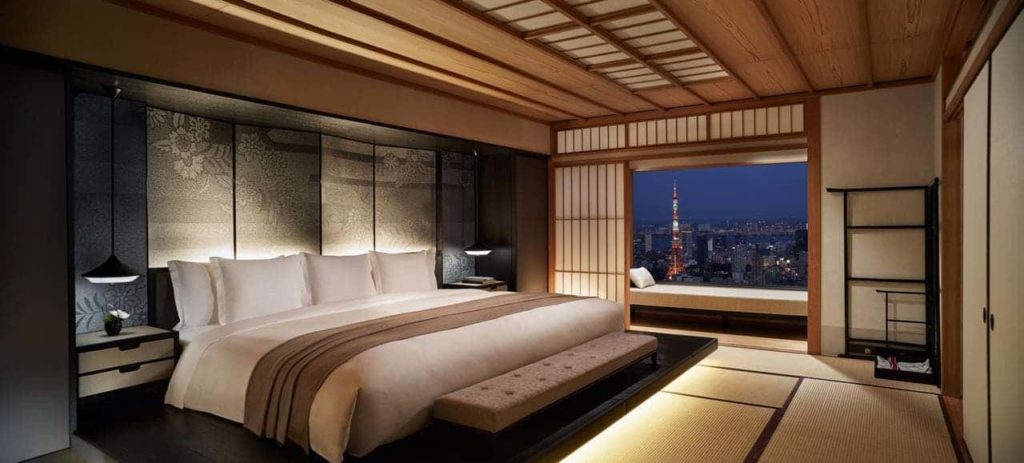 Nearest Train Station: Roppongi
The Ritz Carlton hotel is located in the Roppongi area and gives you a good view of Shinjuku, the Imperial Palace, and even the majestic Mt. Fuji. You can choose from a wide array of restaurants, including a Michelin-star restaurant – Azure 45. Before arriving, inform the hotel that you are staying with a baby less than a year old and they will arrange your room (babyproofing, etc.)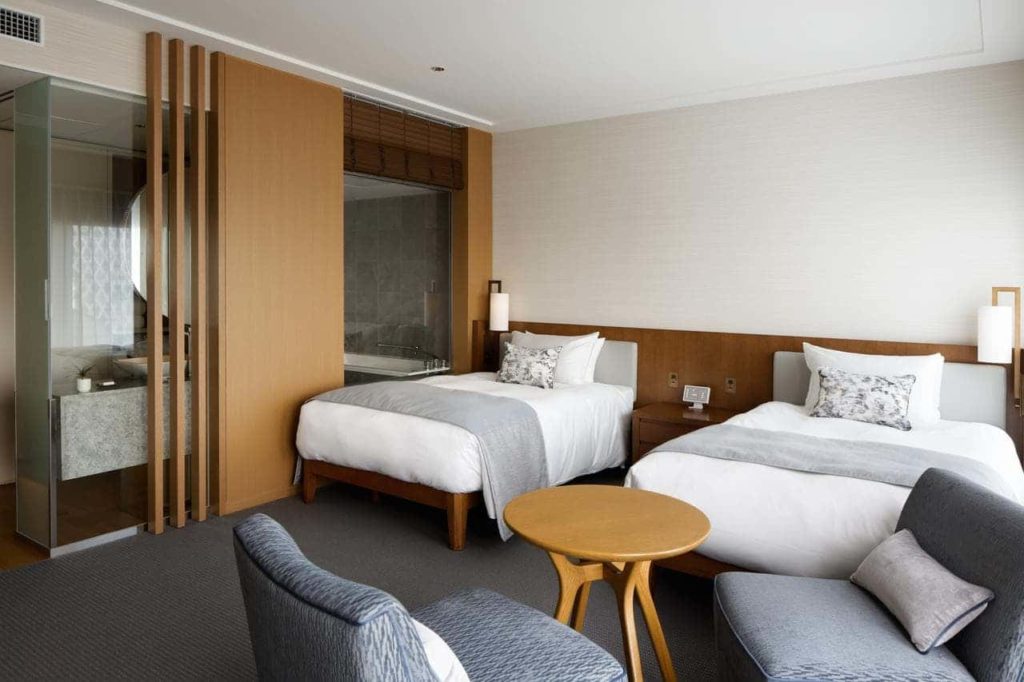 Nearest Train Station: Shinjuku
Although recently opened in 2016, the Keio Plaza Hotel has been garnering loyal clients due to their impeccable service. The hotel offers complimentary transport to Tokyo Disneyland and DisneySea. Baby cribs and bed rails are available upon request but are in limited stock, so make sure to inform them in advance.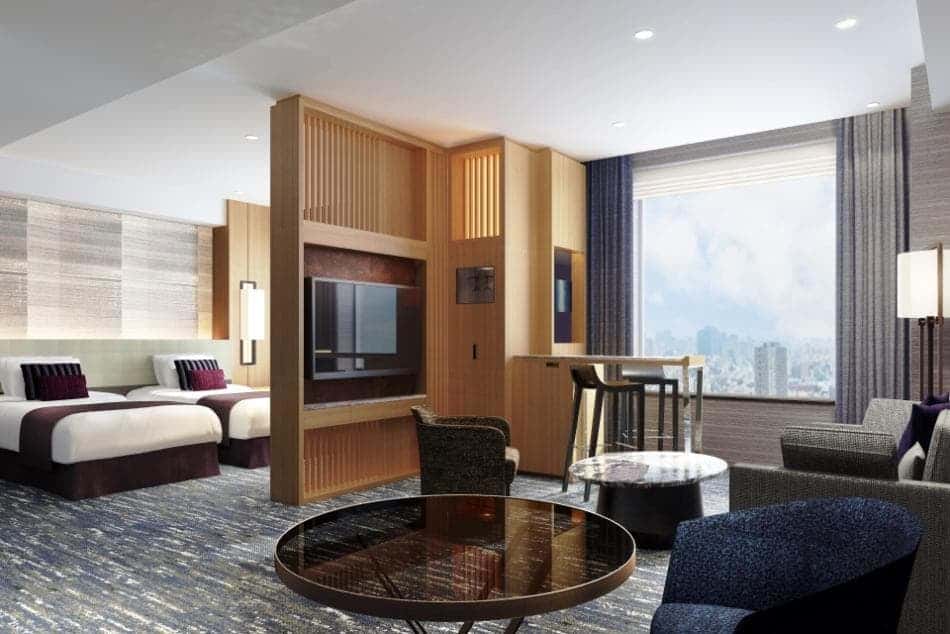 Nearest Train Station: Shibuya
Cerulean Tower is located in the center of Tokyo, near Shibuya Station. All their rooms are on the 19th floor and above, giving you a wonderful view of the entire city. They offer babysitting and child care services so you can enjoy their sauna or salon while having your kids being properly taken care of.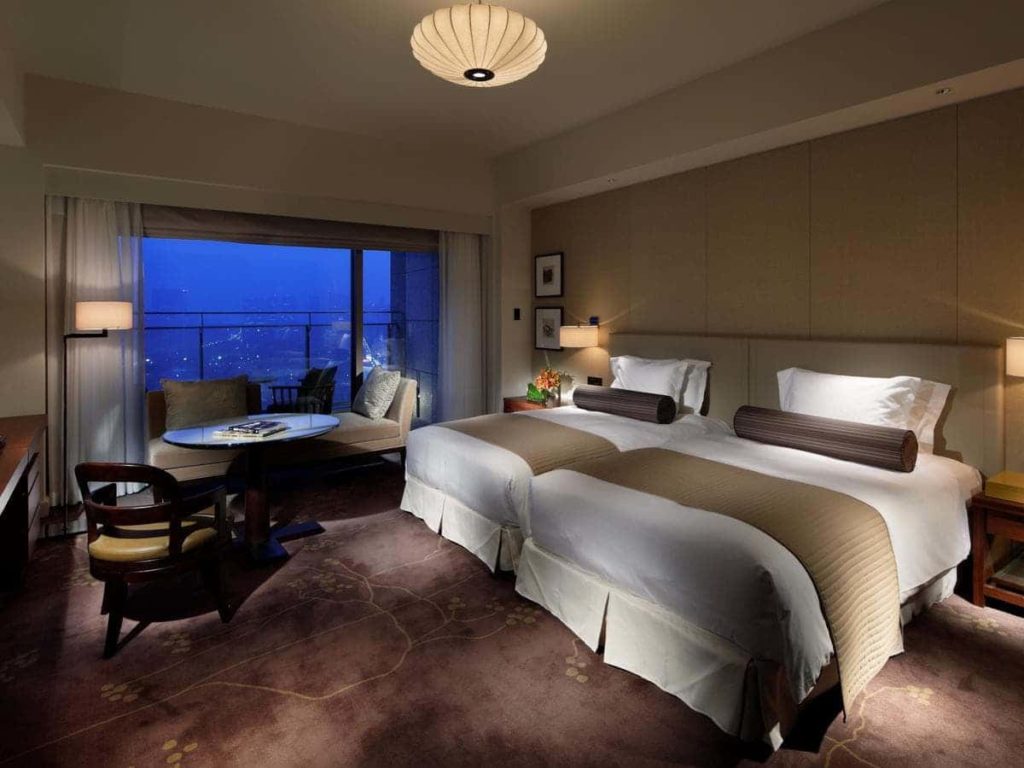 Nearest Train Station: Otemachi (direct access)
Palace Hotel Tokyo is the ideal destination for business travelers who bring their family along. It is located in the Marunouchi business district and is well connected to various forms of transportation. The hotel also has several restaurants that cater to international cuisines, so for parents who want to try various dishes or those with toddlers who are picky eaters, never fear as you will surely have something wonderful to eat.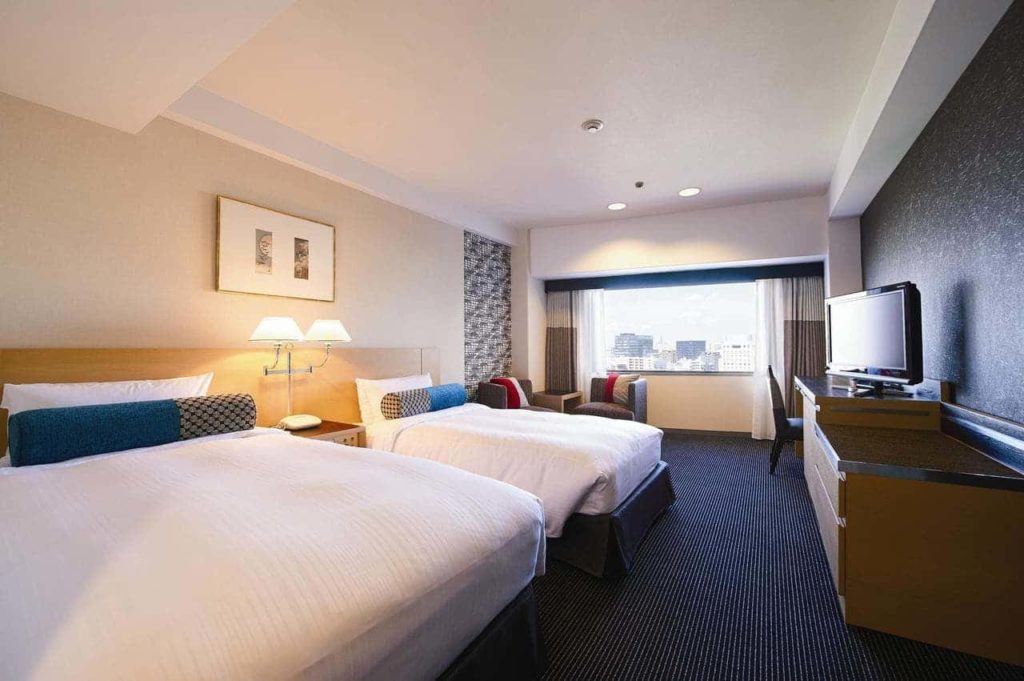 Nearest Train Station: Akasaka-mitsuke
They have a 400-year-old Japanese garden which makes you forget you're even staying in a hotel located in a mega-city. You can enjoy strolling through the garden with your family and relax. On top of that, for sushi lovers, the restaurant Kyubey is located on the lobby floor. Babysitting service is also available.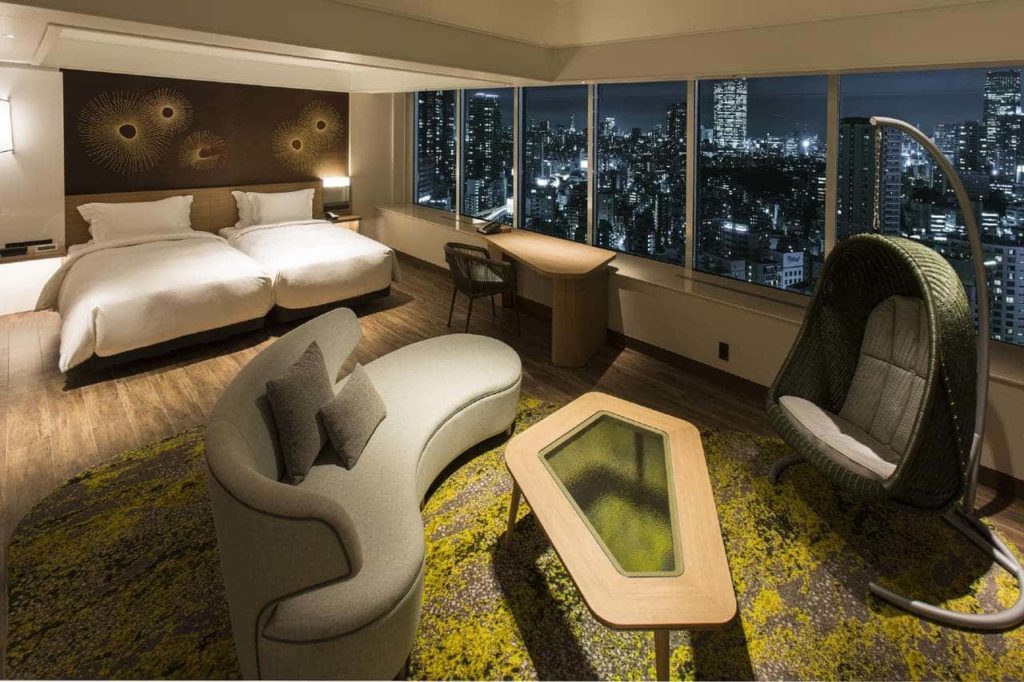 Nearest Train Station: Akabanebashi
The Prince Park Tower Tokyo itself is located in a vacation destination if you ask me. It's right beside the Tokyo Tower and Shiba Park, a massive park where your baby or toddler can crawl or run around.
They have the usual facilities you'll look for a comfortable hotel stay and more. They have their own karaoke, sauna, hot-spring spa, multiple restaurant options, indoor pool, and bowling alley. So if you get tired roaming around Tokyo and chasing your kiddos around, treat yourself for a day in and still make the most of your vacation.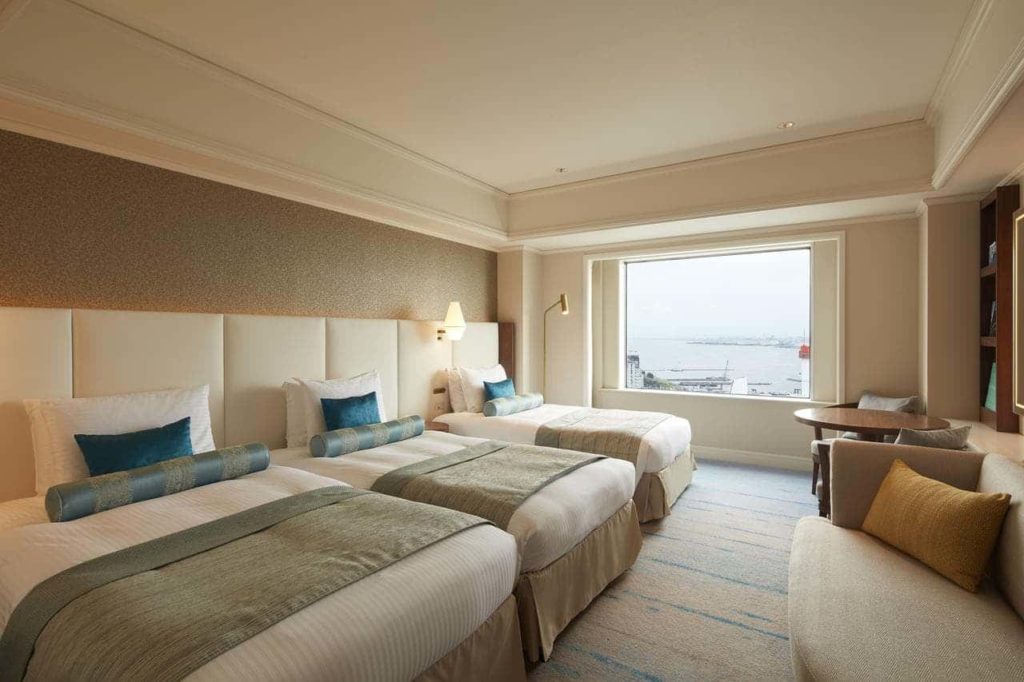 Nearest Train Station: Daiba
Grand Nikko Tokyo Odaiba offers a view of the Tokyo Bay, Tokyo Tower, and Rainbow Bridge. This hotel also offers a shuttle service to and from the Tokyo Disney Resorts and easily accessible from Haneda Airport. Baby items such as playmats, bed guards, potty seats, and step stools are available at NO extra charge!
NOTE: Odaiba is a man-made island located on the far east side of Tokyo which can make your Tokyo sightseeing to and from your hotel a hassle.
Best High-End Family-Friendly Hotels in Tokyo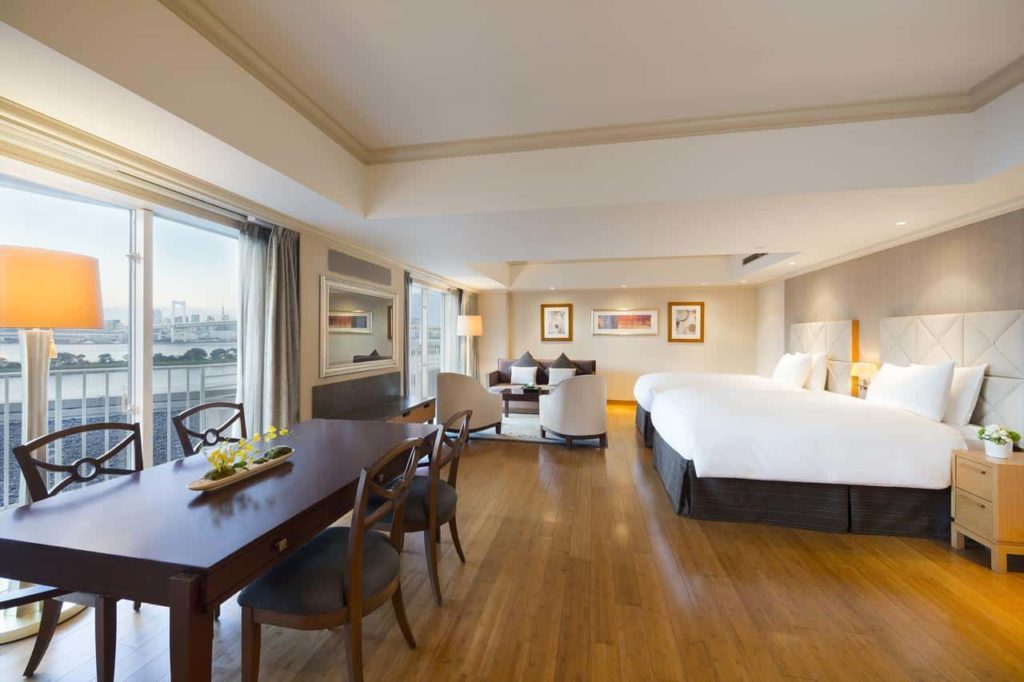 Hilton is right in front of the Tokyo Bay which giving you a majestic view of the Tokyo skyline, the Rainbow Bridge, and even Tokyo Tower. It is quite family-friendly too – they offer shuttle services to Tokyo Disney Resort for free, and they are near shopping malls all equipped with baby and nursing facilities.
Location-wise, Shibuya Excel Hotel is walking distance to all the must-see spots in the area. It's near the Shibuya 109 building, Harajuku and Yoyogi Park. They also have a café that serves delicious coffee and cake.
Nearest Train Station: Shibuya
WARNING: Elevators are complicated to find in Shibuya area and the Shibuya train station. Make sure to bring a collapsible stroller and use baby-carrier when sightseeing in the Shibuya area.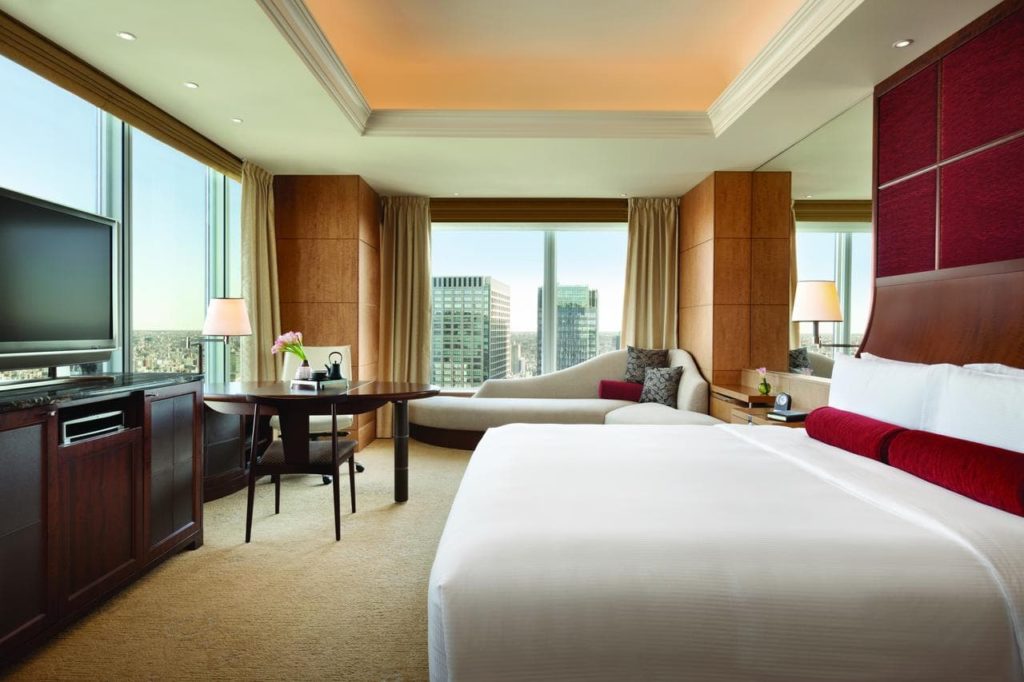 Nearest Train Station: Tokyo
Great location, accessible train stations and has a heated indoor pool! Not only is it only an hour away from the Narita Airport via the Narita Express Train, and the staff are also equally accommodating as well. You can ask their staff to pick you up at Tokyo station and help you with your baby.
Capitol Hotel Tokyu is perfect for guests wanting to take in the Japanese culture and atmosphere. It's close to the Imperial Palace and Roppongi Hills. The hotel itself has direct access to subway lines, so transportation is very convenient. They offer some unique services compared to other hotels such as photo studios, salons, photocopying services and even provide you with a smartphone during your stay.
Nearest Train Station: Tameike-sanno or Kokkai-gijidomae (direct access)
Nearest Train Station: Shiodome
Conrad Tokyo bagged the favorite hotel for international travelers in 2015. I can understand why. They offer really good amenities with modern décor, large rooms, and the location is just perfect for travelers. Everything you will need for a relaxing stay is available here. From multiple international cuisines, fitness centers, indoor pool and massages, they all have it for you and your family to enjoy.
Best Mid-Range Family-Friendly Hotels and Accommodations in Tokyo
Nearest Train Station: Shimo-Ochiai
Miyabiyado Takemine offers traditional Japanese hospitality with their straw mat flooring (tatami), Japanese style tables and chairs, and some rooms even have Japanese mattresses. This hotel is the perfect place to stay if you want your kids to be immersed in traditional Japanese culture. Each room has Netflix Japan too to help entertain your kiddos (most shows are in Japanese though).
Nearest Train Station: Asakusa
Most of the hotels here in this list feature amazing skyline views, but Asakusa View Hotel takes the cake for the best view ever. The hotel features floor to ceiling windows overlooking the city and Senso-ji Temple. Cribs or a bed guard are also available upon request at no charge but limited in stock so make sure to let them know in advance.
Nearest Train Station: Suidobashi
If your main reason to visit Tokyo is to enjoy Tokyo Dome city, then I suggest booking at the Tokyo Dome Hotel. Still in the center of Tokyo, the hotel is well connected to other stations that will bring you to other attractions like Akihabara, Ueno Park, Shinjuku, and Ueno Park. The hotel also offers breakfast buffets which you can enjoy before going to the amusement park with your family and 11 other restaurants which you will surly appreciate after a long day out.
Nearest Train Station: Ginza-itchome
While Daiwa Roynet Hotel is relatively new to the hotel industry, it is among the top travelers' choices when staying in Tokyo. This hotel is near the Tsukiji fish market and the famous Ginza Mitsukoshi mall. They have both Japanese and Western buffet choices for breakfast, so your food cravings are covered. Their services also include laundry, dry cleaning, and luggage storage.
Nearest Train Station: Meiji-jingumae
ALRIGHT. Time for our family's favorite hotel chain! Pretty much everything we've been looking for in a hotel is here (hospitality, free breakfast, ramen, free beer (sometimes), onsen, coin laundry, SUPER blackout curtains, and SUPER comfortable bed and pillows). NOTE: This is NOT sponsored!
Dormy Inn is also very child-friendly, and provide your child with complimentary toiletries and hotel clothes. We'd like to emphasize that this kind of hotel is definitely not for every family. You may also find using the onsen uncomfortable (did I say that onsens are public baths?). Fortunately for us, we live in Japan and we've adapted to their bath culture.
Best Budget Family-Friendly Hotels in Tokyo
Nearest Train Station: Ikebukuro
Super Hotel Lohas is where you want to go if you want to do tons of shopping and food exploration as it has very convenient public transportation options nearby. Aside from their excellent service, they also have complimentary Japanese style breakfast, which is both delicious and offers super cute (yes cute) food! No problem with feeding the kids there!
Nearest Train Station: Akihabara
Super Hotel Akihabara is situated perfectly for the otaku travelers among you, being located in Akiba, the otaku capital of Japan. The hotel itself offers a public bath and coin laundry, so the relaxation and convenience blocks are checked. Near the hotel are some temples that you and your family can visit to appreciate the serenity and take in some of the Japanese culture and tradition. It's also a short walking distance from Akihabara Station.
Nearest Train Station: Shinjuku
This hotel lies at the heart of Shinjuku, only a 10-minute walk from Shinjuku Station. We recommend staying here because of the friendly staff, free fresh buffet-style breakfast that is kid-friendly, and of course a large public bath to soothe your muscles at the end of the day. They also offer coin laundromats, vending machines and massage services on site.
Nearest Train Station: Shimbashi
Sotetsu Fresa Inn is a minimalistic style hotel. They are ideal for business travelers and families alike. The location of the hotel makes it easy for guests to explore Tokyo on foot. The hotel offers free luggage storage, complimentary coffee, vending machines, and even a coin launderette.
Nearest Train Station: Hamamatsucho
Hotel Mystays is just a 20-minute rail ride away from Haneda Airport. What I loved about this hotel is that each room is painted differently, but each with relaxing colors. They take your comfort to the next level by providing you with a memory foam pillow – very helpful if you suffer from aching back and neck when you sleep. The hotel also offers a variety of breakfast choices, which my daughter enjoyed a lot!
Final words: De-stress from sightseeing

The bath culture in Japan is our favorite form of relaxation after a long day of sightseeing and, if you're like us, doing it with a very hyperactive child. This is why if you should stay in a hotel with an onsen facility, it really helps you unwind and relax!

To take advantage of this when our daughter was an infant, my husband and I would simply take turns using the baths and sauna. Once she was old enough, I would bring her to the baths with me, unless I wanted to use the sauna as well, then we would take turns again. If you happen to be alone with a child, many of these facilities offer tiny tubs for infants and toddlers, but you'll need to skip the sauna.

Sightsee & Sushi is a participant in the Amazon Services LLC Associates Program, an affiliate advertising program designed to provide a means for sites to earn advertising fees by advertising and linking to Amazon.com