Our family frequents the surrounding areas of Mt. Fuji, especially Kawaguchiko — our favorite day trip with our daughter. I just can't get over how lucky the locals in this area are… snow-capped Fuji-san, beautiful breathtaking views, great food (houtou noodles is our absolute favorite!), and the people are always nice.
In fact, they're so nice, I've actually lost count of how often the locals have given our daughter gifts just because they find her adorable.  All of these things combine to make an ideal location, and one we hope to call home someday in the future. Because of how often we visit the areas around Mt. Fuji, we keep this as sort of a living article, which we update as we find something new and interesting in the area.
Understanding Mt. Fuji and Fuji Five Lakes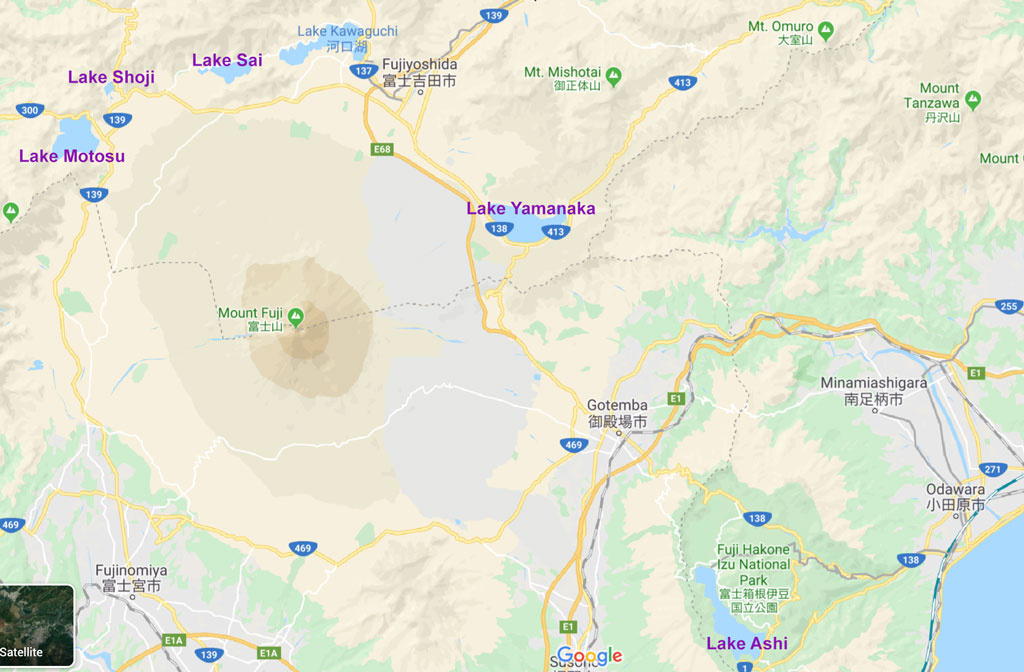 The main sightseeing attractions and in this itinerary guide are in the town of Fujikawaguchiko–the nearest town to Mt. Fuji that is easy to access on a day trip. The TOP tourist attraction here is Kawaguchiko or Lake Kawaguchi, the second-largest lake of the Fuji Five Lakes (or Fujigoko as the Japanese call it).
Fuji Five Lakes (Fujigoko)
The lakes of the Fuji Five Lakes are as follows:
'ko' means lake in Japanese.
Lake Motosu and Lake Yamanaka, however, are not part of Fujikawaguchiko town. The Fuji Five Lakes were formed when Mt. Fuji erupted during the ancient times. From the (literal) ashes of such an awesome destructive force, these lakes have all become fantastic tourist attractions, an inspiration for artists, poets, and philosophers alike, and some top-notch fishing spots.
Kawaguchiko and Saiko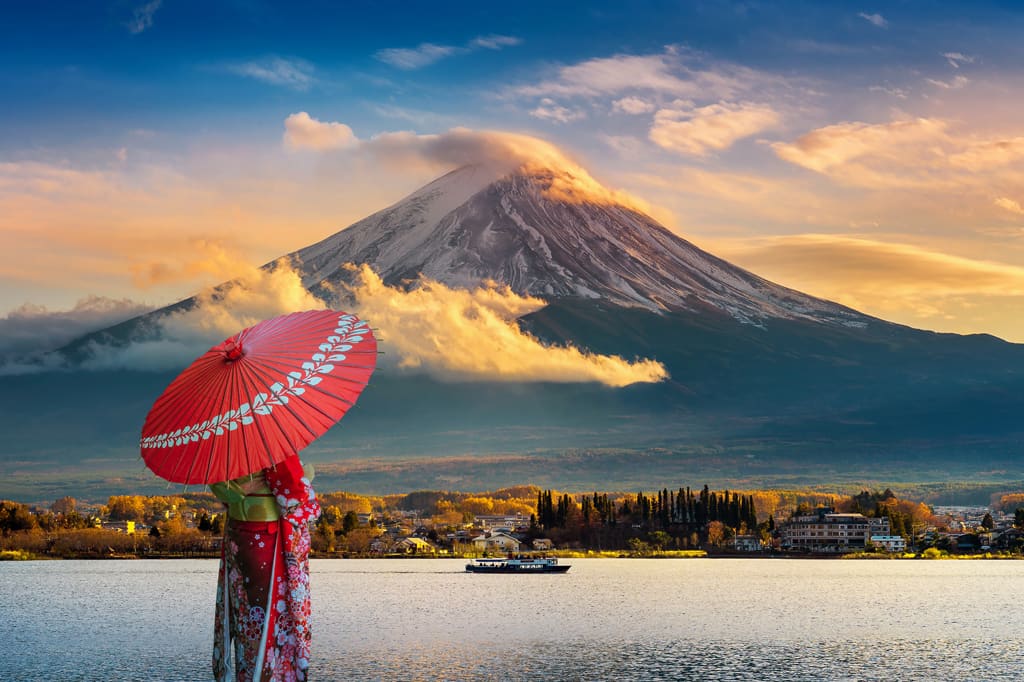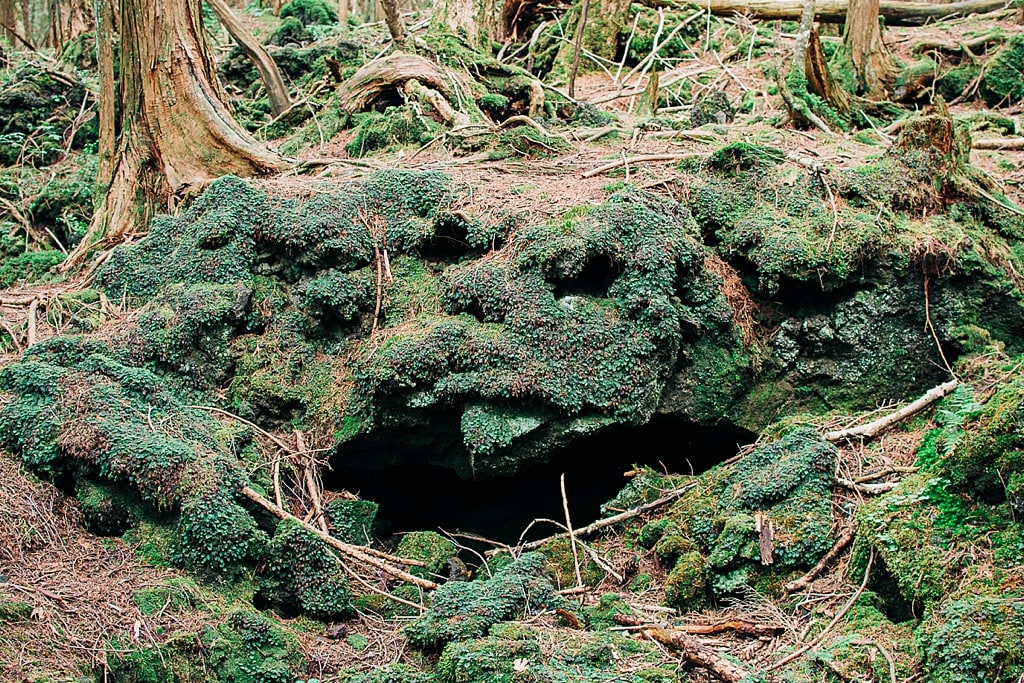 Of these lakes — Kawaguchi and Sai — are the most easily accessible by bus due to the bus frequency from Kawaguchiko Station.
Of the two lakes, Kawaguchiko is the most popular due to the area being better developed, as well as offering many experiences for tourists. Motosuko, Shojiko, and Yamanakako can also be accessed, but buses only run to each lake once every 1-3 hours!
Of course, there are more attractions and things to do around the area such as camping in Lake Motosu, fishing in Lake Shoji, kayaking, visiting the Shiraito Falls, Oshino Hakkai, the peaceful Kitaguchi-Hongu Fuji Sengen Shrine, and others.
But those merit separate posts as they are complicated to access. So in this guide, we will concentrate ONLY on the two popular and easy to access lakes–Kawaguchiko and Saiko.
Kawaguchiko or Hakone: Which is worth visiting?
Kawaguchiko is the BETTER option of the two because of the view of Mt. Fuji is EVERYWHERE in the area. And in terms of great Mt. Fuji views, Kawaguchiko is the very first place that should spring to mind, not Hakone, as the visibility of Mt. Fuji from Hakone is often poor because it's a fog-prone area.
The food in Kawaguchiko is also much better (and cheaper), not to mention having the amazing hoto noodles! Some of the best tempura I've ever had in my life is also in Kawaguchiko (more on that later), and there are many local restaurants and shops there that can only be found there.
This isn't to say Hakone is bad, it's actually a very nice town with many unique attractions and has many popular ryokans with private onsens. Hakone, as we've found, is loved by locals as an onsen getaway, but not really for sightseeing Mt. Fuji.
How to get to Kawaguchiko from Tokyo
The highway bus is the CHEAPEST and FASTEST option to get to Kawaguchiko from Tokyo. And if you have a JR Pass, the highway bus is still the cheapest and fastest option for you.
From Shinjuku Expressway Bus Terminal to Kawaguchiko Station it costs around ¥2,000 per adult, with a travel time of about 1.5 hours, depending on traffic. I recommend that you take the earliest bus from Shinjuku, at 6:05 a.m., as the chances of seeing Mt. Fuji in the early morning light is highly likely.
Here are other options to get to Kawaguchiko Station from Tokyo.
Ways to get around Kawaguchiko
1. By Bike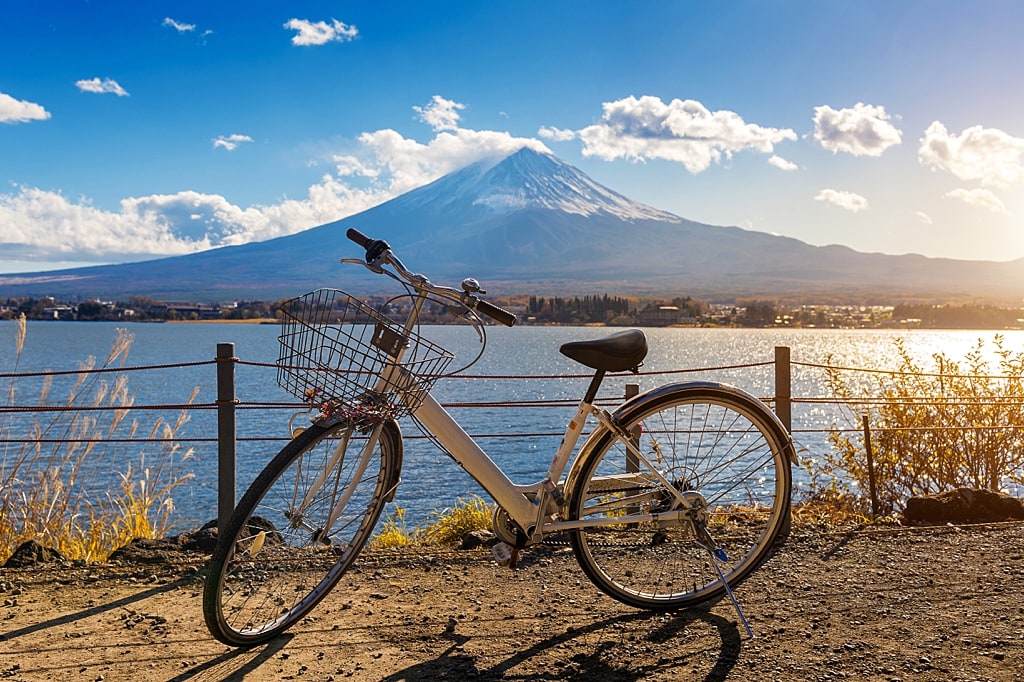 Biking is the best way to explore the entirety of Lake Kawaguchiko as the sightseeing buses always get caught in traffic.
In fact, biking is actually the faster approach if only have a day in Kawaguchiko, since you won't need to wait at bus stops.
You can rent a bike for a whole day, with prices starting at ¥1,800-¥2,000, and there are many bike rental shops outside the Kawaguchiko Station.
2. By Sightseeing Bus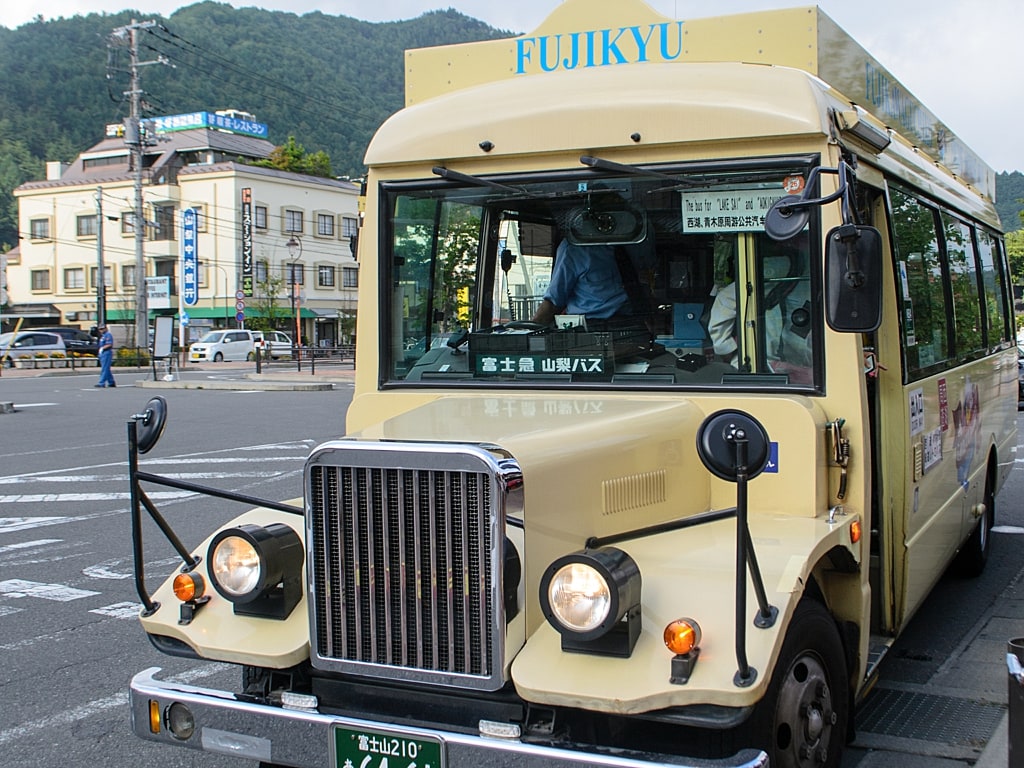 The Sightseeing Bus bound for Lake Kawaguchi and attractions nearby runs every 15 minutes, while the Sightseeing Bus bound for Lake Sai runs every 30 minutes.
These sightseeing buses are also known as Sightseeing Retro Buses because of their, you guessed it, retro design.
Be aware that during peak season (autumn and spring), you'll experience MASSIVE delays in the bus schedule because of traffic, which can really SLOW DOWN your itinerary.
If you choose to do this option, I highly recommend that you make your trip overnight (2 days) and get the Unlimited 2-Day Ride Pass. You can get the Unlimited Ride Pass at the visitor's center of Kawaguchiko Station. Check out our recommended accommodations in Kawaguchiko.
Which is better, join a day tour or on your own?
I get this question a lot from my friends who visit me in Japan and want to see Mt Fuji up-close. This is my answer to them:
Join a charter day trip tour if you want to save time and money, and aren't looking to stay overnight.
It is also the perfect option for solo travelers, families, or large groups. Another advantage of joining a day trip tour is that you also get to visit other areas near Mt. Fuji but are outside of the Kawaguchiko and other Fuji Five Lakes.
Heck, you might not even need to read this article since you are accompanied by a professional tour guide! If you're in a large group, say, 6-8 people, it'll definitely be cheaper to just → book a Private Mt. Fuji tour and divide the costs among you.
Some private tour guides can also act as your personal photographer! You can also customize your tour and even go to tucked-away destinations around Mt. Fuji that are not easily accessible by public transport.
LOOKING FOR AN ORGANIZED MT.FUJI TOUR?
→ Click for best bus tours to Mt. Fuji
→ Click for private chartered tours to Mt. Fuji (recommended for groups of 6-8 people!)
What about self-driving?
If you can, driving around the areas of Mt. Fuji is the best way to explore as you can explore at your own pace. In fact, this is what we do every time we visit.
If you're looking to rent a vehicle, then we recommend → Web-Rentacar by White Bear Family Co., Ltd. (Japan-based). We've used them a number of times before, and their prices are pretty hard to beat!
If you do decide to drive, we'll have suggested itineraries for you later. It should go without saying, but there's no need to buy the Unlimited Ride Pass with this option.
The main advantage of driving in these areas is that parking is free everywhere in the Fujikawaguchiko area, and you don't need to worry about relying on the buses. We have prepared an itinerary for you below to make the most out of your Mt. Fuji experience!
If you plan to rent a car and you're not comfortable driving from Tokyo to Kawaguchiko, we recommend that you take a bus and rent the car in Kawaguchiko. You have to make sure that you book in advance online. We have not experienced walking into rental car agencies in Japan, but we've never had any trouble reserving a car online.
Please note that unlike the American rental companies, the Japanese tend to be strict on the pick-up and drop off times, and will absolutely charge you.
NOTE:
Don't forget to obtain an International Driver's Permit! For the Americans out there, be sure your permit is from the
American Automobile Association
(AAA) or the American Automobile Touring Alliance (AATA). All other agencies are either not legal or are simply middlemen price gouging you.
Know before you go
1. Weather. Mt. Fuji is very dependent on the weather. Cloudy days, obviously, completely obscure your view. And if there's one thing I've learned about climbing Fuji-san, it's that the skies always seem to be clear and beautiful…on the days you're not climbing. So the good news is, if you visit outside of the climbing season, you should have many splendid views of the mountain. Unless you visit during the rainy season.
2. Best time to see Mt. Fuji. After years of living in Japan and living in a house that actually had a view of Mt. Fuji, we've found that November to February offers the best visibility of Mt. Fuji (and its famous snow cap!) You can still definitely visit year-round, it's just that you have to time your visit on the sunniest and clearest weather forecast possible.
3. Carry cash. Unlike the cities in Tokyo, most of the small shops and restaurants you're likely to encounter around Kawaguchiko and Saiko don't accept credit cards. So make sure you have enough yen before you go sightseeing.
Our Suggested Mount Fuji & Kawaguchiko Itineraries
So you want to do it on your own? Awesome! First off, remember to check the weather forecast for the days you'll be visiting (if possible).
We admit that it's a huge DOWNER when Mt. Fuji is not visible. But don't let that discourage you from visiting! The chances it will be like that if you stay multiple days are slim. Make sure to BOOK your accommodation in Kawaguchiko well in advance.
→ Click to see our recommended accommodations in Kawaguchiko with great views of Mount Fuji.
Here are our Mt. Fuji & Kawaguchiko itineraries that you can copy from Tokyo:
2-Day Kawaguchiko & Saiko
Day 1: Take the early morning bus from Tokyo to Kawaguchiko Station. Upon arrival in Kawaguchiko Station, get the Unlimited 2-Day Ride Pass at the visitor's center, then hop on the Red-Line (Kawaguchiko Sightseeing Bus).
Your first stop is the Natural Living Center. Explore the Natural Living Center, the Oishi Park is just outside and offers one of the best panoramic views of Mt. Fuji with Lake Kawaguchi.
Next, hop on the Red-Line bound for Kawaguchiko Station as your next stop will be the Itchiku Kubota Art Museum. Pay the entrance fee of ¥1,300 and explore the museum's entirety!
Once done, why not have some lunch? Try houtou noodles, a popular delicious regional dish from Yamanashi! From Itchiku Kubota Art Museum, walk to Momiji-tei Restaurant and order their beef houtou. You'll not be disappointed.
After the big lunch, you have the option of exploring this area. Kawaguchiko Music Forest Museum and Konohana Museum are just around the corner. Just choose one or just keep exploring.
Mt. Fuji is actually very visible from this area. The best spot to take photos here is the North Coast trail, which is just behind the Konohana Museum. Admire Mt. Fuji there, and why not have a cup of coffee?
After that, go to the nearest Red-Line bus stop and, if you still have time, go to the Sightseeing Boat/Ropeway Ent. bus stop for the Kachi Kachi Ropeway and ride the cable car going up to Tenjoyama Park, which offers not just another beautiful view of Mt. Fuji, but the town and surrounding mountains as well.
Afterward, depending on where you booked your hotel (which should be just around Kawaguchiko Station), check-in.
Day 2: Eat your breakfast and check out of your hotel. Take the Green-Line Saiko Sightseeing Bus. Your first stop should be the Saiko Iyashi-no-Sato.
Take your time exploring Iyashi-no-Sato, you could easily spend half the day here relaxing while viewing Mt. Fuji. They have samurai costumes to rent during your time here as well.
Next, go back to the bus stop and take the Green-Line again for Kawaguchiko Station. Your next stop is Yagisaki Park, which, depending on the time of year you visit, can be filled with flowers and herbs.
During peak season, you'll find many food stalls here serving ice cream, dango, and other sweet Japanese street food. Small coffee shops are also scattered around the area. We personally love Milky Way and Cisco Coffee!
After relaxing, hop on the Green-Line bus and head back to Kawaguchiko Station, then back to Tokyo.
2-Day Kawaguchiko & Aokigahara
Pre-booking requirements:
Day 1: Do Day 1 of Itinerary #1.
Day 2: Breakfast and check out. Hop the Green-Line bus and go to Fugaku Fuketsu bus stop to meet up with your nature guide for the beautiful Aokigahara forest exploration.
Afterward, you are free to go explore the rest of your day, you can either visit the Iyashi-no-Sato healing village or head straight to Yagisaki park (see Day 2 of Itinerary #1 for ideas). Head back to Tokyo.
2-Day Kawaguchiko & Fuji-Q Highlands
Day 1: No need to buy the 2-Day Unlimited Pass! Explore Lake Kawaguchi by bike! There are many bike rental shops around Kawaguchiko Station.
Rent a bike for the whole day (usually ¥1,500-2,000 per day) and follow the Day 1 of Itinerary #1.
Don't forget to grab a map from the shop for the dedicated bike route to the attractions mentioned on the Itinerary 1.
Day 2: From Kawaguchiko Station, take a bus to Fuji-Q Highlands and spend the day riding some of the world's top roller coasters! There's plenty more to see and do between rides, so be sure to explore as you go.
When you've gotten your fill, head back to Tokyo.
NOTE: For those of you able to spend the 3rd day here, consider relaxing in the nearby Fujiyama Onsen after your day in the Fuji-Q!
2-Day Kawaguchiko & Arakurayama Sengen Park
Day 1: Do Day 1 of Itinerary #3.
Day 2: Take the train from Kawaguchiko Station to Shimoyoshida Station and walk to Arakurayama Sengen Park.
Do some warm-up stretches as you'll be climbing nearly 400 steps to see the beautiful Chureito Pagoda on top, which offers a breathtaking view of Mt. Fuji and the entire town of Fujikawaguchiko and Fujiyoshida City.
When you're ready, head back to Tokyo.
1-Day Kawaguchiko (by bike only)
Just follow the Day 1 of Itinerary #3–explore Lake Kawaguchiko by bike!
Top things to do around Mt. Fuji's Kawaguchiko & Saiko
1. Sightseeing Retro Bus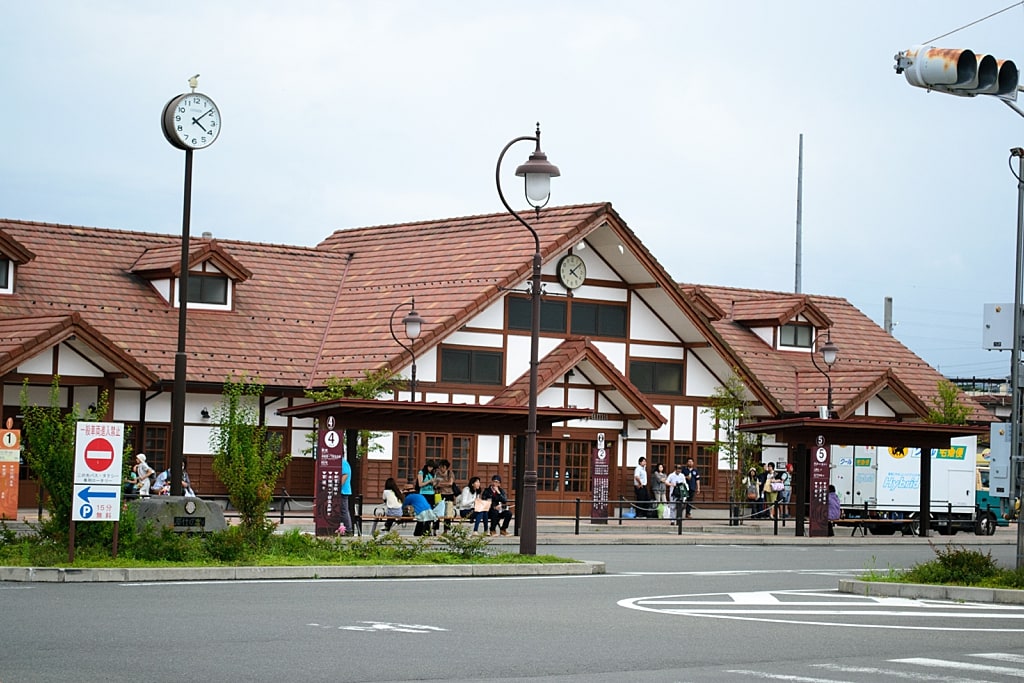 If you're doing this trip on your own, again, I highly recommend that you stay overnight, ideally near Kawaguchiko Station as the bus starts there.
The Unlimited 2-Day Ride Pass is ¥1,500. You just have to show the pass to the bus driver when boarding and exiting the Retro Buses. There are two bus lines that take you to the tourist spots around the area.
First is the Kawaguchiko Sightseeing Bus or the "Red-Line" which will bring you to areas around Lake Kawaguchiko. The second one is the Saiko Sightseeing Bus or the "Green-Line" which will bring you to areas around Lake Saiko.
2. Tenjō-Yama Park Mt. Kachi Kachi Ropeway (also known as Mount Fuji Panoramic Ropeway)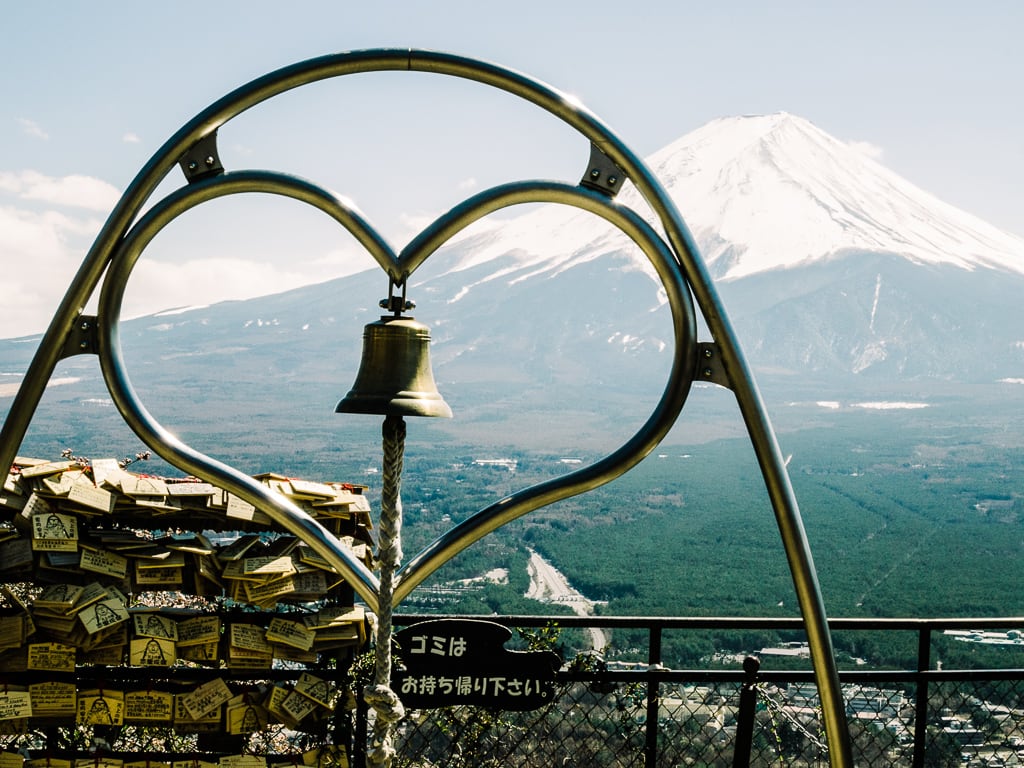 Probably the most popular attraction within this little town, the ropeway provides you with easy access to the top of Mt. Tenjo and gives you a great view overlooking the lake and town with the many mountains surrounding it all.
While you can take the cable car to the top, you also have the option of hiking up the mountain, although it's a deceptively difficult trail…if you're carrying a child on your shoulders.
The only real drawback to hiking up is finding the actual entrance to the trail is a bit of a hassle. It honestly took us about an hour to finally find it because, like many hiking trails in Japan, it's sort of in a weird place, and makes you feel like you're trespassing at the start.
At the top, there is a small souvenir and snack shop, along with a few trails leading to better views, and other mountains.
We suggest hiking up and riding down the ropeway cable care if you're feeling up to it, or vice versa. Riding both ways simply robs you of some of the best views of Fuji you're likely to find, as well as robbing you of an excuse to eat one of the tasty treats found at the top!
3. Kawaguchiko Music Forest Museum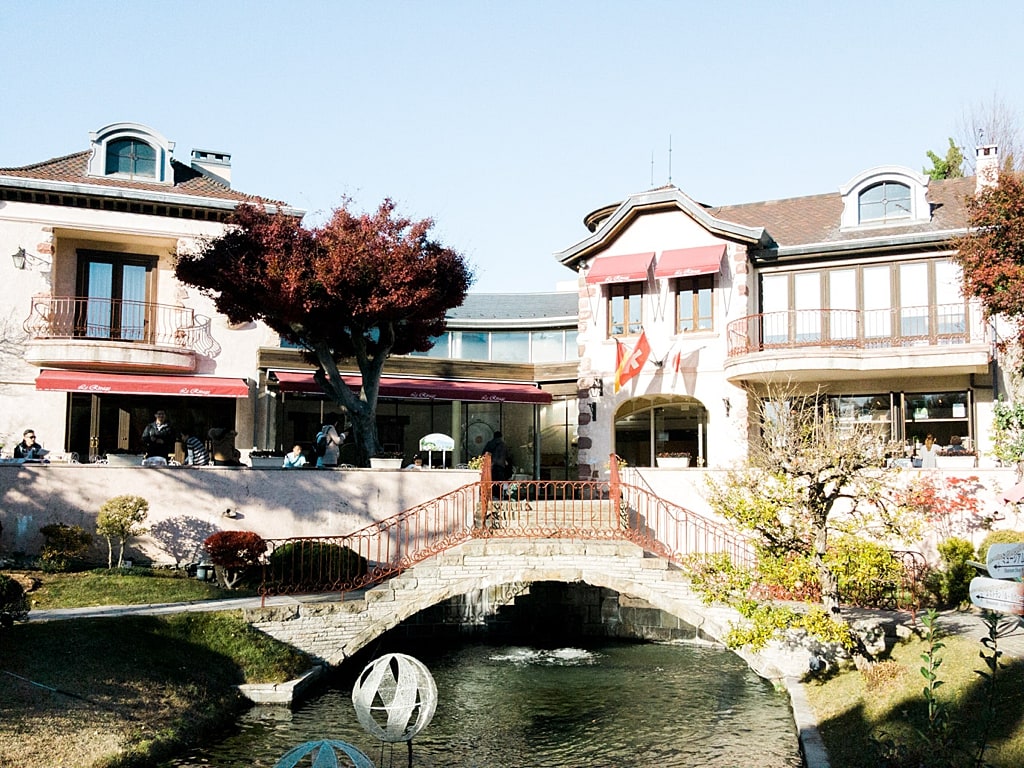 The buildings inside the Music Forest Museum remind me of a European fairy tale setting, with somewhat exaggerated buildings, and lots of pink paint.
The whole "forest" itself is built to resemble a town square of sorts, with a central fountain. So if you're expecting a walk through a nature trail, it's not like that. There are two buildings with things to do or see inside, and all the others are some form of a souvenir store. The whole area is handicap and stroller accessible.
The only thing we don't like about this place is the admission ticket price — ¥1,500 per person. But there are 2 ways to get some discounted tickets for the music forest for about ¥300 off:
By printing the web coupon screen from their website or;
By reserving in advance through their website and paying through PayPal.
4. Konohana Museum
Home of Dayan the Cat, the Konohana museum is a fantastical stylized architecture, reminiscent of the Ghibli Museum. Containing the works of Akiko Ikeda, it was built to look like the Tachiel Enit Museum in the fictional Tachiel City, and is as much a part of the artwork as the pieces it houses.
Wachifield is the fictional world created by Ikeda-san, and the love and care that went into making this museum feel as authentic as possible can be felt as you wander its halls. Pictures, sculptures, and dynamic dioramas can all be found inside.
And while the exhibit itself is rather small, that makes it easy to fit into most itineraries!
5. Kawaguchiko North Coast Walking Trail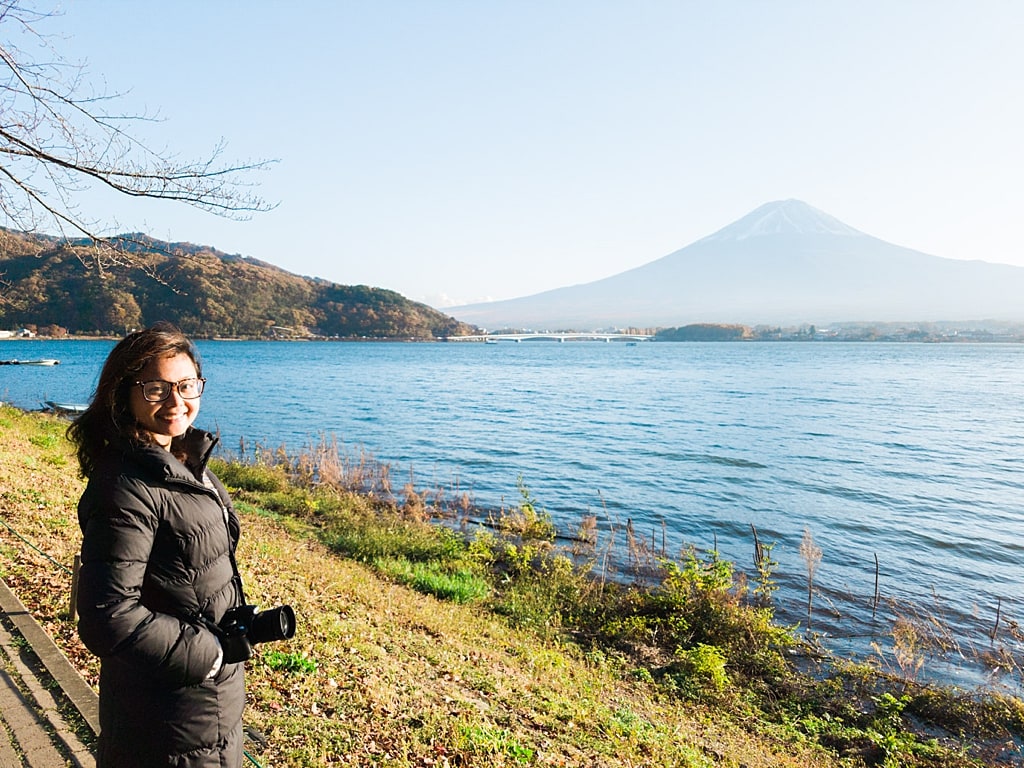 The North Coast Walking Trail is just a 7-minute walk from the Kawaguchiko Music Forest Museum and located behind the Konohana Museum. This short trail offers a 180-degree view of Mt. Fuji and is a place that many tourists are unaware of.
We saw many restaurants as we walked the trail, mostly Italian restaurants (there is a strong European influence here), cafe shops, and dessert shops. But we didn't dare to try one. They were expensive!
It seemed to me that you are mostly paying for the comfortable seats and view, rather than the quality of the food that you order. So I suggest just enjoying the view and skipping the restaurants, maybe bring a boxed lunch, or just eat at one of the much better options elsewhere.
6. Itchiku Kubota Art Museum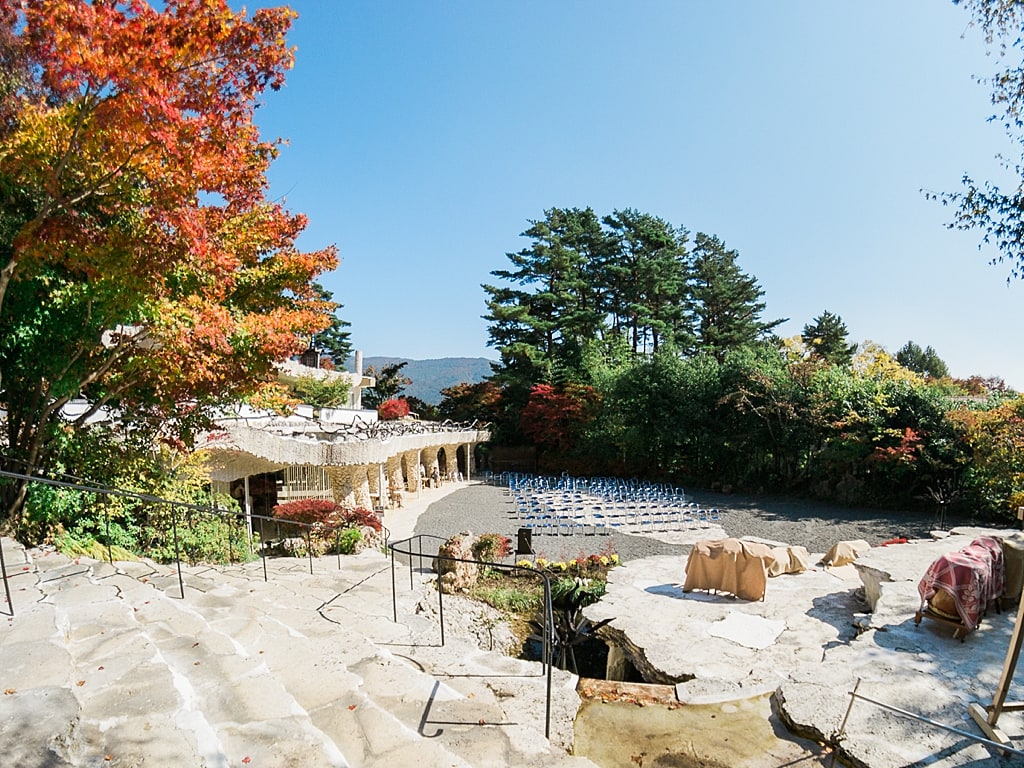 Itchiku Kubota is actually my favorite museum in Kawaguchiko. The museum lies inside a paradise-like forest with breathtaking views of the calm lake of Kawaguchiko and Mt. Fuji. It's the most fascinating museum I'm ever seen.
It's because the building is made up of Okinawan corals and limestones, and the foundation of the main gallery building is made from Hiba trees that are more than 1,000 years old. With an entrance fee of ¥1,300, we were able to learn about the life of Itchiku Kubota and his fascinating artwork "Tsujigahana."
Tsujigahana is a technique of dying kimonos which was prevalent around the period of the 13th to 15th century, or Muromachi Period, and became mostly extinct during the 16th to 17th centuries.
Kubota was 14 when he became a kimono artist. However, when he saw a 350-year old silk fragment, which was a remnant of Tsujigahana in Tokyo National Museum, he became fascinated and devoted his life to reviving it.
Several years after, Kubota was captured by the Soviets and was imprisoned in Siberia during World War II. When he was released, he studied the tsujigahana technique. But, because no instructions survived explaining how to reproduce it, Kubota was forced to experiment on his own for decades. Eventually, Kubota was not only able to reproduce it,­ but also modernized it.
He had his first exhibition in 1977 at the age of 60, and his works quickly went abroad and received various awards due to their uniqueness and superb quality. I would really recommend visiting this museum when you travel to Kawaguchiko and allow yourself to be inspired by Itchiku Kubota.
When you really want something to happen, the whole world conspires to help you achieve it.
― Paolo Coelho
Seeing his art really left me in awe, and I'm sure it'll have a similar effect on you.
7. Kawaguchiko Natural Living Center and Oishi Park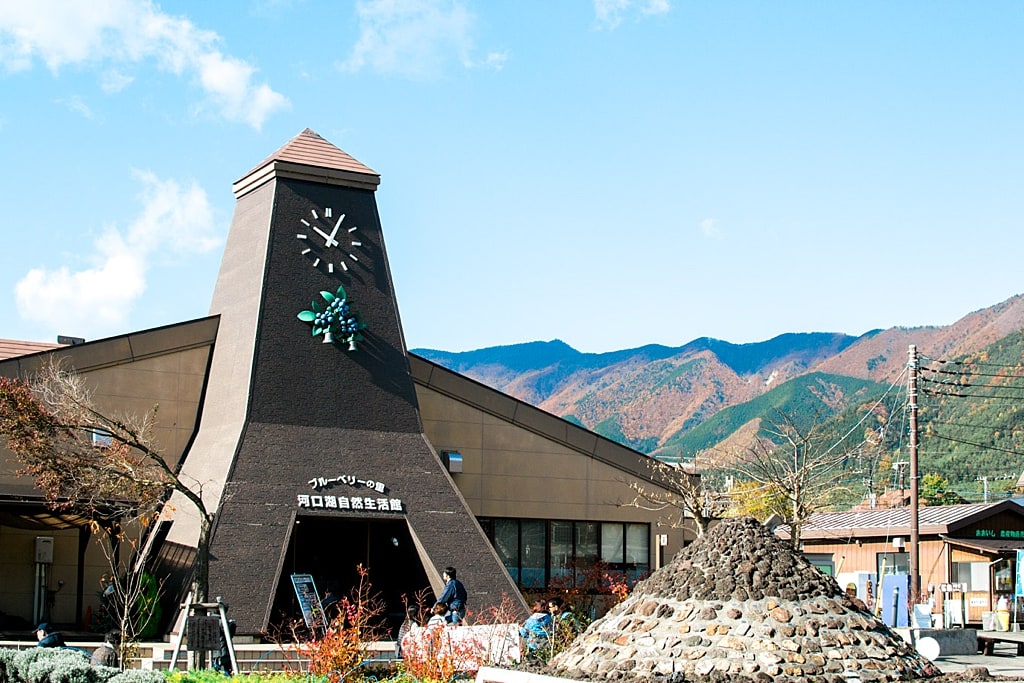 Located on the opposite side of the lake from Yagisaki Park, Oishi Park also takes part in the annual herb festival, and the Natural Living Center acts as a sort of a gift shop for buying herbs and blueberries.
Oishi park is also famous for its Kochia plants, which bloom in early autumn. You really can't go wrong with either park, so why not just spend some time in both?
8. Yagisaki Park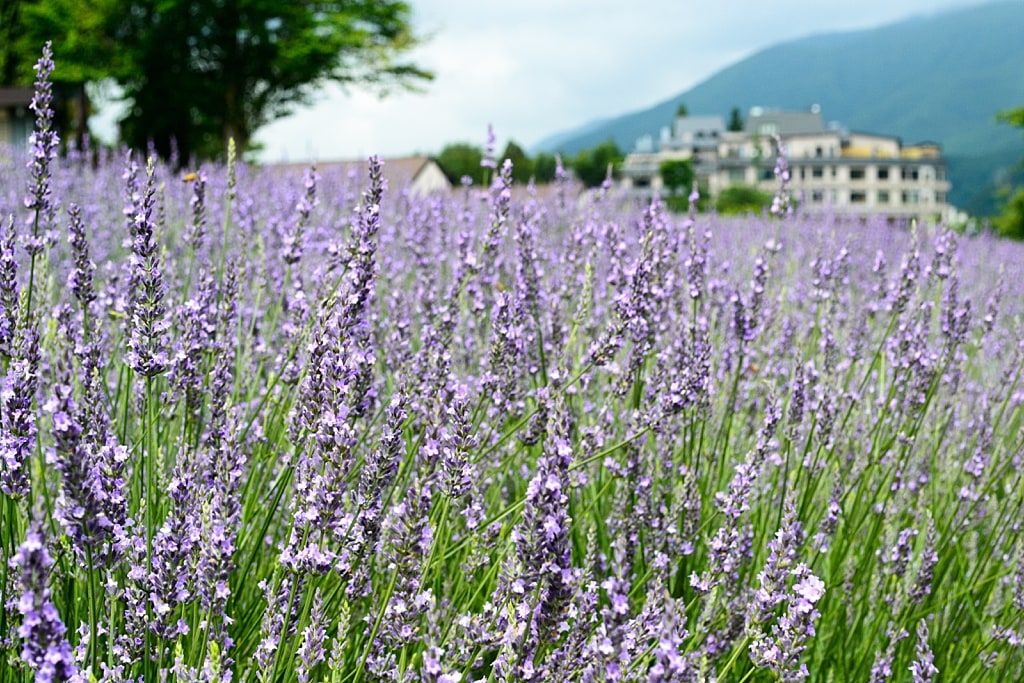 Located along the southern coast of Kawaguchiko, Yagisaki park offers both an incredibly peaceful and relaxing atmosphere, as well as an absolutely gorgeous view of Fuji-san and the surrounding mountains.
I suggest planning your visit to the park between June and July, as the park holds the annual Lake Kawaguchi Herb Festival during that time. The plants will be in full bloom and the entire area will be filled with vendors selling delicious treats and souvenirs.
There is also a popular art museum called Muse-kan (Muse Museum) in the park, which displays the work of Yuki Atae, a famous doll-maker in Japan. There are approximately 90 dolls on display within the museum and are rotated twice a year. There's also a cafe and gift shop within as well.
9. Saiko Iyashi-No-Sato Nenba (Healing Village)
Located near Saiko, Iyashi No Sato Nenba is an open-air museum that features thatched roofed houses that are similar to the historic village of Shirakawa-Go in Gifu Prefecture. These thatch-roof houses were originally built by farmers for raising silkworms back in Showa Period (1926-1989).
A typhoon in 1966 actually destroyed the village, but now, reconstructed 40 years later, there are over 20 thatched houses that were converted into shops offering souvenirs, workshops, or hands-on activities like paper mache, Hina doll making, or weaving.
Each thatched house has its own specialty, including souvenir shops, tea houses, handicraft workshops, and art galleries. This place is beautiful and relaxing and made more beautiful by the surrounding foliage.
This is also one of the best views of Fuji to be found in the five-lakes area. There are also stores near the parking lot with local fruits and vegetables, honey products, and other Japanese street food. In fact, my husband didn't want to leave because a man was selling huge jars of honey for ¥2,000, which is unthinkably cheap in Japan!
10. Aokigahara Forest (Suicide Forest)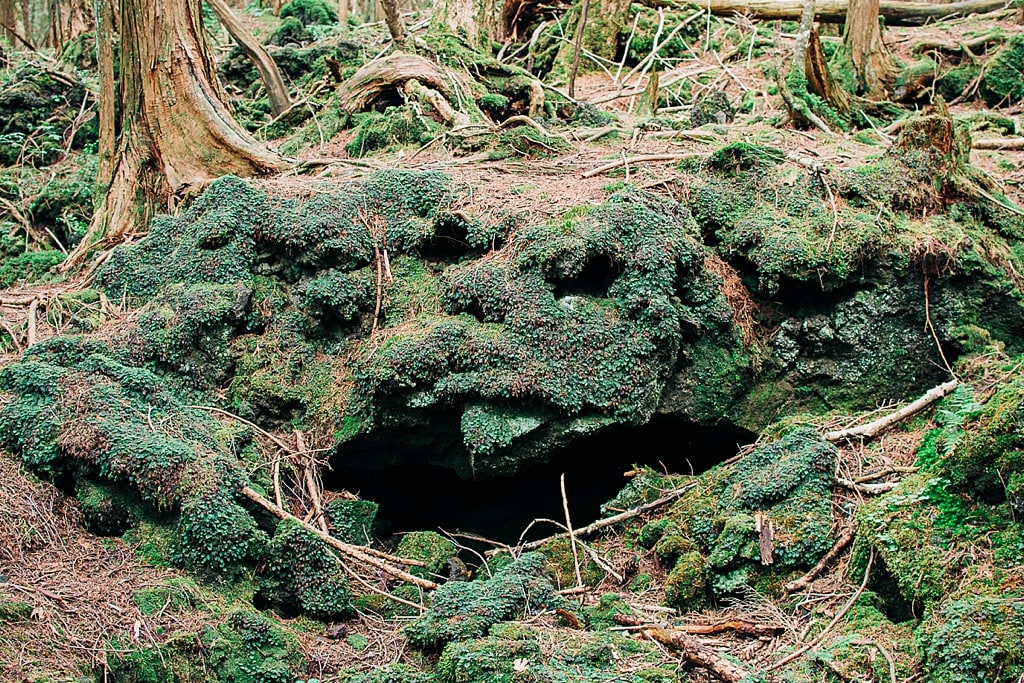 After reading many of the urban legends about this enigmatic forest online, I tended to think it was enough to discourage people from trying to enter this forest.
Exploring the infamous Aokigahara Forest was something I thought would be impossible given the stories surrounding it. But apparently, it's not. The forest is open to the public and is actually a major attraction for the area.
Upon reaching the entrance to the forest, however, it becomes clear that not all the stories are myths. There are warning signs in Japanese telling you to stay on the hiking trail and avoid going too far from the entrance, as it was believed that people get lost because the GPS doesn't work in some areas of the forest.
The entrance also has a sign in Japanese talking about suicidal thoughts, as well as listing various help hotlines. It reads:
Life is an important thing we receive from our parents. Think once more about your parents, your siblings, your children. Don't suffer alone. Please talk to someone.
Aokigahara is both beautiful and creepy, and if you're interested in seeing it for yourself, you should definitely join a guided nature tour.
Oh, and don't be a Logan Paul…
11. Arakurayama Sengen Park
Home to the Chureito Pagoda, this park offers yet another incredible view of Mt. Fuji, while also overlooking Fujiyoshida City. It's over almost 400 steps to the park, but the way is lined with cherry blossoms, which should take your attention away from your burning thighs.
It's a hike to the top but you'll be rewarded by the panoramic views of Mt. Fuji along with the Pagoda, made famous by Japan postcards.
12. Fuji-Q Highland
Probably the main attraction for Japanese locals around Mt. Fuji, not named Mt. Fuji, is this amusement park known for its roller coasters and thrill rides. For those less enthusiastic about that sort of thing, the park also offers 3 other areas to explore that don't focus on rides.
Made up of four separate areas/parks, there is the main park, Fuji-Q, which is where the major rides and attractions are. Thomas Land, based on Thomas the Train, for the kids. La Ville de Gaspard et Lisa, based on the French picture book characters "Risa and Gaspearl."
As I said before, the area around Fuji has a strong European influence). And it's the newest area, Fuji Leaf Village, based on the popular manga anime Naruto and Boruto.
I've been to the park about 3 or 4 times, but I've honestly only been to the main park. Thomas Land was the only other area at that point (and we didn't have a child at that point), and I haven't returned since the other areas were built.
This is definitely on our to-do list, and we'll be sure to get back to you with our thoughts as soon as we do. As for the main park, the roller coasters are incredible and are definitely the main attraction.
Each also affords a great view of Mt. Fuji (except Dododonpa, you're going too fast), right before you take your first drop. I highly recommend stopping here during your trip if you're looking for something different than the normal trip to Disneyland or Universal Studios Japan.
After all, you can get those in America as well. But there's only one Fuji-Q.
Our 53 Best Places & Things to do around Fuji Five Lakes

There are so many things to do around Fuji Five Lakes! Even when you can't see Mount Fuji, you can still enjoy all the attractions and off-the-beaten spots around the Fuji Five Lakes area.
Top seasonal attractions in Kawaguchiko
1. Kawaguchiko Herb Festival in summer. Mainly lavender fields in Yagisaki Park and Oishi Park. Lots of Japanese street food, so make sure you try some. Event dates here.
2. Momiji Corridor Festival (Maple Corridor Festival) in autumn. Lots of fiery maple trees lined up with many street foods and souvenir stalls down the road. This is a very popular event in the autumn and is jam-packed with "Leaf-Peepers" (for my Mainers out there). Event dates here.
3. Oishi Park's Red Kochia in autumn. A great alternative to Hitachi Seaside in Ibaraki, Oishi Park has plenty of Kochia plants that turn a deep red during mid-October. And the best part is it has Mt. Fuji as the backdrop.
4. Oike Park in autumn. Oike Park, a park in front of Kawaguchi Herb Hall, is lined with poplar trees which turn a beautiful yellow in late October to early November. Mt. Fuji isn't so visible here because it's partly a residential area, but it's worth visiting only during autumn.
5. Arakurayama Sengen Park. Although still, very nice year-round, Arakurayama Sengen park is EXCEPTIONALLY beautiful when visited during cherry blossom and autumn season.
Where to Eat in Kawaguchiko
Food is our favorite part of every journey, and Kawaguchiko is perhaps one of our favorite places in Japan as it has really superb food. The Yamanashi area as a whole is most well known for its famous Hoto Noodles, and Kawaguchi has many restaurants specializing in it.
We tend to favor and remember restaurants which offer both great food AND kind staff, so here's our list:
1. Momijitei restaurant
Momjitei is just a 7-minutes walk from the Itchiku Kubota Art Museum. And it is famous for making the best Houtou noodles in Kawaguchiko, and the best restaurant to go for your lunch.
Just make sure to get there early as it fills up fast! Their homemade miso sauce is aged for two years and is what sets them apart from other houtou noodle restaurants.
We had beef houtou during our visit and it was one of the best meals we've ever had! The staff instructed us by pointing to the condiment tray on our table that we could also add some Nanban (miso topping) for an added oomph to the soup flavor.
2. Houtou Fudou restaurant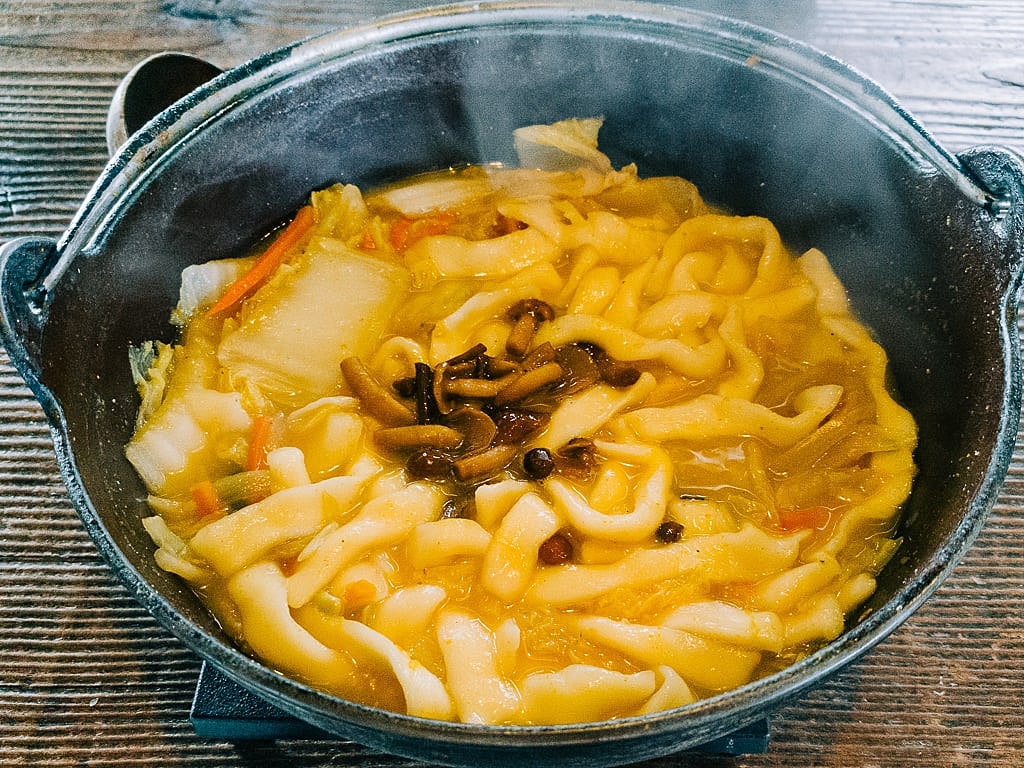 Houtou Fudou has several branches in Kawaguchiko, and we ate at their main branch near the Kawaguchiko Music Forest Museum. All their branches are always extremely busy!
That's how popular they are. There's one just in front of Kawaguchiko Station, and of course, due to its location, it's always jam packed!
Now if you were to ask us which Hoto noodle shop is best, we would personally choose Momijitei Restaurant because the food is great, it comes in a large portion, and the staff was very friendly.
3. Tempura Restaurant Ninja
This restaurant is only a 4 minute walk from Kawaguchiko Station. Now, I don't usually like tempura because it's generally greasy, but this is different and has become the only tempura I really like!
Our picky daughter surprisingly ate their tempura as well, which is always a plus. Something about their tempura is unique, I think it might be air fried, but who knows. The staff here are very nice too, and, as usual, our daughter received treats from them.
4. Cisco Coffee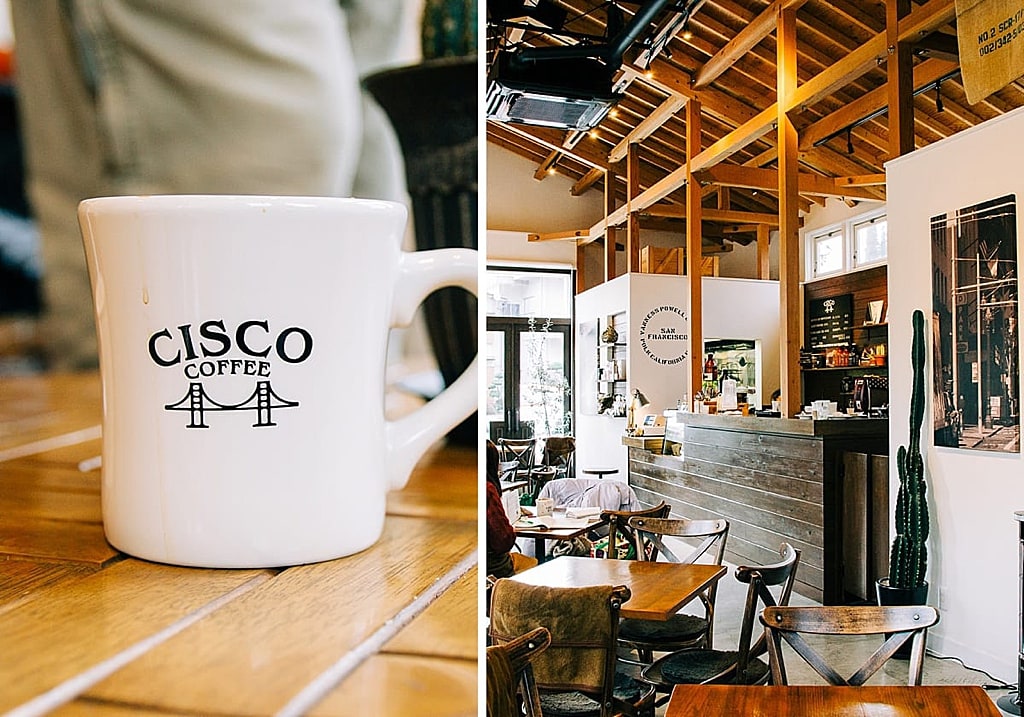 This cozy coffee shop is located near Yagisaki Park is a San Francisco style coffee shop in a relaxing shop to sit and relax with a good book. The menu is pretty simplistic, but the coffee is top notch and really helps warm you up on a chilly morning by the lake.
5. Milky Way

This is a traditional shop that is also located near Yagisaki Park. They have an incredibly cozy atmosphere inside.
Now, I won't lie, I'm a sucker for Mom & Pop type places, and this shop is clearly a passion project between the joint owners who run it. The desserts here are absolutely incredible, and the owners were super patient with our daughter, who was being rather moody this day.
There are plenty of toys to entertain most kids, but apparently, not enough for ours. I can't recommend this place highly enough!
6. Troisieme marche
We love this coffee & bakery shop, and we wanted to enjoy it more, but our daughter just wouldn't sit still. This is located near Kawaguchiko Forest Museum, and is famous for their cake desserts, which were amazing.
And that's it! Please know that the itineraries presented above are based on our experience, so it's tried and tested.
If you have any question, please leave you comment below!