Lake Motosu is the deepest and third largest lake of the Fuji Five Lakes. Lake Motosu, Lake Sai, and Lake Shoji are actually connected underground. If you're interested in sightseeing Fuji Five Lakes, we recommend that you read our guide to Lake Kawaguchi with detailed itineraries.
Lake Motosu, as we found out pretty quickly, is surrounded by various campgrounds each offering most of the same services. Most of the camps were filled with large groups of folks escaping the hustle and bustle of busy Tokyo life and families wanting to be a bit closer to nature.
One very difficult thing about camping in Japan as a foreigner is the distinct lack of information about campgrounds online and a complete lack of English-speaking bloggers as well.
Because of this and our unfortunate lack of Japanese language skills, we were forced to rely completely on Google maps for reviews and information. We were lucky enough to find a few English reviews about the two most popular campgrounds around lake Motosu — the Motosuko Camp-Jo and Koan Camping Grounds.
We decided to set out and see the two campgrounds for ourselves and here's our experience. We spent our first night at Motosuko Camping Ground also known as Motosu Camp-Jo and the second night at Koan camping ground.
Motosu Camp-Jo
We picked Motosu Camp-Jo for our first night because you can camp anywhere, park anywhere, and show up anytime you want (and also because Koan was closed by the time we arrived). The ground itself was much larger than Koan and nestled in the woods near the lake.
According to their website (website no longer exists), a tent site is ¥3,000 per 2 persons, and the parking fee is ¥1,000 for overnight camping use. If only staying for a day camp, it's ¥500 per person, plus ¥500 for the tent site.
However, when we showed up to the main office lodge to pay, no one showed up or offered us any assistance. We were instead greeted with strange looks which is very abnormal for the Five Lakes area, as it seems to have a pretty pronounced European influence.
So, feeling completely out of place and unwanted, we decided to simply leave and moved to Koan Camping Ground.
Koan Camping Ground
The Koan campground itself offers a much more beautiful view, as it directly faces Mt. Fuji and has lakeside access. A base fee of ¥1,000 yen each, an entrance fee of ¥600 yen each, and a parking fee of ¥1,000 yen.
So for two people, we paid a total of ¥3,600 per night. The camping fee overall at Koan is a little bit cheaper than Motosu Camp-Jo, however, the Koan campground is also very restrictive. For more information, click here to visit their website.
For example, the vehicle gate closes at 8 p.m. So make sure you have everything you need for food before the gate closed because you can't leave after that point.
There were also a number of rules which didn't make a lot of sense at this site and seemed to be universally ignored by all campers. Some of these WEIRD rules included, "absolutely NO swimming" at a lakeside campsite, no entering the water without a lifejacket — did they forget the previous rule?
No motorboats, no privately owned boats, kayaks, canoes, or watercraft can be used, and a few more ridiculous rules which were also completely ignored. Another important piece to remember is that unlike camping around Kawaguchiko or Yamanakako when camping at Motosuko, there are NO nearby grocery or convenience stores.
The closest convenience store we found was located next to Shojiko and we didn't find any nearby grocery stores. So make sure you have ALL your food and toiletries before arriving. Otherwise, be prepared for a minimum 20-minute drive one-way and eating a whole lot of cup noodles as we did.
Things to do besides camping
As for activities, Motosuko is almost exclusively camping, kayaking, and hiking experience. And since Lake Sai and Lake Shoji were nearby, we decided to check them out.
1. Aokigahara Forest or "Sea of Trees" in Lake Saiko
We packed up and left the Koan campground just before our check-out time and decided to set off to Lake Sai for the infamous Aokigahara Forest, better known as "Sea of Trees." There are two safe entrances to begin your forest adventure — the Narusawa Ice Cave and Fugaku Wind Cave.
The two are in different locations, so just choose one. For us, we chose the ice cave because of the plentiful parking. Basically, the trails of the Aokigahara forest connect the ice and wind caves. So if you don't have a car, you can start at the wind cave, walk through the Aokigahara forest, and exit at the ice cave.
Please don't go here alone, if you must, please hire a nature tour guide that knows the forest.
The walk from the ice cave to the wind cave through the Aokigahara forest is about 20 minutes. But for us, since we had our car parked, instead turned around and went back to the ice cave.
All in all, we were in Aokigahara Forest for 50 minutes because my husband was also trying to decrypt the names and side effects of mushrooms we saw along the walk. Aokigahara is both beautiful and creepy, and if you're interested in seeing it for yourself, you should definitely join a nature local guide.
2. Panorama Dai in Lake Shoji
Panorama Dai is an observation deck that can be reached by hiking from Lake Shoji.
If commuting, one must ride the Blue Line bus from Kawaguchiko Station to Lake Shoji and stop at Panorama-dai Shita bus stop (about 40 minutes bus ride). However, I don't really recommend going there by bus, as the bus only frequents the area every 2-3 hours.
From what I saw of the bus schedule, the bus only goes to Panorama Dai bus stop 4-5 times a day. So you really need to drive or rent a car when going to Lake Shoji for Panorama Dai, in order to avoid the hassle of waiting and worrying about the time you should get back to ride the bus back to Kawaguchiko.
That said, there's a small parking area just in front of the Panorama-dai Shita bus stop.
Do not search for 'Panorama Dai' on Google maps because it will take you nowhere, use this Google maps pin to get to Panorama Dai (now you don't need to drive around for an hour looking for it like us!)
I imagine in peak seasons like spring or autumn, that the parking area will be full. If this is the case, you'll have to park your car somewhere around the lake, then walk for 15-20 minutes just to get to the starting point of the hike.
The signboard says that to reach the Panorama Dai takes about 50-minutes, but it took us more than an hour to reach the top as I took a lot of rest stops. My body really seems to have trouble handling long hikes since having a baby.
I figured that I may not be able to climb Mt. Fuji this year. (Update, I actually did manage to climb Fuji this year… never again, lol). For more information, read our article about climbing Mt. Fuji with a tour guide.
The hike to the top reminded me of other mountains I've hiked nearer to where we live (Takatori-yama near Miyagase Lake). Mountains in Japan look so alike after all. Since they look so much alike, I became concerned that land-leeches (yes, those exist, I was surprised too) were also present in the area.
Thankfully, there didn't seem to be any leeches on this particular mountain, so we avoided this fear of mine. After more than an hour hike, we finally reached the top–the Panorama Dai observation deck. The view was absolutely AMAZING and is only beaten by the summit of Fuji itself.
Although, you could easily argue that it's even better since you're actually looking at Fuji. We really need to return here sometime in autumn, as the orange and reds of the leaves would be absolutely stunning.
We met an older Japanese couple who were really nice and explained which lake was which and what was in each direction. The lady showed us the back of the 1,000 yen bill and told us that if we want to see the exact photo of Mt. Fuji on the back of the 1,000 yen bill, that we should go the right side of the mountain. Or at least, this is what we decided that she said, as she was speaking in Japanese, and Josh could only understand parts of the conversation.
The man, on the other hand, said that if we want to see the Diamond Fuji, a phenomenon every New Year where the sunrise or set aligns with the peak of Mt. Fuji, causing the top of Mt. Fuji to shine, we should hike the other mountain near Lake Motosu.
I have heard of this Diamond Fuji before from a fellow photographer I met during a photo walk in Ueno. I remember that the Diamond Fuji can also be seen from Mt. Takao and other parts of Tokyo. So we will be fitting this into a future hike.
We stayed atop Panorama-Dai for quite a while, mainly because the view of Mt Fuji was just too beautiful. I wanted to enjoy more time on top but my bladder was telling me that it will explode anytime. I was able to hold out, but it made the hike going down far more difficult.
All-in-all, our time in Lake Motosu, Lake Sai, and Lake Shoji was worth the trip. Most importantly, we learned a lot about camping in Lake Motosu (or camping in Japan in general) and what is needed to improve our experience in the future.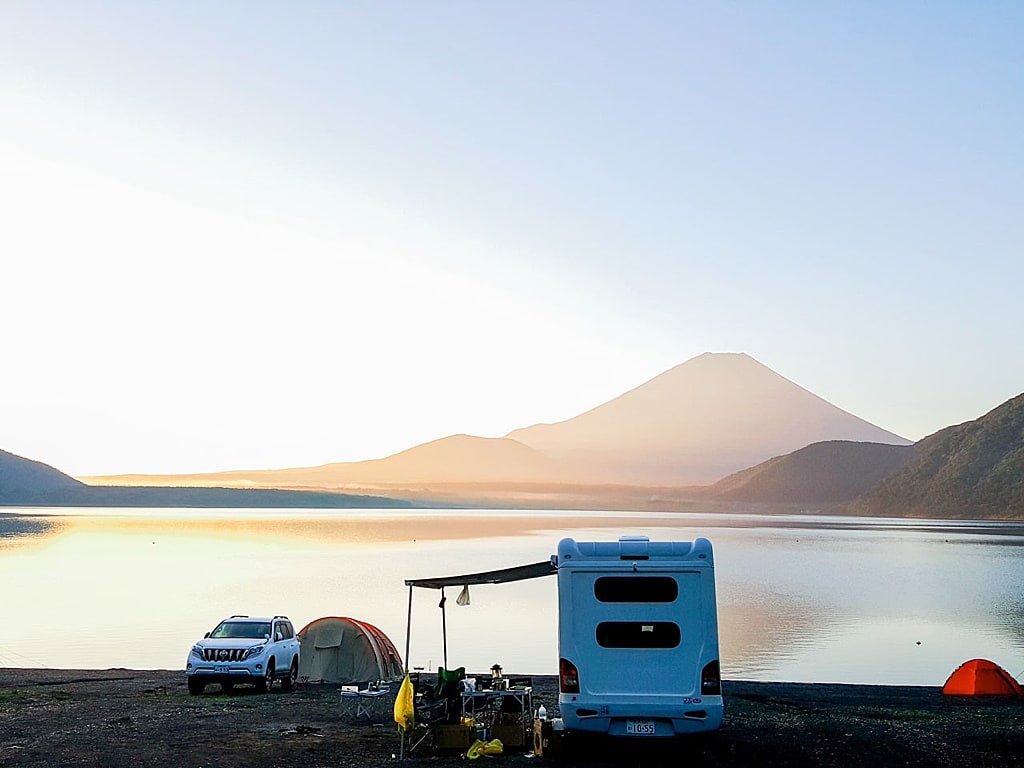 "