The best accommodations to stay in Kawaguchiko are ones near a stop along the Kawaguchiko Sightseeing Bus route and if possible, a place with a great view of Mt. Fuji!
With so many hotels and accommodations popping up around Lake Kawaguchi lately, choosing the right one for you can be quite overwhelming. Fortunately, we KNOW the area well, so we handpicked the best hotels and accommodations located in exceptional locations around Lake Kawaguchi.
Hotels in Kawaguchiko with the Best View of Mt. Fuji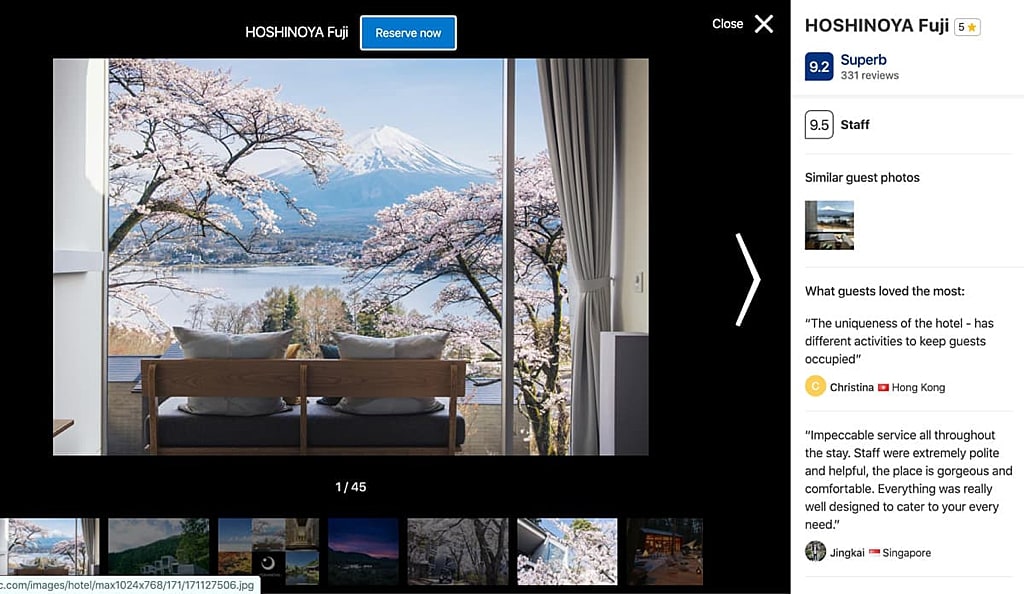 Probably the most unique location on this list, HOSHINOYA Fuji Glamping Resort is located near Oishi Park and offers a forested retreat with rooms built directly into a mountain. Each one of these rooms faces directly towards Mt. Fuji giving its guests incredible views to both fall asleep and wake to.
The hotel doesn't skimp on the "glamour" side of "glamping" as you could spend your entire time within the hotel grounds and still feel satisfied with your trip!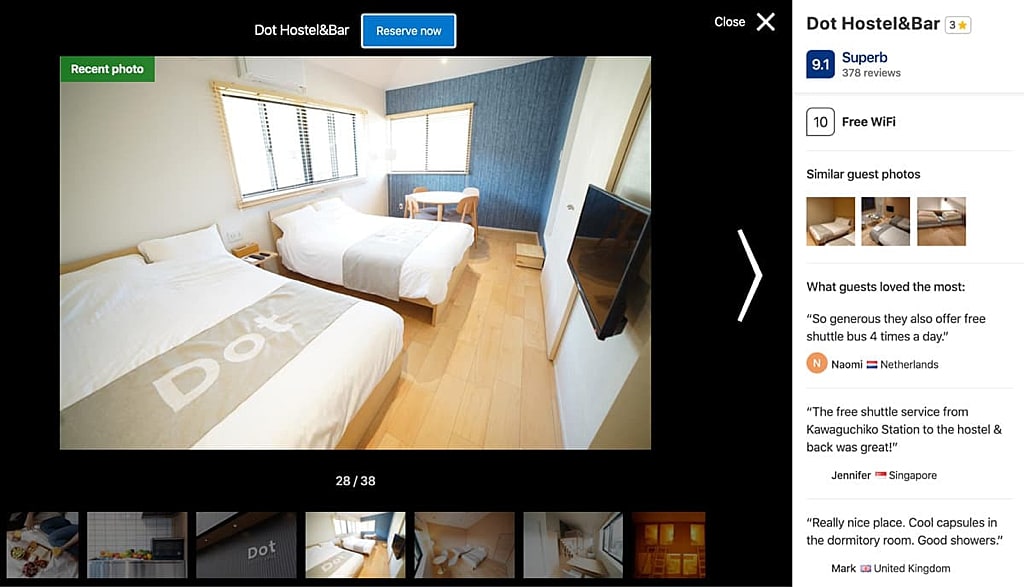 Suspend whatever negative beliefs you may have about hostels because they're highly reputable and big business in Japan. Dot Hostel & Bar is a great example of this and even offers private rooms for families.
Of course, as it is a hostel, after all, solo and budget travelers may opt for the mixed dormitory. The hostel is also located near Oishi Park so you'll have quick and easy access to the town and bus routes.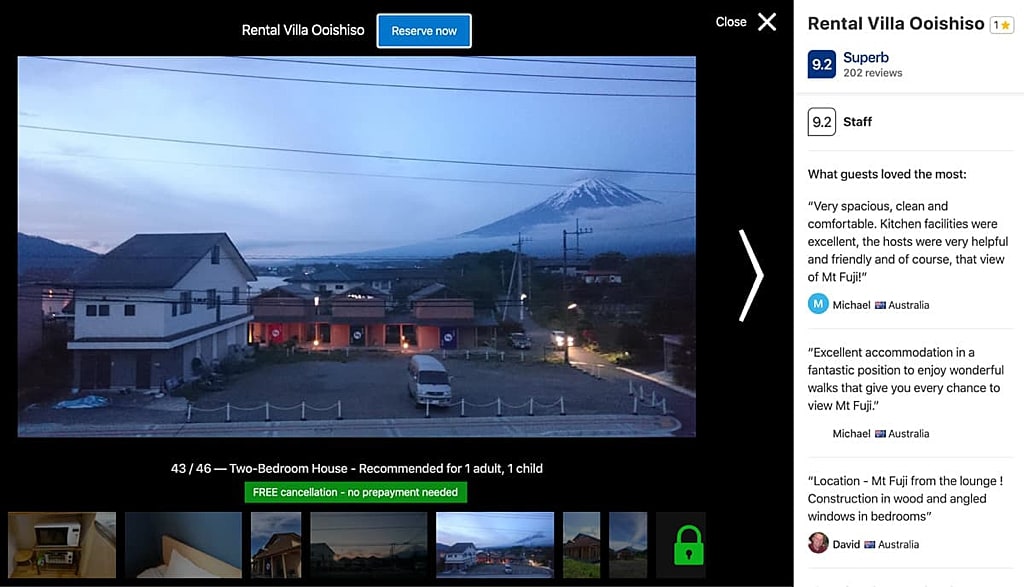 For those traveling in large groups, or just looking to experience living inside a Japanese home, Rental Villa Ooishiso rents entire basic two-bedroom homes at very reasonable prices (especially if you're splitting the bill!).
The homes come complete with all the standard amenities you'll need –stove, cookware, heaters, etc. — and offers some nice views of Fuji to boot. You're also right next to a convenience store, which is great should you decide to cook for yourself!
Best Budget Accommodations in Kawaguchiko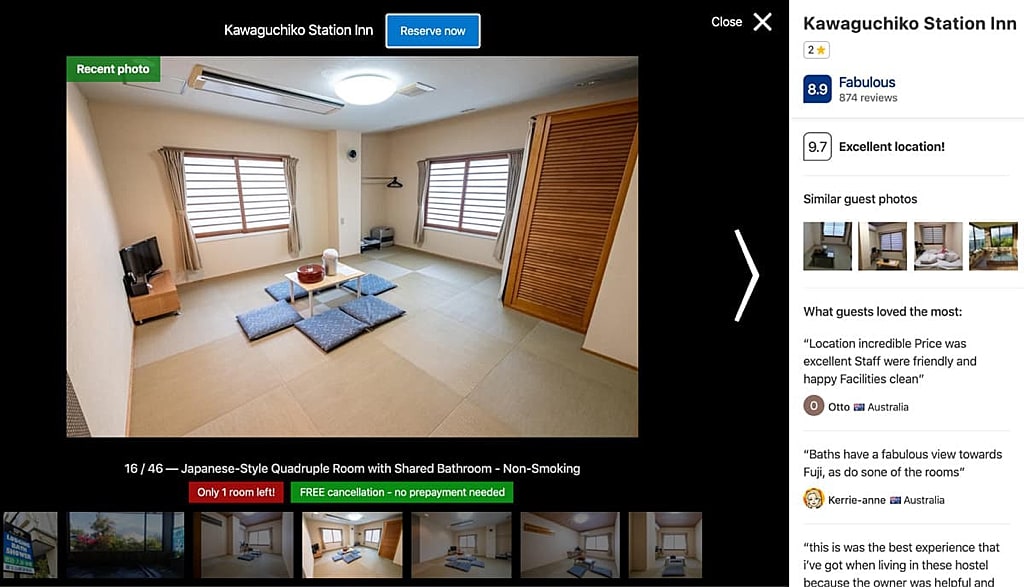 As the name would imply, this guest house is located very near Kawaguchiko Station and offers cheap rooms for the price of a shared bathroom.
You'll also have the option of staying in a mixed dormitory if you're traveling on a strict budget, with prices in the $20+ range. The private rooms are in the traditional Japanese style with tatami flooring and futon beds.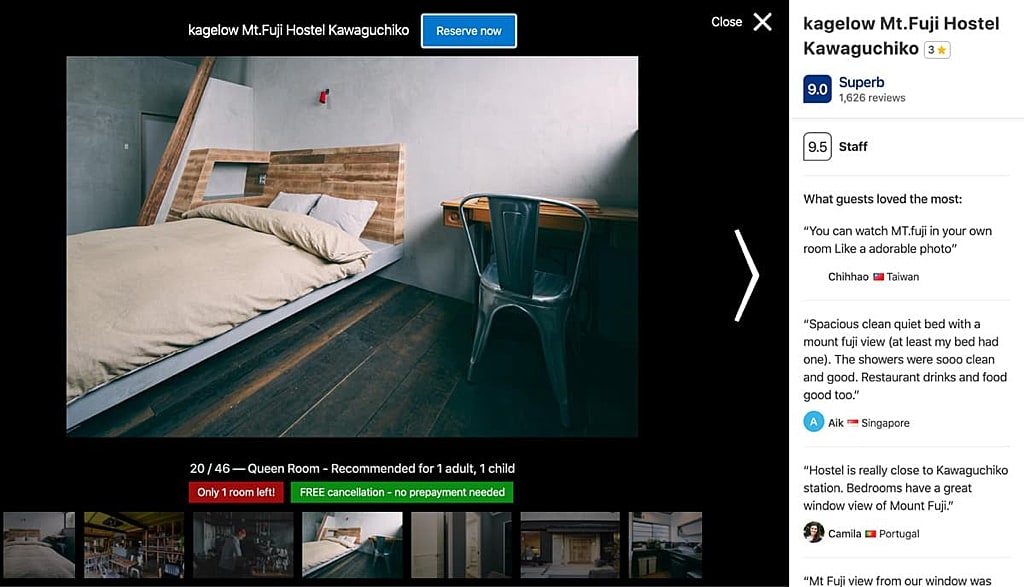 Another hostel kagelow offers Japanese style rooms with a shared bathroom on the ground floor. The hostel offers an on-site bar and shared kitchen as well as bicycles which can be borrowed, so you can avoid needing to spend extra to rent by the hour. Most importantly, the hostel is also family-friendly, with family travelers rating it very highly.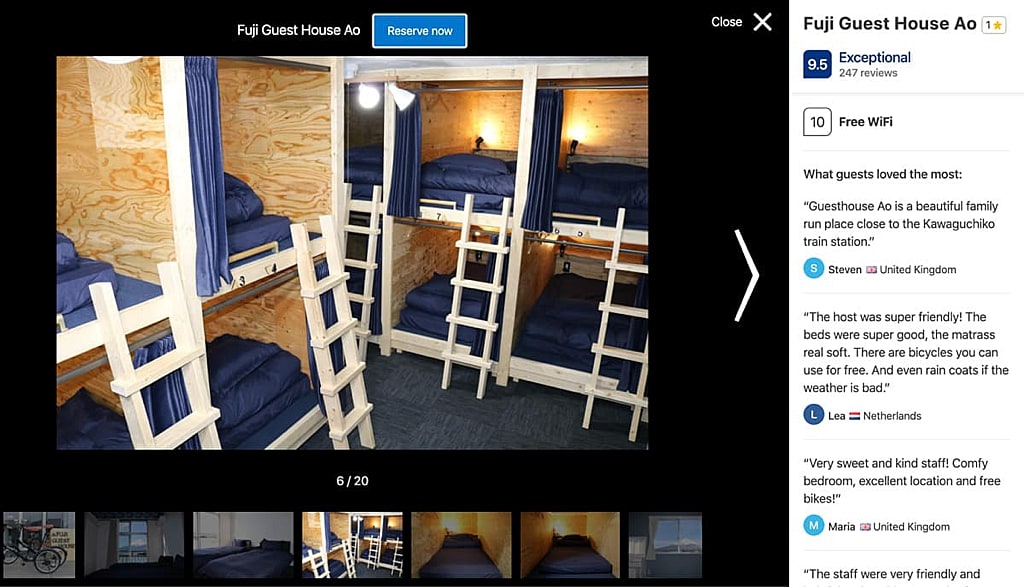 Offering both Japanese and western-style rooms, Fuji Guest house Ao is quite simplistic and minimalist rooms at prices very friendly to your wallet.
As with most guesthouses, you'll have shared bathrooms, a common lounge, and kitchen, and the option for either mixed or gender-segregated dormitories. The site also lends bicycles as well, so you'll have no need to rent one separately.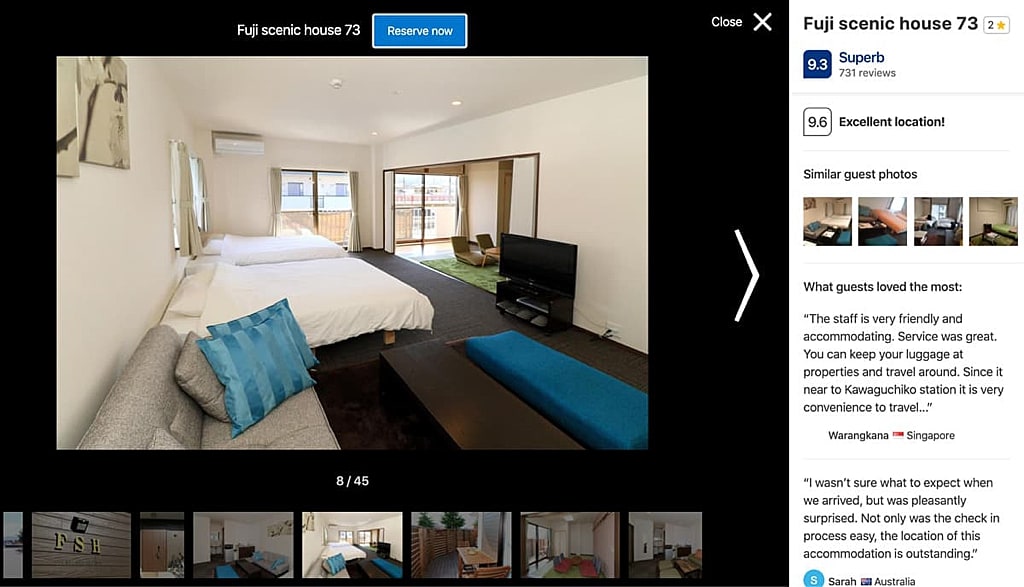 → Click here to view rooms and availability
Moving away from hostels and guesthouses for a minute, Fuji Scenic House 73 offers fully furnished apartments with incredible views of Fuji from your rooms. You have a choice between apartments with or without a tatami area, and each offers all the amenities you'd expect to find in an apartment, including cookware for those looking to prepare their own meals.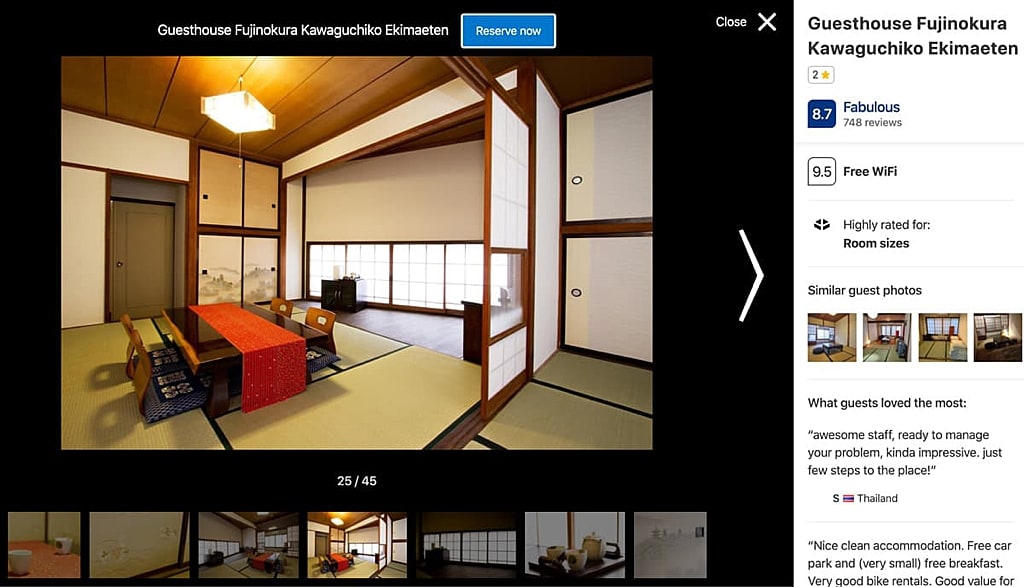 → Click here to view rooms and availability
Closer to a traditional Ryokan than what we generally consider a guesthouse, this location offers private Japanese-style rooms with shared bathrooms. There is an onsite restaurant that serves lunch and dinner, as well as free coffee.
The property is in a great location to explore the lake and offers bicycles for its guests.
Best Family and Kid-Friendly Accommodations in Kawaguchiko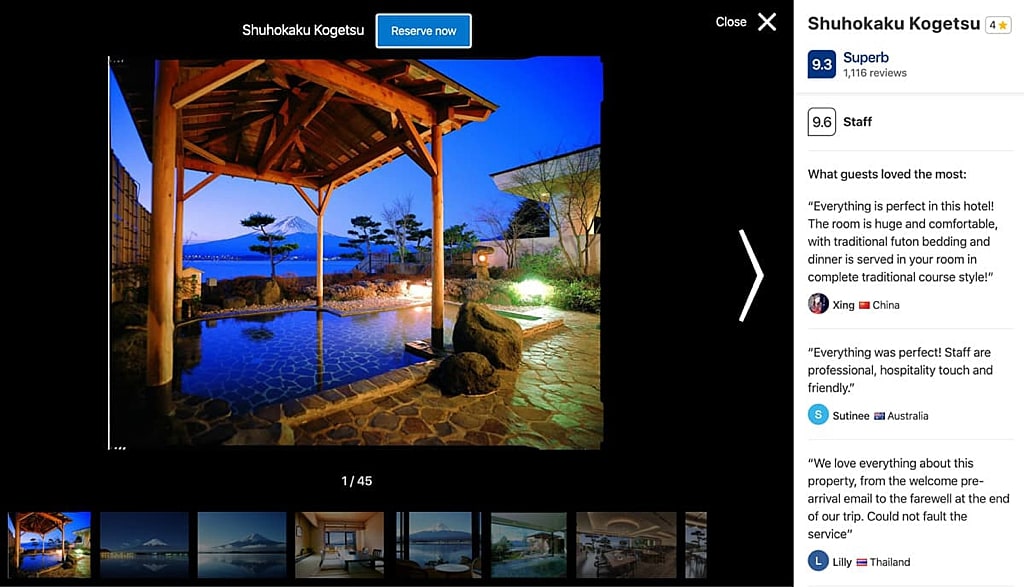 → Click here to view rooms and availability
Located right on the lakeshore of Kawaguchiko, Ryokan Shuhokaku Kogetsu is a very popular accommodation which needs to be booked well in advance due to this popularity. It's easy to see why everything about this Ryokan screams luxurious getaway.
Offering rooms overlooking the lake and Mt. Fuji, rooms with private outdoor baths, public baths, a delicious restaurant, and cozy tatami rooms, the hotel is perfect for families with older children.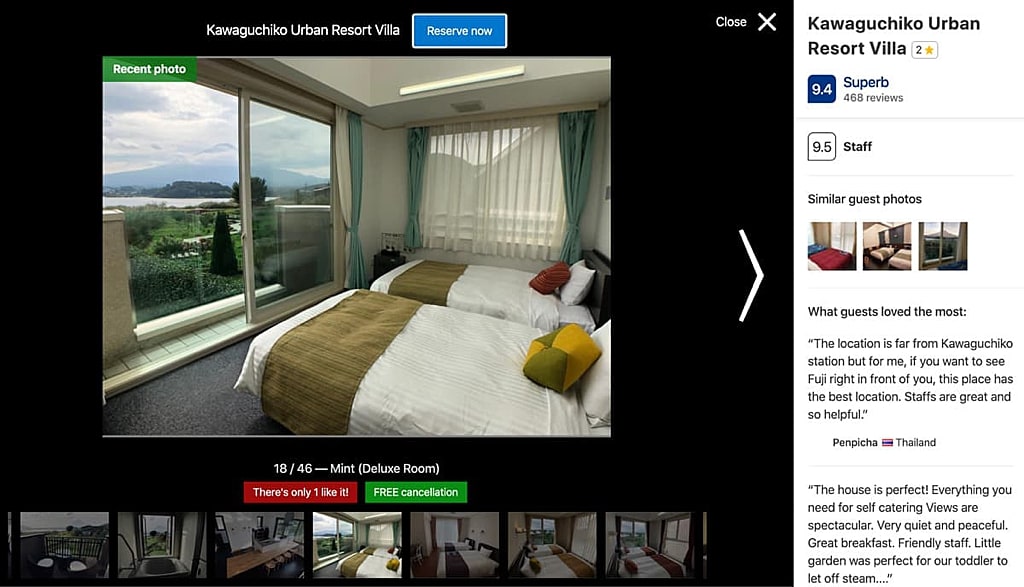 → Click here to view rooms and availability
Highlighting modernity and comfort the Urban Resort Villa offers fully furnished private apartments, washer and dryer facilities, and a garden with barbeque area. The apartments are modern, sleek, and beautifully furnished.
With 2 bedrooms along in these two-story apartments, there's plenty of room for your kids to play and keep themselves occupied, giving you more time to relax and take in the incredible views of Fuji from your upstairs terrace.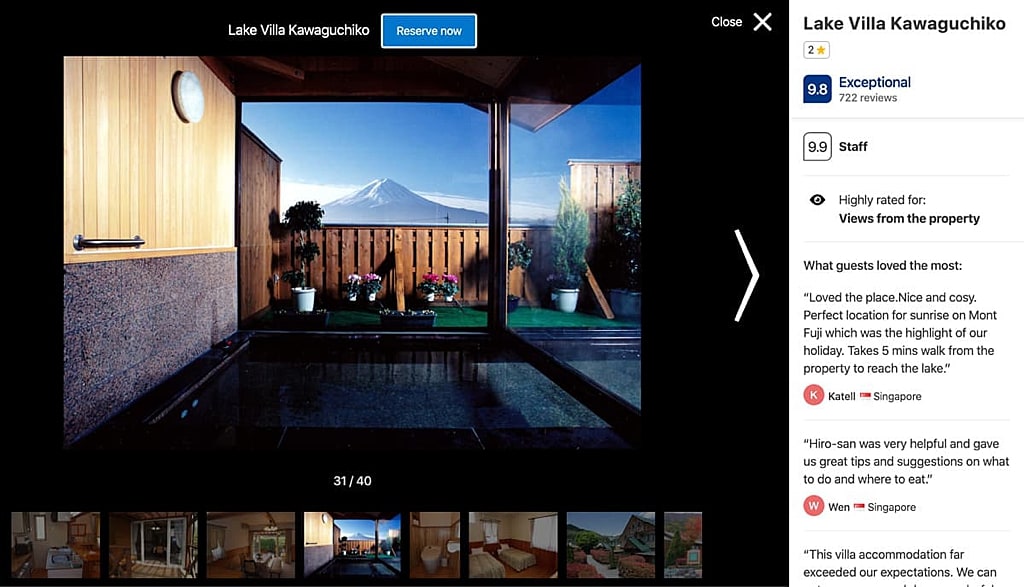 → Click here to view rooms and availability
Sticking with the villa and private home theme Lake Villa Kawaguchiko offers private European-style cottages that look as gorgeous outside as they do inside. Beautiful hardwood interiors give an almost antique feel to these two-story cottages, and the homes are located within well-pruned hedges, trees, and flowers, giving a feel of walking through a hedge maze.
Offering all the amenities one would expect from a private home, the real draw here is the look and feel of these homes, which is worth nearly as much attention as the lake itself!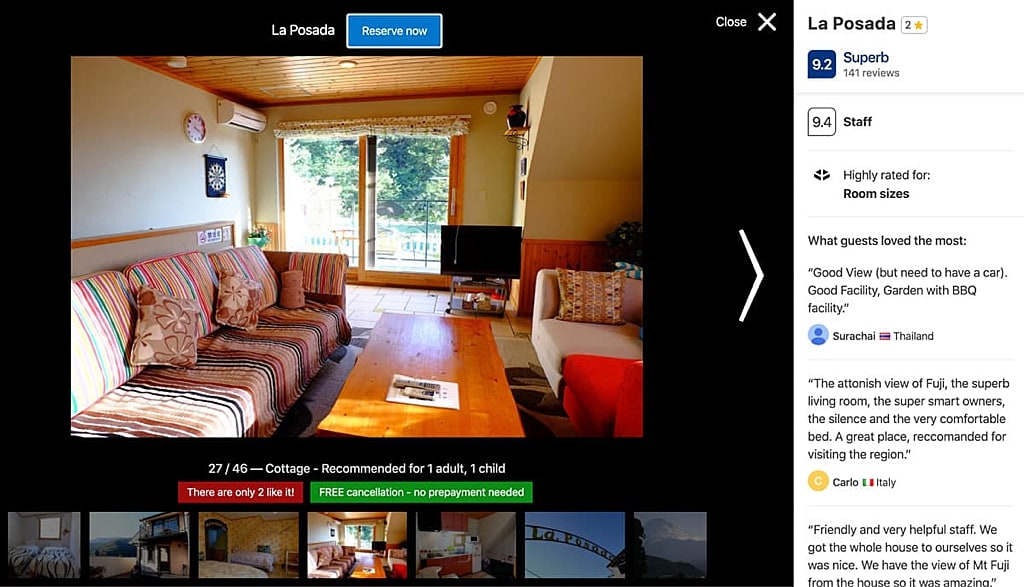 → Click here to view rooms and availability
For those looking for a more affordable cottage, La Posada offers a more simplistic home at very affordable prices. You have a choice between three styles of a cottage, allowing you to choose based on your budget.
Each offers terrace views of Mt. Fuji and allows you to utilize the common barbeque area. For the thrill-seekers among you, La Posada is also located a mere 10-minute drive from Fuji-Q Highland!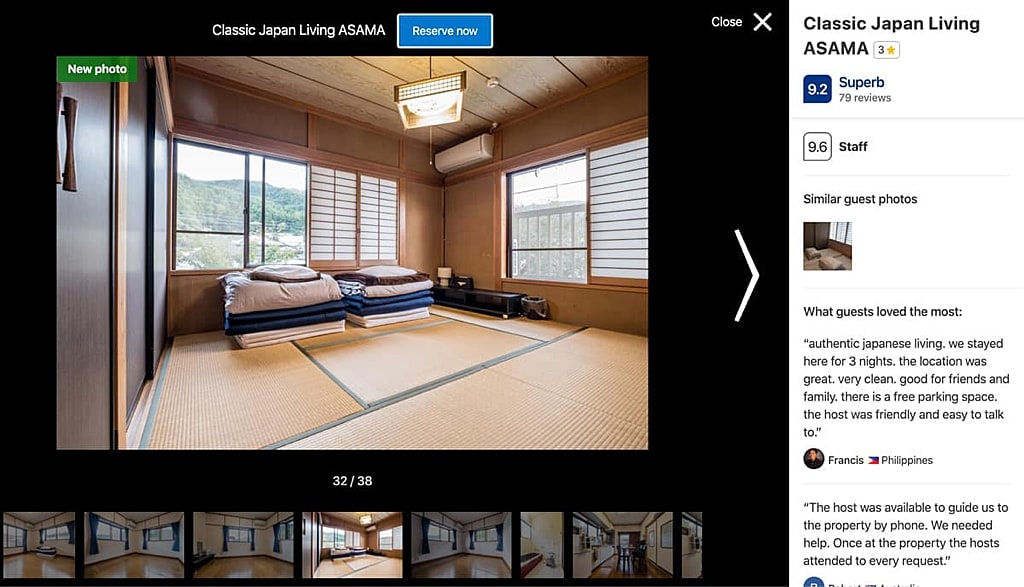 → Click here to view rooms and availability
If you're looking to experience staying in a very traditional style Japanese home, then Classic Japan Living ASAMA is your best bet. Short of staying in a home without electricity or running water, you'd be hard-pressed to find a more authentic traditional home in the area.
A bit further out of the way than some of the other accommodations on this list, it's still a short bike ride to the lake and the many attractions surrounding it. The homes themselves are completely traditionally styled, so expect to be sitting and sleeping on the floor cushions and futons.
There are a dining table and chairs, as well as a laundry room, which is a huge plus. The site also offers a traditional Japanese kaiseki meal (multicourse meal), so you can experience the kind of food common to the timeframe of these homes as well.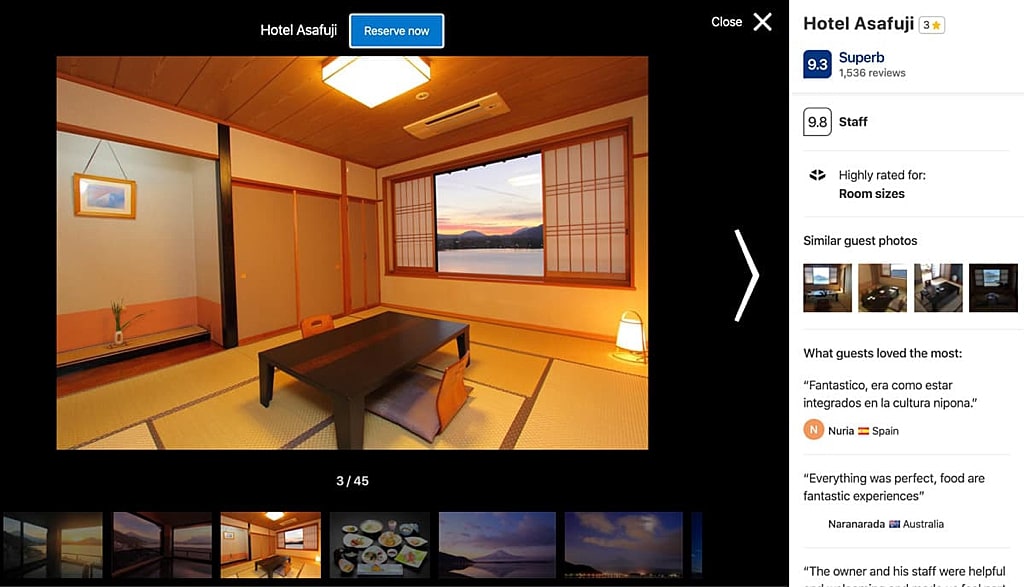 → Click here to view rooms and availability
One of the most popular hotels around the lake, Hotel Asafuji lives up to its name by offering beautiful views of Fuji in the morning, particularly from its onsen!
A ryokan, the hotel offers Japanese style tatami rooms with a futon and private bathroom, as well as a kaiseki meal and breakfast. The public onsen overlooks the lake and Mt. Fuji, so I suggest visiting the bath at sunrise and sunset.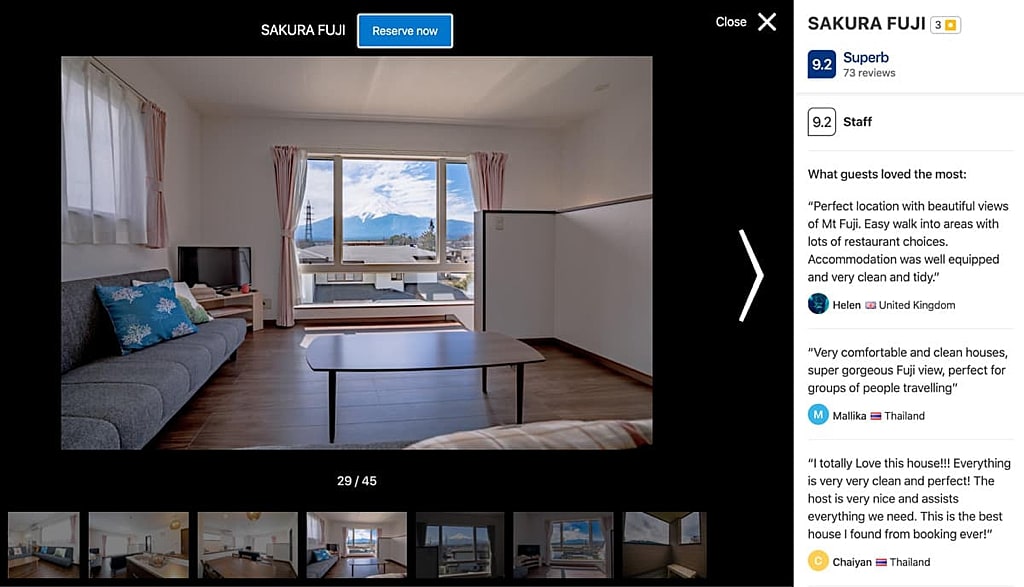 → Click here to view rooms and availability
Probably the newest accommodation we've found in the area, Sakura Fuji consists of two modern Japanese two-story homes with plenty of space for the family to relax after a day of bicycling (bicycles provided) around the lake!
The homes are very clean and modern, and both offer great views. Don't let its place on this list fool you, Sakura Fuji is one of our favorite options for groups and families!
Related Reads: