Going to Universal Studios Japan (USJ) in Osaka is much like visiting any popular theme park — it's expensive! This is why you should consider your visit a major purchase, especially if you're going with your family. And to get the most out of your money for your USJ trip, our guide is here to help.
RELATED READ:
How much is Universal Studios Japan entry ticket?
Adults (12+): ¥8,600 per ticket
Child (4-11): ¥5,600 per ticket
Seniors (65+): ¥7,700 per ticket
Learn how to buy the tickets here.
When is the best time to visit Universal Studios Japan?
The least congested months to visit Universal Studios Japan are January and February. Just be sure to bundle up because the weather can get very cold at night.
The best months, in terms of pleasant weather, are from October to December but can also be heavily congested.
Another strategy is to consider visiting the park on Tuesdays, Wednesdays, and Thursdays. To help avoid some of the crowds even during the busy months.
What are the dates to avoid?
Avoid peak tourism seasons, such as cherry blossom and fall foliage, Golden Week (late April to early May), and Obon (mid-August). Avoid National holidays as well.
It is also worth mentioning the park's scheduled refurbishments, where a rotating list of attractions are down for repairs and maintenance.
You can find the refurbishment schedule here. I suggest moving your date if your favorite attraction is closed for maintenance.
Is there a crowd calendar for Universal Studios Japan?
Yes. Although not affiliated with Universal Studios, the crowd prediction calendar updates the congestion forecast of the park for the current month. Note that, the USJ crowd calendar is only an approximation. Click here to view the USJ crowd prediction calendar.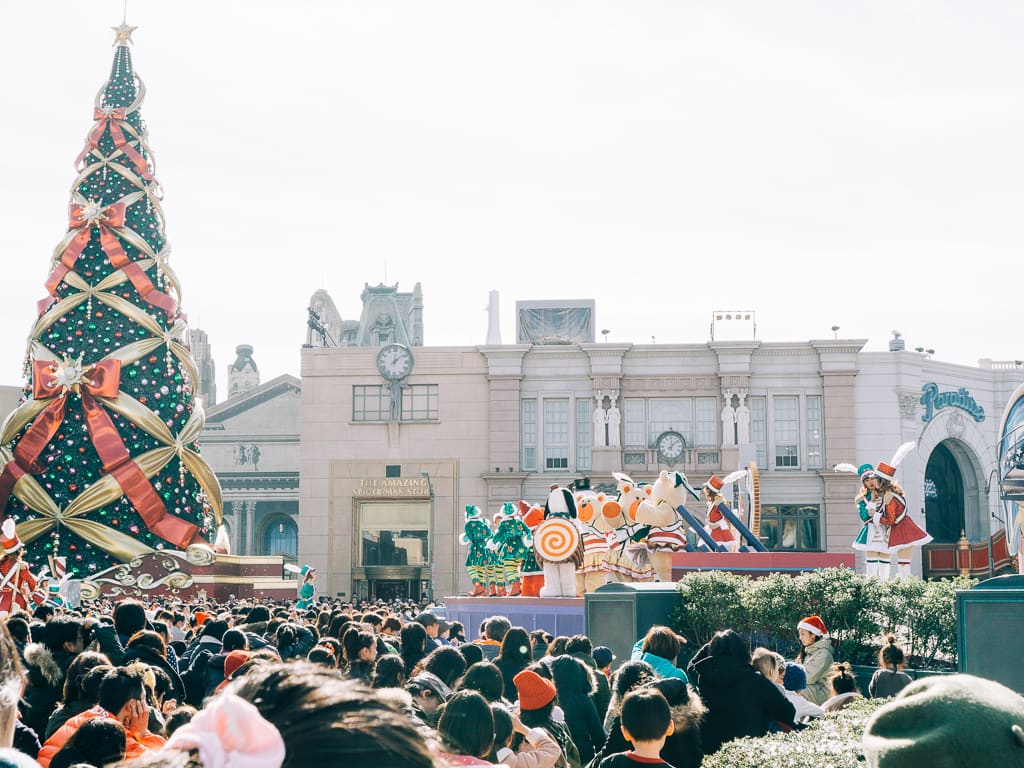 What are the Universal Studios Japan tickets I should get?
Universal Studios in Japan has several types of tickets and this can be confusing if this is your first time.
Let's dive in!
REMINDER: Universal Studios Japan tickets are nonrefundable no matter where you buy them. USJ does not issue re-entry tickets or stamps. There's no going back once you leave the park.
1. Universal Studio Pass
This is the park admission ticket. There are four types of Studios Passes and price varies depending on the date of entry.
1-Day Studio Pass – Regular admission pass.
1.5-Day Studio Pass – Enter the park after 3 p.m. and use it on the following day all day.
2-Day Studio Pass – Only valid for consecutive days.
2. Universal Express Pass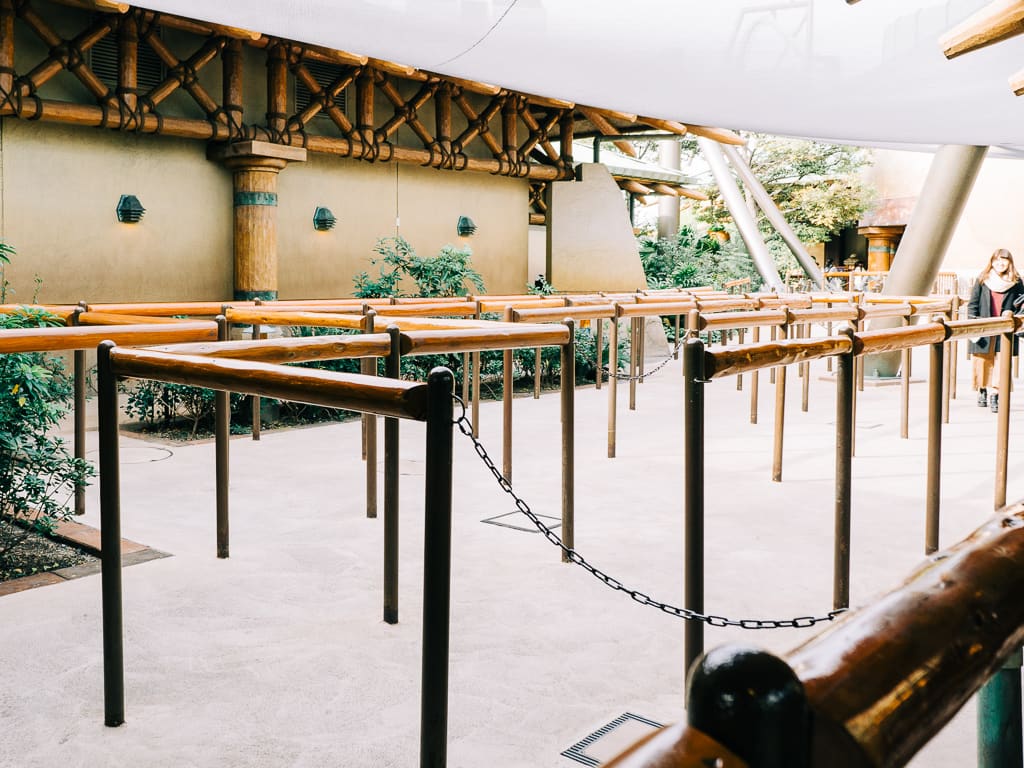 The Universal Express Pass is a separate park ticket that allows you to skip long lines to ride the popular attractions inside the USJ Park.
You can choose from three types of Express Passes:
Express Pass 7 – Good for 7 rides
Express Pass 4 – Good for 4 rides
Express Pass 3 – Good for 3 rides
If you are uncertain about which one to get, click to read our "Express Pass FAQs" article to help you decide which way to buy. I personally got myself an Express Pass as I want to buy time rather than wait in line for 3 hours just to experience a 5-min ride!
3. 15-Minute Early Entry Pass (Fast Track Entry)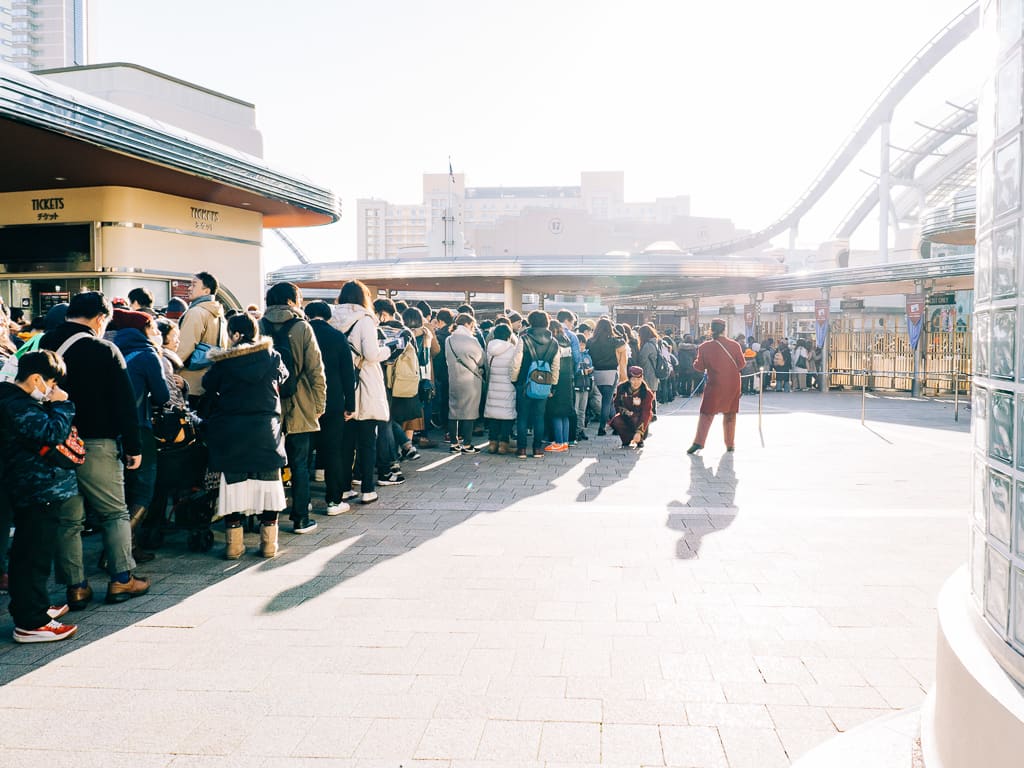 USJ Park opens between 8:30 and 9:00 A.M. However if you have this pass, it will give you the privilege of entering the park 15 minutes before it opens. It also allows you to enter The Wizarding World of Harry Potter without a Timed-Entry ticket since the entrances are not manned with staff this early.
4. Timed-Entry Ticket (FREE)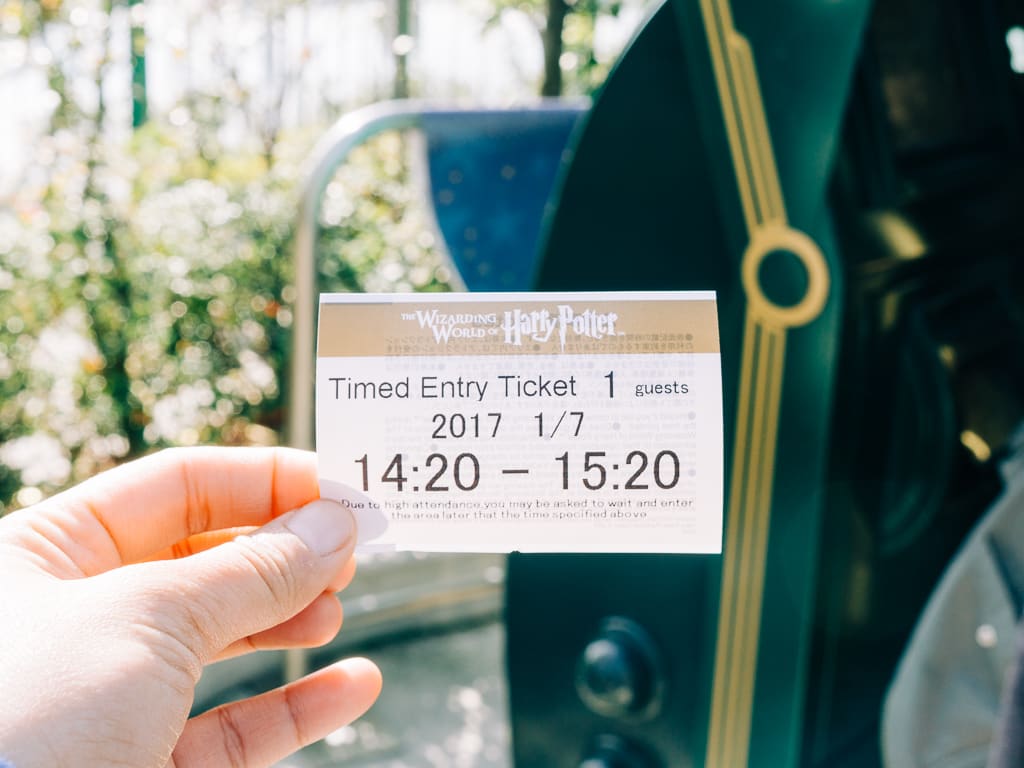 The Wizarding World of Harry Potter is the most popular attraction at Universal Studios Japan. And because it gets very crowded, they came up with a procedure to control the crowd by making the entry of visitors time-designated.
This means that visitors need Timed-Entry tickets to enter the Wizarding World attraction. Timed-Entry Tickets are FREE, and without one, you cannot enter the Wizarding World. There is no limit on how long you can stay inside The Wizarding World. You can stay inside for as long as you want! However, once you leave, you need to get another Timed-Entry Ticket.
There are two ways to get Timed-Entry Tickets:
From The Wizarding World of Harry Potter Timed-Entry Booth (located at Central Park). To get a Timed-Entry ticket, simply scan the barcode of your admission ticket on the machine. Then select your entry time to The Wizarding World of Harry Potter.
By Buying an Express Pass Ticket. When you purchase an Express Pass, a Timed-Entry to The Wizarding World of Harry Potter is included on your ticket.
Where to buy those tickets?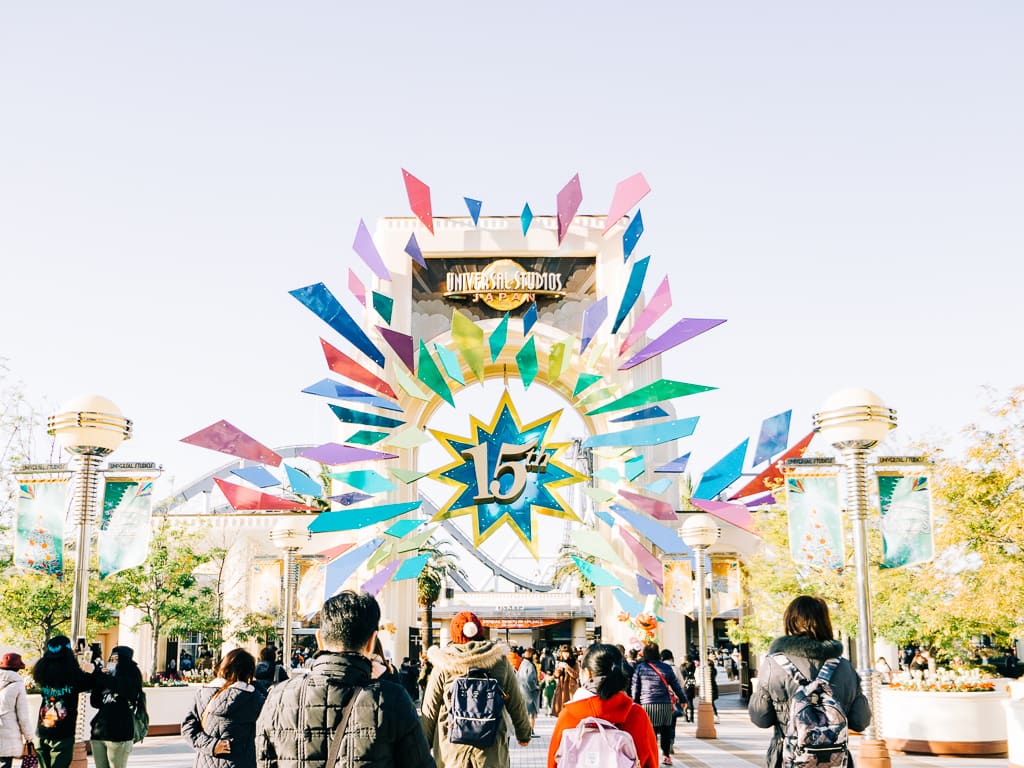 You can buy tickets directly from the website of Universal Studios Japan if you understand Japanese. Or click here for step-by-step instructions.
If you're still overseas, I highly recommend buying your tickets in advance online.
Getting tickets at the booths will just waste a lot of your time because the lines are always incredibly LONG.
It's BEST to buy online from authorized sellers such as Klook and Voyagin.
You can compare prices by clicking each below:
I absolutely recommend booking through Voyagin as they remove the confusion for ticket buyers.
Don't forget to use these Coupon Codes when booking with Voyagin:
Klook on the other hand offers cheaper Universal Studios Japan tickets because they have better exchange rates. But you'll need to navigate their website to see the right ticket type for you.
Explore some of Klook's Universal Studios Japan tickets below:
The Simple Strategy to Riding the Universal Studios Japan Attractions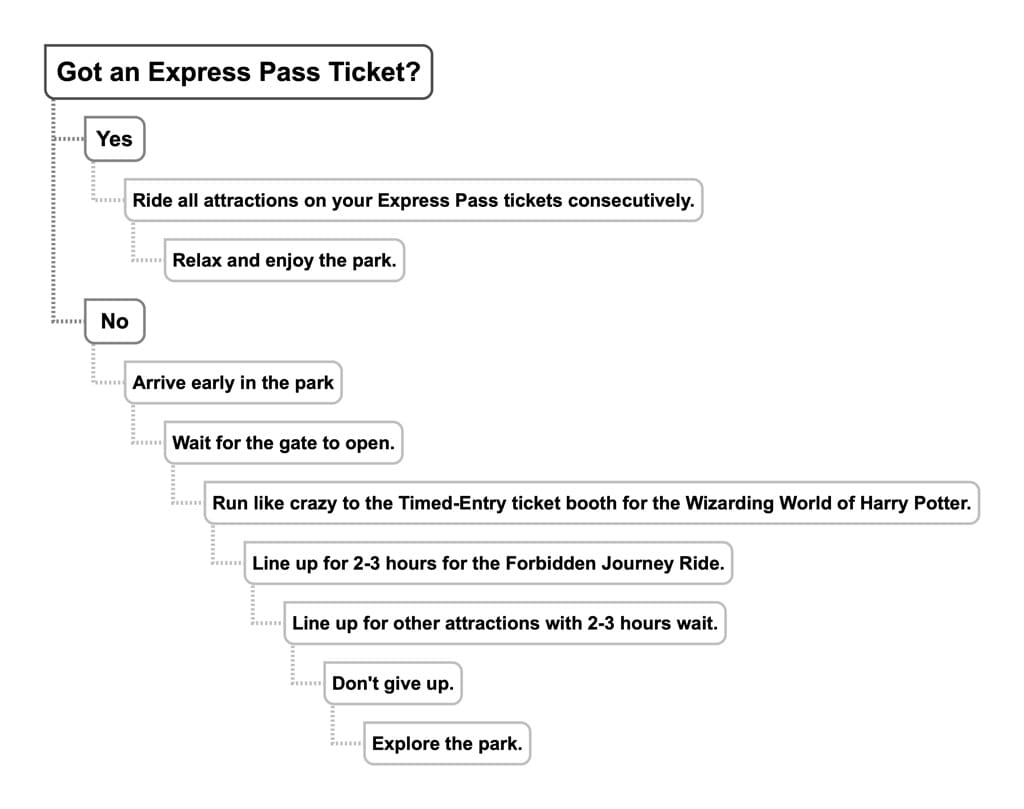 The park is large and there is a lot to see and do. Getting the most out of your time means coming up with a plan of action for what to see and do things.
This is especially important because, if you arrive at the park at the opening time, everyone literally sprints to their favorite rides in order to beat the long lines. And this can throw your plans into chaos and you into a panic.
If you have an Express Pass
Touring around Universal Studios Japan with an Express Pass gives you the luxury to ride all your top attractions included on your pass. I suggest riding them all consecutively as soon as you enter the gate.
Skipping the long lines with your Express Pass will give you a whole lot of time. And after, you can explore the park at your own pace. Take this time to see all the sights and attractions, and ride any remaining attractions which tickle your fancy.
If you don't have an Express Pass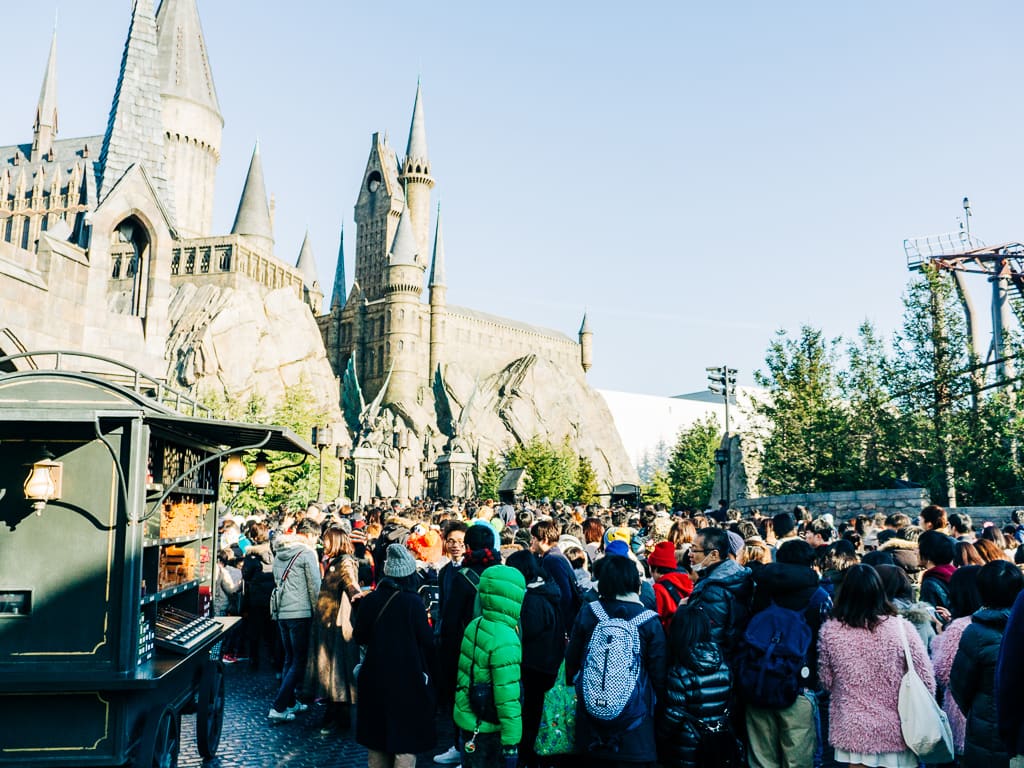 Some people prefer not getting an Express Pass because, according to them, they will only visit the Wizarding World of Harry Potter. Or simply don't have a budget for it.
However, in my experience, you will be missing a whole lot of fun if you don't have an Express Pass, especially when visiting during peak seasons. That's just my opinion though, and it's ultimately up to you.
At any rate, going to the Wizarding World of Harry Potter and riding the blockbuster Forbidden Journey Ride is still possible without an Express Pass. It's just going to be really challenging.
You should also realize that with this option there's a high probability you'll need to prioritize attractions since you'll likely be encountering lines in excess of 2-3 hours each. So, you'll probably only get a chance to ride 2 or 3 of them.
Strategy to maximize your day if you don't have Express Pass:
Buy your Studio Pass in advance online.
Arrive at the park before 7 a.m. and line up at the gate.
As soon as the gates open, sprint quickly to Central Park. Refer to the studio map to avoid getting lost. Find the ticket booth where you can get the Timed Entry ticket for the Wizarding World of Harry Potter.
To use the Timed-Entry ticket machine, simply scan the barcode of your admission ticket and select the time you desire to enter the Wizarding World of Harry Potter. I suggest getting the earliest time slot available.
Should the machine give you a later time slot, consider queuing on attractions with shorter lines or with a "Single Rider" lane whenever available. If you're in a group, Single Rider shortens your waiting time by taking separate seats on the ride.
Once it's time to enter The Wizarding World, immediately run to Hogwarts Castle because that is where The Forbidden Journey Ride is. Expect to line up for 2-3 hours.
When you're done with The Forbidden Journey Ride, that's the time when you can start exploring the entire Wizarding World and the rest of the park.
Should you decide to leave the Wizarding World, you can go ahead and explore the rest of the USJ parks and attractions on your own.
Do note that Timed-Entry tickets can also run out within the day. And during very crowded days, only one Timed-Entry Ticket is allowed per person for the entire day.
TIP: Consider getting the 1.5-Day Studio Pass if Express Pass is just too expensive for you. With 1.5-Day Studio Pass, enter the park at 3pm, get the Timed-Entry Ticket (hopefully there are timed-entry tickets left), then line up for the Forbidden Journey Ride inside the Wizarding World of Harry Potter.

On your second day, you are free to ride any attractions you feel like. But again, without an Express Pass, you are going to spend so much time waiting and waiting in line.
What are the attractions inside USJ?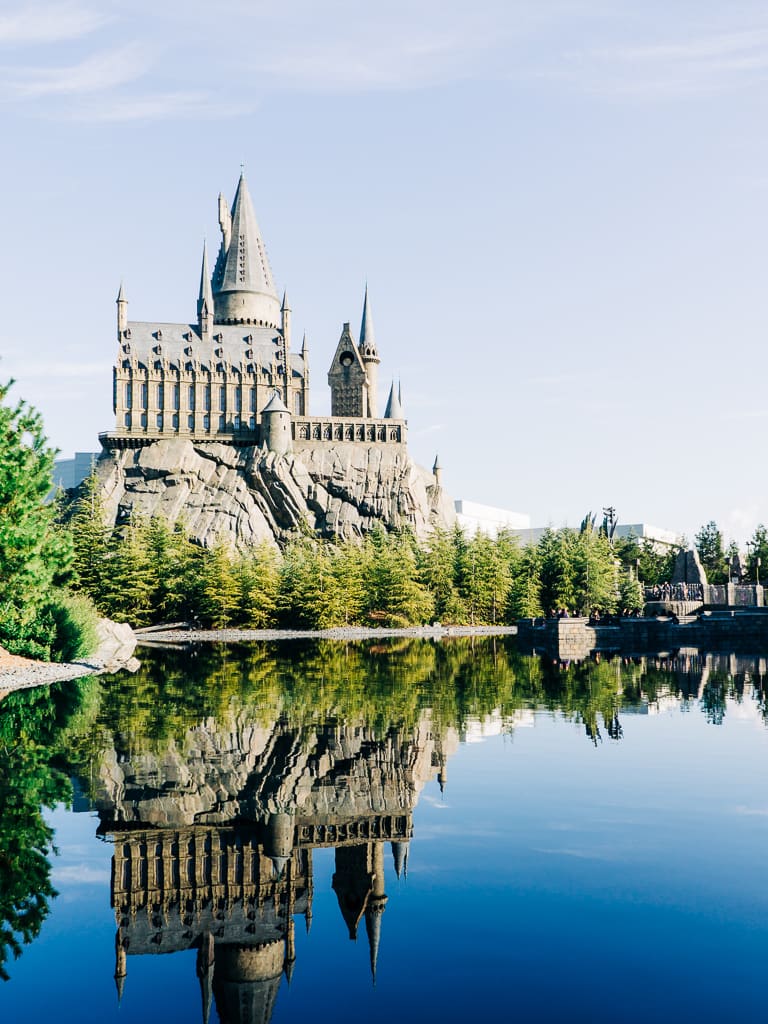 Universal Studio Japan has only 9 areas, therefore, it is very easy to get around.
Hollywood
New York
Minion Park
San Francisco
Jurassic Park
Amity Village
Waterworld
The Wizarding World of Harry Potter
Universal Wonderland
What are the best rides at USJ park?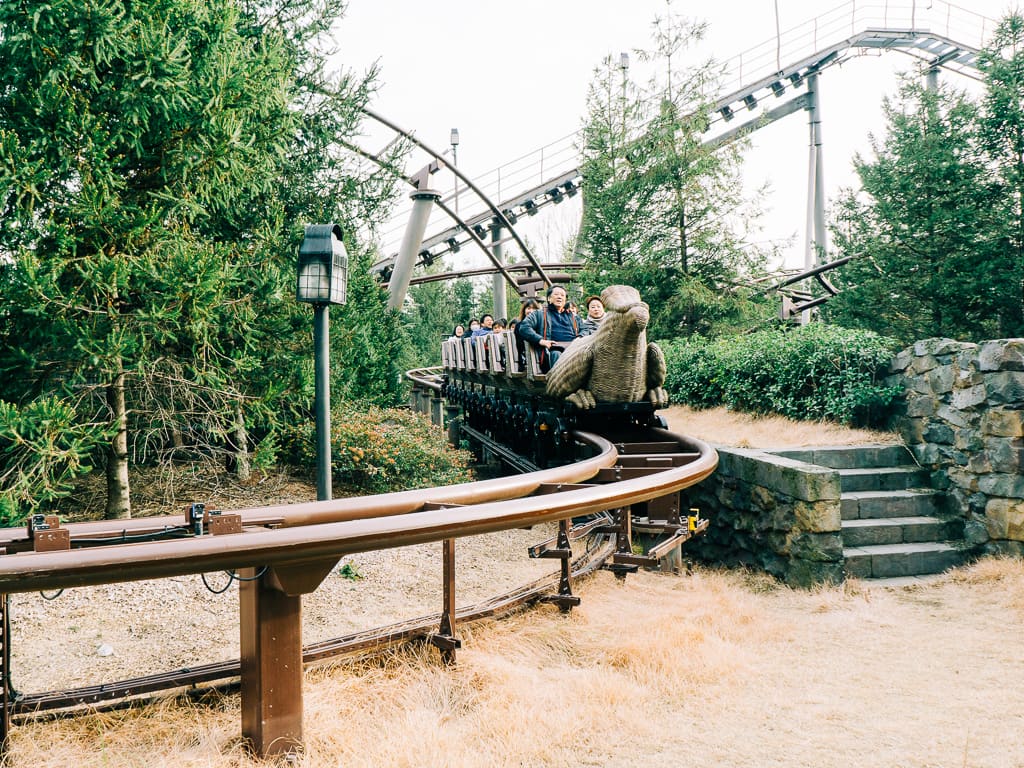 Here are our top rides at USJ in order of our ranking preference:
The Flying Dinosaur
Hollywood Dream
Hollywood Dream – Backdrop
Harry Potter and the Forbidden Journey
The Amazing Adventures of Spider-Man
Despicable Me Minion Mayhem
JAWS
Space Fantasy
Jurassic Park
If you are going to ride those attractions without an Express Pass, over 3/4 of your day would just be spent waiting in lines, and you won't be able to explore the rest of the park that much. So get an Express Pass!
In the end, it's really up to you on how you want to prioritize your time within the park and ride your attraction preferences, but hopefully, this helps you to better prioritize your time at the park,
Personally, aside from The Wizarding World of Harry Potter, I hang out pretty much all my time in New York, San Francisco, Hollywood, and Amity Village.
If you have small children, you will pretty much spend most of your time in either The Wizarding World, Minion Park, or Universal Wonderland.
How to get to Universal Studios Japan the easiest way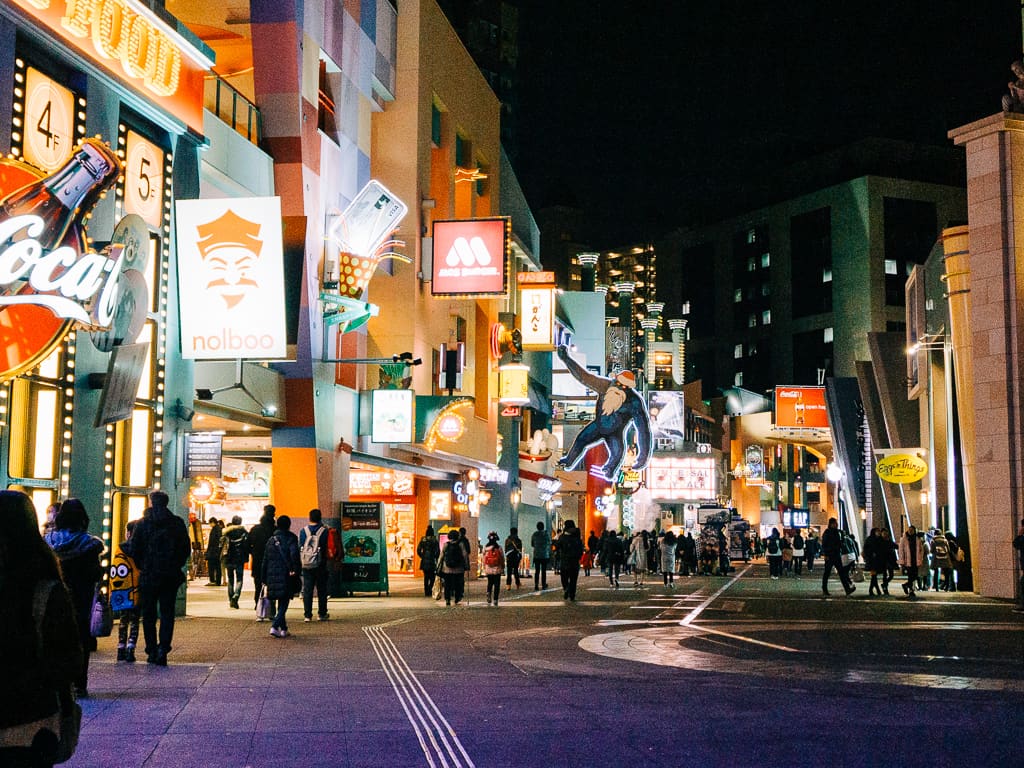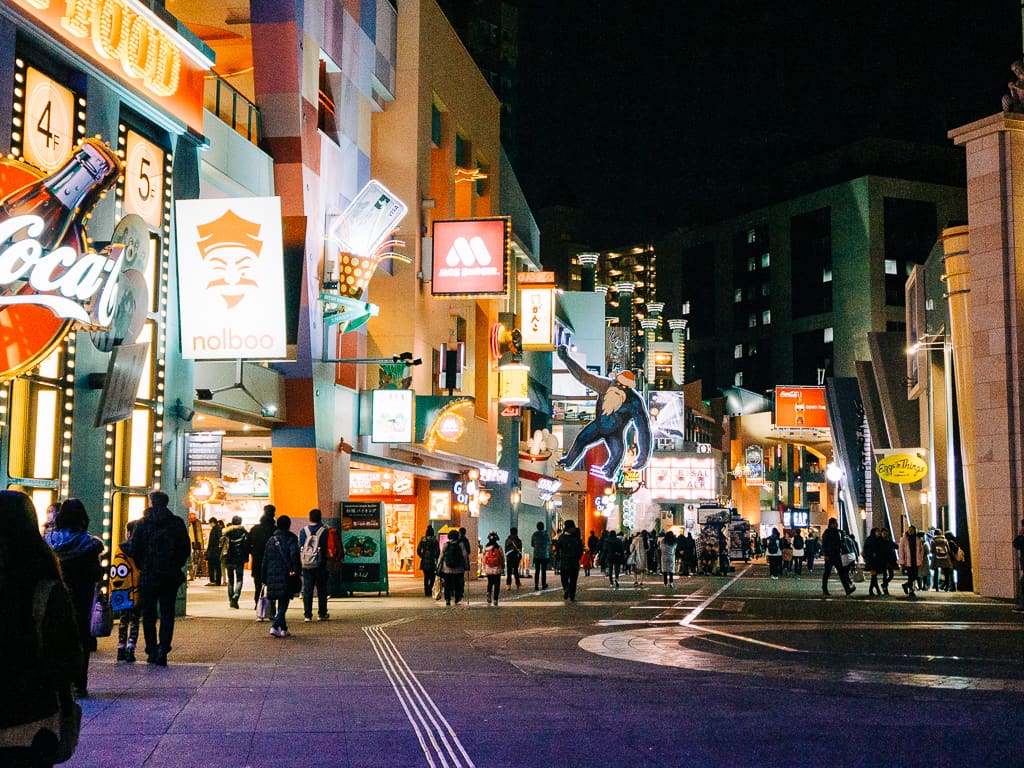 Universal Studios Japan is a 5-min walk from Universal City Station. Going to Universal City Station is a bit confusing due to the Osaka Loop Line and JR Sakurajima Line (both covered by JR Pass). The JR Sakurajima Line is still referred to as "JR Yumesaki Line" by some signages and directions. Don't be confused as they're the same. So make sure to refer to these "straightforward" directions below.
RELATED READ:
1. By Train
From Osaka Station: Board the Osaka Loop Line (inner loop/counter-clockwise) towards Sakurajima for 5 stops to Universal City Station. Note that there will be a short stop at Nishikujo Station where this train will switch to the JR Sakurajima Line (also known as JR Yumesaki Line); remain on-board. This option takes about 12 minutes. Alternatively, board Osaka Loop Line (inner loop/counter-clockwise) for Nara or Kamo and stop at Nishikujo Station. From Nishikujo Station, transfer to JR Sakurajima Line towards Sakurajima 2 stops to Universal City Station.
From JR Namba Station: This one has a couple of transfers. First, board the JR Yamatoji Line and ride 1 stop to Shinimamiya Station. Next, take the Osaka Loop Line (outer loop/clockwise) to Nishikujo Station. Finally, take the JR Sakurajima Line towards Sakurajima 2 stops to Universal City Station. This option should take about 28 minutes.
From Kyoto Station: Take the JR Special Rapid Service for Banshuanko or Himeji and ride 3 stops to Osaka Station, then transfer to the Osaka Loop Line (inner loop/counter-clockwise) for to Universal City. Expect the ride to take about 48-minutes.
From Kansai-International: There are a few options for trains here, but the simplest (least amount of transfers) is to take the Kansai Airport Line towards Kyobashi and ride to Nishikujo Station. Then transfer to the JR Sakurajima Line to Universal City (2 stops). This option will have you remain on-board at both Hineno and Tennoji Stations while the train switches lines. The ride should take about 1 hour and 17-minutes.
2. By Bus (from the airport)
From Kansai-International: Take the Kansai-Airport Limousine Bus from Kansai Airport Bus Stop No.1. This bus is a direct trip to Universal Studios Japan with 4 stops and should take about 1.5 hours. Click here to reserve your bus seat.
From Itami Airport Osaka: Take the Airport Limousine, or Hanshin Bus, or Kintetsu Bus from Itami Airport Bus Stop No.1. This bus is also a direct trip to Universal Studios Japan.
Where to stay near Universal Studios Japan
If you are only visiting Osaka for Universal Studios Japan, then it goes without saying that getting a hotel nearer to the park will save you time and hassle. I recommend staying around the park or near Nishikujo Station.
Hotels Around the Park
Universal Studios Japan has partnered with over 20 hotels all over Osaka and Kobe so that guests can fully enjoy the park and its surrounding tourist attractions.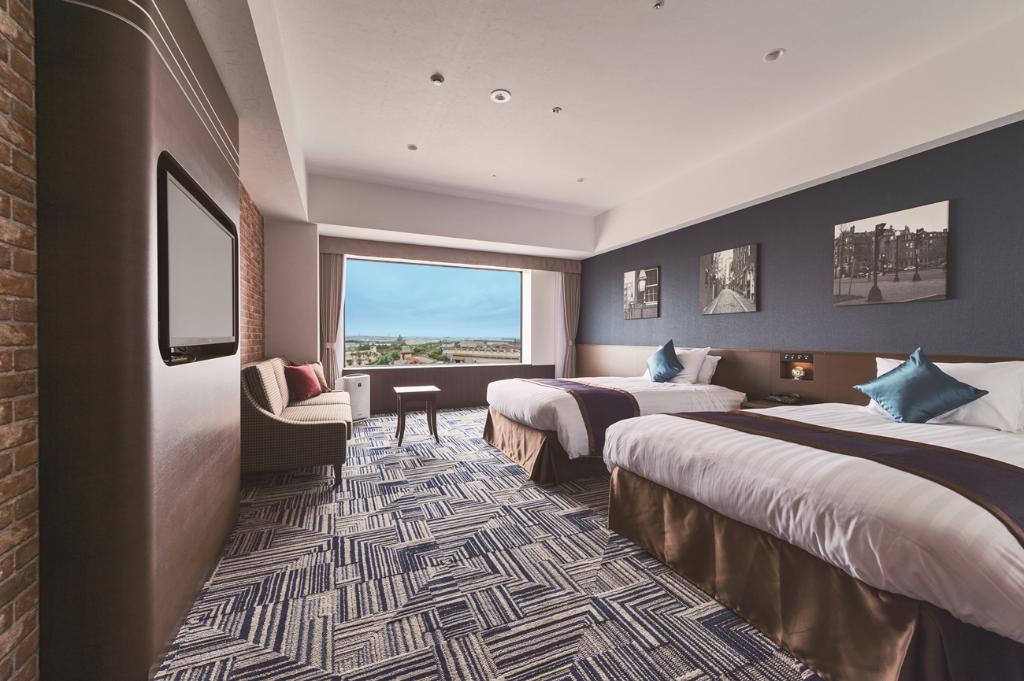 Sitting right at the entrance of the park, The Park Front Hotel is the official and the closest hotel you can get.

The Park Front Hotel features American-style entertainment and offers spacious Time Machine-themed guest rooms.

The rooms with the highest demand are the Superior Rooms, since these give you a glimpse of the city skyline.

Check Price Here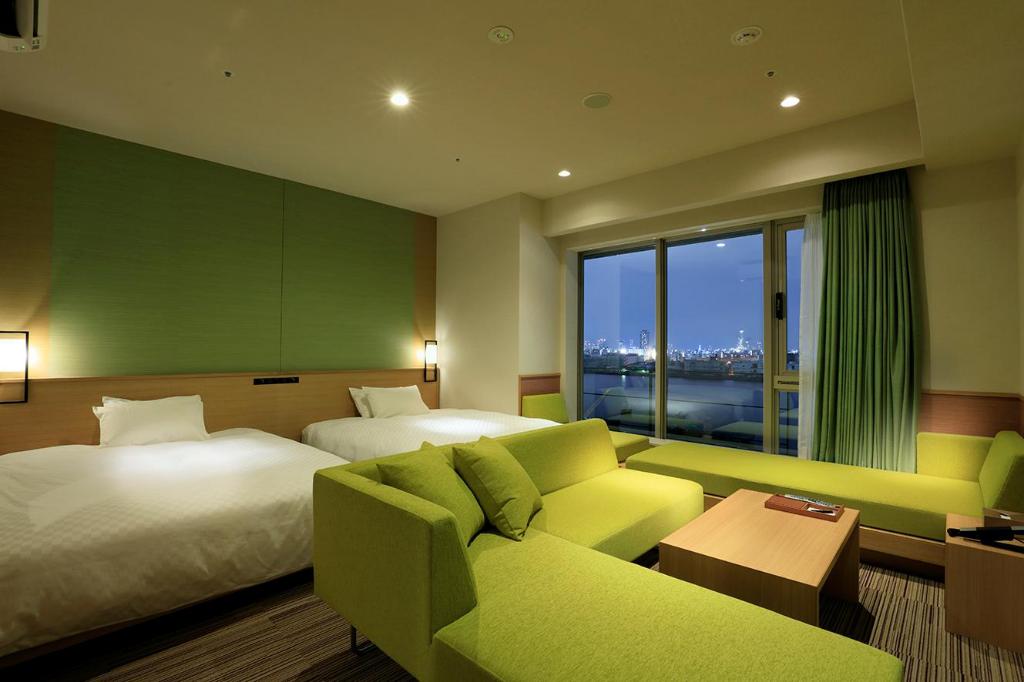 This is another official Universal Studios Japan hotel located at the exit of Universal City Station; about a 5-minute walk to the park entrance.

From the name itself, it boasts an open-air bath for all its guests. Here, you can expect sparkling clean and comfortable rooms because The Singulari Hotel & Sky Spa just opened in August 2017.

Check Price Here
Below are other Official Universal Studios Japan Hotels that sit right at the entrance of the park:
Hotels Near Nishikujo Station
From my experience, Nishikujo Station is a great base not just when visiting Universal Studios Japan but when visiting and sightseeing in Osaka.
Aside from budget-friendly hotels situated around the station, it's only 2 stops to Universal City Station via the JR Sakurajima Line (covered by JR Pass if you have one). So you will get to maximize your time and save your wallet at the same time.
Hostel Jin. This hostel is the top choice among budget travelers. Rated as having very comfortable beds and very clean rooms. If you are a family, consider getting the private room with your own bath and toilet.
Business Hotel Urbanty. Business hotels are always an automatic choice for groups or family travelers on a budget in Japan. Located near Nishikujo Station, this hotel is rated as having very clean rooms and very friendly staff.
Briller Universal Japon. This hotel is in a great location; just a 3-minute walk from Nishikujo Station. All rooms are Western-style, meaning you get your own private bathroom and toilet.
I recommend Booking.com when booking your hotel in Osaka. Simply key-in "Nishikujo Station" on the search bar and choose from the many hotels around it.
Airbnb is also a great option, but make sure to search using the "map" instead of search results.
If you are not registered on Airbnb yet, you should sign-up below to get your bonus Airbnb credit.
Frequently Asked Questions
1. Should I get an Express Pass or Fast Track Entry, or both?
If you are visiting the park during the weekends or the holidays, then getting an Express Pass is highly suggested. Otherwise, you won't be able to ride as many attractions due to the hours of wait you will be spending lining up for your turn.
Get the Fast track Entry if you can wake up very early and interested in entering the Wizarding World of Harry Potter without the crowds.
2. Can I bring food inside?
Technically, bringing your own food inside the park is not allowed. However, due to long lines at the entrance gates, the staff may not check on every bag. Just make sure to put your food on the very bottom of your bag just in case the staff checks on you.
3. Is USJ stroller-friendly? Baby-friendly?
Like other amusement parks, Universal Studios Japan is a stroller-friendly and family-friendly place. You can even rent a baby stroller for a day for 1,000 yen.
For families with babies and small children, you are going to enjoy Universal Wonderland. This attraction has Family Service facilities where you can feed or breastfeed your babies privately. There are only two (2) Family Service facilities in USJ. One that is near the entrance gates, and the second one is inside the Universal Wonderland attraction.
Families with babies or small children also benefit from the "Child Switch System." The Japanese translation is a bit confusing, however, this only means that the system allows parents or guardians with children too small for certain rides to "swap out" (one rides while the other waits, then swaps) without having to wait in line twice.
Most ride attractions utilize the Child Switch System. There is also Pram parking at each attraction so, you are free to park your strollers. Don't worry, Japan is ridiculously safe. You have a better chance of forgetting your stroller than someone actually stealing anything from it. In fact, if you did forget your stroller, someone would most likely return it to you at some point.
4. How much time did you spend exploring USJ? How big is it?
I did a one roundabout exploration of the entire park and it only took me about 25 minutes. I was actually surprised to find out that USJ is 3x smaller than Tokyo Disneyland since they pack so much into each attraction.
5. Any special type of discounted passes or afternoon passes?
The afternoon pass is called the Twilight Pass and is a great option if you are visiting during the off-season or less congested months. Depending on the day, you can get the Twilight Pass for ¥1,300 – ¥1,500 less than the 1-day Studio Pass.
This is a deal if you just want a glimpse of Universal Studios Japan at night (which is very nice by the way). You can ONLY get the Twilight Pass at the ticket booth of the park by 3 pm. Take note, however, that if you have the Twilight Pass, you cannot use an Express Pass.
So, if you still want to go to the Wizarding World with the Twilight Pass, just hurry to Central Park to get your Timed Entry Tickets (hopefully there are still some left) to ride the Forbidden Journey.
6. It's my birthday! Can I have a birthday discount?
Yes. Just register on the Japanese website of Universal Studios and make sure to register your entire family with their birthdates. The birthday discount is 500 yen less than the regular ticket, which is applicable to the entire family. The downside is that the website is all in the Japanese language.
The ticket is valid from the first day of your birthday month, until the end of next month. For example, if your birthday is September 22, then your USJ ticket is valid from September 1 – October 30, and your whole family will get a discount as well. If you need further help, I suggest asking for help from a Japanese friend or click here for registration instructions.
7. How are restaurants inside?
The usual park food like churros, turkey legs, and caramel popcorn are all very good. Be warned if the food looks cute or "Instagrammable", it tastes terrible. Trust me. I was fooled by many cute looking foods offered in the park (this rule can often be applied to most food actually). Even the butterbeer from the Wizarding World didn't taste any special.
If I were to visit USJ again, I would probably bring onigiri or a bento and eat them at the benches scattered around the park, and just save money for a turkey leg and churros. I've seen many Japanese visitors do this!
Restaurants outside USJ, located in the Universal CityWalk are worth trying. But remember, unlike most American amusement parks, there's no going back once you leave the park.
8. What if it's raining during my visit?
Raincoats are definitely more preferable than umbrellas if you are visiting during rainy days. There are also several attractions that have splash zones, like Jaws, The Jurassic Ride, and the Waterworld Show.
If you plan on taking those rides, buy a raincoat from 100 yen stores the day before your USJ visit. The raincoat from the vending machines inside USJ is 400 yen, which can be expensive for the entire family.
Conclusion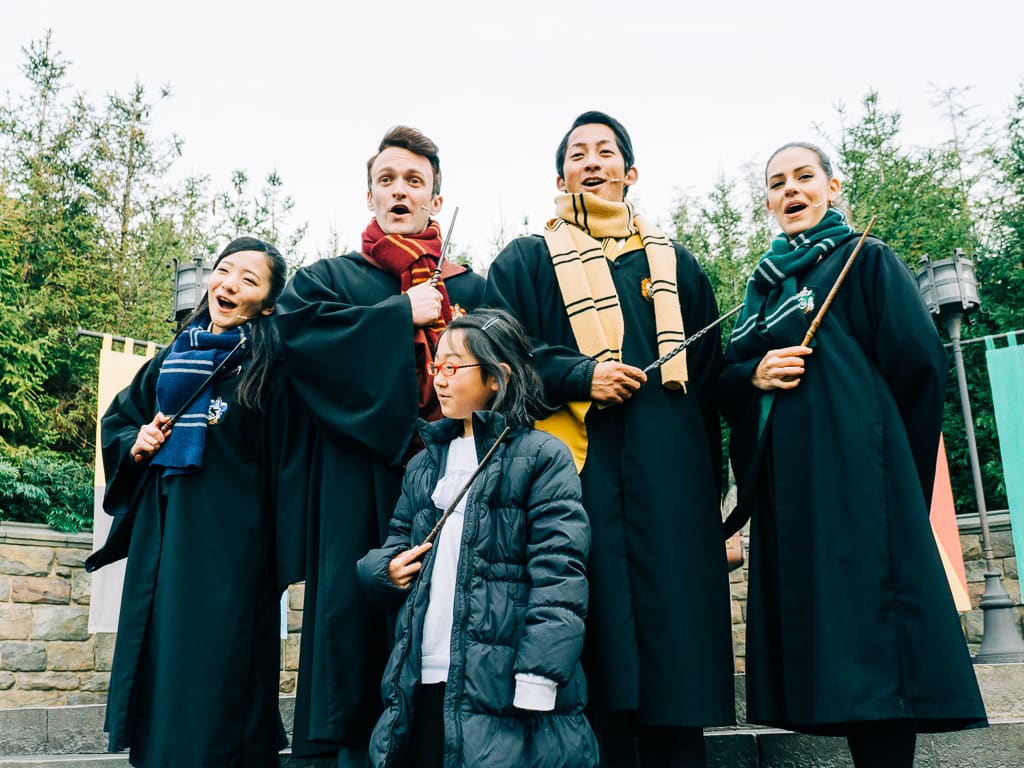 USJ park was a lot of fun during my visit. It's worth mentioning here that I was all by myself when I first visited, but still had a lot of fun. I managed to experience pretty much all of the attractions I was interested in, and still have time to take in the spectacular views of the park.
This is because I visited during the least crowded season, around the first week of January, and had both 15-Minute Early Special Entry Pass and Express Pass. I also managed to get a second Timed Entry Ticket to The Wizarding World of Harry Potter. But that was because it was less crowded.
I was able to finish all the attraction rides on my Express Pass tickets within just an hour of entering the park. By 5 p.m., I noticed the crowd had thinned down and I was able to go on more rides not included in my Express Pass. The lines had shortened to 15 to 30-minute waits. I left the park at 7 p.m. and hung around the Universal CityWalk before heading to the train station.
Final Tips and Recommendations
Get an Express Pass no matter what day of the year you are visiting, be it off-season or peak-season. Trust me on this.
Book your Studio Pass and Express Pass tickets in advance.
If you don't have Express Pass and you are in a group, consider lining up for the "Single Rider" lane, so you will ride separately. This lane is shorter than the regular lane.
Arrive at the park with a full stomach or at least have a heavy breakfast. To save time from waiting at the restaurants. And to save your wallet from the high prices of these restaurants.
Have fun and enjoy Universal Studios Japan!