One of the most beautiful flowers in Japan, cherry blossoms can be found throughout and span a wide range from late March to early April. This deep-rooted association with Japanese culture has made it a popular time for tourists and locals alike! So if you're going on your next trip to this country, make sure not to miss out on experiencing these beautiful trees at their peak bloom (and smell!)
People from all over Japan flock to Meguro River, Ueno Park, and Yoyogi Koen in Tokyo to participate in the hanami tradition during the cherry blossom season. If Mt. Fuji interests you, try going up to the Kawaguchiko area, which overlooks those enormous pink hues against the mountain backdrop. If that's not enough for your taste, go south towards Kyoto and Nara, there are many more beautiful spots like Maruyama Park or Mt. Yoshino.
You won't want to miss out on seeing these beautiful flowers while they're still around because once they're gone, they're gone until next year! So get ready for a fantastic experience as soon as possible by booking flights or hotels right now. And don't forget about taking pictures with sakura trees everywhere throughout the city!
In 2020, we published a forecast for 2021 based on data from the Japan Meteorological Agency. We're happy to say that we've confirmed the success of our projections in 2021! This year 2022, we will continue with our cherry blossom forecasting for Japan. Our methodology involves using previous data and statistical analysis.
When did the cherry blossoms bloom in 2021?
In 2021, mainland Japan's cherry trees bloomed from March 14th through April 9th, and northern Hokkaido's cherry blossoms appeared from April 30th to May 2nd.
The cherry blossom blossoming dates in Japan's top destinations for 2021 are as follows:
Sapporo: Flowered: April 22 / Fully Bloomed: April 27
Aomori: Flowered: April 13 / Fully Bloomed: April 17
Sendai: Flowered: March 28 / Fully Bloomed: March 31
Takayama: Flowered: March 16 / Fully Bloomed: March 27
Tokyo: Flowered: March 14 / Fully Bloomed: March 22
Mt. Fuji Five Lakes: Flowered: March 30 / Fully Bloomed: April 4
Kanazawa: Flowered: March 23 / Fully Bloomed: March 29
Kyoto: Flowered: March 16 / Fully Bloomed: March 26
Osaka: Flowered: March 19 / Fully Bloomed: March 28
Nara: Flowered: March 21 / Fully Bloomed: March 30
Hiroshima: Flowered: March 11 / Fully Bloomed: March 25
Matsuyama: Flowered: March 15 / Fully Bloomed: March 27
Fukuoka: Flowered: March 12 / Fully Bloomed: March 22
Naha, Okinawa: Flowered: January 4 / Fully Bloomed: February 1
When will the cherry blossom bloom in 2022?
For 2022, the cherry blossom season is expected to arrive earlier than 2021 as winter in Japan have been warmer than normal. And because of that, the arrival of spring, and the cherry blossoms, should be earlier than last year.
As of writing, Japan Meteorological Agency has not released the cherry blossom forecast for 2022. Remember that these are just forecasted dates and are in no way an exact science. That way, you can plan your trip (and clothes) accordingly. Cherry blossoms are said to be fickle. This means it can be difficult to predict when the flowers first open and reach its peak bloom. Due to the combination of various weather factors such as the wind, region, temperature and rain, the duration of the bloom is also affected.
Best places in Japan to see the cherry blossoms
1. Shinjuku Gyoen, Tokyo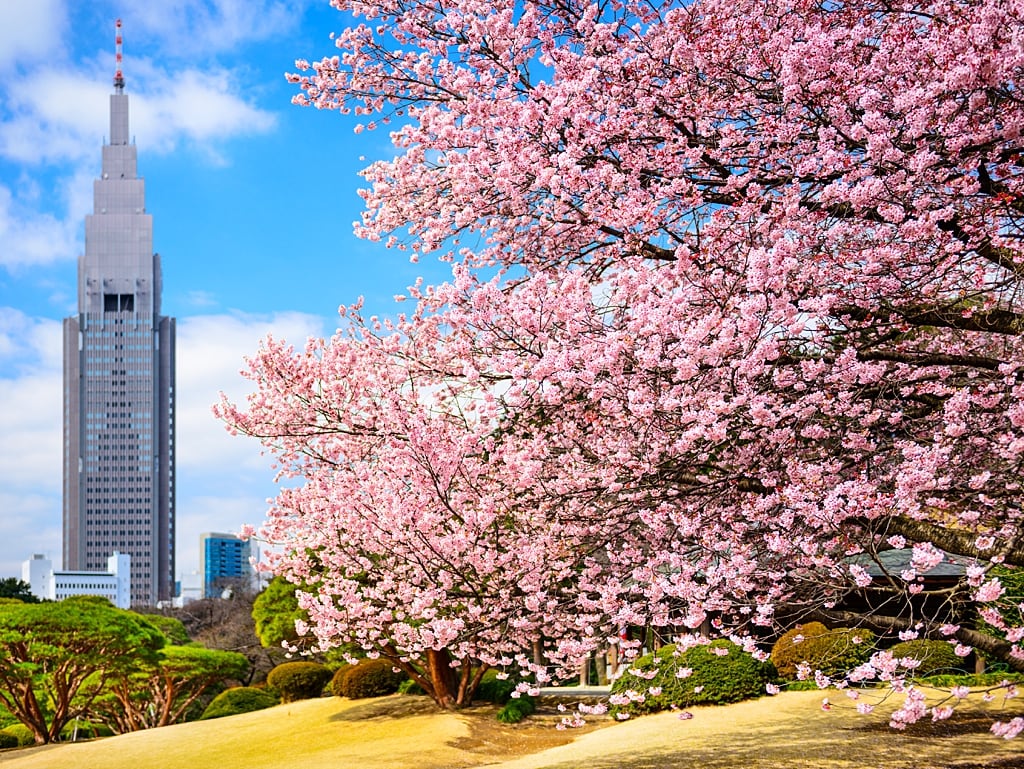 Best time: late March to early April
Located at the center of Tokyo, this 58 hectare national garden hosts approximately one thousand cherry trees of different varieties. If you have failed to see the cherry blossoms in full bloom, then walking around this park can still give you the chance to witness the other varieties bloom.
2. Chureito Pagoda, Fuji Five Lakes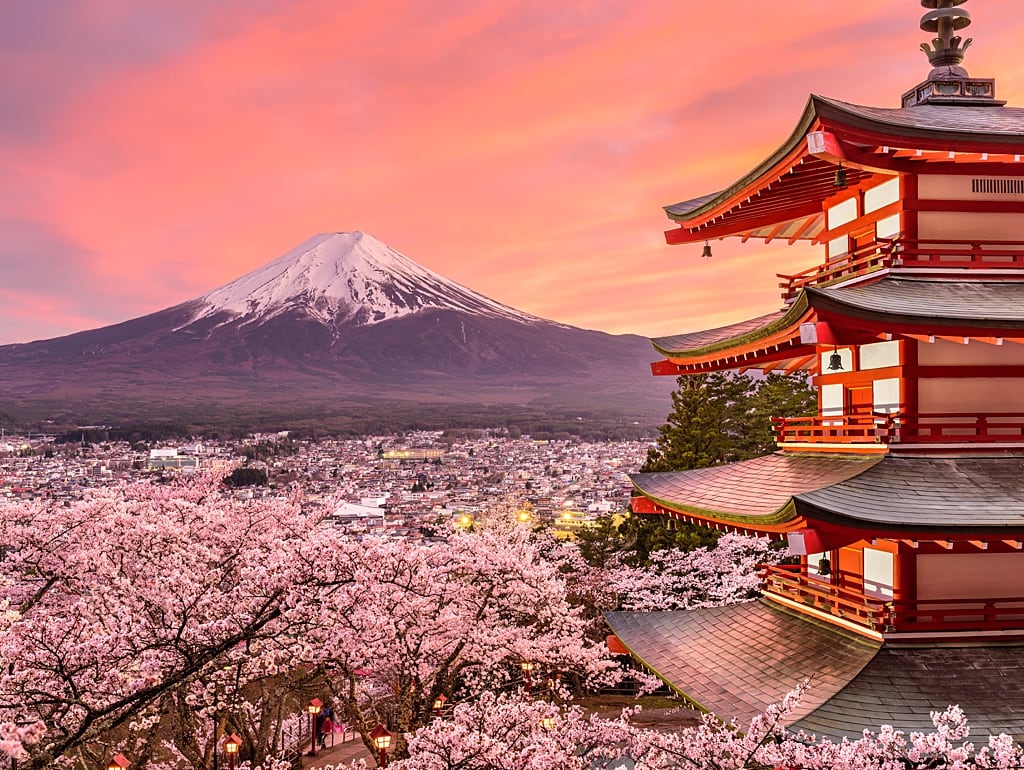 Best time: early to mid April
Picture perfect is the best way to describe this place which is surrounded by cherry blossoms. It is a UNESCO heritage site and offers one of the best views of Mount Fuji. At night, it gets even more magical as the trees are illuminated with red and white lanterns.
3. Goryokaku Park, Hakodate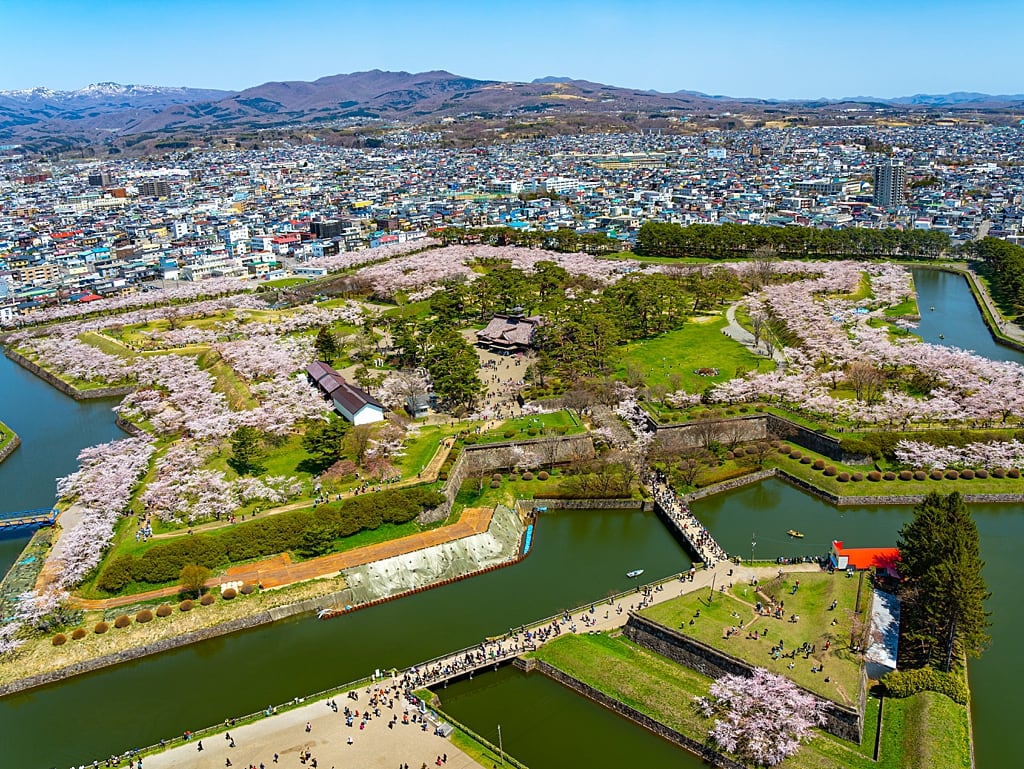 Best time: late April to early May
Even without the cherry blossoms, the Goryokaku Park is a recommended visit in Hakodate. This park has a unique star-shaped moat fort and an observation tower, giving you a unique view of the trees.
4. Matsumoto Castle, Nagano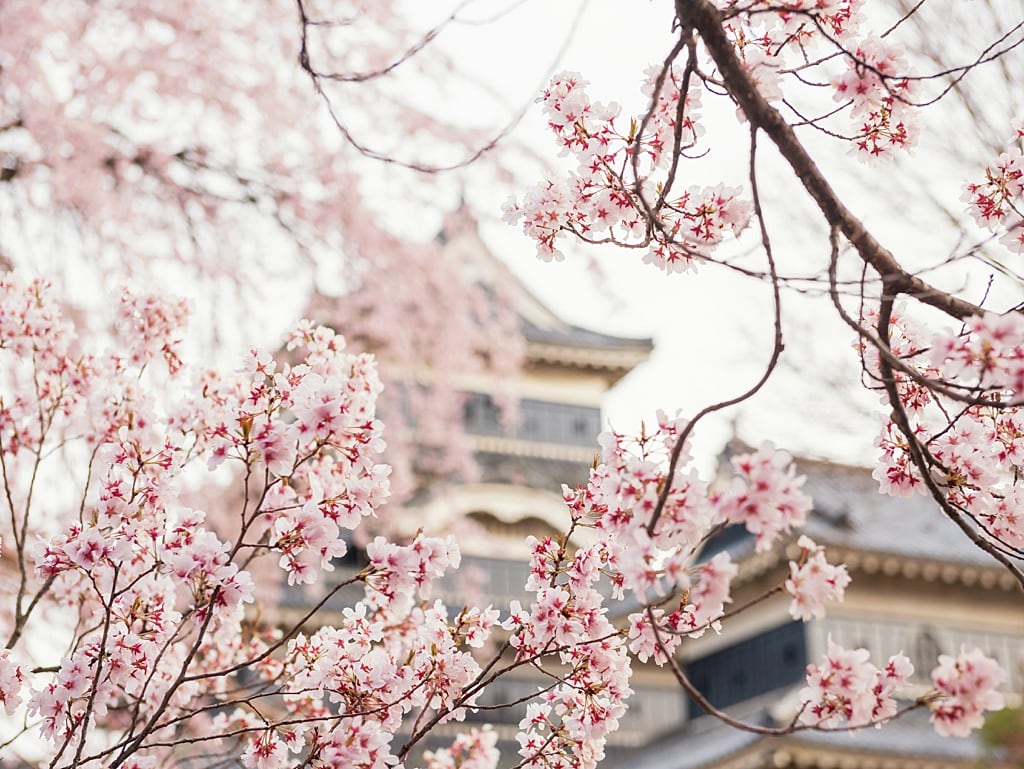 Best time: Mid-April
Considered one of Japan's national treasures, Matsumoto Castle is one of the country's most grandiose and well preserved castles. Originally built in the 15th century, it is surrounded by numerous cherry trees, and from a distance, gives you a breathtaking view of the mountains.
5. Philosopher's Path, Kyoto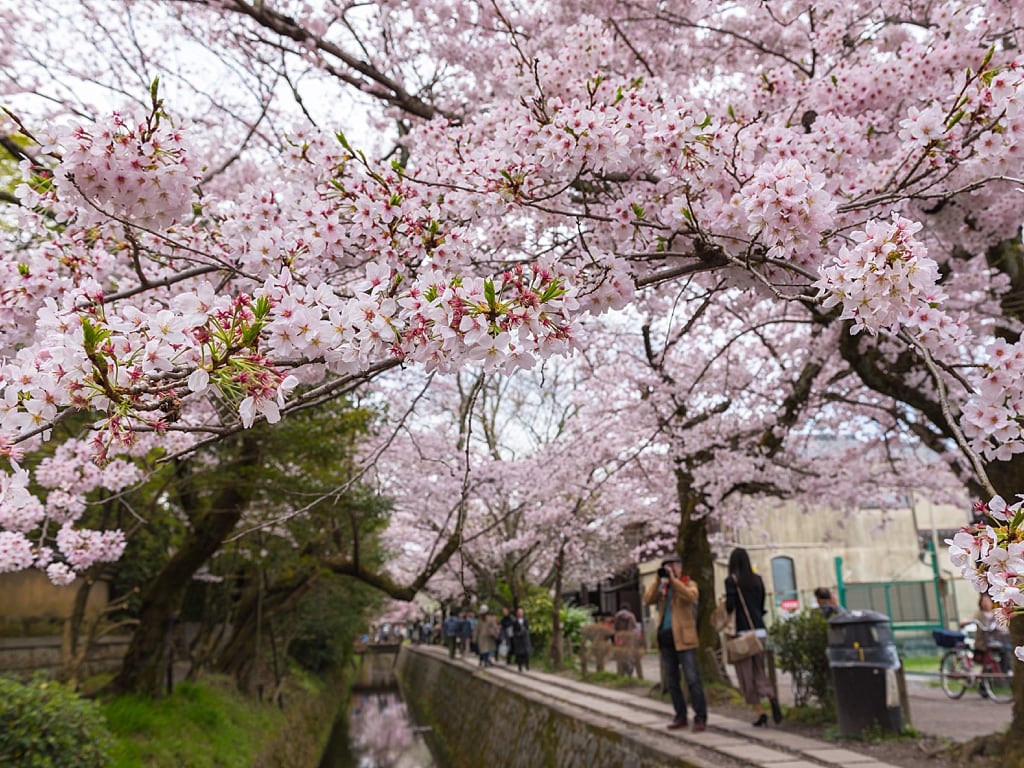 Best time: Late March – Early April
This almost 2 km path was named after one of Japan's famous philosophers, Nishida Kitaro, who used to walk this path on his way to Kyoto University. The path which starts around Ginkakuji and ends in the Nanzenji area has a canal that is filled with cherry trees that makes it one of the most popular spots for Hanami.
6. Mount Yoshino, Nara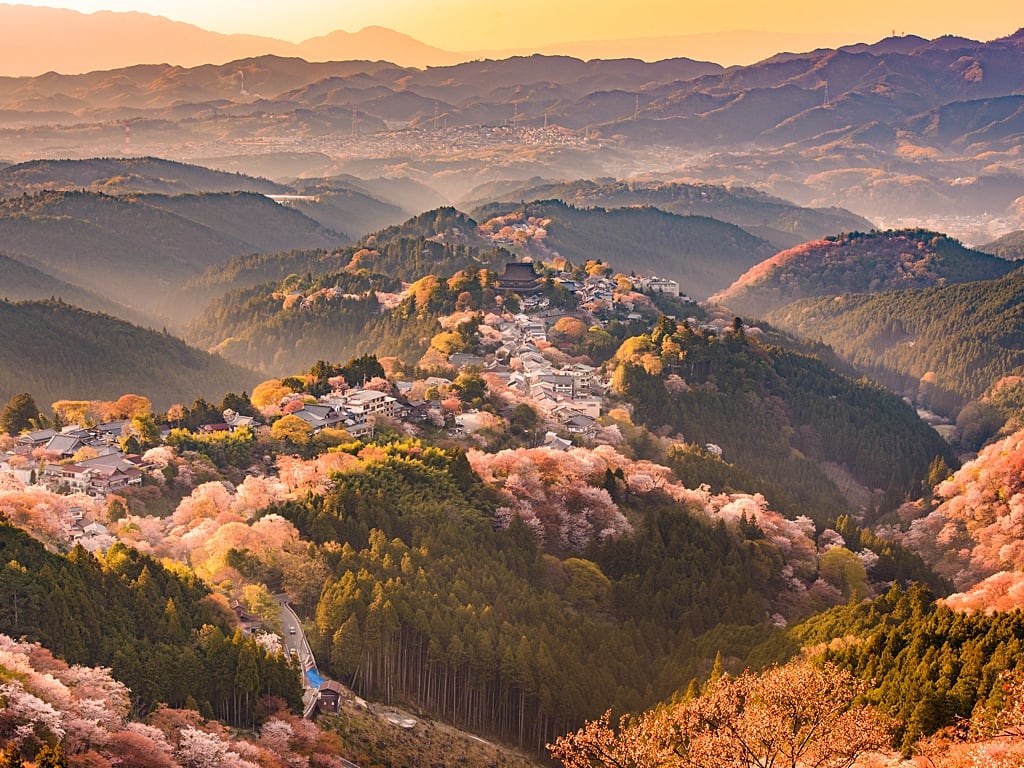 Best time: Early April
This mountain, which has about thirty thousand cherry trees, has been among the most visited spots for cherry blossom viewing for centuries. It offers you the whole package – trekking, temple visits, shrines and hanami parties, all in just one location.
7. Himeji Castle, Himeji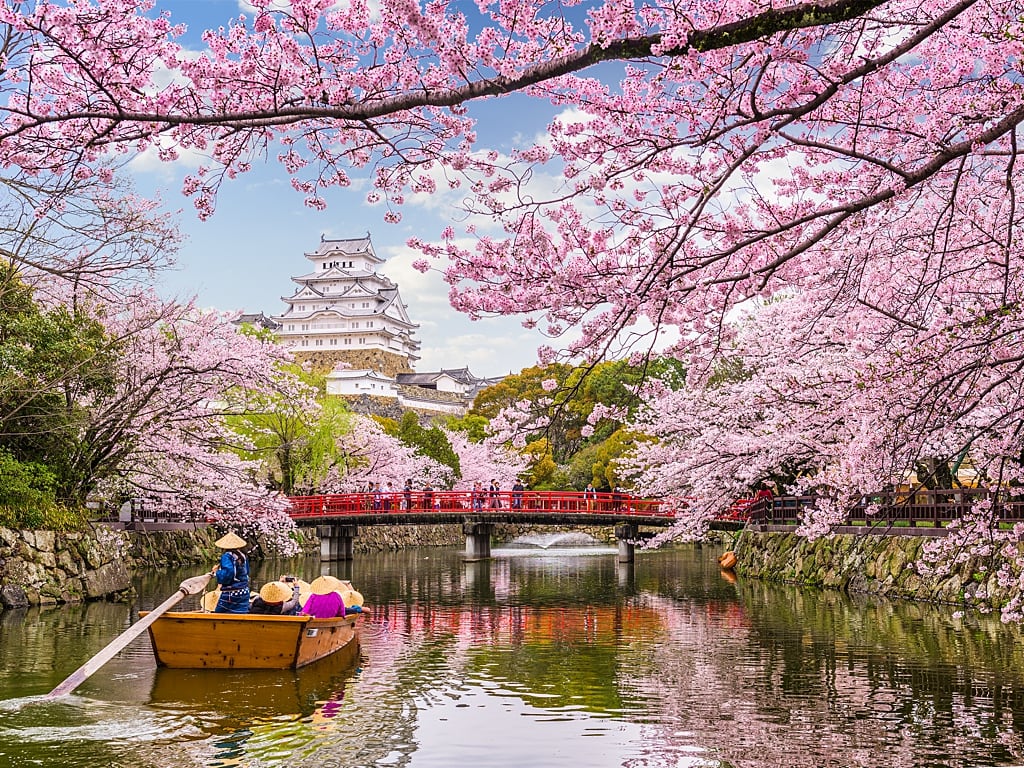 Best time: Late March – Mid April
Another UNESCO heritage site, the majestic white Himeji Castle and its grounds is filled with over a thousand cherry trees making it among the most popular cherry blossom viewing sites in Himeji. You can also explore the inner grounds and the interior of the castle itself.
8. Hanayamiyama Park, Fukushima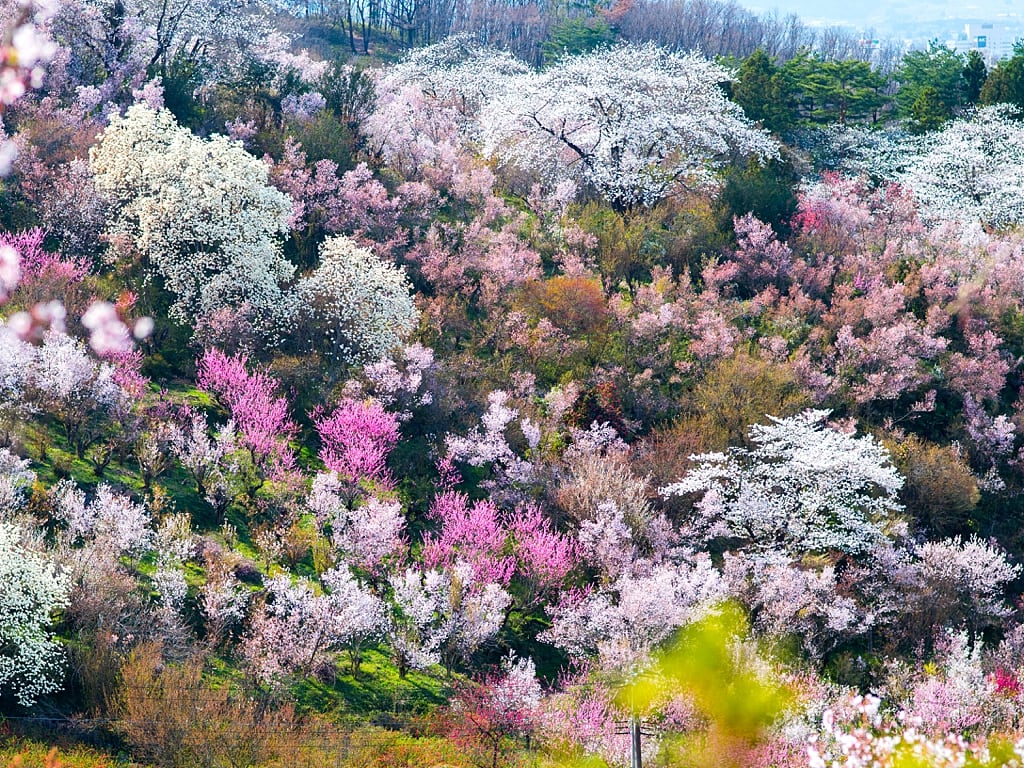 Best time: mid April to late April
If you don't mind hiking then visiting the Hanayamiyama Park during the cherry blossom season is highly suggested. Not only you can see cherry trees and its blooms, but this privately owned park features a lot of other flowering plants as well.
9. Miharu Takizakura, Fukushima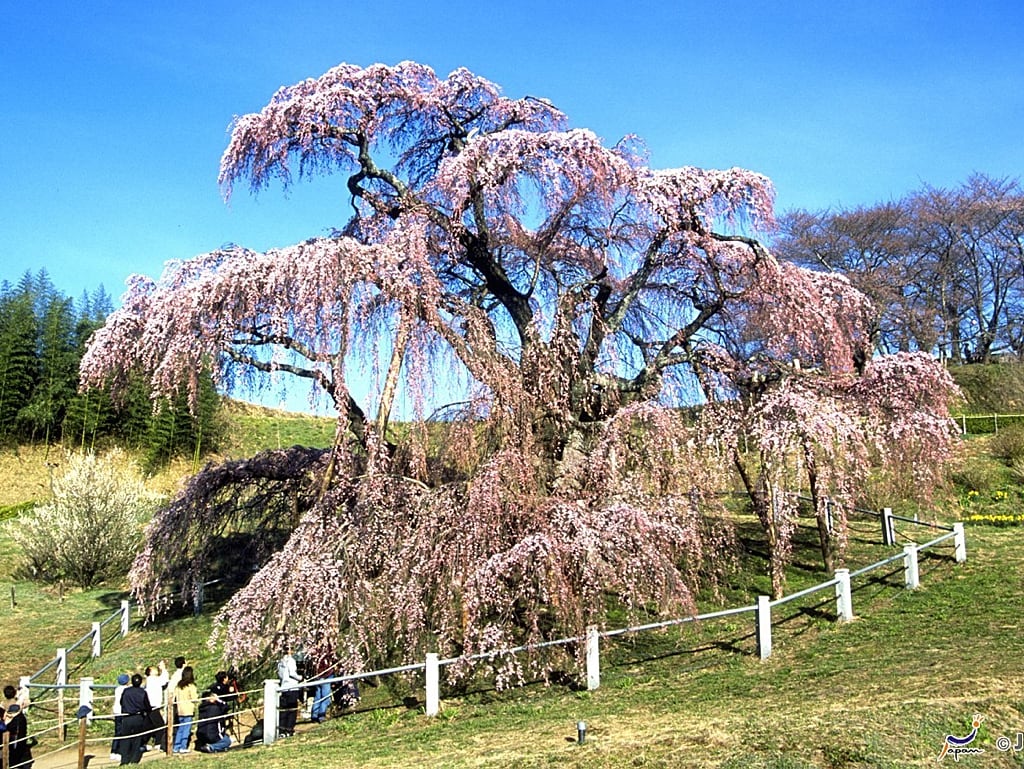 Best time: Mid April
While you are in Fukushima, make sure to visit the single cherry tree considered by many as the most beautiful cherry tree in entire Japan. This tree, which is said to be more than a thousand years old, looks like a cascading waterfall with expansive branches filled with the pale pink blooms during the full bloom season.
10. Kakunodate, Akita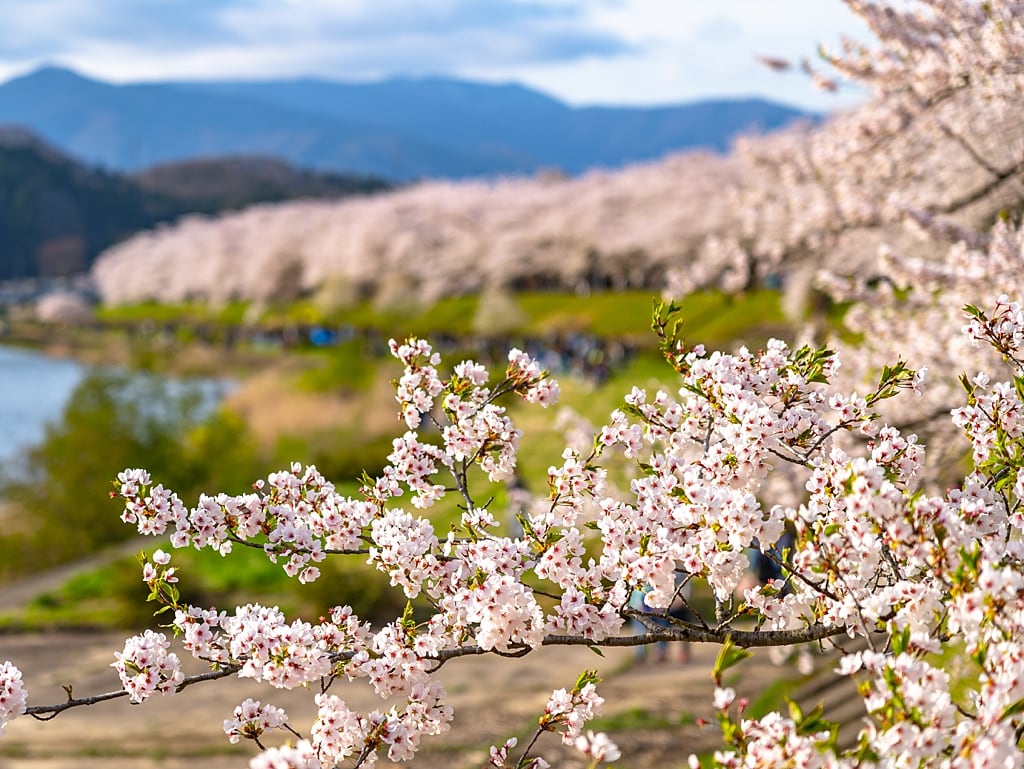 Best time: Late April to Early May
In the Edo period, due to the different samurai families' effort to outdo each other in terms of the most beautiful cherry trees, weeping cherry trees were imported from Kyoto and planted along the bank of the Hinokinai River. Making this one of the best locations to view this variation of trees in Japan.
11. Hirosaki Castle, Hirosaki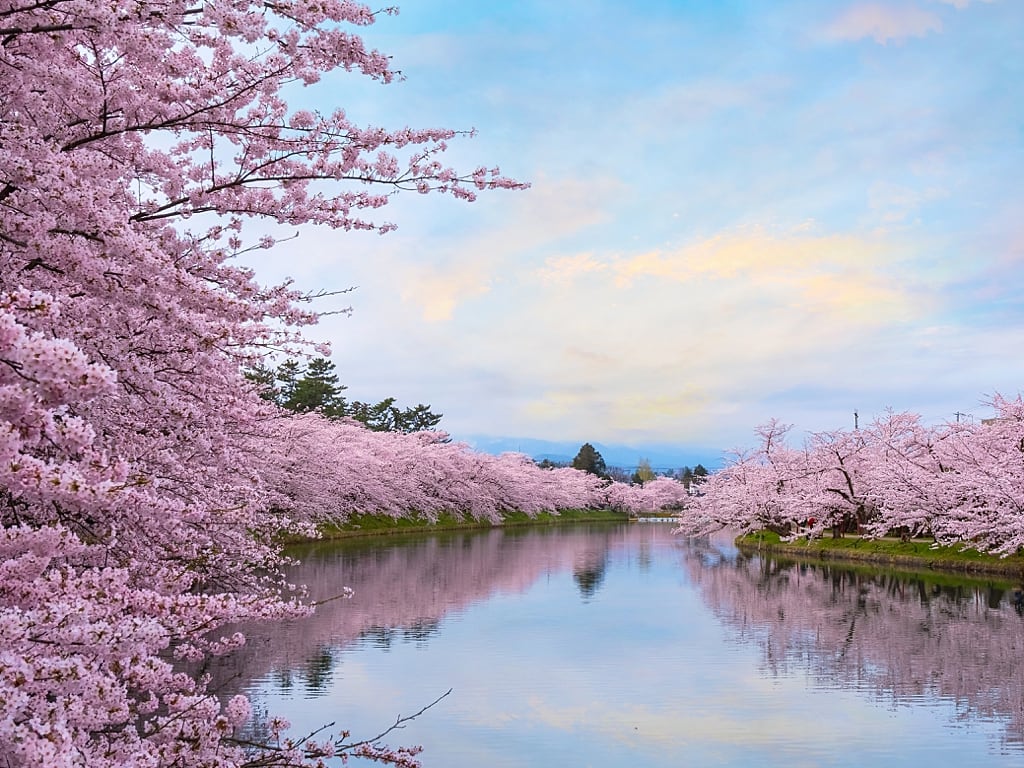 Best time: Late April to early May
Listed as one of Japan's top cherry blossom viewing areas, the Hirosaki Castle has around 3000 cherry trees of more than 50 varieties. Over 2 million people visit this Castle yearly to participate in the annual Hirosaki Cherry Blossom Festival.
Best-Selling Cherry Blossom Tours in Japan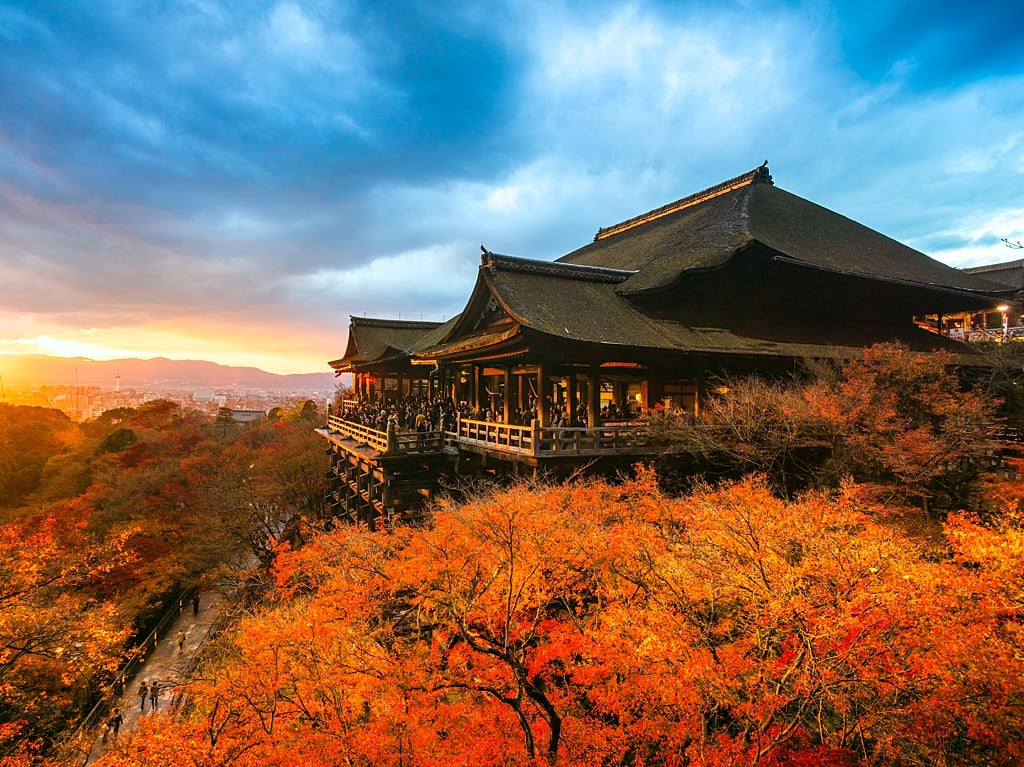 11 Days Japan Tour Package
From US$ 2,119 ~
Great for: Budget-minded travelers.
Trip starts from: Mar 19, 2020 ~
Trip style: Small group escorted tour, maximum of 16.
Age limit: 18-39 years old only.
Destinations: Tokyo – Takayama – Kyoto – Hiroshima – Osaka.
Hotel class: Budget – simple, clean and affordable hotels and hostels.
No meals included.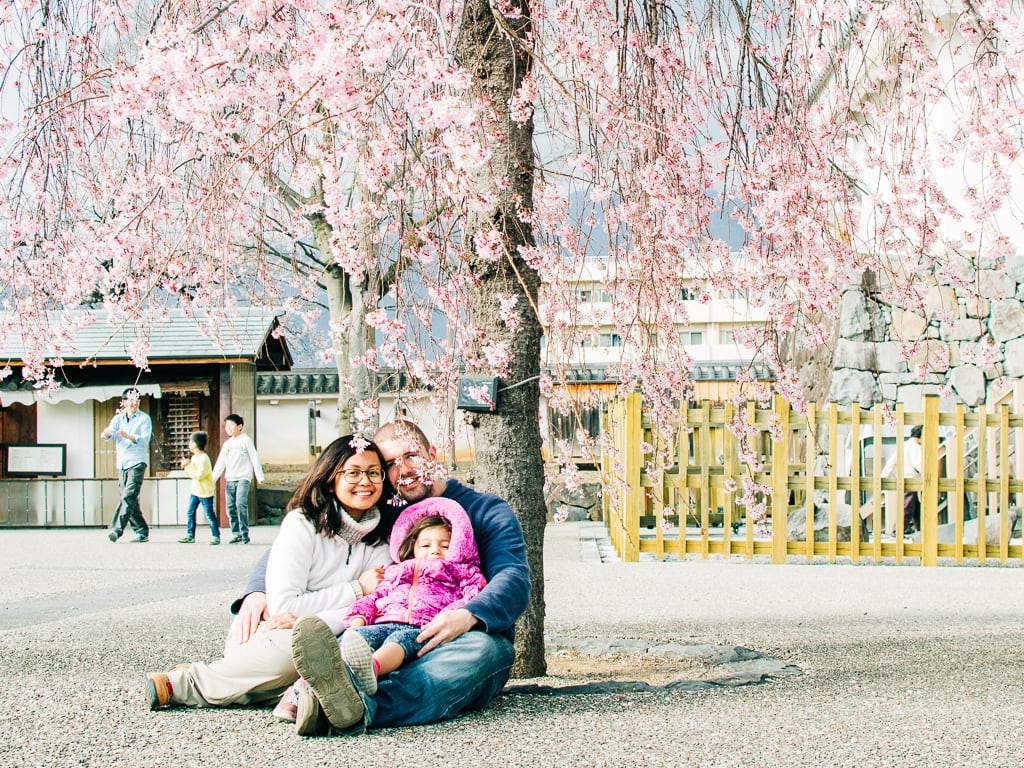 11 Days (Customizable)
Japan Family Package Tour
From US$ 8,772 per person ~ Get in touch with us for child pricing.
Trip starts from: Your chosen travel dates!
Trip style: Independent, self-guided tailor-made tour.
Destinations: Tokyo and Kyoto.
Hotel class: Mid-range – baby and kid-friendly hotel and accommodation.
Five (5) breakfast included.
What's the weather like during cherry blossom season in Japan?
Cherry blossom season in Japan means spring. During these months, the temperature starts to rise and the weather becomes bearable. In March, the temperature ranges from 15C (60F) for the average high, and 6C (43F) for the average low. The average temperature increases as summer approaches, and it may be as high as 25C (77F) or as low as 16C (60F) in May. So depending on your arrival date, you'll need to dress appropriately. What I've learned throughout the years in Japan is to dress in layers. This means I have my core pants or shirts on and I can remove or add layers easily as the temperature starts to drop or increase.
Since March is just the first month of spring, I suggest still bringing a winter jacket, scarf, hat and gloves if you plan to visit in March. During the day, particularly when there is sunlight, the temperature is bearable. But as the sun sets you'll feel the cold quickly. You can easily stash your winter accessories in your bag to make it accessible (refer to this article for Japan packing recommendations). Just be prepared for the cold, particularly if you are visiting from a tropical country. Better to be safe than sorry!
April and May are the most convenient months. But due to climate change, it is difficult to predict the weather. You can choose to bring a light jacket (and of course some layers, just in case). Also add a scarf if you are prone to being chilly! Other tips I would suggest is to bring an umbrella. Although you can easily buy one for between 100 to 1000 yen in convenient stores, it is better to bring a sturdy foldable one that you can keep with you all the time. As for the jackets, I suggest bringing waterproof ones to protect you from getting wet in the case of a sudden rain, which is common during spring in Japan. I particularly like wearing boots or comfortable sneakers while walking around during cherry blossom seasons. Remember that you will be walking a lot, so make sure that your shoes are comfortable but sturdy!
How long do the cherry blossoms in Japan last?
Short answer, between 1 to 2 weeks. The long answer is that cherry blossoms last differently based on tree variety and the region of Japan you visit. Some can bloom as early as April while some bloom as late as May. The blossoming of the flowers normally starts from the southern region of Japan and goes upwards to the north.
If this is your first time visiting Japan for the cherry blossoms, you have to be familiar with two important terms – kaika and mankai. Kaika refers to the first opening of the cherry blossoms. The full bloom, which is called mankai normally, happens after or within a week of the kaika.
This means, from the kaika to mankai you have a week to enjoy the blooms. After the full bloom, when the fresh green leaves start to grow and the petals begin to turn white and fall. This is known as the hazakura. This usually signals the transition or change of the season from spring to summer.
You have to remember though that cherry blossoms are fickle, and their beauty is fleeting. A change in temperature, rainfall or wind can greatly affect the longevity of the blooms. This makes it more difficult to set an exact time when the full bloom happens. Most people arrive from abroad between the last week of March and first week of April.
Most common cherry tree you'll see in Japan
As a first-time visitor to Japan, you might think that cherry trees are only cherry blossoms. I've learnt to identify the many kinds of trees and their blooms. Here are the three most common in Japan:
1. Somei Yoshino (Yoshino Cherry)
Throughout Japan, the most common and also most popular type of cherry blossom is the Yoshino Cherry. The cherry tree has a five-petaled blossom that, from a distance, appears to be white but is actually pale pink. The flowers are clustered together and look a bit like cotton balls from a distance. The oldest recorded Yoshino tree is in Hiroshi Park in the Aomori Prefecture, and was planted in the 1800s.
2. Yamazakura (Mountain Cherry)
The Japanese Mountain Cherry is also known as the Hill Cherry. This type is most often seen in Japan's mountainous regions (yama means "mountain" in Japanese). The Yamazakura and Yoshino are two very similar varieties of cherry that both have five-petal pale pink blooms, however this variety has significantly smaller petals and is considerably more pink than Yoshino cherries. However, you can also see the difference on other tree parts. The Yamazakura has a thick trunk – often reaching to 1 meter in diameter; and the flowers typically open the same time as the leaves. The oldest recorded Yamazakura tree can be found in Kogonji Temple in Tokyo which is estimated to be about 400 years old.
3. Shidarezakura (Weeping Cherry)
The Weeping Cherry is a relatively easy cherry to identify, and its drooping branches are why it's known as "the weeping willow." It's the most gorgeous, and it's also my favorite cherry blossom. The flowers generally bloom before Yoshino and Yamazakura, and the petal hues vary from rich pink to fuchsia in tone. This tree has two sub varieties – one with 5 petals and one with more than 5 petals. The oldest Shidarezakura can be found in Fukushima Prefecture and is said to be more than a thousand years old.
Conclusion
Cherry blossoms are a quintessential part of Japanese culture. They add beauty and life to the country in early spring, which is why they're often called "the flowers of Japan." The cherry blossom season spans from late March through early April, with most trees blooming in mid-April or a few weeks after their peak bloom date. As such, it can be difficult to predict when each tree will begin its cycle!
Fortunately, for travelers planning trips to this beautiful country during these months (or if you live there), we have compiled some helpful information on how best to see the cherry blossoms at their prime—and where exactly that might be throughout Japan! We hope you enjoy our blog post and it will serve as a helpful guide to anyone planning a trip to Japan for the best views of cherry blossoms!