It's no secret at this point that our favorite place in the world is Mt. Fuji and surrounding cities and towns (see our Kawaguchiko guide). One of those incredible cities is Fujinomiya.
Now, to be completely honest, we actually visited Fujinomiya quite some time ago, and are just now getting around to writing about it. This was not due to any failings of the city or our trip, but due to reasons outside of our control which delayed us enough that we simply forgot to ever come back to it. Also, I'm a habitual procrastinator, much to my wife's dismay 🙂
With that disclaimer aside, let's give some background to the area and why we decided to visit.
Where is Fujinomiya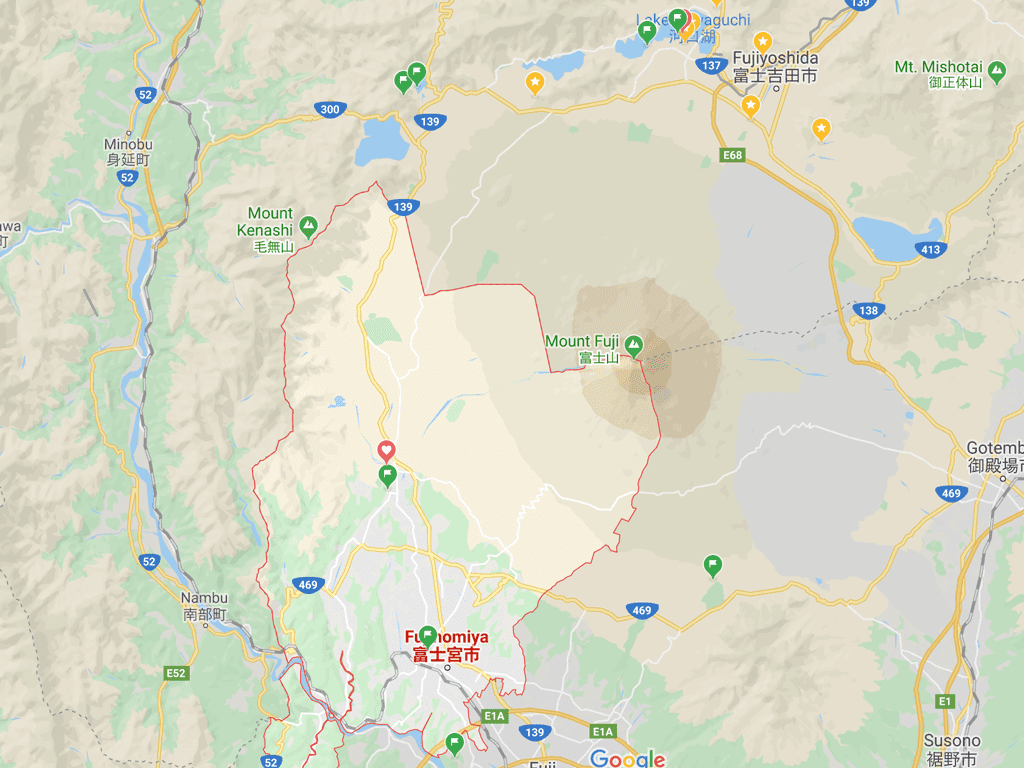 Located southwest of the majestic mountain, Fujinomiya lies in the Shizuoka Prefecture, it was interesting to see the western face of Fuji, seeing as we had never traveled west of the mountain to this point (at least, not without being too far away to see it).
The city, while large, is much smaller than places like Tokyo, Yokohama, or even Kofu (we love Kofu! Read our blog post here), and it has a very small-town feel to it despite its size. Add to this the beautiful surrounding landscape, scenic waterfalls, and incredible hiking opportunities, and it was practically screaming for us to visit!
So in this post, I'm going to cover our itinerary for the 2-days we visited the area, and give you my overall opinion on how it stacks up to other Fuji towns/cities we've visited over the years (spoiler, they're all good!). That said, two days doesn't even scratch the surface of this amazing city, so be sure to check back for more Fujinomiya goodness in the future!
Day 1
Makaino Ranch
Our daughter is funny in that she loves animals, but, as we found out, is also terrified by them. Seriously, even getting her to feed a bunny was…an experience. But we didn't know this at the time, so when we saw that a local farm had acres of land filled with petable and feedable animals, we thought we'd found the perfect toddler-friendly attraction. And we weren't wrong about our assessment, simply our daughter's willingness to participate.
The farm is home to horses, cows, sheep, bunnies, pigs, and even a few Kangaroos — for some reason. There's plenty of activities for your child as well, horse rides, cow milking, bunny feeding, ring toss, a playground, and new activities that were being built while we visited. So the entire farm is perfect for younger children, between the ages of 2-10. Basically, any kid prior to their angsty pre-teen and teen years, when they're only interested in whatever is on their phone at any given moment, lol.
Our daughter, for all the love she has of animals, loved them only while she was no closer than about 6 feet to said animals. She did, however, really enjoy the playground and various farm equipment and fake animals she could take pictures with. The farm also offers milk, cheese, ice cream and produce direct from the farm in a little shop/cafe located at the entrance.
This is a must-see for families traveling with young children, so be sure to fit it into your itinerary if possible!
Biking around Lake Tanuki
Lake Tanuki is a man-made lake located north of Yamanashi and offers some amazing views of Fuji and the surrounding mountains, beautiful and clean campsites, biking, fishing, and boating. So, of course, we needed to visit it!
Unfortunately, camping overnight wasn't on the agenda for us during this trip, but it absolutely was added to our to-do list! Instead, we rented a couple (which the shop owner ultimately didn't charge us for. He was seemingly just excited to have foreigners visiting the area) and rode around the lake, stopping to take in the many stunning views along the way.
For those not into camping, there is also a high-end hotel located next to the lake named Kyukamora Fuji, which has a path down to the lake and to a viewpoint offering a view dubbed Double-Diamond Fuji; where the sunrise happens to be perfectly aligned with the summit of Mt. Fuji, creating the look of a diamond atop the mountain, which is reflected onto the lake and giving it its name. This view is only really available during the morning around April 20th and August 20th, so we were unable to see it during our trip 🙁
Guesthouse face to face
→ Click here to book this guesthouse
Okay, this one has a really funny story attached to it, but I'll get to that in a moment. The guesthouse itself is an old Japanese style home, and the owners made us feel incredibly welcome during our stay. I highly recommend staying here should you find yourself visiting.
With that out of the way, the story.
As I said, the husband and wife (mostly the wife) who run the guesthouse were very friendly and welcoming, but the husband was way too excited to show us around the town and to have found a drinking partner in myself.
While we were trying to decide on where to go to dinner he decided offered (enthusiastically) to take us to a local sashimi restaurant in the area. Here he ordered us various dishes to try, and drinks to drink (not skipping on the drinks himself) and tried his best to maintain conversations in English.
As a side note, the restaurant was great, and the owners were very enthusiastic about having foreigners with an adorable child visiting them. In fact, they made a rice dish specifically for her for free. So a great place, although it was the first place I've been where a slightly raw chicken dish was actually intentionally on the menu. We didn't get sick, so that's a plus.
To get back to the story, it got to the point where he was ordering so much food we started to worry about the cost, so we had to insist we were too full to go on, and that we needed to put our daughter to bed. That's when he did the unexpected and actually paid for the whole thing.
We couldn't believe it, because the meal actually ended up costing more than the single night's stay. Needless to say, his wife, who despite this was still very gracious to us and kind, was NOT pleased with him. I've never seen a man look so thoroughly cowed without a single raised voice. It was sad (and a bit awkward) but something we couldn't help but laugh about later.
The next day, feeling guilty, we literally needed to force the wife to accept our money as we repaid her for her husband's enthusiastic night hosting us. Which, for those of you who know Japanese culture, understand how difficult it can be to get someone to accept repayment for a gift.
This was definitely one of the most memorable experiences we've had in Japan to this point, and one we can't help but laugh about whenever we think back to it. So, should you find yourself staying at this guesthouse, be sure to keep the husband's enthusiasm in check! lol
Day 2
Shiraito Falls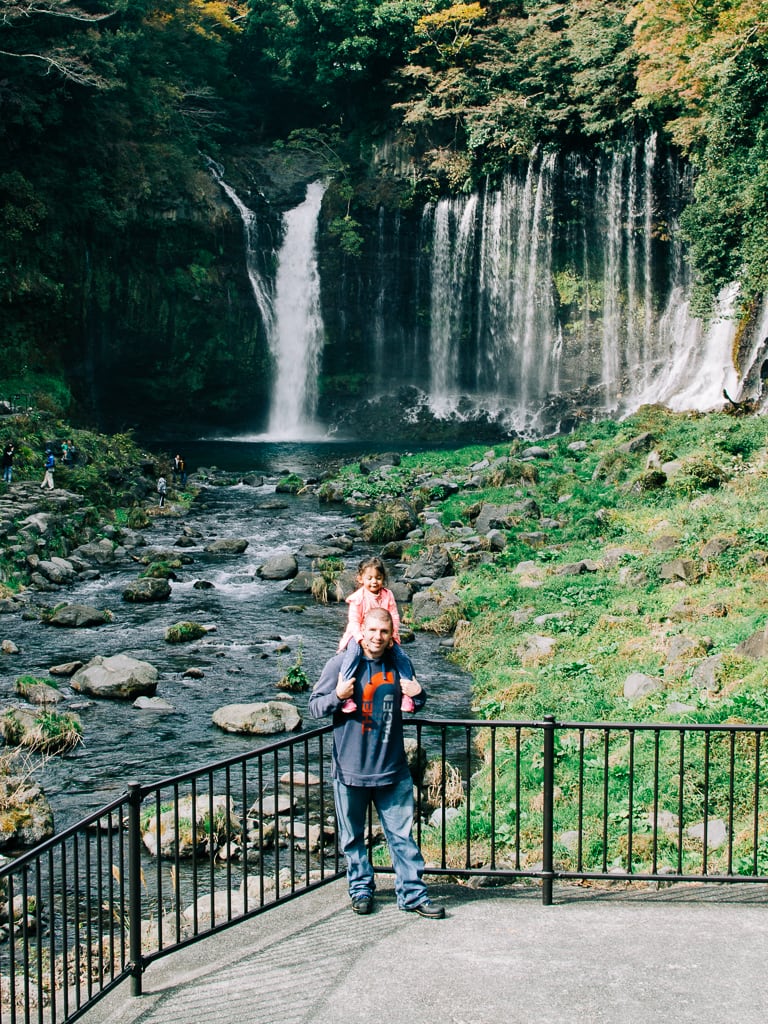 Our last stop before heading home was Shiraito-no-taki (White Thread Waterfall), one of the most beautiful waterfalls in Japan, which gets its name from the water falling in fine white streams of resembling white silk threads.
A short walk down into a basin created by lava flows from Fuji created this incredible 150-meter wide waterfall which is easy enough to access even with small children, so no hiking involved if that's not your thing.
Access to the falls costs about 1050 yen ($10), so it can be a bit pricey if traveling as a group. At the top and along the path to the falls are small shops and food stalls to buy souvenirs and snacks should you want to as well. I think this was the first waterfall our daughter had seen to this point, and she was enthralled by it…for a little while at least. While we wanted to stay and get some more photos, she decided it was a good time to leave and started walking back up the path herself.
After the falls it was back home to plan our next Fuji adventure!
While only an overnight stay, Fujinomiya was a great adventure to add to the list of adventures to be had in Japan. There's still so much more for us to discover in the city and surrounding area, so we look forward to our next trip!
Does this sound like a fun weekend getaway for you? Tell us what you think down below and check back for tours and trip reports as we continue to explore the extraordinary land known as Japan!
WHAT TO READ NEXT:
→ Lake Yamanaka: Our Itinerary in Fuji's Biggest Lake