Have you ever wondered why the Studio Ghibli museum is always a must-see spot in Tokyo? Are you familiar with Spirited Away? How about Princess Mononoke?
Those two and four other Studio Ghibli films are on the top 15 highest-grossing anime films in Japan. With Spirited Away being the second-best animated film with a worldwide gross of $331 million. It even surpassed Titanic as the highest-grossing film in Japan.
The person behind these films is Hayao Miyazaki who also designed the museum himself.
How much is a Ghibli Museum ticket?
The ticket price for the Ghibli Museum is only ¥1,000 (or about US$9) each and must be purchased in advance.
When do Ghibli Museum tickets go on sale?
Tickets for the Ghibli Museum go on sale every 10th of the month at 10 a.m. Japan time.
How quickly do Ghibli Museum tickets sell out?
Ghibli museum tickets tend to sell out quickly within 30 minutes to an hour after tickets go on sale.
If the ¥1,000 ticket is sold out on the website, you can get a last-minute ticket or join a Ghibli Museum tour package from a travel agency in Japan.
7 Ways to Buy Ghibli Museum Tickets
While this is the original way and the CHEAPEST way to buy tickets to the Ghibli Museum for ¥1,000, it's also the most TROUBLESOME due to the website being unreliably SLOW on the sale date.
Entry tickets for next month go on sale at 10 a.m. (Japan time) on the 10th of the current month. In other words, if you want tickets for January, you need to buy them on December 10th. You need to be on your computer at EXACTLY 10 a.m. and be quick to book those tickets. This is a challenge if you live in a different timezone.
What you need during the booking process:
Credit card – They only accept credit cards as a payment method.
Intended address in Japan – This could be your hotel address.
4-character password – You MUST write this down (to avoid forgetting) to log in to print your tickets.
Passport number.
Phone number and email.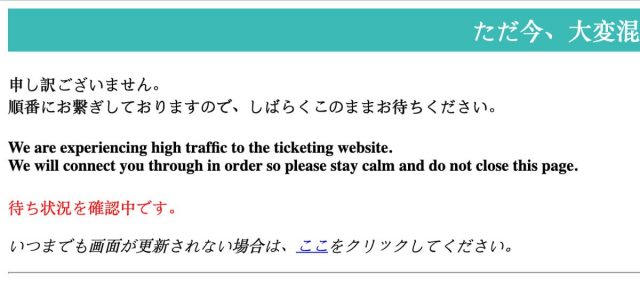 The website says you can buy up to 6 tickets in one booking occasion but I've NEVER seen this work because the website is VERY slow and always having issues.
The website had gone crazy! When I booked tickets for me and my husband, we ended up getting two different time slots! My ticket was for 2pm admission and my husband's ticket was for 4pm admission. The 12pm and 2pm admission tickets sell out VERY quickly. By noon that day, tickets on the website were all sold out!

~ Yours Truly
And this is a warning for visitors traveling with their families…
I will not rely on the website if you're a big family. I was only able to get 1 adult ticket on the website! I have one more adult, two teenagers (13 and 15), and one 7 years old.

~ A Sightsee & Sushi reader email
Now, if you've booked successfully, a confirmation will be sent to your email. Inside that email is the link to login to Lawson's website.
Enter the email address, the exact phone number, and the 4-character password you entered during the booking process. Upon logging in, you will be redirected to a screen with your ticket that has a barcode.
You must print this ticket. The staff will scan it at the museum entrance and your ticket will be EXCHANGED for an "official ticket".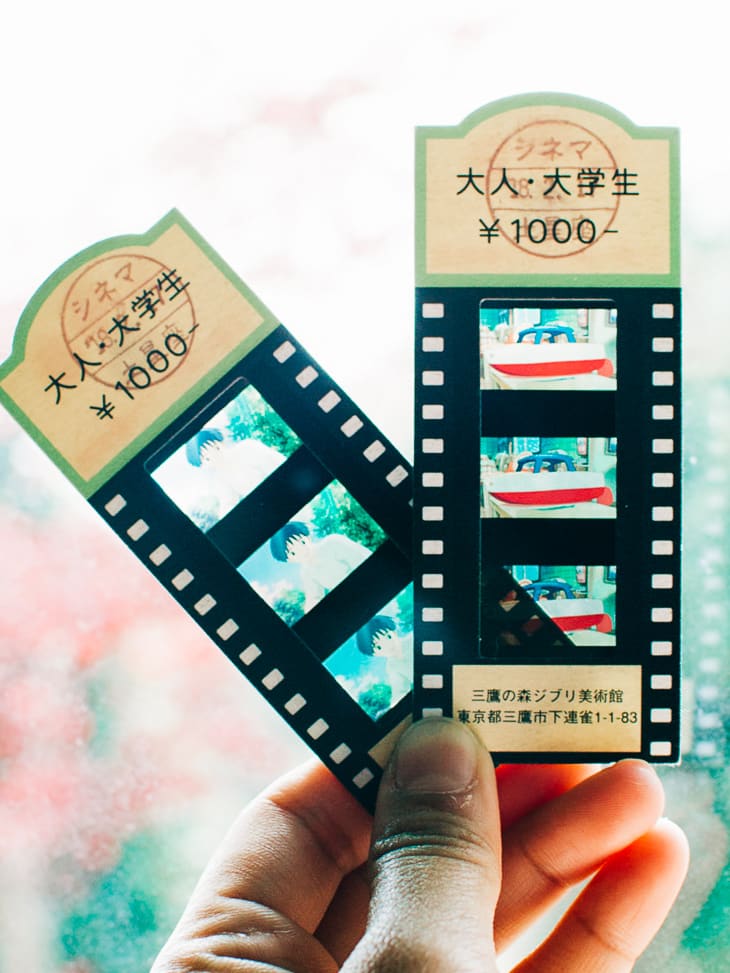 The official ticket has a real 35mm film print framers from Studio Ghibli films that were used in theaters.
2. Lawson Loppi Machine.
If you're already in Japan (i.e. living in Japan or staying long-term), this is another recommended option. Lawson is a convenience store that you can find on nearly every corner of Japan.
There are some Lawson stores that don't have Loppi Machines. Usually, these are special Lawson stores like Natural Lawson (maroon exterior) and Lawson 100 (green exterior). So you need to find a regular Lawson store, which has a blue exterior.
You can buy tickets from Loppi Machine anytime but the earliest dates that will be available to you are for the month after (i.e. tickets for May will be available on Loppi Machines in April).
3. Last-minute Ghibli Museum tickets through Voyagin.
Now, if you missed the sale date on Lawson's website, then Voyagin is to the rescue. If you haven't heard of Voyagin, they're very popular in Japan and a subsidiary of Rakuten. Click here to read our review about Voyagin.
Voyagin is the only authorized travel agency that sells last-minute tickets and allows you to pre-order your tickets to the Ghibli museum 1-2 months before you visit.
Voyagin has three ticketing options:
Preorder Tickets
Last Minute Tickets
Ghibli Ticket Guarantee
Their "Preorder Ticket" option is particularly helpful if you live in a different time zone or are unable to book the tickets during the sale date on Lawson's website.
4. Ghibli Museum with Inokashira Walking Tour
The tour combines a visit to Ghibli Museum tickets and a walk to the Inokashira Park with a tour guide.
Compare their prices below:
→ Veltra Ghibli Museum tour package
→ Klook Ghibli Museum tour package
5. Ghibli & Film Appreciation and Bus Tour Package
If all the above are sold-out, then your next option is booking the Ghibli & Film Appreciation and Bus Tour Package from either GetYourGuide, Veltra, or Klook.
The price is ¥13,500 per person, however.
Package inclusions:
Bus transportation with an English-speaking tour guide.
Lunch buffet at Hotel Gajoen in Tokyo.
A side tour of Edo Tokyo Open Air Museum (or Jindai-ji Temple or Takahata Fudoson Temple if visiting on a Monday).
Visit to the Ghibli Museum.
If you think about it, this package is a very good deal! The tour guide though will not go with you to the Ghibli Museum. So you are free to explore the museum by yourself!
Reviews from tourists who have availed this package swear by being a unique way to experience Tokyo with Ghibli Museum as a side trip.
In summary, below are all ticket options and package tours available to visit Ghibli Museum on last-minute booking, all happen to be offered on Klook:
6. Ask your Hotel Concierge to book you the tickets.
If you're staying at a hotel (sorry Airbnb users), contact your hotel concierge and ask if they can buy your tickets in advance and they will usually buy it for you. Many hotels in Japan have done this favor for their customers while they have not arrived in Japan yet.
They get the tickets from a Lawson Loppi Machine. But they'll charge a 10-20% fee for the service. It's still cheaper than buying tickets last-minute.
7. Ask a friend who lives in Japan.
If you have a friend who lives in Japan, ask that friend to buy the Studio Ghibli ticket for you from Loppi Machine. The ticket price is only 1,000 yen, which is the original price of the Studio Ghibli Museum ticket.
I have done this as a favor for a friend who was visiting Japan. I bought the ticket a month before his visit. All I needed was his full name and his desired date and time of visit.
WHAT TO READ NEXT: Studio Ghibli Museum Review: Is it worth the time and money?