Situated north of Japan's most famous landmark Mt. Fuji, is Kofu city, the capital of Yamanashi prefecture. Kofu is renowned for its wine, gemstones, and the fantastic Shosenkyo Gorge. For us, it seemed like an excellent opportunity to explore a lesser-known city of Japan, and because we wanted to escape for a weekend.
Kofu has a really interesting feel. It offers the best of both a rural escape and an active city life. The city itself is very well organized and clean and offers plenty to see and do on its own. However, should the mood arise, the mountains and forests surrounding it are only a quick 15-minute drive away.
For the sports fans among you, Kofu is also the home of Kose Sports Park, which is a training facility for competitors for the upcoming 2020 Summer Olympics.
Our day-by-day Kofu itinerary
Here's the itinerary summary of our Kofu trip:
Day 1
Kai-Zenkoji Temple
Takeda Shrine
Rokuyokan Coffee Store
Maizuru Castle Park
Baja and Menzal – UPDATE: Permanently closed 🙁
Day 2
Shosenkyo Gorge and Ropeway
How to get to Kofu
Traveling to Kofu is relatively simple both by car and train. And from Tokyo, the trip shouldn't take more than 2-hours. We tell ourselves that we choose to travel by car because we live here and enjoy the ride! And that's true! However, in reality, it's because our daughter REALLY doesn't behave well on long train rides.
By Car: Driving is very straight forward; just use Google Maps or your car's GPS. Just be aware that Google Maps has a habit of sending you in circles occasionally, particularly on highways when many roads are intersecting; which can lead to costly tolls. Driving to Kofu takes about 1 hr and 30 from where we live (Kanagawa Prefecture).
By Train: There's a direct train from Shinjuku Station that will take you straight to Kofu Station in just 1 hr and 30 min by taking the Chou-Line Limited Express. JR Pass covers this if you have one.
By Bus: Although a cheaper option, at only ¥2,000 one-way, it's a much slower option taking somewhere between 2-3 hours depending on stops and traffic.
RENTAL CARS IN JAPAN: We recommend booking through White Bear Family's car rental website, a Japanese travel company. We've used them in the past when we went to Kyushu and we got a better deal compared to other popular car rental sites we've seen.
How to get around
If you don't or can't opt to travel by car then don't worry, Kofu is a straightforward city to get around in. We recommend renting a bicycle since the city is very bike-friendly, offering lots of bike paths and lanes, and most everything of note is within a reasonable distance from each other.
We also noticed a few guided bike tours while we walked around the city, but we weren't able to find any information about this online. Please, feel free to let us know if you find the company providing these tours, it seemed like lots of fun!
Buses are your next best bet as they run quite regularly, unlike in the more rural areas surrounding the city. Buses are super easy and convenient to use in Japan, so follow the directions on Google Maps.
As always, taxis are the last resort. In fact, walking is still often a better option. Trains are useful for getting around the various cities in Yamanashi, but they don't run throughout the town itself. So they're pretty limited in usability.
If you can't drive but still want to see as much of Kofu as possible, we found this Kofu Sightseeing taxi tour.
Where to stay in Kofu
If you've read our blog in the past, then you'll probably not be surprised to hear that we stayed at the local Dormy Inn. As usual, the hotel was super clean, comfortable, convenient, and more importantly, offered a great breakfast, free ramen, and beer!
There are two Dormy Inns in Kofu, but the particular one we stayed at offered an indoor and outdoor public bath and sauna, and a relaxation room on the top floor with a view overlooking the city.
The most popular hotels in the Kofu area include:
We only stayed in Kofu as an overnight getaway during the weekend but seriously considered staying an extra night, even if it meant waking up super early to drive back home. We find that short trips like these really help de-stress after long work weeks.
Things to see & do in Kofu
1. Kai-Zenkoji Temple
Our first stop was Kai-Zenkoji Temple. We've been to many temples around Japan and figured Kai-Zenkoji would be nothing out of the ordinary and were pleasantly surprised. Although it all the same characteristics of every other temple in Japan, Kai-Zenkoji differs by actually looking and feeling like a temple from the 15th century. Some may attribute this to a general lack of maintenance, but I don't think that's true.
The temple looked well maintained, but, rather than renovating the temple regularly like most temples in Japan, Kai-Zenkoji keeps the weathered look of an old wooden temple, which is honestly more visually appealing.
History: Takeda Shingen, a daimyo of Kai Province (present-day Yamanashi Prefecture), established Kai-Zenkoji Temple to protect Kai Province's great Buddhist treasures and golden statues from the battles of Kawanajima.
2. Takeda-jinja (Takeda Shrine)
Although small, the entrance to the shrine is made charming by the red bridge crossing a small stream.
In the spring, the cherry blossom street that leads to Takeda Shrine, called Takeda Dori (Takeda Street), is stunningly beautiful and is something for us to look forward to next year since we went too early this year. Thankfully, the cherry blossoms around the shrine were already in full bloom and did not disappoint.
The Takeda Shingen Festival also takes place here every first weekend of April, where a theatrical parade goes around the shrine portraying the life of Takeda Shingen. The theatrical performance is practiced all year just for this one weekend, so it's a real treat to witness. Takeda Shingen, also founded the shrine to dedicate it to the kamis.
3. Maizuru Castle Park
This is the jewel of Kofu and the highlight of our trip. The castle park is over 400 years old and, as the name would suggest, was once the location of Kofu Castle.
The walls, gate, and towers were all restored, and the inner grounds converted into a public park and memorial in the years since the destruction of the castle. The castle gained the name "Maizuru" (dancing crane) after the stunningly beautiful white walls.
The grounds are some of the most beautiful I've seen in Japan, with over 160 cherry blossoms in full bloom, and perfectly maintained grass. There was plenty of hanami goers visiting the park, and we would have joined them ourselves, but the day was cut short by rain.
4. Shosenkyo Gorge and Ropeway
We went to Shosenkyo Gorge early the next morning, on a chilly spring day. We heard from many people that this area is gorgeous in the autumn, so perhaps we'll revisit it in the future. Even without the golden hues of autumn, the gorge is still a must-see.
Reaching the gorge without a car might be a bit of a hassle, but some buses have routes to it. We parked in a small parking lot near the beginning of the gorge trail, and from here, you have a few options.
You can drive further up the path to the larger parking area; which is closer to the ropeway, you can walk the way through the gorge up to the ropeway, or you can do what we did and pay for a van to take you to the ropeway parking then walk back down at the end.
The walk through the gorge was very serene and offered of photo opportunities; which Ada loved. The ropeway takes you to an observation point with gorgeous panoramic views of Mt. Fuji and the Minami Alps.
At the base of the ropeway is a small village with many souvenir shops mainly selling local gemstones mined from the area, as well as a few restaurants. We hiked back to the parking lot and that's when we saw the beautiful Senga Waterfalls.
5. Senga Falls
Where to eat in Kofu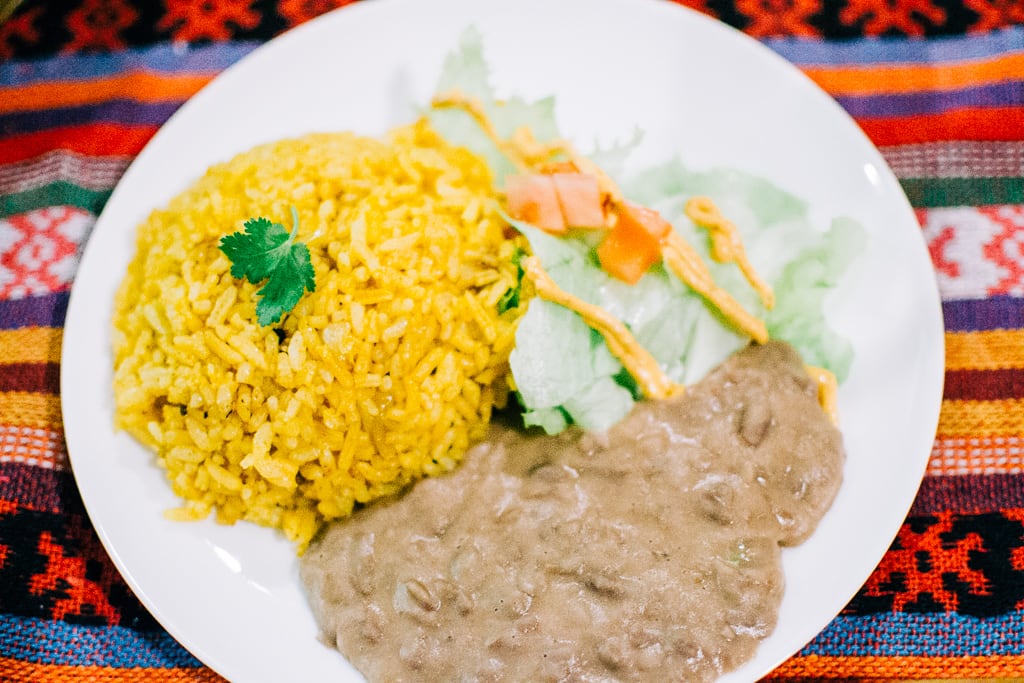 Kofu has a surprising amount of variety when it comes to cuisine and left us with plenty to return and try in the future.
During our stay, we ate at a Mexican restaurant (of all things) called Baja and Mezcal, which served some of the best food we've had the pleasure to eat in Japan. I was particularly happy because it's challenging to find good Mexican food in Japan.
We also visited a small coffee shop called 六曜館珈琲店 (Rokuyokan Coffee Store) which was about as cozy as you could get. The coffee was good, but the desserts steal the show here. We had to leave early due to our daughter getting bored and acting up, so we'll be returning to try more of the menu.
6. Explore Kofu at night
Will we be back?
Definitely yes. We feel like Kofu has much more to offer, and we enjoy shining a light on these less touristy parts of Japan. It's a place you're not likely to find on any travel website, and that's okay.
We look forward to our next trip to Yamanashi, and I hope you explore this fantastic area along with us!
WHAT TO READ NEXT:
→ Lake Yamanaka: Our Itinerary to Fuji's Biggest Lake
→ Fujinomiya: Our Itinerary to the "Other Side" of Mt Fuji