Ever wanted to wait in line for 3 hours for a 10-minute ride? It's not an exaggeration! Universal Studios Japan (USJ) is ranked 5th among the top 25 theme parks across the globe, and the lines REALLY can be that long.
So our article aims to alleviate your frustration of queuing to the must-ride attractions inside the park and explain everything you need to know about Express Pass tickets — the KEY to enjoying the USJ.
Not buying an Express Pass?
→ Click here on how to visit the park strategically without an Express Pass.
What is Universal Studios Japan Express Pass?
The Universal Express Pass is a separate add-on ticket to your park entry ticket (Studio Pass) that allows you to shorten your waiting time to ride the popular attraction rides in the USJ park.
You can buy your express pass at the park entrance, but the number of passes they sell each day is limited, so be sure to book your pass in advance.
How does the USJ Express Pass work?
Just show your Express Pass ticket to the attendant at the Express lane. They will scan your ticket and you'll follow the lane to the point where it merges with the regular line (usually at the front).
At that point, you'll need to scan your pass again and be good to go. While you are still likely to encounter a small line in the express lane, it should be a short wait, 5-10 minutes, rather than the up to 2-hour lines in the regular queue.
It should be noted that the Express Pass is NOT a group pass, so everyone in the group will need one to enter the Express Lanes. Also, you're not able to transfer passes between group members either.
Why should I get the USJ Express Pass?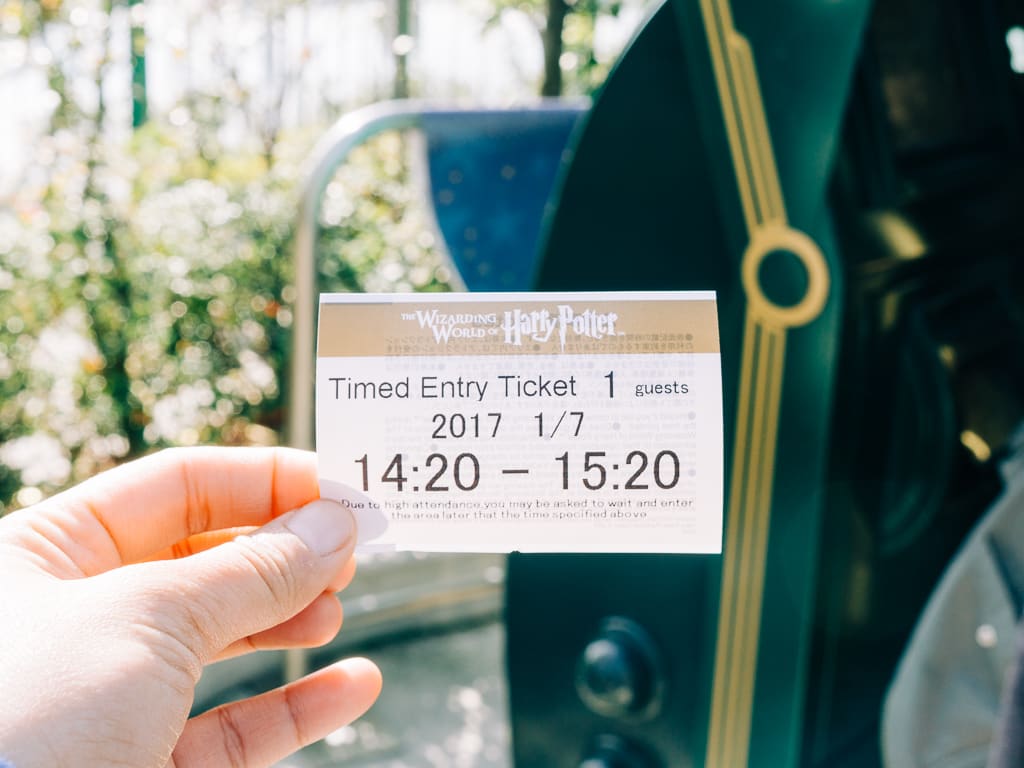 USJ is VERY popular and the top attractions within the park have to wait up to 3-hours long during peak season. Without an Express Pass, you'll only ride 1 or 2 rides — not much fun, right?!
Here are 3 simple reasons why you should get an Express Pass:
To save time – Express Pass opens up your day, allowing you to take your time and explore the park at your leisure, rather than rushing from ride to ride, only to waste half the day waiting in lines.
If you have kids – If you are visiting with kids who don't like to wait in long lines, then getting the pass will save you a headache.
Guaranteed entry to The Wizarding World of Harry Potter – Several of the USJ Express Pass tickets also automatically grant you access to The Wizarding World of Harry Potter, so you don't need to worry about missing out on USJ's biggest attraction.
Is USJ Express Pass worth it?
It's absolutely worth it because you won't have to wait for hours just to experience a top attraction.
Express Pass is pretty much a requirement if you are visiting during peak season (cherry blossom and fall foliage seasons, Golden Week end of April to early May, and Obon mid-August).
When to buy USJ Express Pass?
Book your Express Pass tickets 2-4 weeks in advance when visiting during peak seasons, especially if you are visiting with your family or in larger groups.
Why buy in advance?
USJ releases a limited number of Express Pass tickets per day and tickets sell out quickly. Because of the limited supply, you shouldn't expect to be able to buy Express Pass tickets on the day of your visit.
This is why I highly recommend buying your Express Pass and booking it for at least 2 weeks before your park visit.
Where do I buy USJ Express tickets?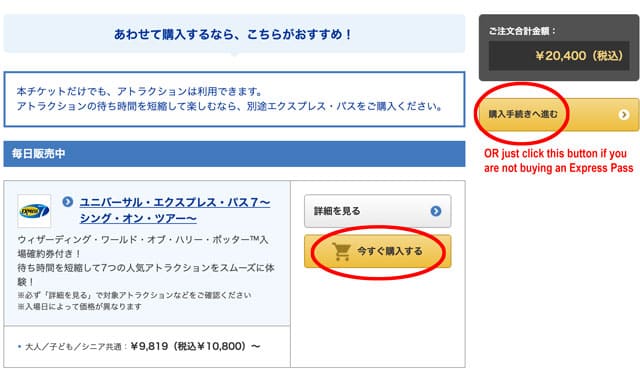 We recommend booking your USJ Express Pass tickets online, preferably from a reputable Japanese travel agency such as Klook. They're authorized ticket sellers of Universal Studios Japan.
The additional benefit of purchasing your ticket online is that you'll likely find many discount tickets. Your Express Pass e-ticket will be emailed to you containing the QR Code that the staff will scan when you enter the express lanes at attractions.
You can also buy directly from the Universal Studios Japan website, though, without a solid knowledge of Japanese, booking through the website can be a problem.
RELATED READ: How to buy Universal Studios Japan tickets (from the Japanese website).
Which Express Pass Should I Buy?
The answer is: It DEPENDS on your attraction preference. What are the top rides would you like to experience?
You can choose from 3 types of Express Passes:
Personally, I got the Express Pass 4 Standard because I was only interested in 4 rides.
Buy Express Pass 7 if you want the Timed Entry Ticket to both Super Nintendo World and The Wizarding World of Harry Potter.
How much is an Express Pass ticket?
Prices varied depending on the date. Please see the all links to view the current prices.
Is Express Pass an unlimited ride?
The pass will NOT give you unlimited rides. For example, if you've already used your Express Pass on The Forbidden Journey Ride, you cannot go to the Express Pass Lane of Forbidden Journey again.
You will need to line up in the regular queue to ride it again.
If you want an Express Pass with unlimited rides, get the Royal Studio Pass. The Royal Studio Pass includes park entry plus unlimited express pass access to ALL rides and attractions. Royal Studio Pass is currently unavailable.
Is Express Pass Similar to Disney's FASTPASS?
Express Pass is different from Disney's FASTPASS. FASTPASS is free and gives you a specific time to ride an attraction, while Express Pass allows you to shorten your queue and costs money.
Express Pass tickets are sold out on the day of our visit! What do I do?
I am sorry if the USJ Express Pass is not available on the dates you chose. Thing is, Express Pass tickets do really get sell out, so you may need to plan your trip around it.
Are you okay with moving your travel date to experience USJ? That's really the only option.
Make sure to book in advance next time. If you can't move the date, follow our USJ Guide on how to visit the park strategically without an Express Pass.
WHAT TO READ NEXT:
→ 19 Ways to save money when visiting Universal Studios Japan