The efficient transportation system in Japan makes traveling between Tokyo and Osaka City easy and fast. However, not all transportation methods from Tokyo to Osaka City are created equal.
For example, flying to and from Osaka may end up being the most expensive, and, surprisingly, the longest option to travel (we'll discuss the reasoning for this later).
Key Points:
The fastest way to get to Osaka City from Tokyo is via the Hikari Shinkansen (bullet train). It's also the easiest and most convenient option because there's no train transfer involved.
The cheapest way to get to Osaka City from Tokyo is by overnight Kosoku Bus. Price starts as cheap as 2,400 one-way.
Flying from Tokyo to Osaka is the most expensive and the most inconvenient option due to airport transfers and train transfers hassle.
Here's the quick comparison table:
Related Read:
Here are the best ways for both tourists and residents alike to travel from Tokyo to Osaka and back:
1. By Bullet Train or Shinkansen
The fastest and most efficient way for you to travel between Tokyo and Osaka is by taking the bullet train, or, in Japan, more commonly known as the Shinkansen. There are several different Shinkansen trains to choose from, depending on a few different factors.
If you have a Japan Rail Pass: The Shinkansen trains that are covered by Japan Rail Pass (JR Pass) ticket are the Hikari and Kodama trains.
From Tokyo to Osaka or vice versa, it takes about 3 hours for Hikari trains, and 4 hours for the slow-moving Kodama trains, since it stops at all stations. The obvious best choice is, of course, the faster train–the Hikari Shinkansen.
There are few important points to remember when taking the bullet train with your JR Pass:
We recommend that you reserve your seats in advance (at least the day before). This is to guarantee that you will have seating the entire train ride. Just go to any JR Ticket Office to reserve. Seat reservation is FREE of charge for Japan Rail Pass ticket holders. It normally costs 500 yen more for those who don't have it.
Now, if you weren't able to reserve seats the day before, you can still reserve your seats on the day of your travel. Just don't fret if there's a long waiting line at the JR Ticket Office especially if it's holiday or peak season.
If you don't have Japan Rail Pass: Your best choice would be the fastest and most frequent bullet train—the Nozomi Shinkansen.
From Tokyo Station (or Shinagawa and Shin-Yokohama Stations) to Shin-Osaka Station (the gateway to Osaka), it takes about 2 hours and 20 minutes and costs about ¥14,720 one-way for a reserved seat. For a non-reserved seat, it is ¥13,870. You can also ride the Hikari, Kodama, and Platt Kodama trains. The train costs ¥14,400 one-way for a reserved seat.
I personally would not choose those bullet trains since it's only ¥320 cheaper than Nozomi. I'd rather pay the extra ¥320 and ride the faster Nozomi! In fact, Nozomi Shinkansen was the train I took when I visited Universal Studios Japan and it was only a 2 hour and 15-minute ride from Shin-Yokohama station.
If you have more time (and want to learn more about Japan and its offbeat destinations): You should consider the 7-Day Unlimited Tokyo-Osaka Hokuriku Arch Pass. I have not personally tried this train pass.
But, from looking at their website, it's basically traveling between Tokyo and Osaka via Kanazawa route (also known as "The Golden Route") using the Hokuriku Shinkansen and select railways. It is also cheaper than the 7-day JR Pass.
Where to Buy Shinkansen Tickets
Now that you have an idea of which Shinkansen or bullet trains to take, the next question is, where to buy the tickets.
1. JR Ticketing offices or any JR Tokai Tours offices. Shinkansen tickets can always be purchased at any JR Ticketing office, or at any JR Tokai Tours office, and can be purchased on the day of your travel (except the Platt Kodama ticket where you need to purchase it the day before).
2. Online travel agencies. The JR Ticketing Office does not have a website to sell tickets in advance. So for tourists who have not yet arrived in Japan, your best option is to purchase your tickets from an authorized online travel agency.
Discount Options on Roundtrip Shinkansen Ticket to Osaka
1. 20% OFF for roundtrip bullet train tickets.
Get the best value for roundtrip bullet train tickets with FREE 1-Day Osaka Amazing Pass (regularly priced at ¥2,700). You must exchange the printed e-voucher at a JR Ticketing office to get the actual bullet train ticket. This deal boards the Hikari bullet train.
→ Click to book your roundtrip bullet train tickets with FREE 1-day Osaka Amazing Pass
2. Bargain Universal Studios Japan, bullet train, and hotel package from Tokyo.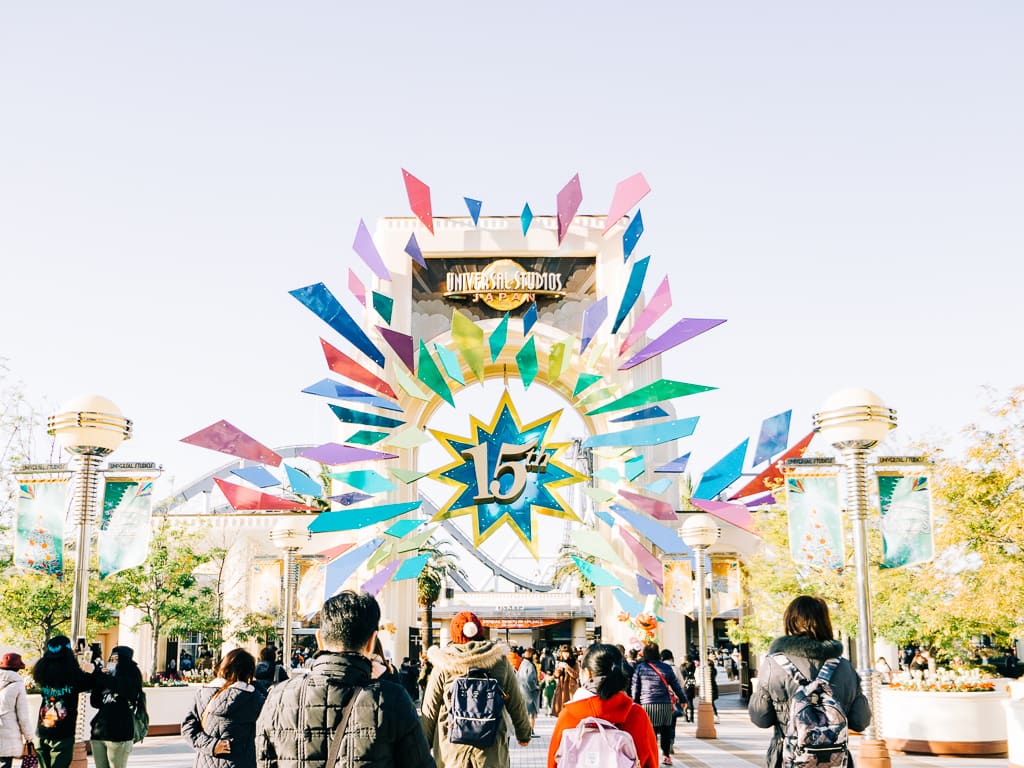 This is the best package if you're just looking to visit Universal Studios Japan from Tokyo. You can choose between overnight and 2-day Universal Studios Japan Package from Tokyo via the Hikari bullet train.
→ Click to SEE details for the overnight Universal Studios Japan package
→ Click to SEE details for the 2-Day Universal Studios Japan package
2. By Highway Buses
Travel time between Tokyo and Osaka using the highway buses is between 8-10 hours as it frequently stops for breaks. Most of these buses leave from the major stations in Tokyo or Yokohama.
If choosing this option, taking the nighttime bus is the recommended way, which departs between 9 and 11 p.m., as you can just sleep the whole ride so the time isn't really an issue. Plus, when you wake up you're already in Osaka, ready to explore!
Bus Companies that Travel from Tokyo to Osaka
There are three bus companies that travel between Tokyo and Osaka — Willer, Kintetsu and Kosoku.
1. Willer Express. For foreign travelers, the most popular among these buses is the Willer Express, since they have an English website where you can book and pay using your credit card. They offer a variety of options with discounted fares. Their lowest price starts at ¥4,100, but the travel dates need to be offseason.
Price varies per type of bus, generally, the newer the bus the more you will have to pay, such as those premium buses that have Sci-Fi looking seats which can cost up to ¥10,800+
2. Kintetsu Bus. Kintetsu Bus only accepts reservations over the phone which may cost you a bit if calling internationally. In addition, not seeing the photos of the bus and its features is also a downside when doing this way. Kintetsu Bus to or from Osaka starts at ¥4,000 and only leaves at night.
3. Kosoku Bus. Kosoku's English reservation website is now available where you can book online for Osaka or Tokyo and the great thing is: It is cheaper than the two other buses mentioned. They have a night bus that starts as low as 1,500 , and again, these low prices are for travel dates during the offseason.
Some buses are equipped with toilets and some aren't. Some have WiFi and some do not. Just make sure to take a look at what kind of features (like relaxed seats) that the bus offers, and if it matches your needs.
→ Click to reserve your seats on Kosoku Bus
3. By Air
Flying from Tokyo to Osaka only takes 1.5 hours. There are two airports to fly into when going to Osaka — Kansai International Airport (KIX) and Itami Airport (ITM).
A Word About Flying from Tokyo to Osaka
Most people see the 1.5 hour flight time offered by planes as being faster than simply taking the 4-5 hour bullet train to Osaka.
So for us, flying is the worst option to go from Tokyo to Osaka.
What you should consider is the 2-3 hours spent traveling to Narita Airport, plus the 1.5-2 hours of travel to Osaka from ITM or KIX. Add that all together and you end up spending 1-3 hours more traveling by plane than by bullet train. So, just remember to consider what we just mentioned.
KIX vs ITM
If you still choose to, flying into Itami Airport (ITM) is preferable because it's between Kyoto and Osaka, so you'll land closer to your destination in Osaka. However, flight tickets are a little bit more expensive when you choose that airport, but the end cost is still cost-effective and beneficial compared when arriving or departing from Kansai Airport (KIX).
Airlines that fly from Haneda and Itami airport are All Nippon Airways (ANA) and Japan Airlines (JAL). The cheapest that we saw was from ANA at ¥7,290 one-way from Haneda to Itami Airport.
Flying can be way more expensive (and a hassle)
That cheap flights may be appealing to most of you but note that it will take you longer to navigate your way to Osaka. Their airports are away from the city's center, thus additional expenses for transportation.
Just take it from our experience. We flew from Narita Airport to Kansai Airport via Jetstar. And boy, we will never do it again! The flight was cheap but the transportation to and from the airport was a hassle, expensive, and defeated the purpose of "the budget way."
I should have known better and conducted due diligence for the costs of everything. So, if you still choose to fly, it's important that you fly from Haneda Airport (HND) and arrive at Itami Airport (ITM) (or vice versa) as both are close to the center of the city.
Not only the transportation costs are cheaper but also faster and more convenient compared to flying to Narita Airport or Kansai Airport. Domestic low-cost airlines that fly from Narita are Peach, Vanilla, and Jetstar. They occasionally run promos and their price can be as low as ¥3,500++ one-way for flights between Tokyo and Osaka.
4. By Local Trains
Another option is to take local trains. Since Tokyo and Osaka are well connected with a series of different transportation networks, traveling by local trains is relatively easy, but very long when compared to other options. Local trains, commonly known in Japan as kakue-teisha or futsu-densha, are different from the Shinkansen because they stop at nearly every station, and are obviously much slower.
From Tokyo to Osaka, the trip will take you between 9 and 10 hours, with about 4 train transfers. This is not ideal for tourists visiting for very short periods, particularly if you have tons of luggage with you. You should also know that you'll most likely be standing for most of this time.
The cheapest ticket to get when traveling with local trains is the Seishun 18 Kippu, which translates to something like Youthful 18 Ticket. It is a seasonal ticket that is available only at a specific season and is a popular choice for Japanese students. With this ticket, you can have unlimited 5-day nationwide access to local and rapid JR trains for only ¥12,050 and can be shared by two or more people but they must be traveling together.
You can check the terms of use, sales period and availability of Seishun 18 Kippu on their website here.
5. By Driving or Car Rental
Driving between Tokyo and Osaka takes about 5.5 – 6 hours and costs about ¥12,000 tolls each way. Perhaps, this is the mode of transport that we should have done instead of flying. If you are renting a car, it is usually equipped with ETC card and price may be as low as ¥7,600 each way for tolls.
Depending on the car rental company, a reasonable price for car rental starts at ¥5,900+ per day for a compact car excluding insurance which is usually an additional around ¥1,300+ .
I would say that car rental is the best and cheapest way for group travelers with three or more people. It's also a wise idea to consider the costs of the gas here in Japan (perhaps ask the car rental company) since it's dispensed in liters rather than gallons. So while you may see a station advertising their fuel between ¥120-200, realize that means you're ultimately paying US$4.50-7.50 per gallon.
Where to find the best deals for car rental in Japan
Many car rental websites in Japan are all in Japanese, but this rental car company reached out to me demonstrating that their page supports English speakers and they have the best deals. Their price seems reasonable with a range of ¥5,900-¥10,000 per day.
→ Click here to rent a car to Osaka
Conclusion
Having presented you with five different options of traveling between Tokyo and Osaka, let's discuss which is the best for you. I created a table where you can see which is one best for each profile:
As you can see from the conclusion presented above, there are a few ways to travel between Tokyo and Osaka, each with their own pros and cons.
Personally, if you were to ask me since I travel with my husband and our preschooler, we would choose to drive (we've tried flying and we would not do it again). If we are not driving, our next option would be either to ride the Nozomi shinkansen or ride a night bus with a toilet and relaxed seating.
As for you, just choose whichever mode of transportation you want to based on your time, budget, and group size. At the end of the day, the most important thing is that you enjoy the ride and make the most of your Japanese trip to both wonderful cities of Tokyo and Osaka.