UPDATE: The Robot Restaurant is currently closed until further notice.
Get up to 51% OFF discount when you buy your Robot Restaurant Shinjuku tickets online. That's over ¥4,000 cheaper than the original price! And for your safety, we've only listed legitimate travel agencies in Japan.
Let's jump right in!
How much does the Robot Restaurant ticket cost?
The price at the door for the Robot Restaurant show is ¥8,000 per person, but you could get up to 51% discount when you buy online. Then add food and drinks for an additional ¥1,000-¥1,500.
Is it worth going to Robot Restaurant Tokyo?
If you can manage to get the tickets at a discounted price, then YES–it's absolutely worth it! The show is a strange combination of all of the kinky and crazy sides of Japan–downright bizarre and wacko, but in a good way.
There's really no way of finding out if it's really worth seeing it or not unless you do. For me, all the crazy acts and performances I saw were out of this world–it was insane, beautiful, and downright weird!
Only in the Robot Restaurant, you can discover that avant-garde fashion is a good mix with futuristic neon costumes. It's a show that I will definitely watch again, but I personally wouldn't pay the full price. That said, make sure to book online.
Do you have to eat at Robot Restaurant?
No. You don't have to eat inside. Robot Restaurant isn't really a restaurant nor a place where robots serve you food. You don't need to buy a drink either but it certainly adds to the experience!
What is the Robot Restaurant
Robot Restaurant was created by Nami Osawa. It's a world of Wi-Fi robots, dance, lights, and sounds that overloads the senses and entertains in ways you'll not find in other dinner shows.
A place to be whisked away to a world where the futuristic meets traditional as robots dance along with a colorful cast of talented performers playing taiko drums and acting out increasingly wild scenes. Here, you'll encounter dinosaurs, pole dancers, samurai, aliens, carnival dancers, and of course, robots!
How to get to the Robot Restaurant
The Robot Restaurant is located at 1-chōme-7-7 Kabukichō, Shinjuku City, Tokyo. Take the train to Shinjuku Station and look for the East Exit. From there, the Robot restaurant is about a 10-minute walk.
Directions from nearby train stations:
A 3-minute walk from Seibu-Shinjuku Station.

A 9-minute walk from Shinjuku-Sanchome Station.

A 7-minute walk from Shinjuku-Nishiguchi Station.
NOTE: Kabukicho is Tokyo's most notorious red-light district. It is always extremely crowded here especially at night and it's easy to get lost. To easily navigate, click here to use our Google Maps pin.
4 Ways to Get Discounted Robot Restaurant Shinjuku Tickets
Voyagin is a direct-seller and an official partner of the Robot Restaurant Management. So booking through them is the easiest and most convenient way to get discount tickets.
Voyagin is the only travel agency that offers exclusive VIP front row seat upgrades to the show. Tickets for day time shows are 38% OFF while tickets for the evening shows are 23% OFF.
Don't forget to use coupon codes to save even more:
| VOYAGIN COUPON CODES | FINE PRINT |
| --- | --- |
| SAKURASPRING10 | US$10 OFF of US$150 minimum spend |
| SAKURASPRING25 | US$25 OFF of US$300 minimum spend |
| SAKURASPRING40 | US$40 OFF of US$450 minimum spend |
| Valid until 3/31/2020 | Click for more info |
Klook might be the cheapest travel agency to get your tickets, but their reputation as a travel agency is quite questionable online. Additionally, if you research a bit about booking Robot Restaurant tickets with them, you might even see a review advising against booking your Robot Restaurant tickets with them.
UPDATE: It seemed that Klook made an effort to remove that review on TripAdvisor. I wish I had a screenshot.
We've used Klook in the past, but not for Robot Restaurant tickets. That's because we find their booking policy a bit off-putting. They're a legit travel agency, after all. It's just that, their booking policy and customer service need room for improvement (email support only).
RELATED READ: Klook vs Voyagin: Which provides the best Japan experience?
UPDATE: We removed Viator on our list and replaced it with Veltra. After a bit of research and comparison, we simply found it safer to book with Veltra rather than Viator.
Aside from being an official partner of the Robot Restaurant management and Japan National Tourism Organization (JNTO), Veltra is a reputable website and a publicly listed company on the Tokyo Stock Exchange.
Veltra's ticket prices to the Robot Restaurant show is simple and straight to the point. In fact, it's the most user-friendly website to book your tickets from.
4. Metropolis Magazine.
You can always find a Robot Restaurant coupon inside the Metropolis magazine. Depending on the issue, you can get either a ¥1,000 or a ¥2,000 discount. Cut it out, call them to reserve, and show it to the ticket reception when you arrive.
Metropolis magazine is FREE and you can find them at the airport or your hotel. This link will show you where to find free Metropolis magazines. The DOWNSIDE is that you must call the Robot Restaurant by yourself to make reservations and inform them you are using Metropolis coupon. So be prepared for some language barrier.
NOTE: One discount coupon is limited to one person. If there are 2 or more of you watching the show, you'd better grab more than one magazine.
How long is the show?
The show lasts 90 minutes with a 5-10 minute break between each performance. During breaks, you can buy refreshments or use the restroom quickly. You cannot use the restroom during each performance, the staff will not let you return to your seat.
Robot Restaurant showtimes
The Robot Restaurant has 4 different showtimes.  The exact showtimes are as follows:
2:30 pm entry, main show at 3:30–5:00 pm (photo-op with the robots)
4:00 pm entry, main show at 5:30–7:00 pm (special live show in the lounge area)
6:30 pm entry, main show at 7:30–9:00 pm
8:30 pm entry, main show at 9:30–11:00 pm
The 5:30 pm show sells out FAST because it's only the time slot with special live performance while you wait in the "Robot Cafe and Bar" lounge area.
Arrival time recommendation
You must follow the time entry suggestion. That's because you need to consider the following:
You need to check-in your e-tickets and exchange it for the official ones.
The show is actually in a separate building than where you actually present your reserved tickets.
Robot restaurant management is very strict. Absolutely NO latecomers and refunds will not be provided.
So yeah, don't be late.
What to expect before the show?
Once the time comes to start the show, you'll be escorted to the main theater. There is food available in the main theater (you can buy it along with your ticket). I would suggest eating before the show, as the menu is very limited.
On the night we went, they were serving sushi in a bento box, but I'm not sure if they rotate the menu with other foods. Inside there is popcorn for 300 JPY, along with beer, and other alcoholic and non-alcoholic beverages starting at 500 JPY. But these can only be purchased during intermissions.
NOTE: Empty your bladder. You can't use the bathroom during an act. And if you're in the bathroom once an act starts, you can't return to your seat.
Overview of Tokyo's famed Robot Restaurant
First Act: A Mix of Old and New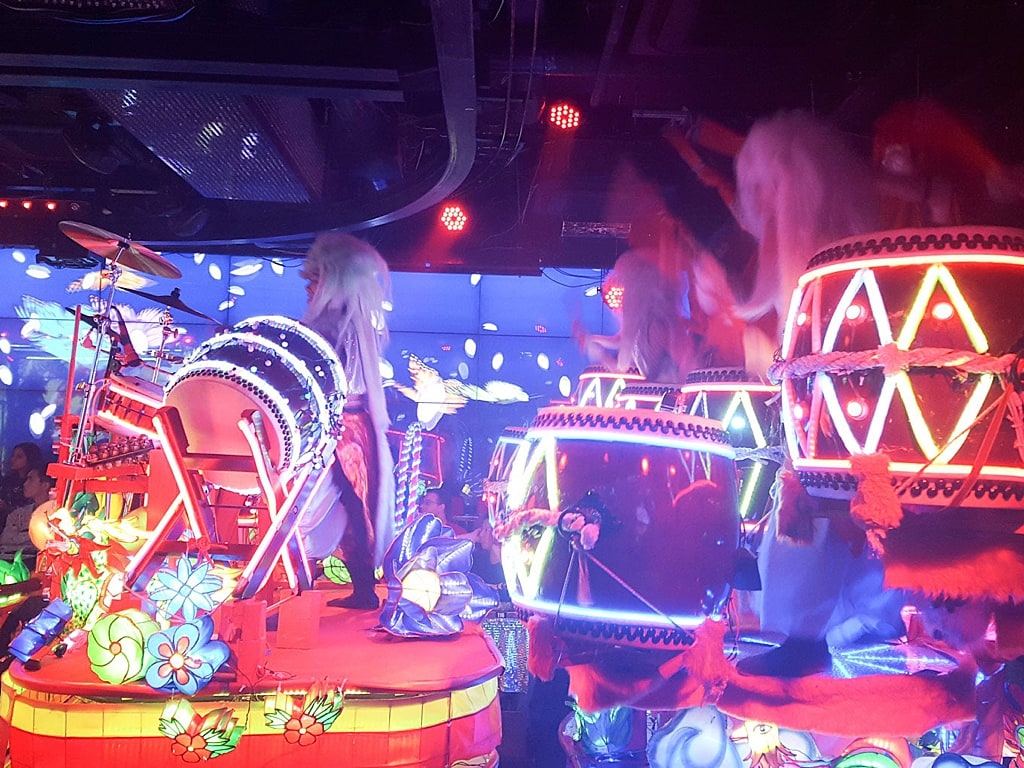 The show started with a highly entertaining traditional Taiko drum performance, mixed with some modern twists, such as neon lights, a rock drum set, and mixed traditional/futuristic costumes. Next, they brought out a long stage to allow dancers to join in on the music.
In all, the first routine was very fun and entertaining, and honestly, it might have been my favorite act, but it did feel slightly out of place in a venue known as the "Robot Restaurant."
Second Act: Robot Wars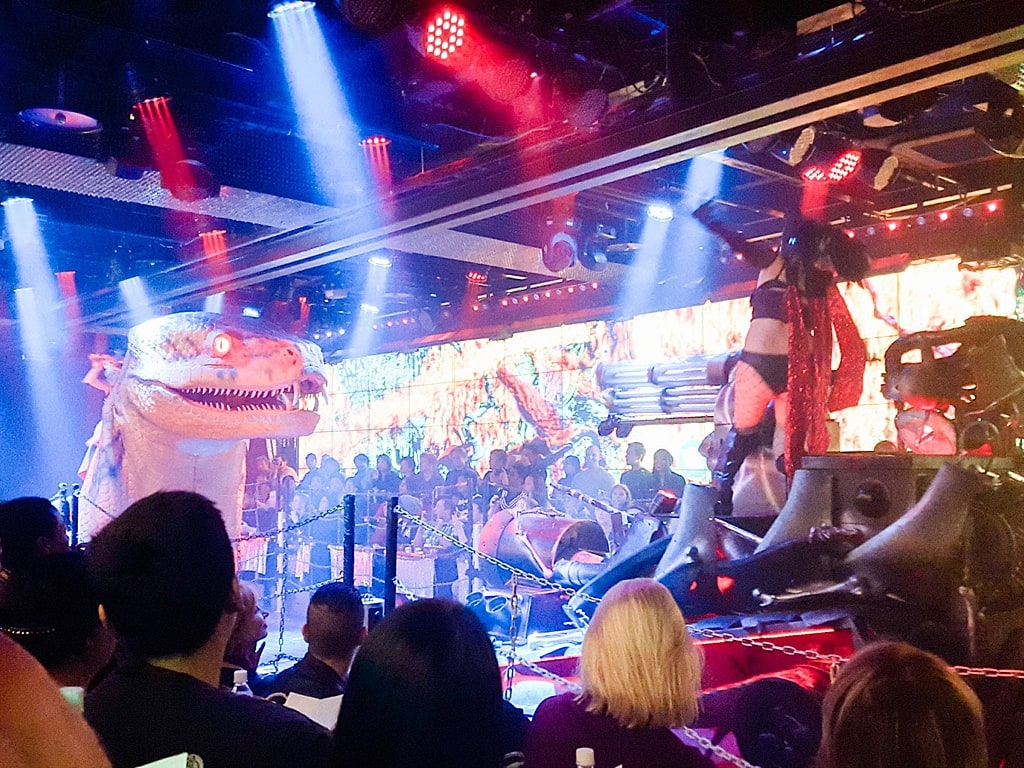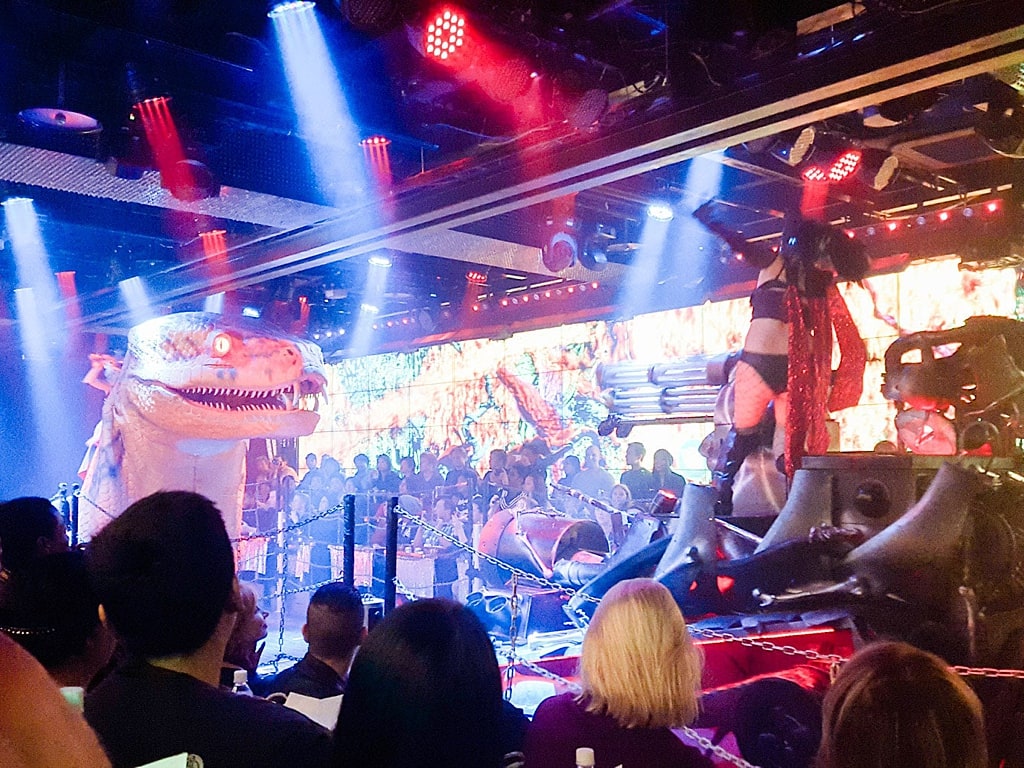 After an intermission, the second act was undoubtedly the weirdest thing I've seen during my 9 years in Japan! This act was supposed to tell a story of sorts, which turned out to be ridiculously corny. It included some things which would probably present legal issues if it were performed in America.
To start, the voice acting in the entire show is in English, even if the performers themselves don't speak it. It's all dubbed over the speakers. This leads to some unintentionally entertaining scenes of performers over-exaggerating their mouth and body movements, to pretend they are speaking in English.
As for the act itself, it's a story of a distant peaceful planet, unaffected by the war, where all the people and animals live in harmony when it's suddenly attacked by bad guys from the evil Robots world who want to rule it for themselves. During the explanation, there is a video on the giant screens, which are located on either side of the room, presenting the story.
The issue is that the music they play during the shows are straight out of quite high-profile movies, and the characters used to depict the bad guys are almost all from the popular Blizzard game series, Warcraft. This is not an issue against the show itself, but it does make you wonder if the operators of the show know they are stealing trademarked properties.
As for the music, the second act ends with the triumphant music of Indiana Jones. Throughout the show, I heard music from Star Wars, ET, and Jurassic Park. So hopefully they obtained permission from the correct people to use said music (I guarantee they didn't).
Third act: Giant Robots, Brazilian Carnival, Pole Dancing, etc.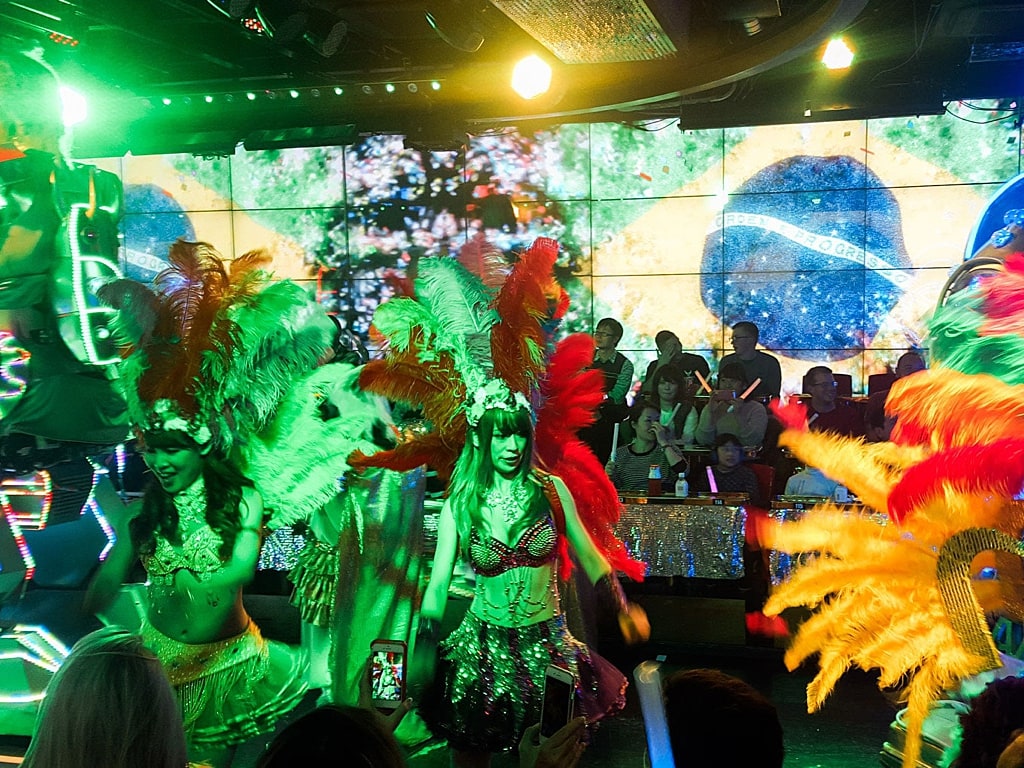 The third and final act was the most entertaining, as well as perhaps the loudest part of the show, and is the act by which the Robot Restaurant gets its name. It started with an introduction to all the cast members in the show, followed by an impressively coordinated routine by Japanese dancers dressed up in Brazilian carnival costumes. And involving around 10 to 12 different Wi-Fi controlled giant robots as the performers danced and sang to music a band was playing on a moving stage.
I say, all these were impressive, because it was amazing to me that they could pull off the show at all within the very narrow stage. It was narrow enough that, had one of the drivers of the robots (moving stages) made a mistake, it would have forced the whole show to stop while they repositioned. The stages were literally inches from one another and the audience.
In fact, I have doubts that such a show would be allowed in countries like the US without there being some kind of barrier between the stage and the platforms. Couple this with the fact that many of these same people controlling these machines are also dancing while driving, and it's very impressive.
Robot Restaurant Tokyo FAQs
1. What kind of food is available?
The glittery Robot Cafe and Bar lounge waiting area has several drink options such as beer, cocktails, Chuhai (a Japanese carbonated shochu) and a selection of wines. However, expect it to be pricey.
While during the show, the food menu is limited to popcorn and chips, drinks, and bento box meals. Their bento box comes in 3 options: Grilled Beef (¥1,500), Japanese Style (¥1,200), and Sushi (¥1,000), all of which come with mineral water.
These prices are ridiculous in my opinion, and you can get the exact same bento from a convenience store for ¥350 – ¥600. Really, no one goes to the Robot Restaurant for food, despite the name.
Having said all the things above, I highly advise that you eat before seeing the show, and, if you want to drink, do it before arriving (a reasonable amount, NOT drunk). I did say, alcohol adds to the show after all!
2. Is there a dress code?
No sunglasses, no very drunk customers, attention-grabbing outfits, or large wigs.
3. Why should I watch the Robot Restaurant show?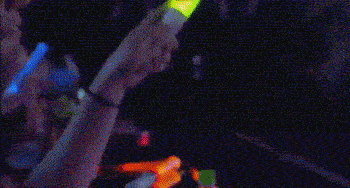 Aside from being a highly acclaimed attraction show in Tokyo for tourists and local businessmen, and being featured in Anthony Bourdain's Parts Unknown, Robot Restaurant is just pure fun.
It's weird, it's crazy, but it's completely entertaining! That is, if you're into Wi-Fi controlled robots, half-naked dancers in Brazilian costumes, Japanese taiko drums, futuristic effects, dinosaurs out of nowhere, and laser light shows.
Honestly, the Robot Restaurant was one of the most memorable shows I've seen; even though what I saw was insane and didn't make a lick of sense!
4. Can I bring my kids?
The Robot Restaurant show is not rated. Technically suitable for all ages. But whether you can bring your small children or not depends on how well they behave. The show is designed to be a sensation overload for adults! Loud sounds, music, and bright flashing lights could all prove too much for most children.
Couple that with the fact that you are actually in a red-light district, and it may not be the best place for you and your kids. Ultimately, however, it's up to you. Just don't forget to be a responsible parent. When your kid starts crying you better prepare your exit and accept the fact that you just lost your money.
Things to do around Kabukicho
Aside from wandering around the area getting distracted by many dirty Asian massage parlors and sordid nightclubs, there is a lot much more to do in Shinjuku and Kabukicho at night that you might want to do after watching the Robot Restaurant show.
Find the Giant Godzilla peeking behind the Hotel Gracery and TOHO IMAX Cinema.
Explore each floor of the Kabukicho Don Quijote store! You'll be surprised by what you'll see inside.
Walk into Golden Gai, an alley of intimate pubs and small but cozy taverns. I recommended joining a Golden Gai night tour with a local to take you to hidden gem pubs.
Have dinner at the most popular and authentically delicious ramen in Ichiran Kabukicho.
Sing all night at Karaoke-Kan with your friends and ask the front desk about the nomihodai course (all-you-can-drink course).
Or if you're looking for a peaceful and curious walk, visit the west side of Shinjuku Station and go to the Tokyo Government Metropolitan Building.