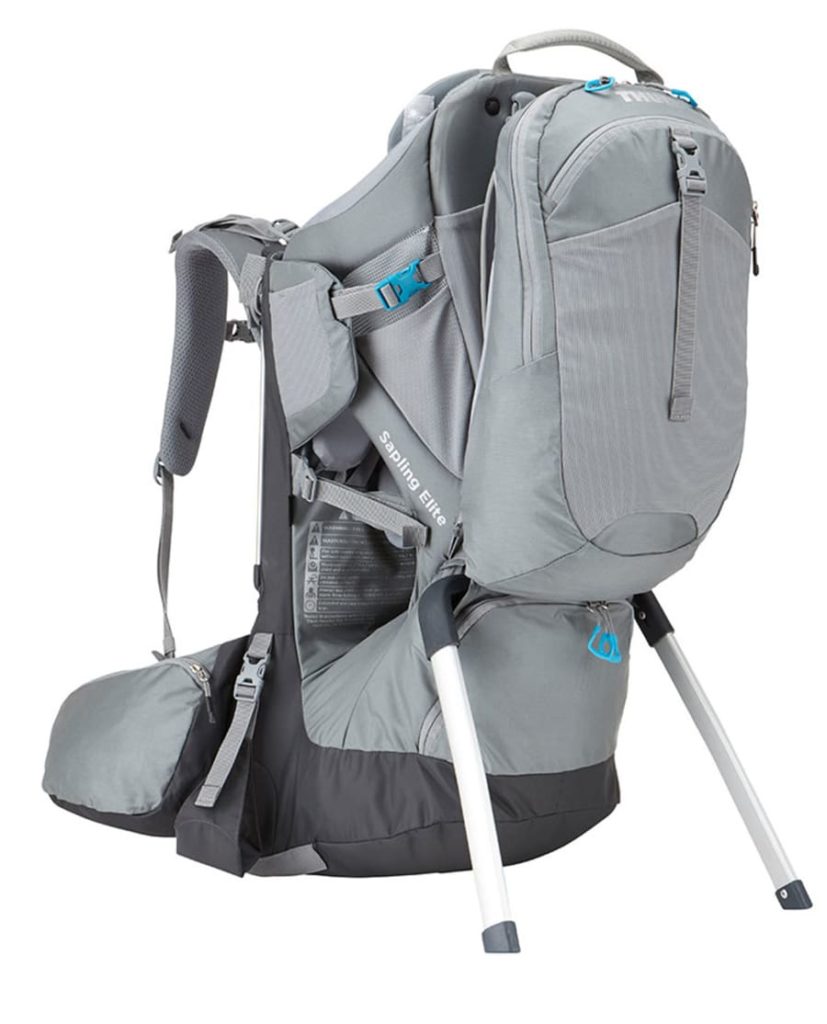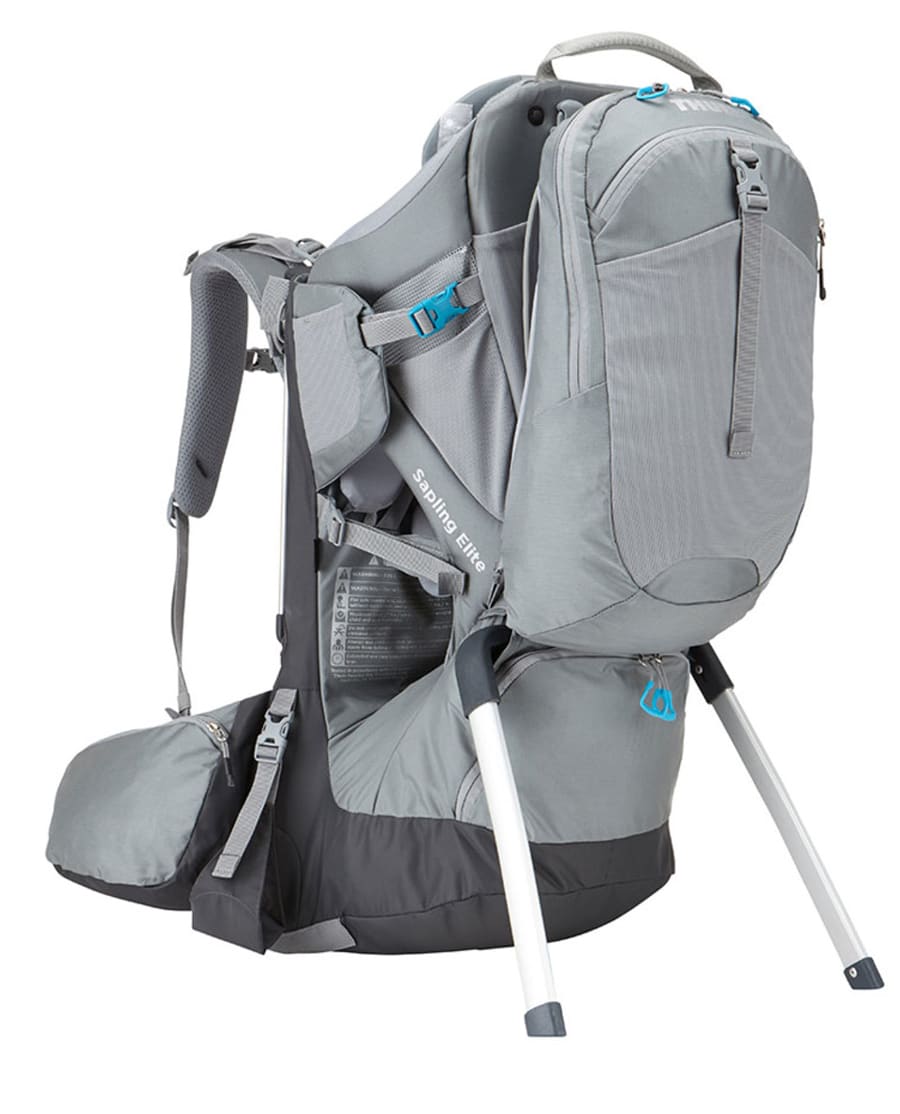 Thule Sapling Elite is an ideal child carrier backpack for babies or small between the ages of 7 months to 3 years. It's quick and easy to adjust between parents of different heights and very comfortable for both you and the little one.
The compartment underneath offers plenty of storage for diapers, clothes, and other baby items, plus a detachable backpack for more storage.
We've found that the Sapling Elite delivers on all that it claims — comfort, safety, and ease of use.
Benefits*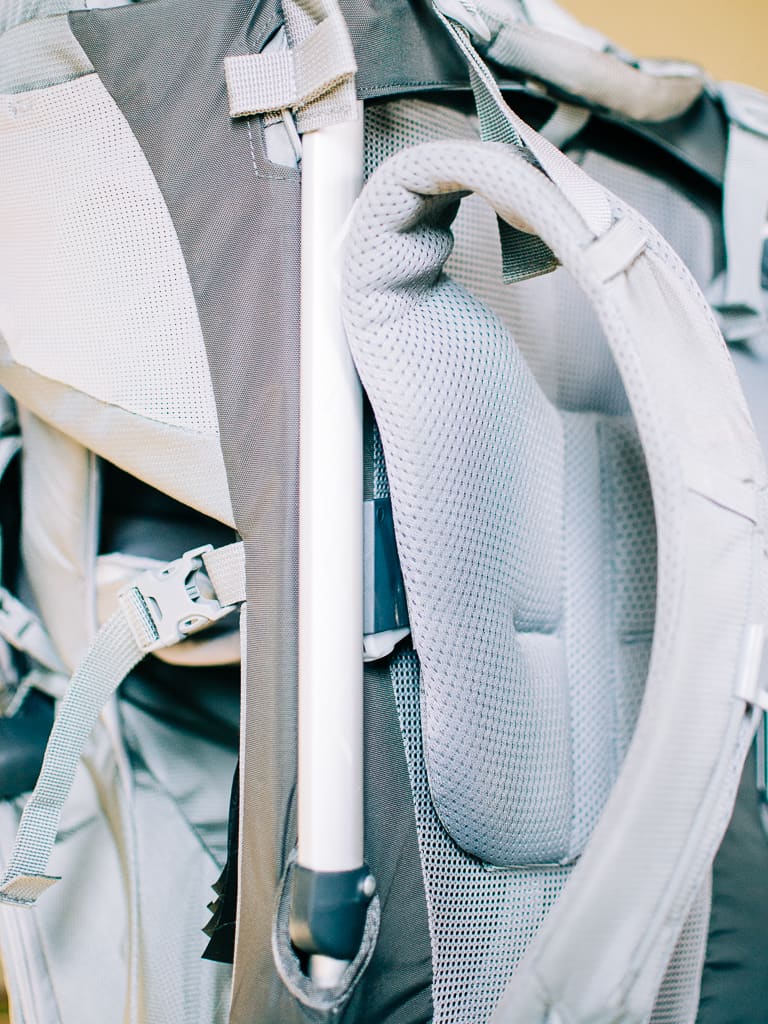 Comfort (for both wearers and baby)
Storage
Balance & stability
Sturdy
*compared to its main competitors
Pros
Easy to wear and adjust between parents of different heights.
Easy to adjust child height and shoulder harness.
Stabilizer straps for balance and center of gravity.
Comfort for both wearers and baby even with prolonged use.
Ergonomic child seat for thigh support.
Plenty of storage with roomy hip belt pockets for essentials.
Mirror included.
Removable backpack.
Cons
Sunshade is difficult to stow.
Deploying the kickstand needs effort.
Raincover needs to be purchased separately.
It's a bit difficult to strap the child into the seat, especially if they're being fussy.
Parents:
Eric (husband), 6'1, 240 lbs (108 kg)
Ada (wife), 5'1, 110 lbs (50kg)
Child: 10-24 months
DISCLAIMER: This is NOT sponsored. Thule never sends us anything. This child carrier backpack was bought out of our own pocket as we needed a child carrier for our travels. We are providing this review based on our experience and honest feedback. We find that reviews on Amazon are petty and unfair which is why we wrote this review. For us, Thule Sapling Elite is the BEST child carrier backpack out there.
Narrowing down
During the search for the best child carrier backpack, we were choosing between these three brands:
| Thule Sapling Elite | Deuter Kid Comfort Pro | Osprey POCO AG Plus |
| --- | --- | --- |
| Check Price | Check Price | Check Price |
| Preceded by: Thule Sapling | Preceded by: Kid Comfort III | Preceded by: POCO AG Premium |
We wanted to compare apples-to-apples here, so we choose between these backpack carriers because they each seemed to be designed for older babies, aged 7 months to 4 years old.
Kelty and Phil&Teds child carriers are other options but their packs seemed to be for smaller babies and can be quickly outgrown.
How did we end up with Thule Sapling Elite
Osprey POCO AG Fatal Flaws
Initially, we were looking at getting the Osprey POCO AG Premium. The design is more visually appealing than the two other child carrier backpacks and it seemed popular. However, in early 2016, about 31,000 units of Osprey POCO AG were recalled due to a fall hazard.
A cut in the plastic buckle on the shoulder strap can cause the shoulder strap to release, posing a fall hazard to a child in the carrier.

Source: United States Consumer Product Safety Commission
Aside from the defective buckles, many customers complained about a faulty hip design, which caused hip pain and even led to bruising after prolonged use of the carrier during their travel or hike due to the hip belt digging in.
Looks great but bruised my hips…

— Said one Amazon reviewer.
I found the hip belt to be anything but comfortable, it digs into my sides and when it's belted in feels uncomfortable to have around me…

— Said another.
These major complaints were major deal breakers and made us scratch Osprey POCO AG off our list of choices. This left us with the Deuter Kid Comfort III and Thule Sapling Elite.
Deuter Kid Comfort Transition Issues
The reviews were all positive for Deuter Kid Comfort but didn't provide any helpful feedback, like how long they used the backpack or any minor issues they encountered. These reviews screamed biased to me and we felt like many of the reviewers received their carrier for FREE and didn't really use it for prolonged use.
I dug deeper and searched for more reviews online and, finally, I found some user reviews from people who used it specifically for hiking and travel. Some complained that Kid Comfort didn't provide a good fit and didn't adjust well for shorters parents. Aside from that, some complained about the stability of the carrier being unbalanced.
These were both huge deal breakers for us because we needed a carrier backpack that could easily be adjusted between me and my wife, and the balance issue denotes a poorly designed carrier.
My wife is 5'2 and fit, but dainty. This pack cannot fit her properly.

— According to an Amazon reviewer.
This pack is huge and not intended for short people, I am 5'2 and 108 lbs.

— Said another.
UPDATE: Deuter just released a child carrier backpack for Women's Fit. Click HERE to see.
Due to those deal breaker reviews, we decided to get the Thule brand. We really couldn't find any negative reviews regarding comfort or safety issues with the Thule Sapling Elite.
In fact, from what I've read, the only complaint that most customers have from Amazon is that they received a wrong version from the third-party seller. Instead of the Sapling Elite, they received the old version, the Sapling. So we avoided getting the pack from Amazon and ordered it from a reliable online outdoor store instead.
The one positive thing I liked about the Osprey POCO AG and Deuter Kid Comfort, which the Thule Sapling Elite doesn't have, is the soft-padded chin pad. The Thule Sapling Elite doesn't really have a padded chin pad, just a drool pad. But again, this was not a dealbreaker and was easily remedied by just tucking a small plush blanket underneath her chin when it's time for her to take a nap.
Sapling Elite vs Sapling
There are two versions of Thule child carrier backpack, and the Sapling Elite is the latest version. The following table will show you the difference between the two: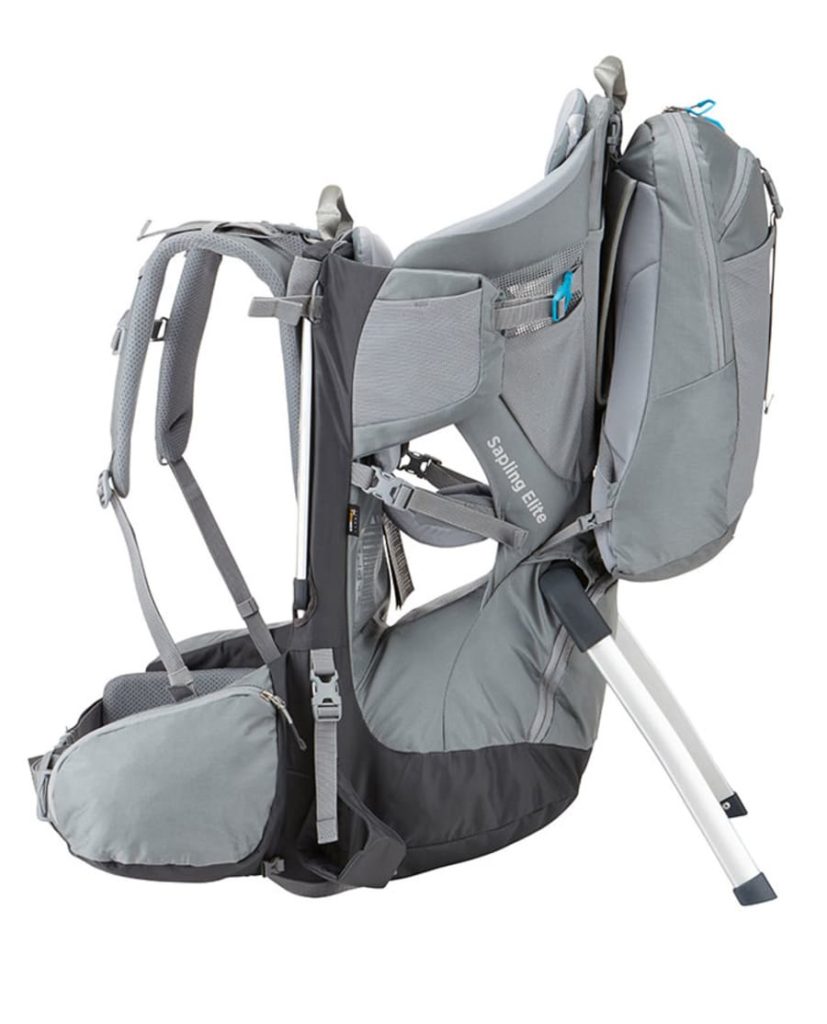 7.9 lbs
Max load: 48 lbs (22 kg)
Mirror included
Larger removable backpack
Extra room hip belt pocket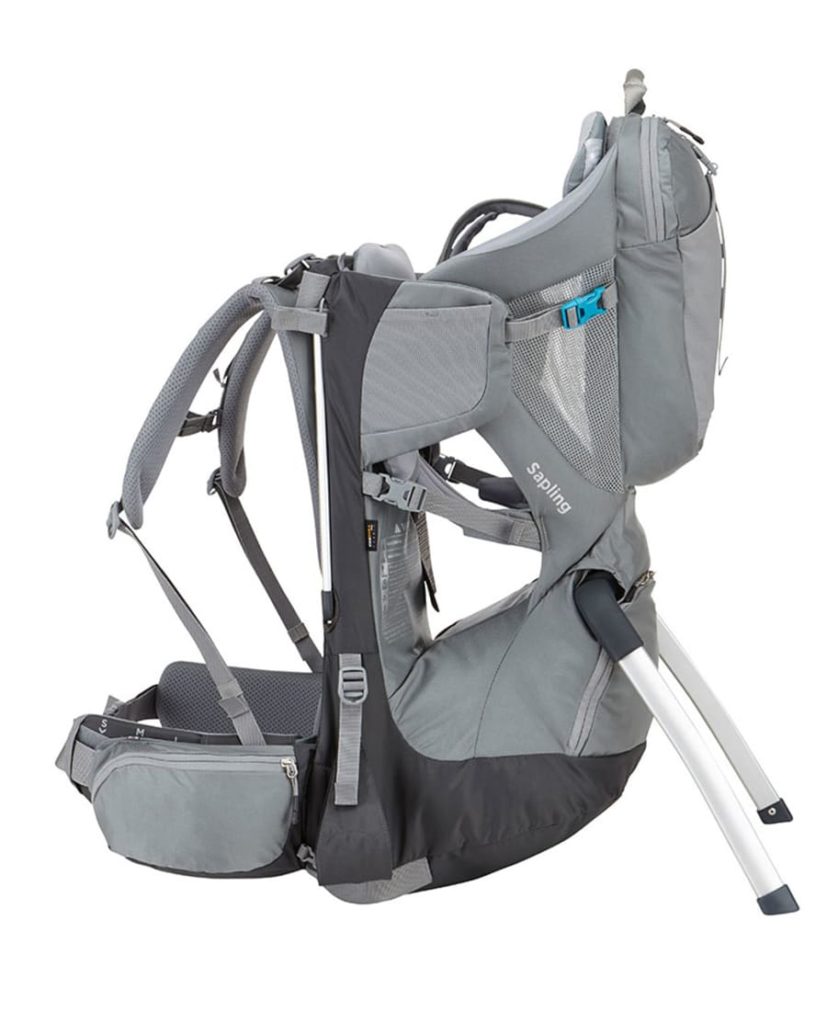 7.5 lbs
Max load: 48 lbs (22 kg)
No mirror
Unboxing and First Impressions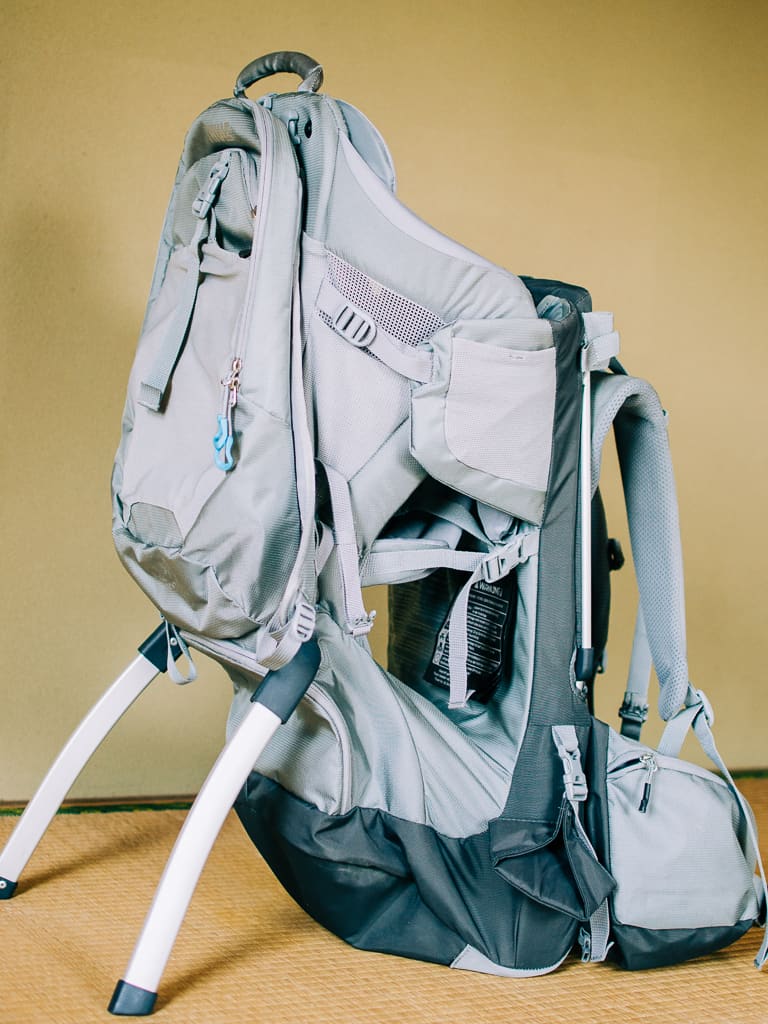 It arrived in a big box and it came fully assembled with a user's guide and instructions on how to adjust for proper fit for both the wearer and child.
The user guide was very straightforward and the backpack was indeed very easy to adjust.
We honestly thought we were doing it wrong at first because after adjusting we were like, "that's it?" But it turns out that's how easy it was to use and adjust the Sapling Elite.
We only needed to adjust three things when it arrived: The child seat height, the back panel to adjust for the torso length for the wearer, and the hip belt length. THAT WAS IT! Then we put our daughter in and we waited to see if she would be uncomfortable and to our surprise, she liked it!
How was the storage?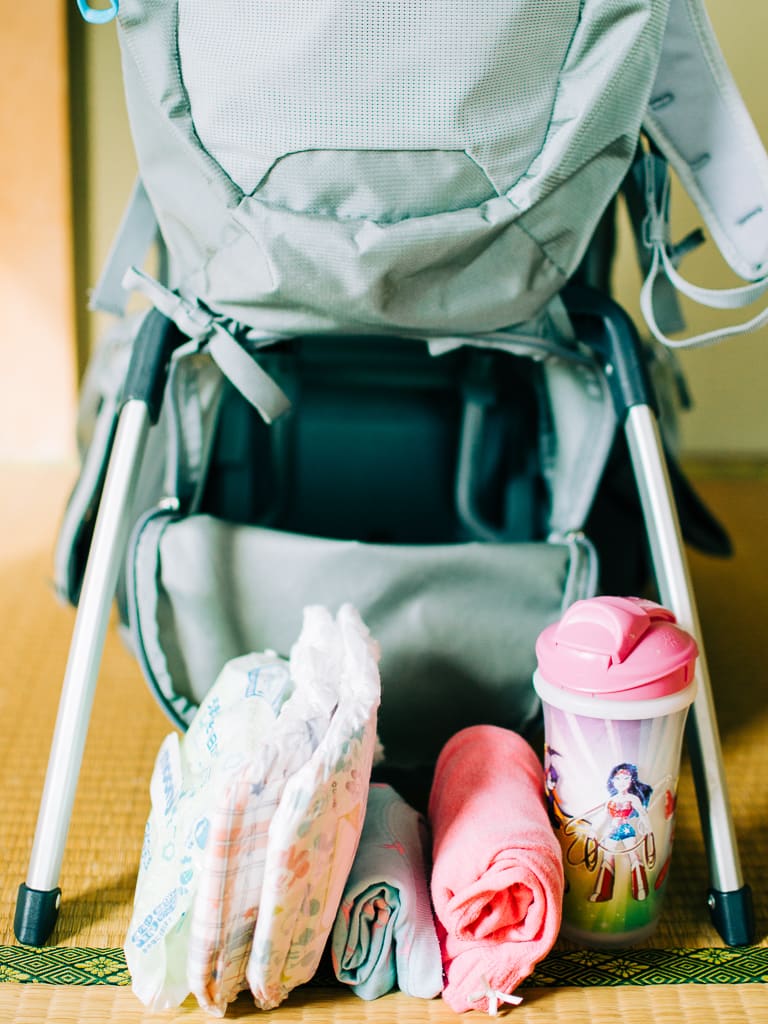 The carrier comes with two main storage compartments: an upper detachable backpack, and lower storage compartment.
I was actually quite impressed with the storage capacity of the backpack given how much space the child seat takes up.
To be clear, while there is a surprising amount of space in the backpack, remember that the weight really adds up when you're already carrying a 20lb child. That said, it does offer more than enough space for your child's essentials (e.g. diapers, formula, change of clothes, blanket).
The lower storage compartment (which I recommend loading first before the backpack, for balance purposes) offers a fair bit less space than the upper compartment, but was perfect for the smaller items, like bottles and diapers.
There are also two hip pockets, one of which contains the mirror, which are great for phones and car keys since the pack can make reaching your pockets a bit awkward. The pack also has a space for a hydration bladder, but is sold separately, so I can't speak to its usefulness.
What do you think of the removable backpack?
The removable backpack is a huge boon for hiking since, without it, my wife would be forced to carry all of the supplies, such as water, snacks, first aid kit, etc., which would really be difficult for her for a prolonged hike. The inclusion of the detachable backpack allowed me to share the load a bit, making the hike easier for her.
For shorter trips around the city we found ourselves removing the pack since we didn't need the extra space, and because the extra bulk would make navigating the busy Japanese trains a hassle to us and the other commuters.
Is it comfortable for you?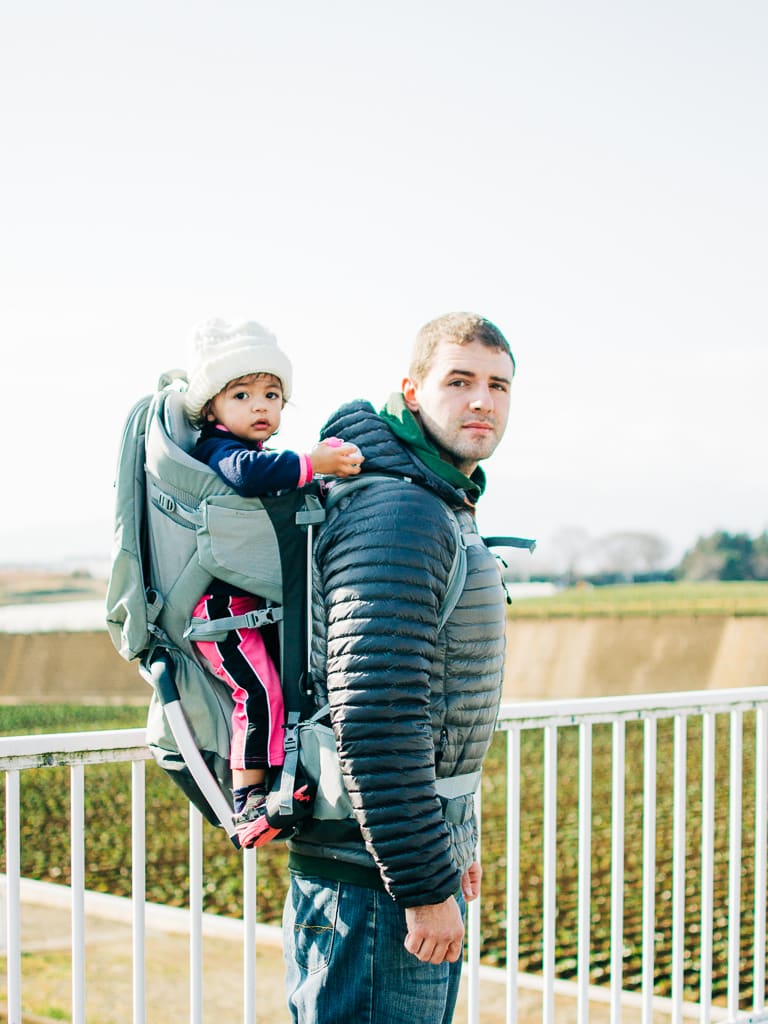 Yes!
I was actually surprised how comfortable it was after long walks and hikes.
Sure, it gets a bit hard on the back simply due to the weight you're carrying, particularly during hikes. But I never got a sense the pain was due to the bag, only the weight I was carrying.
The best part for me was the kickstand though, since whenever we stopped to rest, or we rode public transportation, we could simply set the carrier on the ground and not need to worry about it falling over. Now, our daughter hated this particular feature of the bag, but it helps the wearer nonetheless.
Is it comfortable for the baby?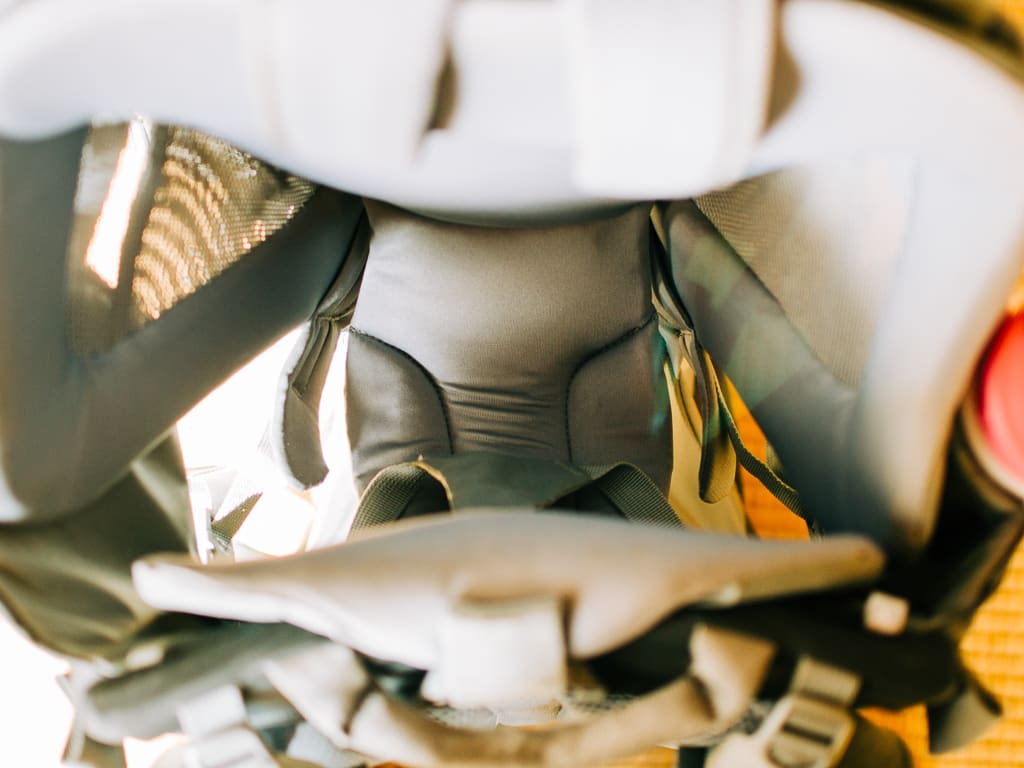 Since I clearly can't fit into the seat I will be basing this off of the reaction of our child. I believe our child has fallen asleep while in the backpack every time we've gone anywhere with her. I consider that pretty high praise considering how averse she is to falling asleep when interesting stuff is happening around her.
She doesn't seem fussy while strapped in, and really only takes issue with being placed on the ground, or while actually placing her into the seat, which I will admit, is a bit difficult due it the tightness of the seat. But that tightness doesn't seem to be an issue once inside, and she seems to enjoy the ride!
How's the switch experience between parents of different height?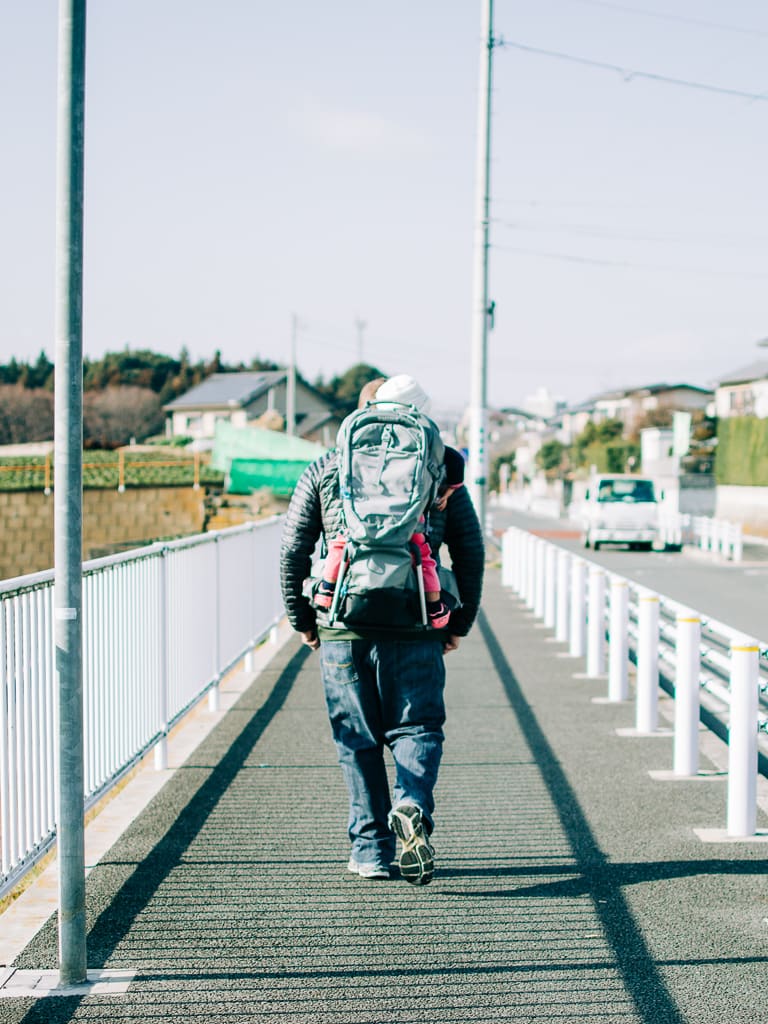 Switching between parents is as simple as adjusting the length of the back panel to the size of the wearer (using the kickstand to keep the pack stable on the ground), and pulling or loosening the shoulder straps and hip belt. That's it. You don't even need to remove your child from the seat!
How do you find the child-viewing mirror?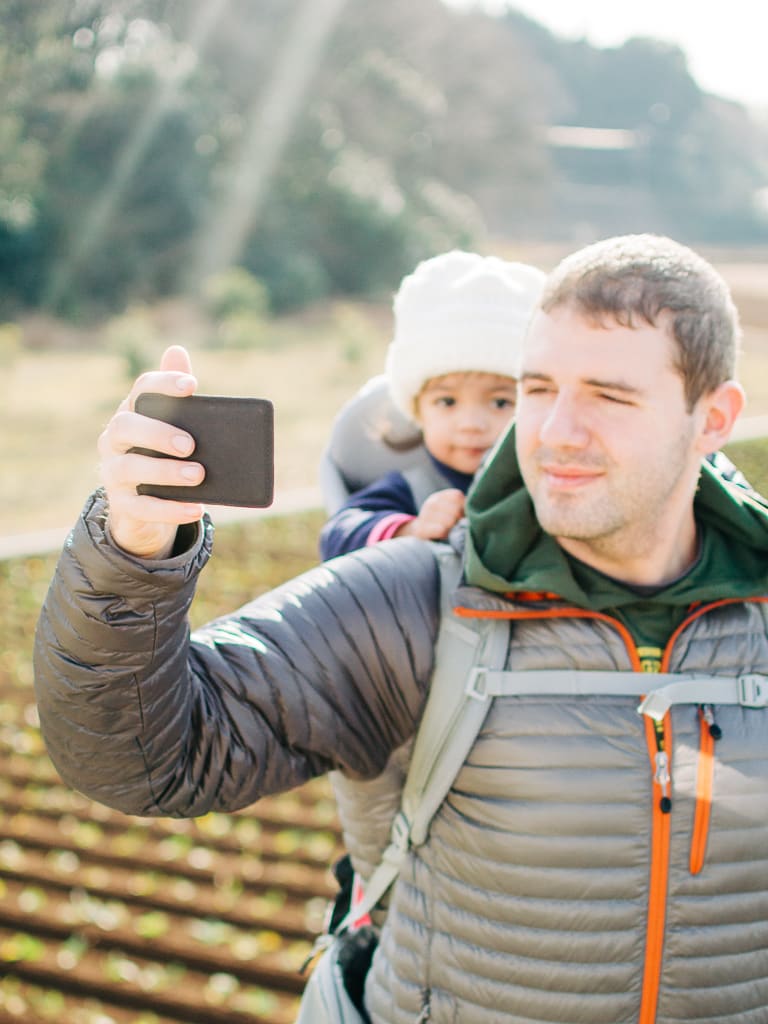 Located in the waist belt pocket, the mirror is actually quite helpful when trying to tell if your child is sleeping, to see what they're doing, or if you simply want to play peek-a-boo with them.
Letting your kid just see your face in the mirror can help calm them if they're being particularly fussy as well. I suppose you could just substitute the mirror with your phone, but it takes up less space and comes with the carrier, so why not use it?
Anything you don't like?
There are some minor issues that we've found, but they're far from dealbreakers. For example, my wife had some issues deploying the kickstand by herself while still wearing the pack, which I didn't really notice myself, most likely due to my longer arms.
Second is the sunshade. While easy to set-up, it was difficult to stow due to the design and the velcro constantly catching while pushing it down. Again not really a deal-breaker considering that it doesn't really hinder comfort or child safety.
If I had to pick one issue I found to be a genuine "problem" of the Thule Sapling Elite, it would be with getting our daughter into or out of the seat. The construction leaves the space where your child sits with a tight fit, despite the adjustable side straps, and getting her legs through the leg holes was sometimes a problem.
Again, once inside she seemed very comfortable and only seemed to take issue with being placed on the ground, but getting her in and out is quite a task for one person alone, and was made much easier if one person prys the seatback open while you place the child inside.
The child shoulder straps can also be a problem since the buckles are in the very tight space in front of your child's chest, and leaves little room for your hands. Also, if your child is having a fit, you might as well give up until they calm down.
In terms of accessories, I wished the rain cover was included in the package. But it needs to be bought separately, which costs another US$35.
Lastly, getting hit in the head, A LOT. Okay, this last one really only applies to hyper kids and is more of a joke than a real con. The pack, when properly adjusted, will leave your head in the perfect striking range of your toddler to slap, pull, scratch, and poke to their heart's content… It can get VERY annoying (and painful).
So ensure they have something to keep them busy, make sure your child's favorite toy is attached to it.
Any usage tips when using a child carrier backpack?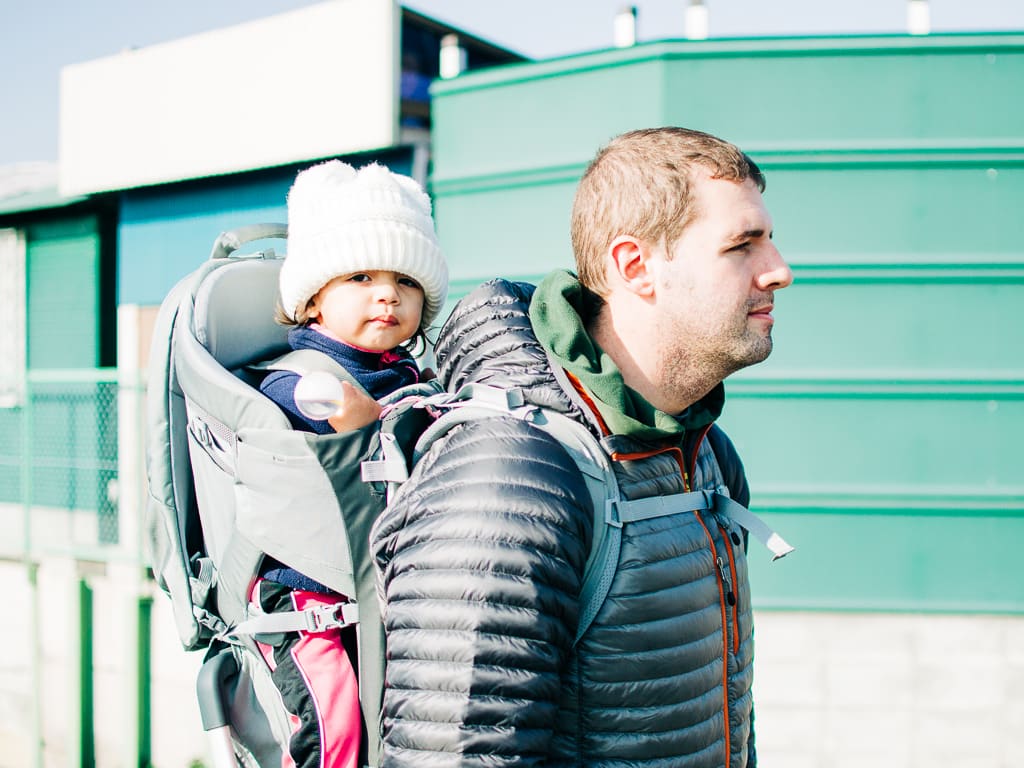 I definitely suggest buying a good set of hiking sticks, (we have these ones), if you plan on buying this or any other carrier pack, preferably carbon fiber hiking sticks for durability. Not just for helping to take some of the stress off your legs while hiking, but also for the stability and safety.
Remember, if you trip and fall while wearing this pack, your kid will fare much worse than you will. I would suggest these sticks, as they're the ones we use.
Other tips include storing the pack in a cool dry area to prevent mold, and washing it after use; the drool pad in particular. I would also suggest purchasing the rain cover, even if it is really annoying that it costs extra. It's a lot better than letting your kid get sick from being stuck in the rain.
Lastly, your child must be at least 16 lbs (7.3 kg) and be able to sit upright independently to use this child carrier backpack.
Bottom Line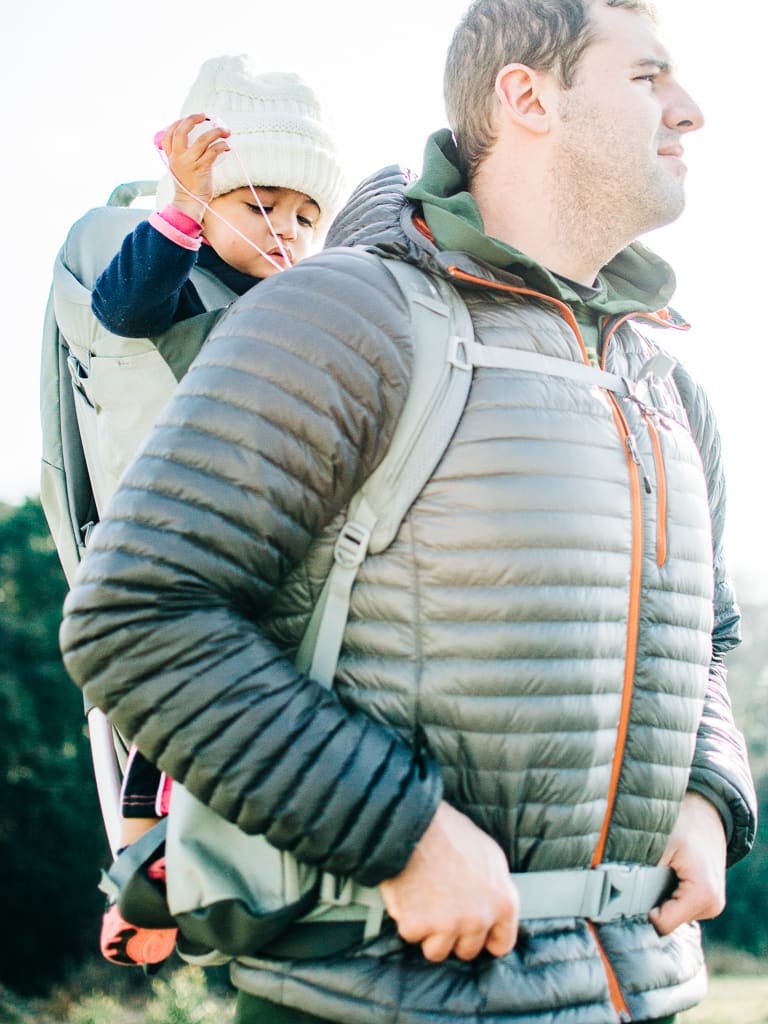 Thule Sapling Elite was one of the best purchases we've made for our child, as it allows us to recover some of the freedom lost from having a child in the first place. We thought we'd need to wait a few more years for our daughter to get older before we could get back into hiking, or that we'd need to hire expensive babysitters for weekend getaways (no family nearby).
It's the perfect child carrier backpack for prolonged use without bruising your hips, as well as offering a proper fit for short parents; unlike the Osprey and Deuter carriers which are absolutely dealbreakers. Thule Sapling Elite provides a quick and easy switch between parents with different heights, provides comfort for the child, and offers better balance on uneven terrain.
While the price may seem a bit steep, the reward is more than worth the price in our opinion. Thule is a Swedish brand known for producing high quality outdoor goods, such as bike trailers, rooftop tents, car roof racks, backpacks, and camper van accessories. The Thule Sapling Elite continues in this long line of quality craftsmanship and does not disappoint!