Tokyo is a great destination for families with babies or toddlers. You will feel absolutely spoiled by the facilities as they're all family-friendly and designed with convenience in mind.
Public playgrounds have clean family restrooms. Every mall is stroller-friendly and has nursing facilities. Most restaurants have kid's meal sets and highchairs. The cities themselves are incredibly clean. It's one of the absolute safest countries in the world. And best of all, Disneyland exists!
Aside from this guide, check out our resources for traveling in Japan with your baby:
Best Tokyo Tours that are Baby and Toddler-Friendly
Best Baby and Toddler-Friendly Museums in Tokyo
1. MORI Building DIGITAL ART MUSEUM by EPSON teamLab Borderless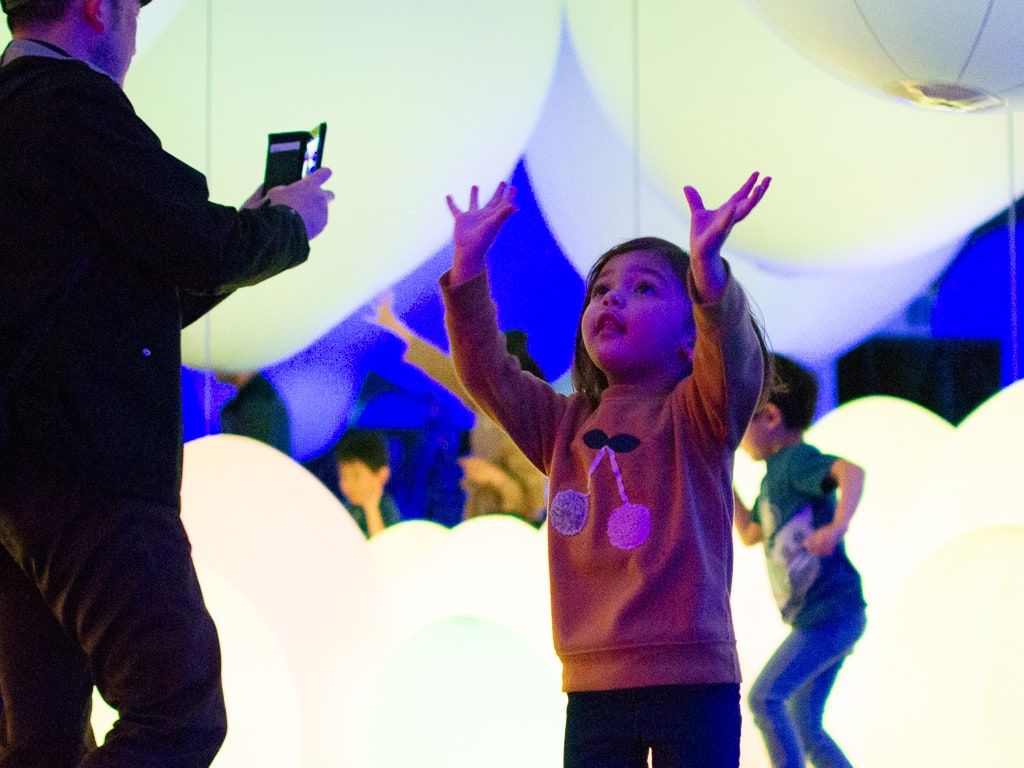 Your babies will love this digital art museum. It's designed to flood your senses with lights, sounds, and texture. Note that strollers are not allowed so bring a baby-carrier.
Make sure to get your tickets here in advance as they sell quickly within the day.
→ Click here to book your tickets to the teamLab borderless
Getting there: 5-min walk from Aomi Station
2. Ghibli Museum
A trip to Tokyo with kids is never complete without a visit to the Ghibli Museum, which showcases the work of the famous Japanese animation studio, Studio Ghibli. Its museum is like walking into one of its animated films with facilities such as a Bouncing Totoro 3D zoetrope and a Cat Bus room on the 2nd floor.
There are also baby-friendly facilities and a nursing rdoom available on the 1st floor for those bringing toddlers and infants. This is no exaggeration but Ghibli Museum tickets are easily sold out so you have to make sure to book way ahead of time.
→ Click to learn on how to book your tickets to the Ghibli museum in advance
Getting there: 15-min walk from Mitaka Station or Kichijoji Station
3. National Museum of Nature and Science
The National Museum of Nature and Science is one of the biggest science museums in the country with over 10,000 exhibits. Among these are authentic artifacts that include the stuffed body of Hachiko and two famous pandas.
For the little ones, there is a ComPaSS exhibition room on the 3rd floor, designed for kids aged 4 to 6 although kids 0-12 years old can still enter. For parents bringing small kids, a diaper changing table can be found on each floor. A nursing station is also located on the floor B1 of the Japan Gallery.
Three strollers are also available for rent at the Central Information Desk.
→ Click here to learn more about the National Museum of Nature and Science
Getting there: 5-min walk from Ueno Station
4. National Museum of Emerging Science and Innovation (also known as Miraikan)
More popularly known as the Miraikan, this museum is most appealing to families with young children because of the variety of fun yet educational activities that it offers. Its main exhibits can be found on the 1st, 3rd and 5th floors, with the one on the 5th having themed sections: Earth, Lab, Life, and the Universe.
It also has a baby-friendly cafe on the 5th floor and a theater on the 7th. For families bringing infants or toddlers, strollers can be rented but there are only four available inside the museum. There are also 11 diaper changing facilities inside as well as a nursing room behind the cafe on the 5th floor. Free admission for kids on Saturdays. Free admission for preschoolers.
→ Click here to get discounted tickets
Getting there: 4-min walk from Telecom Center Station
Best Indoor Play Spaces for Babies & Toddlers in Tokyo
5. Sanrio Puroland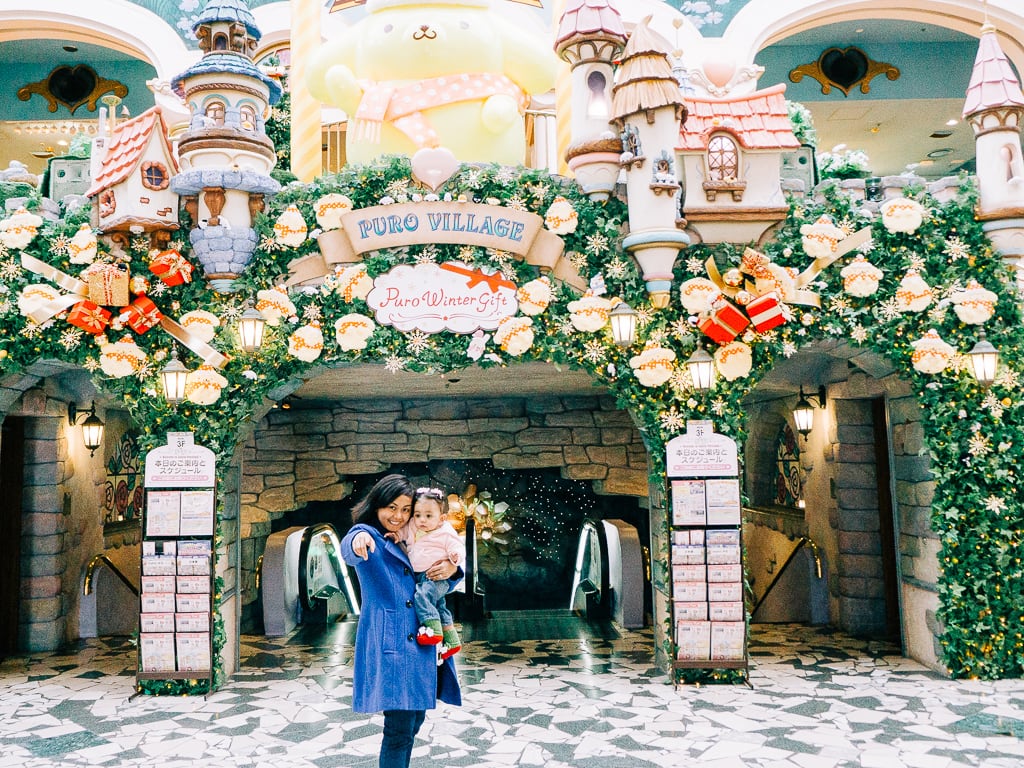 This place has everything Hello Kitty including fun rides, parades, restaurants, souvenir shops, and more Sanrio Puroland is pretty much designed to be extremely baby-friendly. All restrooms are equipped with diaper changing table.
You can head to the Baby Center on the 1st floor where there are more changing tables, children's toilets, tables, baby food, and nursing rooms. Take note though, strollers are not allowed on the 1st and 2nd floors where it is uneven. So it might be best to use baby slings and carriers in Sanrio Puroland.
→ Click here to get discounted tickets to Sanrio Puroland
Getting there: 10-min walk from Tama Center Station
6. Roppongi Hills Mori Tower Tokyo City View & Sky Deck
→ Click here to get tickets to Mori Tower & Sky Deck
Roppongi Hills itself is a very family-friendly area. Why not visit the Mori Tower Sky Deck? Kids 3 and under are free of charge!
Getting there: 9-min walk from Roppongi Station
7. Duplo Village in Legoland Discovery Center
Lego toys might be a pain to step on and clean up after but if it's helping your kids develop their motor skills and imagination, it's really such a small price to pay. Located inside DECKS Tokyo Beach Mall, The Duplo Village is truly made just for toddlers – adults cannot get in if they aren't accompanied by kids.
Families will also love this place because it has complete amenities such as a family restroom, diaper changing areas, and stroller accessibility. Be sure to book ahead because they only allow a limited number of visitors each day.
→ Click here to get EXCLUSIVE discount to Duplo Village Tokyo
Getting there: Duplo Village is located in DECKS Tokyo Beach Mall, which is a 5-min walk from Tokyo Teleport Station.
8. Aneby Trimpark
If you are a parent who chose the Montessori way, you will love Aneby Trimpark. Aneby Trimpark has every play equipment and activities for infants to 12 years old.
Getting there: 5-min walk from Aomi Station
9. Asobono in Tokyo Dome City
Asobono has a kids toilet and a breastfeeding room. The toilets have 2 sizes for 1-2 years and 3-6 years. The breastfeeding room is equipped with two large sofas and two diaper tables. They also provide water which can be used for milk formula.
Getting there: 10-min walk from Suidobashi Station
10. Tokyo Toy Museum
A few minutes walk from Yotsuya San-Chome station, the Tokyo Toy Museum was originally an elementary school that was converted into a museum to house various toys and games from all over the world. It now has several rooms with different themes, and there's an attendant who will help you figure out the toys and games.
Among everyone's favorite room is the baby room which comes with various wooden toys that they can play and interact with. Parents will love the fact that the room also has changing and nursing facilities available.
Getting there: 6-min walk from Yotsuya San-Chome station
11. Amazing World (various branches)
From its name, the Amazing World is an all-weather indoor play facility for families. It can be found in many locations all over the country. The place has several facilities that allow kids to explore and pursue their interests, catering to all senses. They have a baby corner especially for kids 0-2 years old, as well as space for changing diapers and breastfeeding. Diapers can be bought at the reception desk.
12. Hakuhinkan Toy Park
While Ginza is better known for the high-end fashion boutiques that line up its streets, it actually has a huge toy shop that's open all year round. The place is a haven for the kids and kids-at-heart with more than 200,000 toys – party goods on the 1st, stuffed animals and traditional Japanese toys on the 2nd, infant and young kids' toys on the 3rd, video and card games on the 4th.
There are also restaurants on the 5th and 6th and a theater on the 8th floor. Parents and babies are free to test some of the toys on display. For those bringing infants and toddlers, the nursing room is located on the 4th floor. Admission is free.
Hakuhinkan Toy Park is about a 5-min walk from Shimbashi Station.
13. Lego Clickbrick, Roppongi
We can't deny the fact that they're really great toys, especially for encouraging kids' imagination and creativity. The Lego Clickbrick in Roppongi Hills is full of all sorts of Lego pieces that they can mix and match.
There is even a Lego School nearby where kids can enroll in Duplo building classes as well as more advanced ones involving programming and robotics. Lego Clickbrick is located on the B2F of Roppongi Hills mall, about a 7-min walk from Roppongi Station.
Getting there: Located on the B2F of Roppongi Hills mall, a 7-min walk from Roppongi Station
14. Kid-O-Kid Bornelund in Kawasaki
The Kid-O-Kid Bornelund has various locations throughout Japan but the closest first-rate Kid-O-Kid Bornelund branch is located in Kawasaki City which is 35 minutes train ride from Tokyo. It features various rooms with different themes, toys, and features.
The little ones can enjoy the jumping castle and ball pit, among many others. If you are tagging along with your baby or toddler, there is also a space where they can crawl or even climb structures.
Getting there: Located inside Le FRONT shopping mall, a 5-min walk from Kawasaki Station
15. Ai Port Station
Located in Aoyama, Ai-Port Play Center is a multi-purpose community facility which is super convenient for busy parents. It comes with both indoor and outdoor play areas, a childcare facility as well as a child-raising advice center.
This community space is basically one huge living area with three components: the Hidamari, filled with wooden toys, books and a play kitchen; Aoba; and the Kids' Garden located outside. They make the perfect place to have play dates in Tokyo.
Getting there: 2-min walk from Exit 1B of Gaienmae Station
16. Akasaka Kids and Teens Hall Nandemo
Not all facilities in Tokyo require families to spend money every time. In fact, in the heart of Tokyo lies a convenient and free public play space called the Akasaka Kids-Teens Hall Nandemo.
The place has a lot to offer, including different rooms with different types of toys and activities. They even offer monthly activities offered per age group. While the place has no cafe, you can bring along food and beverages and eat in the main room. There is also a small kitchen and a nursing room available on the premises. Admission is free.
Getting there: 3-min walk from Akasaka Station
17. Sky Circus Sunshine60
If you decide to visit the shopping center of Sunshine60, make sure to check out their observatory and other facilities as well. Beyond getting a good view of the city, including the Roppongi Hills and Tokyo Tower, the observation deck also has other kid-friendly features such as the Sky Circus and Aerial VR.
The best part about bringing toddlers and infants here is that it allows strollers within the venue. Rentals are also available in the B1 (General Information Office and Broad Street Information Office) and the 1 (Water Fountain Information Office and Broad Street Information Office) levels of Sunshine City Alpa. Baby rooms are available on the B1, 2 and 3 levels, while one changing mat is provided within the men's, women's and wheelchair user priority toilets.
→ Click here to get tickets to the Sky Circus Sunshine60
Getting there: Located inside Sunshine City Shopping Center, a 6-min walk from Higashi-Ikebukuro Station
Best Amusement Parks for Babies & Toddlers in Tokyo
18. Yomiuriland
The first amusement park you should consider visiting in Tokyo is Yomiuriland, as it is just near the city center. While this place offers the usual amusement park attractions – roller coasters, free fall rides, and bungee jumps – it also has other features such as swimming pools during the summer and illumination lights in the fall and winter.
→ Click here to get discounted tickets to Yomiuriland
Getting there: 5-min bus from Keio-Yomiuriland Station.
19. Tokyo Disneyland
Although technically not in Tokyo, no trip to Tokyo with kids is complete without visiting the Happiest Place on Earth. There is really no need for introductions on this one, we all know what Disneyland is all over the world offer: fun rides, parades, and shows, shops, and restaurants.
Tokyo Disneyland is full of open spaces to accommodate large crowds. However, it is made extremely baby-friendly for families bringing little kids along. There are stroller rentals for ¥1,000, stations for changing diapers, and spaces for nursing or feeding infants. If you left your items behind, you can also purchase formula, baby food, diapers and even stroller rain covers inside.
→ Click here to get your Tokyo Disneyland 1-Day ticket
NOTE: Tokyo Disneyland appeals to babies and toddlers than Tokyo DisneySea.
Best Parks for Babies & Toddlers in Tokyo
20. Imperial Palace East Gardens
Not to be mistaken with the Imperial Palace Gardens, which only opens to the public during New Year and the Emperor's birthday, the Imperial Palace East Garden's main attractions are gardens and small museums. And, while some areas here are not stroller-friendly, they still make a good place for families with babies and toddlers to stroll around.
In fact, families can easily spend the whole day in this area alone. After exploring the entire palace, be sure to head to the Honmaru grounds to allow the little kids to crawl around while you relax. Admission is free.
Getting there: 6-min walk from Otemachi Station.
NOTE: Closed on Mondays and Fridays.
21. Showa Kinen Park
Around 30 minutes away from Tokyo by train is the Showa Memorial Park, a 160-hectare park full of flowers, natural spaces, and play spaces. Many visitors come here to relax and enjoy a picnic with friends and family. However, the park is best visited during the flower festival which is held yearly every early spring as the park is abundant with beautiful cherry blossoms, tulips, and poppies.
You can also head straight to the Children's Forest which has vast play areas for younger children such as Dragon Dunes, Bouncing Dome, Forest Birds, Rainbow Hammocks and many more. There is also a playground that can be accessed for free from April to September, then becomes a paid area during the pool period.
A limited number of strollers can be borrowed for free at the entrance. Bicycles with child seats start at ¥410 for three hours but you need to strictly bike on the bike paths. Rooms for breastfeeding and changing diapers are also available all throughout with baby beds installed in main toilet areas.
Getting there: Just outside the Nishi-Tachikawa Station.
22. Hanegi Park
Hanegi is popular during plum blossoms, but here are a few different areas here where your child can play while you sit back on a picnic blanket (or even a small tent or tables and chairs) and relax.
The play area is not a typical playground, but instead, areas dominated by wooden structures, a concrete maze, dirt, and, surprisingly, campfires*, this place is filled with activities to let your child's imagination run wild. Your kid WILL get dirty here, so you may want to bring a change of clothes, but they'll also have a great time. Admission is free.
*NOTE: The campfires may have been a part of a specific event going on that day and may not be a normal occurrence.
Getting there: 10-min walk from Umegaoka station
23. Sakurazaka Park (best known as Robot Park)
Robots are always such a big hit, even for the little ones, and they will surely love this robot-themed outdoor playground! This 1,539-square-meter large park was designed by Korean artist Choi Jeong-Hwa and is located in a residential area so you can expect it to fill up with kids easily, especially in the afternoons.
The area is also relatively small and does not have a bathroom so it's best to use the baby-changing facilities inside Roppongi Hills' malls. Admission is free.
Getting there: 5-min walk from South Exit of Roppongi Station
24. Niko Niko Park (also known as Meiji jingu Gaien Park)
Toddlers can be especially fond of climbing and doing all the dangerous things that scare moms off. If you happen to stay in Tokyo, be sure to visit this park, which has a wide variety of equipment.
It features a tower and a slide, a sandpit, a trampoline, and many others for climbing and bouncing around. You can also bring food with you and eat lunch in the shaded tables or in one of the restaurants nearby.
Getting there: 3-min walk from Shinanomachi Station
25. Shinjuku Gyoen
Shinjuku Gyoen is one of the largest and the most popular park in Tokyo. It is among the best places in the city for cherry blossom watching in spring. The 144-acre park basically has three types of gardens: the traditional Japanese landscape garden, the French garden, and the English landscape garden.
There is even a huge greenhouse, which is home to several tropical and subtropical plants. Families love visiting this park because it is huge and has plenty of space for running, walking and crawling around. Picnic blankets are allowed inside and you can also bring small tents, tables, and chairs. The park also has baby-friendly restrooms as well as nursing rooms for moms with infants.
Getting there: 5-min walk from Shinjukugyoenmae Station
Opening hours: 9:00 – 16:30.
Closed Mondays, Dec 29 – Jan 3
Admission fee: 200 JPY adults, 50 JPY students, FREE for infants

26. Hibiya Park
Hibiya Park is the oldest Western-style garden in Japan and is home mainly to tulips and roses. The park has a lot of history: during the Second World War, nearly all its trees were cut and its fences taken down in order to aid the war.
Today, it is a popular place for open-air concerts as well as a place for relaxation. There are numerous benches scattered around the park and picnic blankets are also allowed inside, but only in designated areas. Families with infants and toddlers will love that the park has baby-friendly facilities such as restrooms and a nursing room. Admission is free.
Getting there: 5-min walk from Hibiya Station
Best Zoos
27. Ueno Zoo
Founded in 1882, Ueno Zoological Gardens is the oldest in Japan and is currently home to 3,000 animals across 400 different species. The huge number of animals make it an ideal place for families, especially those with small kids, to stroll around and explore. There is even a Children's Zoo inside.
It's easy to get into from anywhere in Tokyo and, while there aren't any parking lots, there are toll ones available. You can easily bring kids in strollers or rent one at the entrance, and restrooms come with diaper changing tables. There are also three nursing rooms available within the vicinity.
Getting there: 5-min walk from Ueno Station.
Opening hours: 9:30 – 17:00.
Closed Mondays. Admission: 600 JPY adults; starts at 100 JPY for kids 4 years and older
28. Tama Zoological Park (Tama Zoo)
Tama Zoo is made up of three different zones: Australian, African and Asian, and an Insectarium. Little kids will love the variety of animals that can be found here including deer, elephants, lions, zebras, and various insects and Japanese animals.
The zoo also has several picnic areas for families to rest and enjoy lunch, but restaurants are also available inside. Restrooms are equipped with diaper changing tables and there are three nursing rooms scattered all throughout the park. Free admission every May 4 and 5, and October 1.
Getting there: Just outside the Tama Dobutsu Koen Station.
Don't drive, there are no parking lots.
29. Inokashira Park Zoo
This park zoo is well-known for featuring indigenous creatures in Japan so if you like the little ones to learn more about uniquely Japanese animals, this is the best zoo to visit. The park is split into two areas: the Zoo Area, which is the main park; and the Aquatic Life Park, which is the lakeside park.
Aside from the animals, there is also a mini amusement park within the park, with tickets sold separately. Restrooms within the Inokashira Park Zoo are equipped with changing tables for those bringing infants and toddlers. A nursing room is also available in the Administration Office at the main entrance.
It's always a wise choice to bring kids to museums because they are packed full of information about interesting things. While these places are usually best suited for older kids, it can still be an enjoyable day to bring infants and toddlers around – it's great to expose them early on to these kinds of attractions, and it's a wonderful learning experience for the parents, too.
Getting there: 2-min walk from Inokashira-Koen Station