Fuji Five Lakes has become a wildly popular day trip destination from Tokyo over the past few years. And it's no wonder — serene beauty coupled with the best views of Mt. Fuji; it's just a winning combination.
What is Fuji Five Lakes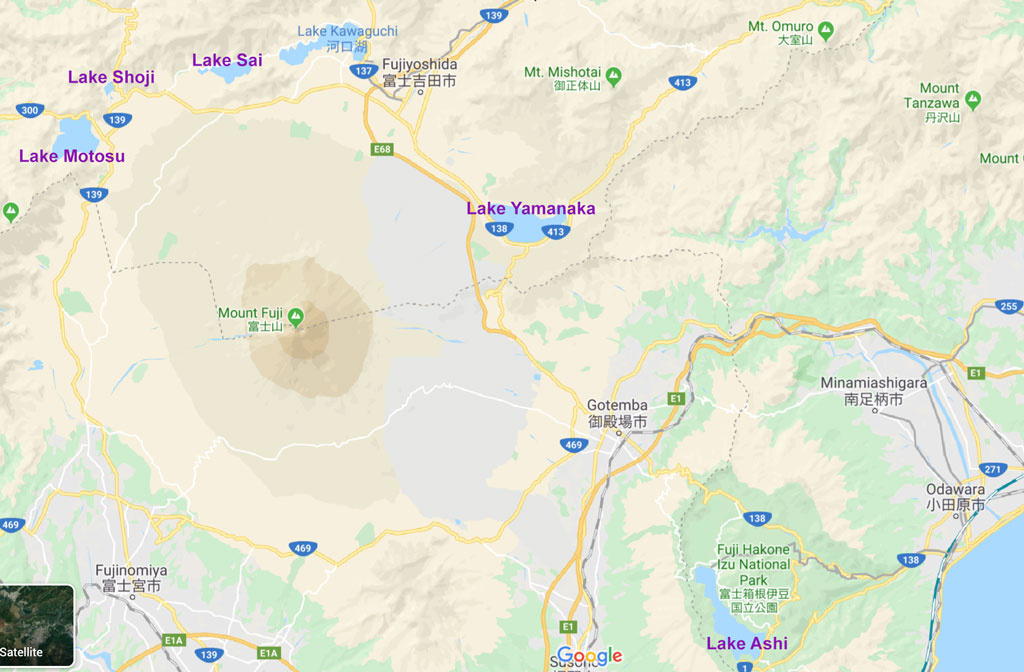 The Fuji Five Lakes was formed when Mt. Fuji erupted during the ancient times. From the (literal) ashes of such an awesome destructive force, these lakes have all become fantastic tourist attractions, an inspiration for artists, poets, and philosophers alike, and some top-notch fishing spots.
The lakes of the Fuji Five Lakes are as follows:
Lake Kawaguchi (Kawaguchiko)
Lake Sai (Saiko)
Lake Shoji (Shojiko)
Lake Motosu (Motosuko)
Lake Yamanaka (Yamanakako)
-ko means lake in Japanese.
For more information, the Japan National Tourism Organization (JTNO) also has a quick overview of the Fuji Five Lakes.
Kawaguchiko
Kawaguchiko is the second largest lake in Fuji Five Lakes. It's the most developed destination in Fuji Five Lakes making it the most popular destination due to its easy accessibility from Tokyo. Lake Kawaguchi or Kawaguchiko is the best lake near Mt. Fuji in our opinion. It offers the best view of Mt. Fuji, tons of places to see, and there's always new in the area. We absolutely recommend spending overnight in Kawaguchiko.

Here are some of our helpful resources:
→ Click to read our Kawaguchiko Full Guide & Suggested Itineraries
→ Click to see our recommended hotels in Kawaguchiko with great views of Mount Fuji
1. Ride the Sightseeing bus.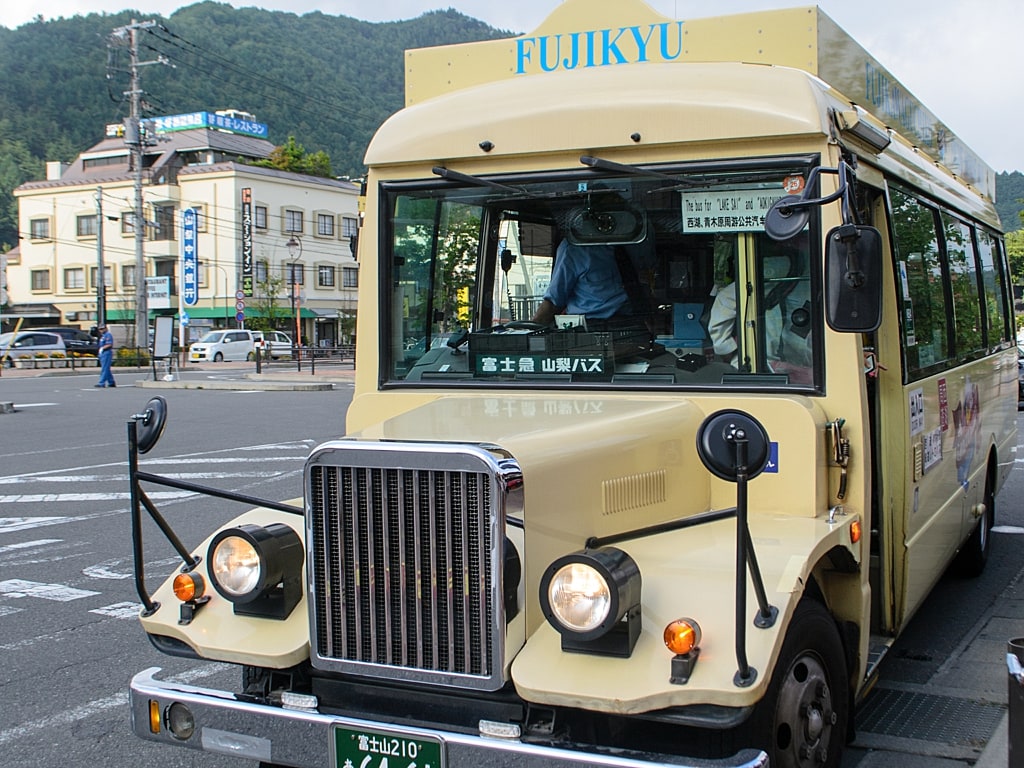 These retro-style bus lines take you around lakes Kawaguchiko and Saiko and to many of the popular tourist spots along the way. The buses themselves are actually a bit of a tourist attraction as well, so be sure to get a picture with it!
2. bike around Lake Kawaguchi.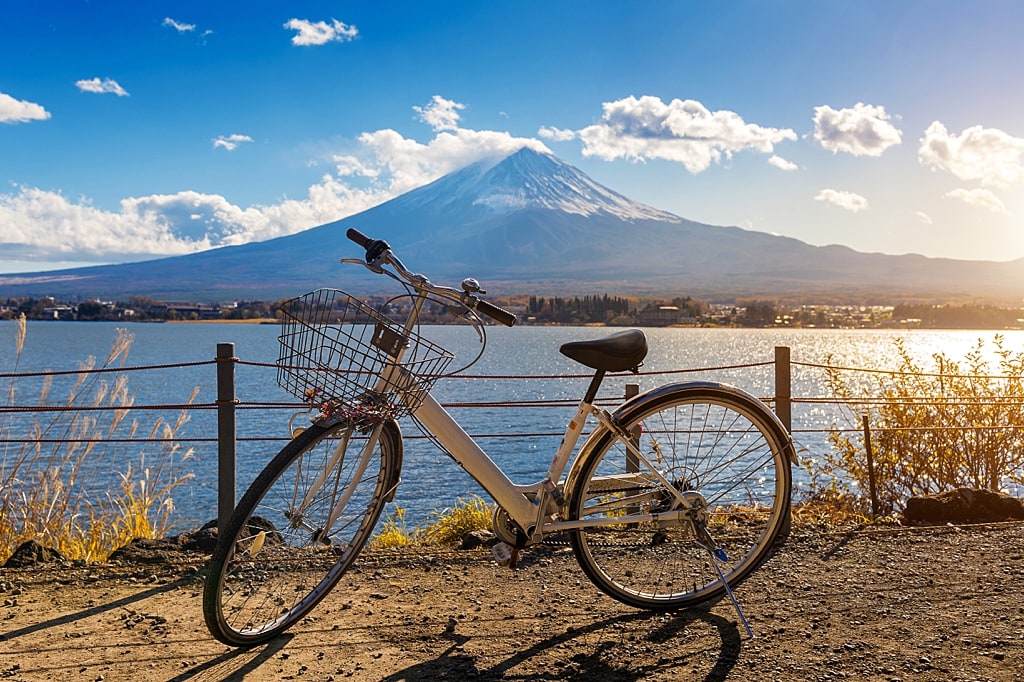 One of the most efficient and fun ways to explore Kawaguchiko is to rent a bicycle and sightsee. With many rental locations within a short walk from Kawaguchiko Station, finding one won't be difficult, and the roads and trails surrounding the lake and town are perfect for riding. This also has the added benefit of removing your reliance on the buses, so why not give it a go?
3. Ride the Mount Fuji Panoramic Ropeway (Kachi Kachi Ropeway).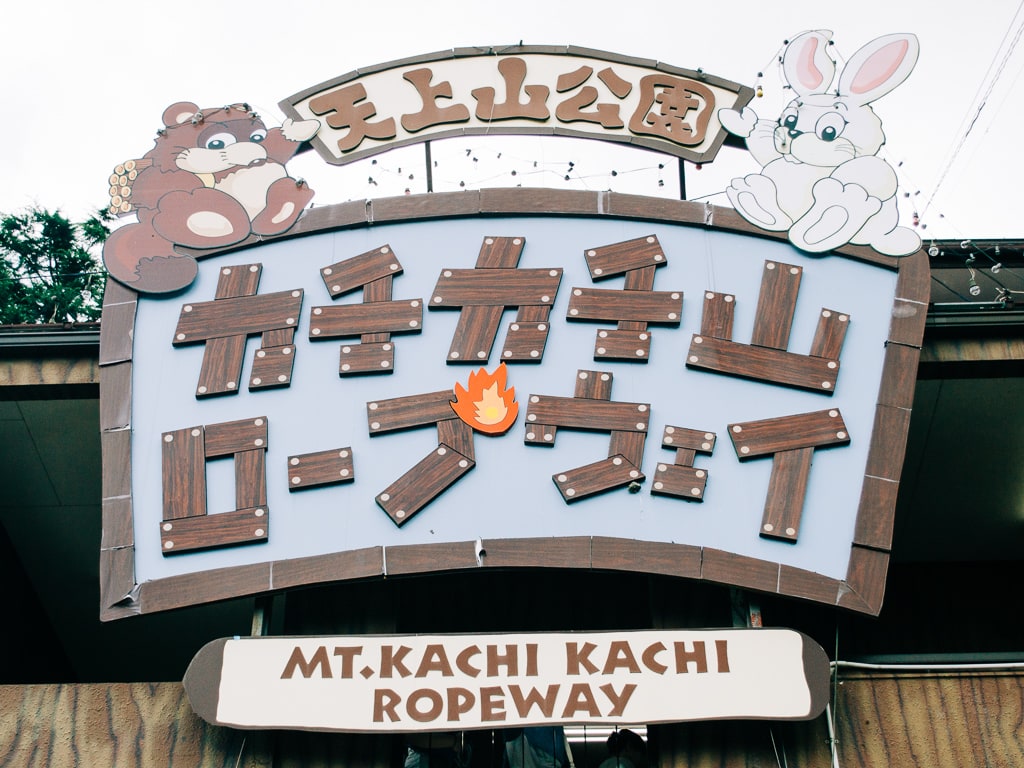 There are few places with views of Fuji and the surrounding lakes quite as good as the one you'll find at the top of Mt. Tenjo, and getting to the top is as easy as sitting in a cable car. The top of the ropeway has a small souvenir and snack shop, an overlook, and trails to other views and mountains. The cars run very regularly and offer some nice views themselves, so adding this to your itinerary is a must.
How to get there: Red-Line Bus stop no. 9 (Sightseeing Boat / Ropeway Entrance).
4. Hike up to the Nakabadaira Panoramic View of Fuji.
To go along with the ropeway there is a hiking route which is also super popular and is personally, our favorite way to reach the top of Mt. Tenjo, then riding a cable car down. The route is lined with Hydrangeas which bloom from July to August and make the hike far more enjoyable. The Nakabadaira Panoramic View is located at about the halfway mark and is completely worth the burning legs to get there.
How to get there: From Red-Line Bus stop no. 8 (Funatsu-hama Onsen Town), follow this pin, then follow the directions to Tenjoyama Park. The Nakabaira Panoramic View is about a 15-minute hike from the entrance.
5. Visit the Kawaguchiko Music Forest Museum.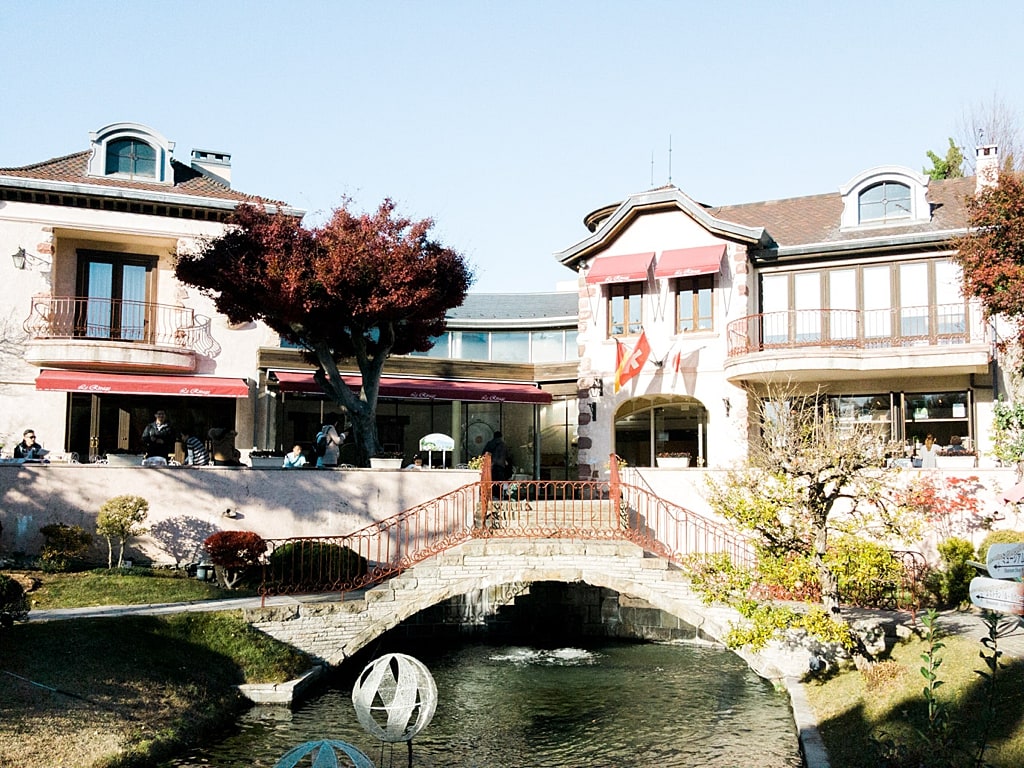 The buildings inside the Music Forest Museum remind me of a European fairy tale setting, with somewhat exaggerated buildings, and lots of pink paint. The museum has a particularly interesting building filled with enormous music "boxes" which are essentially self-playing banjos, pianos, and organs. There are also a number of special music shows throughout the day which often feature historic instruments.
How to get there: Red-Line Bus stop no. 15 (Kawaguchiko Music Forest Museum).
6. Visit the Konohana Museum.
Home of Dayan the Cat, the Konohana museum has fantastical stylized architecture, reminiscent of the Ghibli Museum. Containing the works of Akiko Ikeda, it was built to look like the Tachiel Enit Museum in the fictional Tachiel City, and is as much a part of the artwork as the pieces it houses. Wander the halls and admire all the pictures, sculptures, and dynamic dioramas found inside.
How to get there: Red-Line Bus stop no. 16 or you can walk from Kawaguchiko Music Forest Museum.
7. Take a stroll in Kawaguchiko North Coast and admire the view of Mt. Fuji.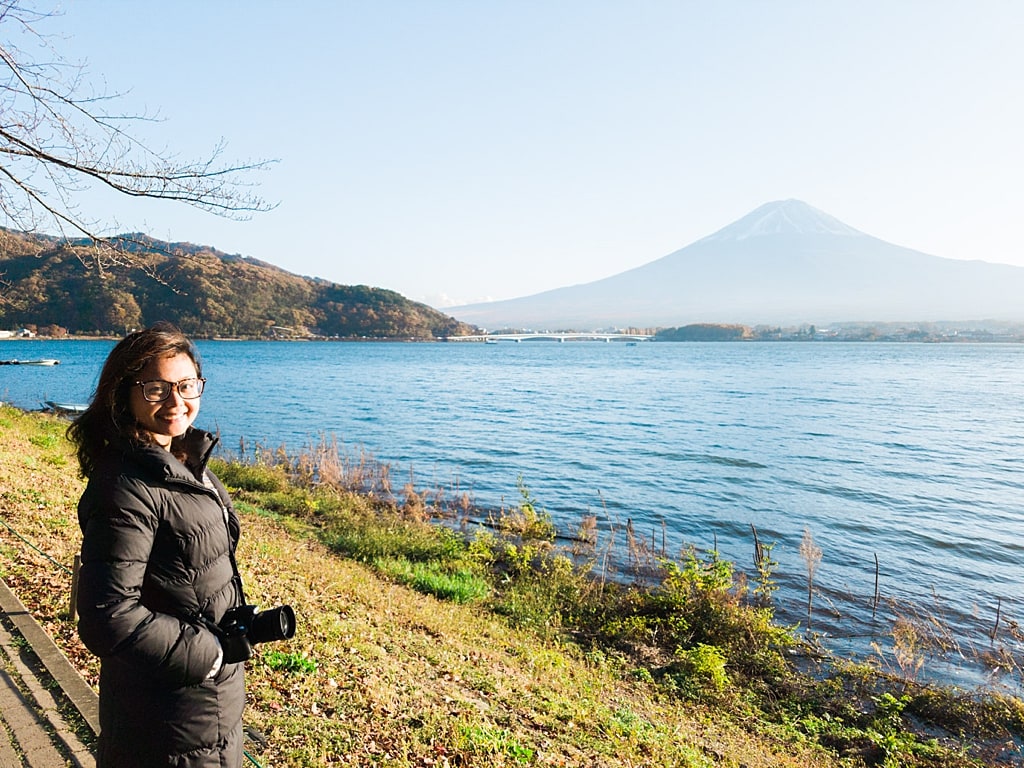 The North Coast Walking Trail is just a 7-minute walk from the Kawaguchiko Music Forest Museum and located behind the Konohana Museum. This short trail offers a 180-degree view of Mt. Fuji and is a place that many tourists are unaware of.
8. Be inspired by Itchiku Kubota Art Museum.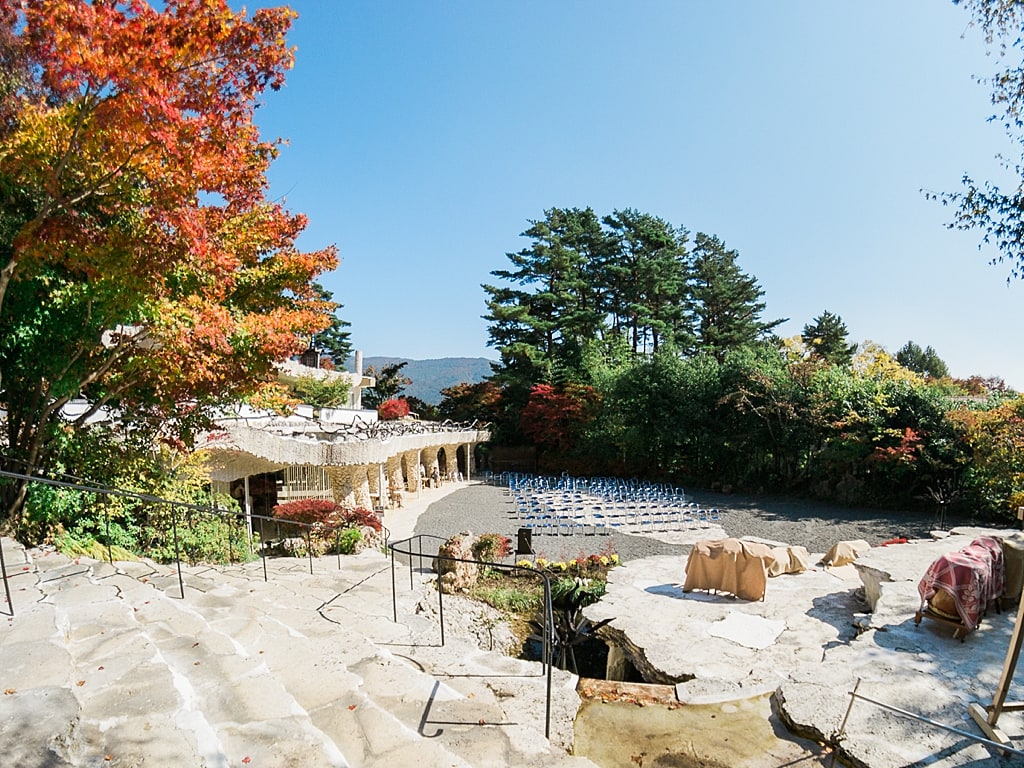 Tucked away inside a tranquil forest this Art Museum is made up of Okinawan coral and limestone, and the main gallery foundation is made of 1,000 year-old Hiba trees. Inside you'll learn about the life of Itchiku Kubota, and how he rediscovered the incredible art of Tsujigahana or the art of dying kimonos with incredible illustrations. In my opinion, the art of Tsujigahana one of the greatest forms of art you can find in Japan, so find some room on your trip for this.
How to get there: Red-Line Bus stop no. 17 (Itchiku Kubota Art Museum).
9. Visit the Kawaguchiko Natural Living Center.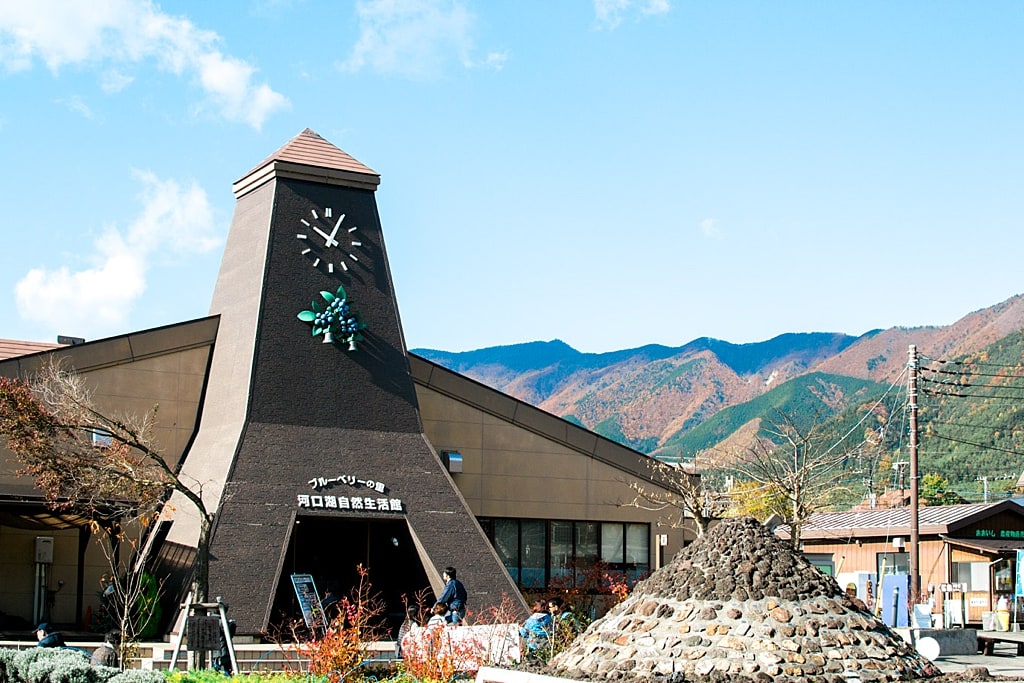 Located within Oishi park the Natural Living Center acts as a sort of a gift shop and rest area within the park. You can buy various herbs inside the center, but it's best known for its blueberries and various blueberry related souvenirs. In fact, depending on the season, you can even pick your own blueberries and take a jam-making class!
How to get there: Red-Line Bus stop no. 20 (Kawaguchiko Natural Living Center).
10. Admire the panoramic view of Mt. Fuji in Oishi Park.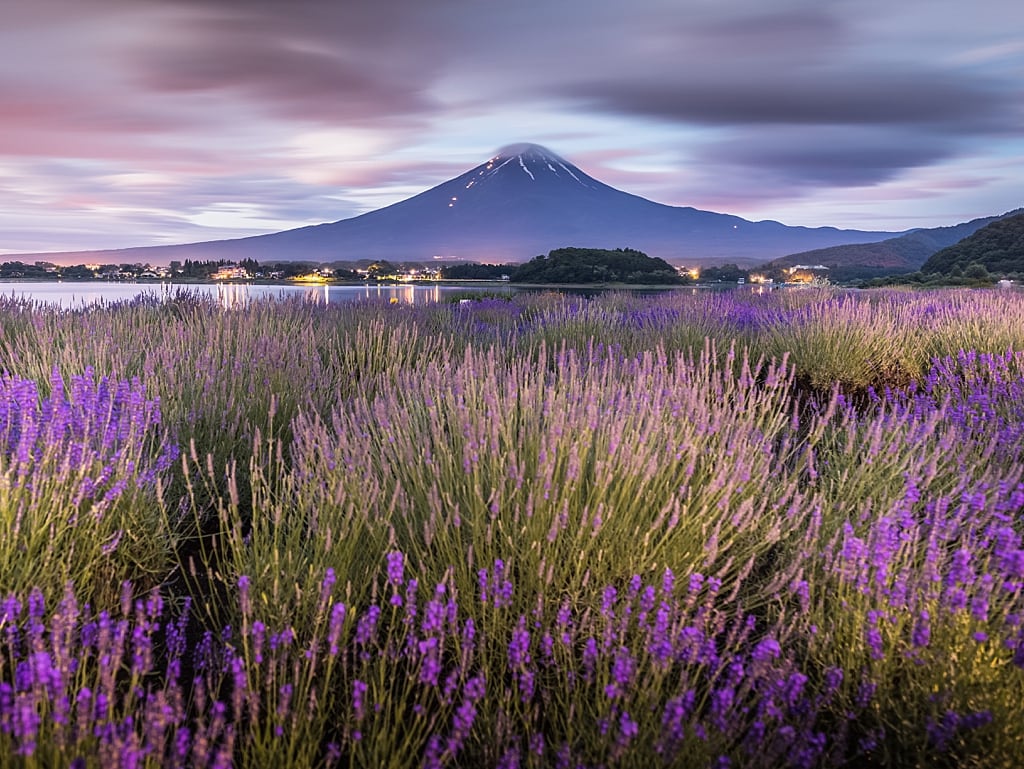 Take a walk down Oishi Parks "Flower Road" and take in the splendid views of Mt. Fuji while surrounded by colorful herbs and flowers. The park has many benches to view Fuji from and is nearby many popular cafes. Each year between June and July the park, along with Yagisaki Park, holds its annual Herb Festival, where the plants are in full bloom and there's plenty of food stalls to be visited!
How to get there: Red-Line Bus stop no. 20 (Kawaguchiko Natural Living Center).
11. Visit Yagisaki Park in summer for the beautiful lavender fields.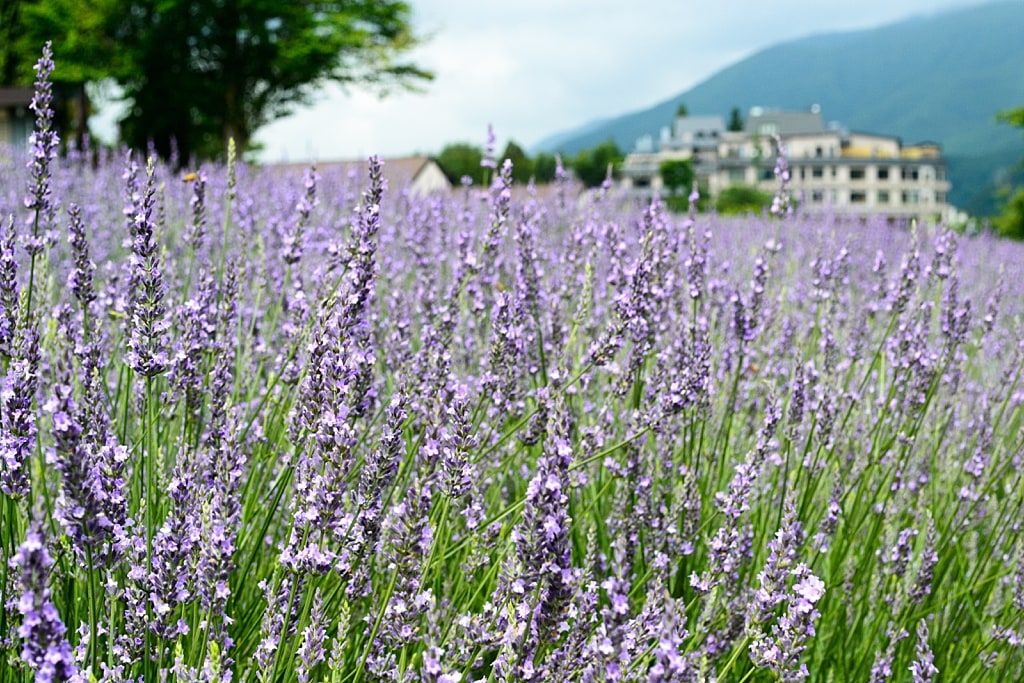 As stated above, Yagisaki park also takes part in the annual Kawaguchi Herb Festival and is best known for its lavender fields. Located on the southern shore of the lake Kawaguchiko, the park is also home to a popular art museum, Muse-kan. Inside is the work of Yuki Atae, a famous Japanese doll-maker, as well as a cafe and gift shop.
How to get there: Green-Line Bus stop no. 24 (Yagisaki Park).
12. Eat a delicious big bowl of hoto noodles.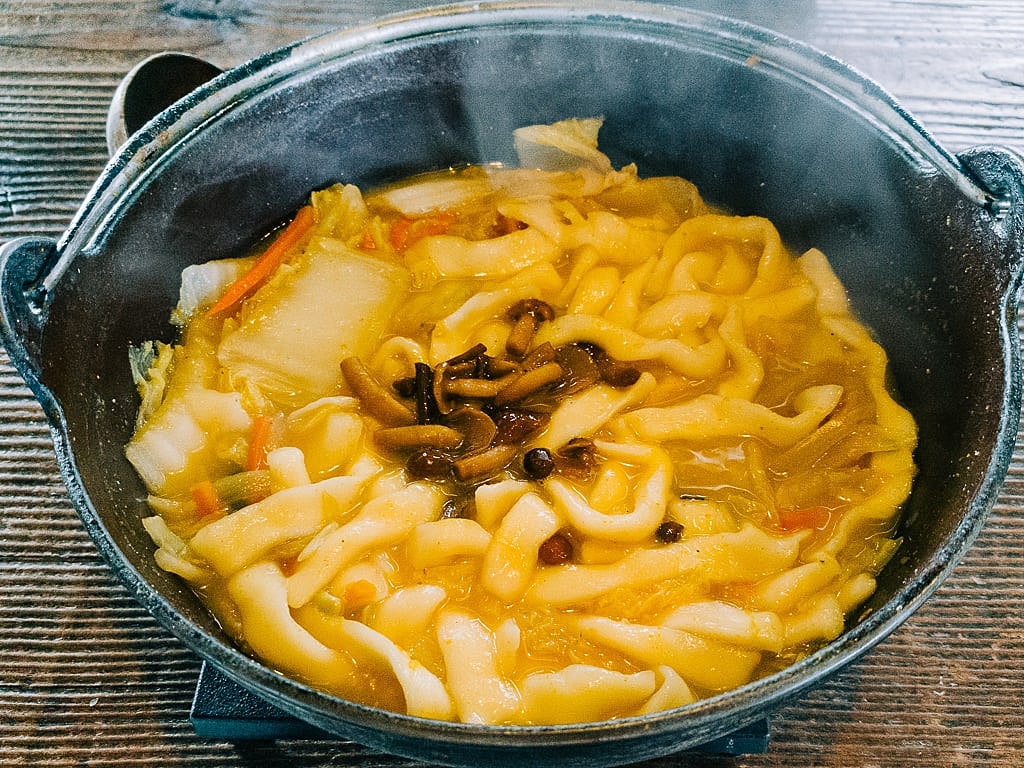 Yamanashi prefecture's local specialty, hoto, is a hearty udon noodle, made of especially thick cut and long noodles, a generous amount of local vegetables, sometimes a bit of meat, and a thick soup. You'll find plenty of restaurants specializing in this dish, but we recommend either Momijitei restaurant (7-min walk from Itchiku Kubota Art museum), as they offer incredible food AND great service.
13. Try the delicious tempura in Tempura Restaurant Ninja.
This restaurant honestly took me by surprise (the fact that it's a "Ninja" restaurant makes this a coincidental joke) because Japan has a bad habit with themed restaurants. Almost every one of them is an overpriced tourist trap. That is thankfully not the case here. This is honestly my absolute favorite tempura restaurant in Japan, and it's not even close. Seriously, just try it for yourself and see. Oh, and the staff is incredibly friendly as well!
How to get there: 5-minute walk from Kawaguchiko Station.
14. Get the signature delicious dessert in Milky Way restaurant.

I have a soft spot for small Mom & Pop like restaurants, and this one is owned and operated by two friends who clearly run the place as a labor of love. The interior makes you feel right at home and the desserts are all fantastic. For those traveling with kids, there are toys and books for them to occupy them while you relax with a cup of coffee and a crepe.
How to get there: Walk from Green-Line Bus stop no. 24 (Yagisaki Park).
15. Have a break at Cisco Coffee.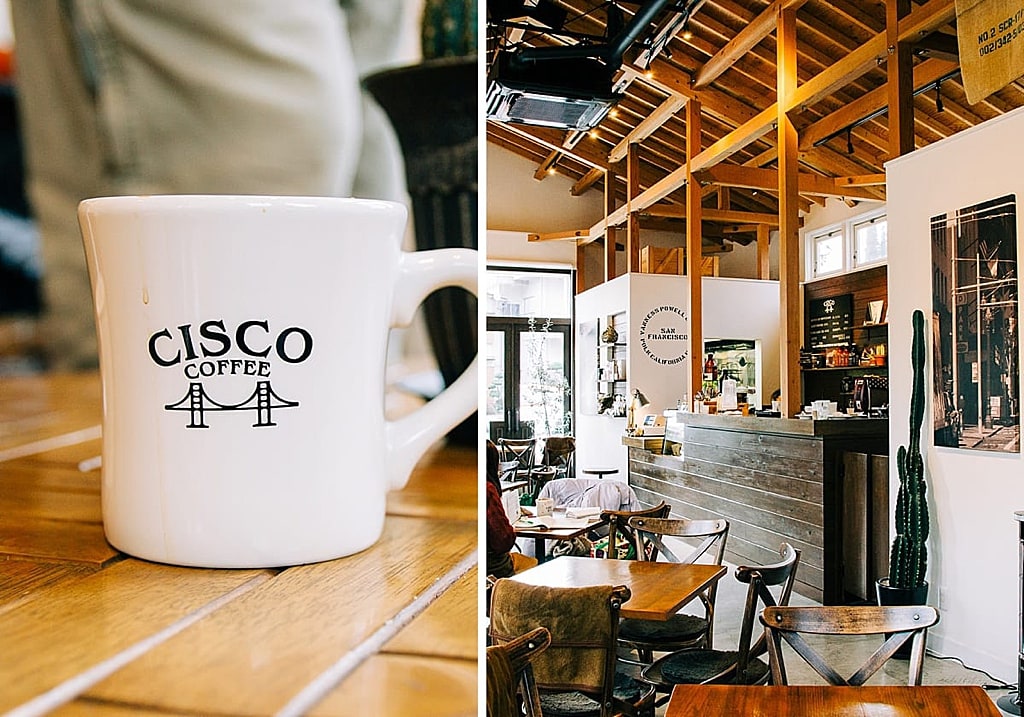 This cozy coffee shop is located near Yagisaki Park is a San Francisco style coffee shop in a relaxing shop to sit and relax with a good book. The menu is pretty simplistic, but the coffee is top-notch and really helps warm you up on a chilly morning by the lake.
How to get there: Walk from Green-Line Bus stop no. 24 (Yagisaki Park).
16. Try the delicious burger in Moose Hills Burger.
If you're looking for a taste of America while you're traveling the lakes, stop into Moose Hills Burger for fantastic made to order burgers. While a bit pricey (as is the norm for burgers in Japan) they don't skimp on the ingredients and offer a wide selection of toppings. Unfortunately, this burger stop is not accessible by public transport, it's recommended to drive.
17. Visit the Yamanashi Gem Museum.
Located in a rather unassuming building is an impressive collection of incredible jewels fit for royalty. If gemstones or jewelry are your things then you'll be drooling over the pieces on display within. And while I'm not much of a fan of either, even I had to admit to the beauty of the works on display from both nature and artisan. After you've finished admiring the works on display, perhaps you'll find yourself in a spending mood and purchase some jewelry yourself.
How to get there: Walk from Green-Line Bus stop no. 6 (Yamanashi Gem Museum).
18. Visit the Kawaguchi-ko Herb Hall.
Kawaguchiko loves its herbs, so once you've finished walking through its various parks and admired the herbs growing in neatly cultivated plots, take some time to walk through the Herb Hall and purchase some herbs of your own. Perhaps take a craft-making class or create your own perfume. The herb hall is an interesting place to stop in and explore.
How to get there: Walk from Green-Line Bus stop no. 5, or a few minutes from Yamanashi Gem Museum.
19. Visit Momiji Tunnel in autumn.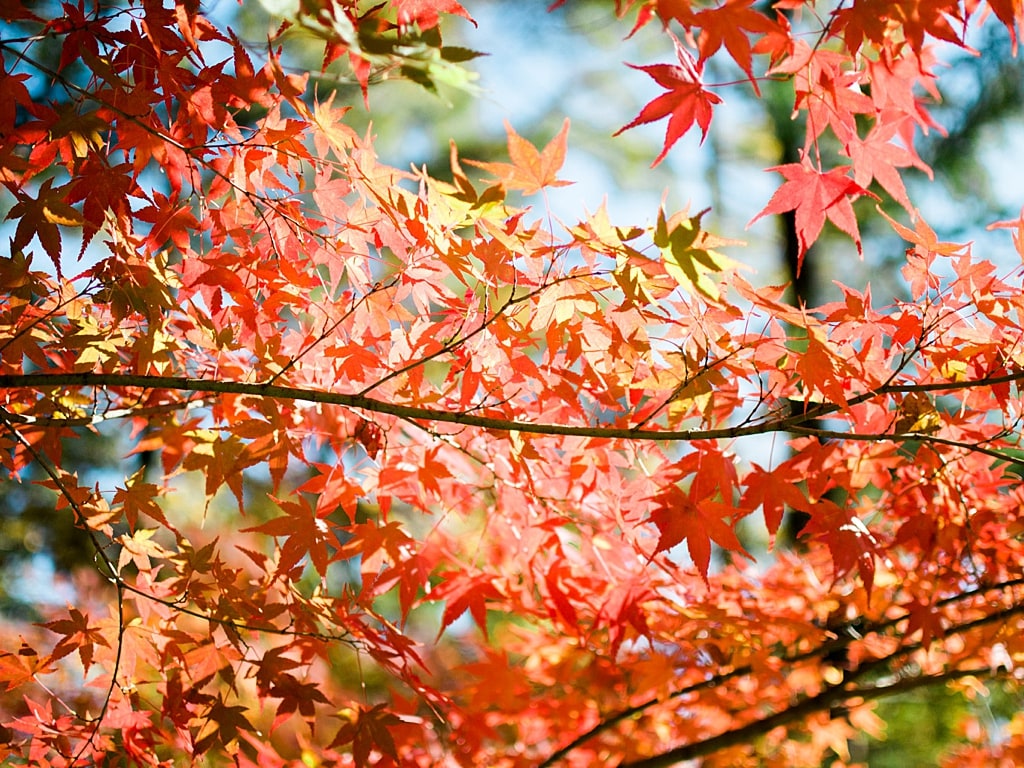 Not to be confused with Momiji Corridor, Momiji tunnel is sort of an unofficial title for a section of road lined with maple trees that form a sort of "tunnel" of branches and leaves.
20. Visit Momiji Corridor in autumn.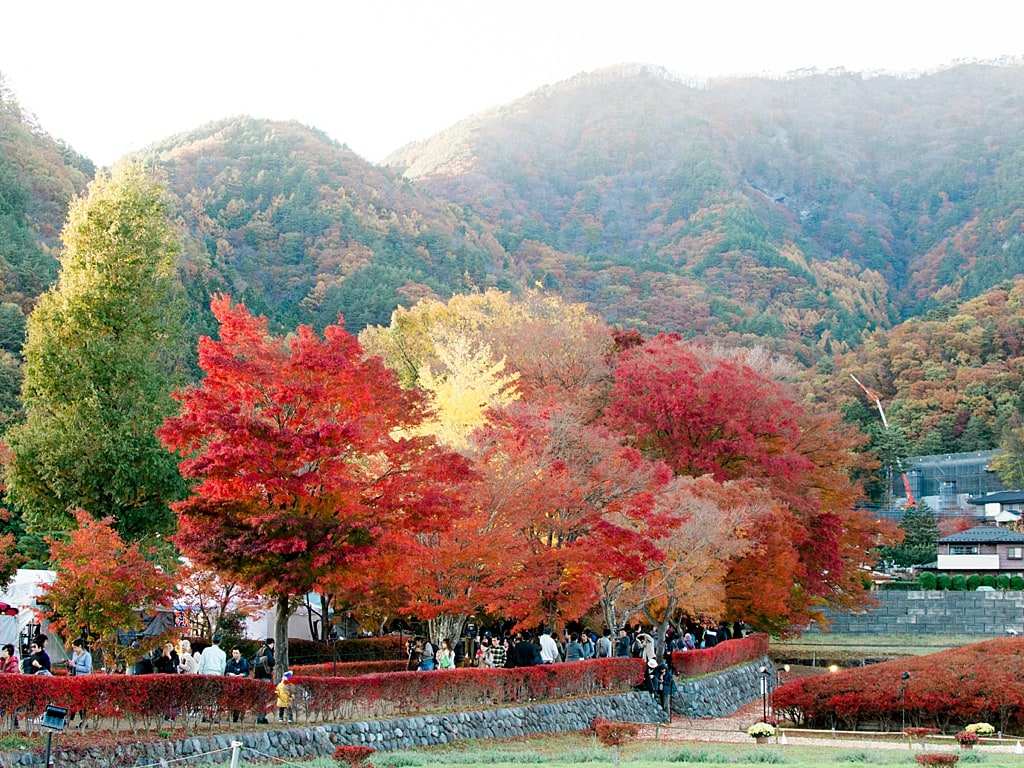 Momiji is Japanese for Autumn Leaves, so the name of this attraction should be rather self-explanatory. Every year between October to mid-November the maple trees next to the Itchiku Kubota Art Museum turn to a deep fiery red, and people from all over Japan come to witness this small "corridor" of trees. Be sure to visit near sunset so you can see the trees both in the sunlight and the nightly illumination. The locals take this opportunity to set up food and souvenir stalls, so take advantage of it.
21. Visit Oike park in autumn.
Oike Park, a park in front of Kawaguchi Herb Hall, is lined with poplar trees which turn a beautiful yellow in late October to early November. Mt. Fuji isn't so visible here because it's partly a residential area, but it's worth visiting only during autumn.
22. Dine-in at Partita Italian restaurant (or Restaurant Cafe Partita).
The towns and villages around Mt. Fuji have strong western influences, and there are a surprising amount of Italian restaurants scattered throughout, and Partita is the best among them. Incredible food, a cozy atmosphere, and a wonderfully helpful host really set this place above the rest. It's actually incredible that the whole restaurant is run by a single man. The best part is even if the dish you're looking for isn't on the menu, the owner/chef/host may still make it if you ask. It's recommended that you make a reservation ahead of time, but not always required. Just be aware that you may be turned away without one.
23. Eat raw horse meat (basashi) Houtou Fudou restaurant.
This one may turn many of you away, but horse meat is actually a pretty important part of the Yamanashi area. While not overly common, you'll still find it on a surprising number of menus; one of those menus belonging to Houtou Fudou restaurant. Horse meat sashimi is probably the most popular item at this restaurant, outside of the noodles themselves. So if you're feeling up to it, give it a try. If not, grab a bowl of delicious hoto noodles, and chow down!
24. Enjoy Lake Kawaguchi in a Canadian canoe.
Spend a day on the lake by paddling your way around it in a canoe. Either as a guided tour or going it solo, decide depending on your own experience level. Honestly, this one is pretty self-explanatory, so grab a paddle and go!
25. Visit souvenir shops and a short walking trail around Mt. Fuji's 5th Station, if you're not climbing.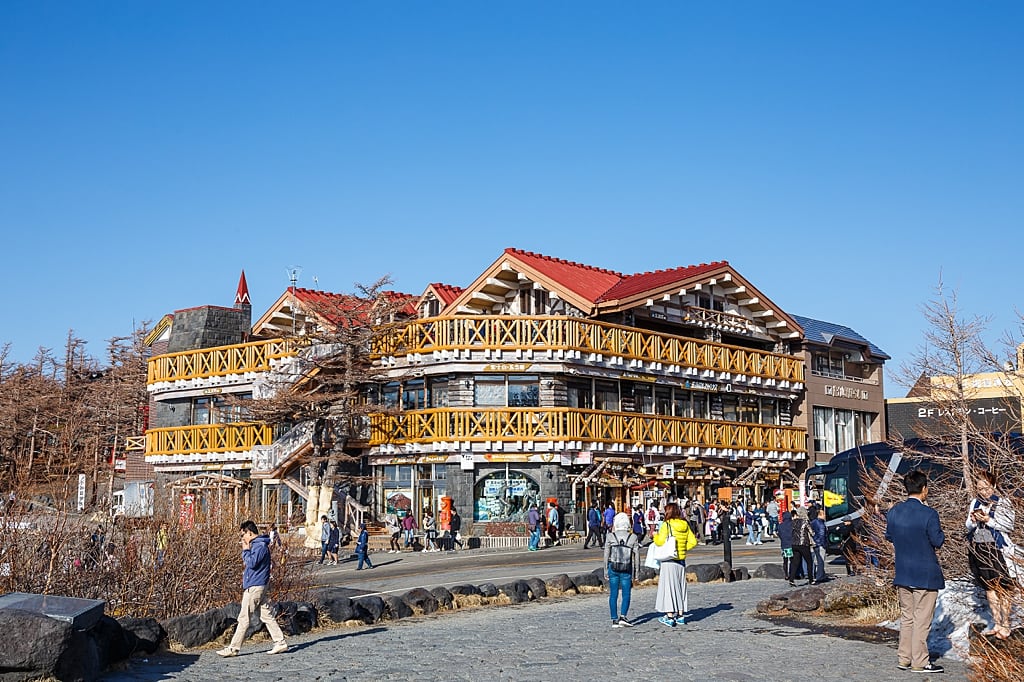 If you're not feeling up for a 6-8 hour hike to the top of Japan's tallest mountain, peruse the gift shop and walk around the 5th station for some impressive up-close views of Fuji-san. For those of you looking to challenge yourselves, however, see #26.
26. Climb Mt. Fuji!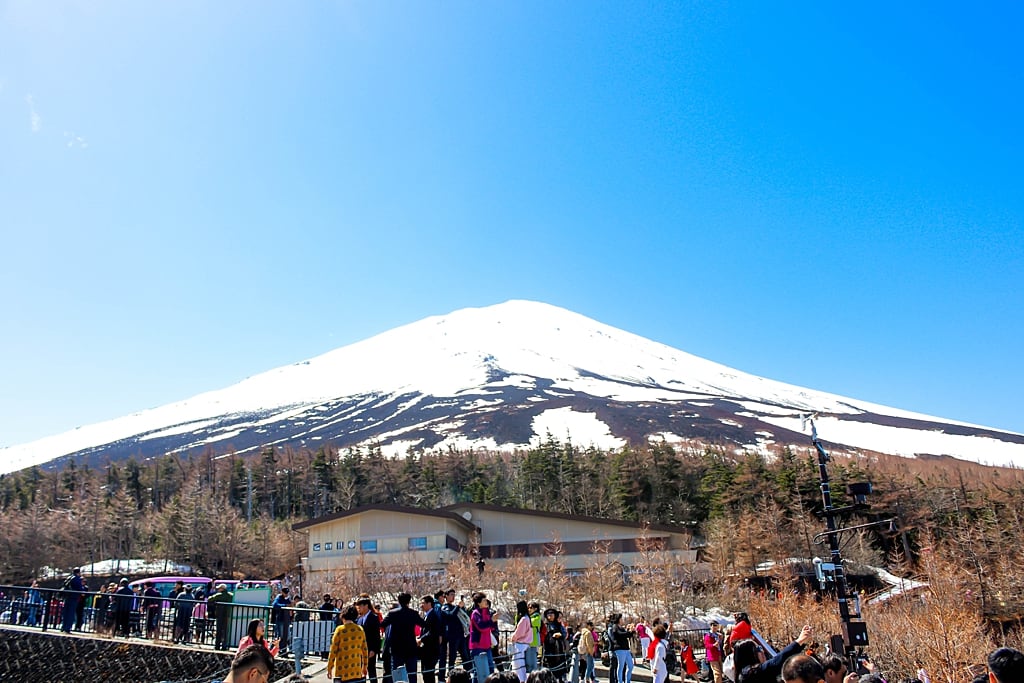 The official climbing season for Mt. Fuji is from the beginning of July to mid-September, and during this time hundreds of thousands of people attempt the climb. On a clear day, the view from the summit can't be beaten, and you can take it in with a bowl of ramen from the outpost at the top (if you make it up before they close). Walk around the rim of the volcano (Fuji is a volcano if you didn't know) and look over all of Honshu. Perhaps take a walk to the NPO Research Station located at the top, or just rest and prepare for your descent. It can't be stressed enough to only climb during this time of year, as off-season hikes are not only against the rules but extremely dangerous.
For more information, read our article about climbing Mt. Fuji with a guide.
Near Kawaguchiko
28. Climb the 400 steps in Arakurayama Sengen Park and see Chureito Pagoda.
They say the journey of a thousand miles begins with a single step. Well, the journey to Chureito Pagoda requires nearly 400 of them. Taking a trip to this famous pagoda is best during cherry blossom season as steps and park are lined with sakura trees, adding another layer of beauty to the experience.
How to get there: Arakurayama Sengen Park is about 20-min walk from Shimoshida Station.
29. All-day fun in Fuji-Q Highland.
A popular theme park is known for its roller coasters and thrill rides. For those less enthusiastic about thrill rides, there are 3 other areas; Thomas Land, La Ville de Gaspard et Lisa, and Fuji Hidden Leaf Village, each with less of a focus on rides and more on the "Theme" of Theme Park. So no matter your feelings towards rides, Fuji-Q has something sure to entertain you!
How to get there:  Take the Fujikyu bus from Kawaguchiko Station.
30. Experience Fujiyama Onsen.
I was REALLY late to the party known as Japanese Onsens, thanks to my damned American modesty, but now that I've gotten over that mental hurdle, I can safely say that there is no better way to relax than in one of these Japanese baths. Fujiyama Onsen is located near Fuji-Q Highland and offers both indoor and outdoor baths.
The bathhouse itself is massive and offers several different baths of varying temperatures, as well as a restaurant and relaxation area to kick back in after a long day. So get over your modesty and relax in one of these baths!
31. Show off your ninja skills in Shinobi Sato Ninja Village.
If you're traveling with children then stopping into Oshino Shinobi no Sato is a great place to entertain them, as well as allow them to burn off some energy! The "village" has a main showroom, where a very entertaining show is performed, a trick house, where you can see some of the special building techniques used by shinobi, and a few areas where ninja inspired games can be played.
There's also a very pretty garden and a gift shop where you can rent your kids a ninja outfit to wear during your visit! Our daughter loved this place!
Buses here are rare. We absolutely recommend that you join this day tour as it also goes to Oshino Hakkai Village (see below).
32. Stroll and take in the view of Mt. Fuji in Oshino Hakkai.
A small thatch roof village built around 8 small ponds, this is a popular tourist stop with some awesome views of Mt. Fuji. Many of the ponds are filled with large fish and other aquatic life, and are crystal clear, offering some great photo opportunities.
Want to make the most out of Kawaguchiko? Stay overnight!
Saiko
Lake Sai is famous for its caves and Aokigahara Forest (also known as "Sea of Trees", or "Suicide Forest").
33. Visit Saiko Iyashi-No-Sato Nenba (Healing Village)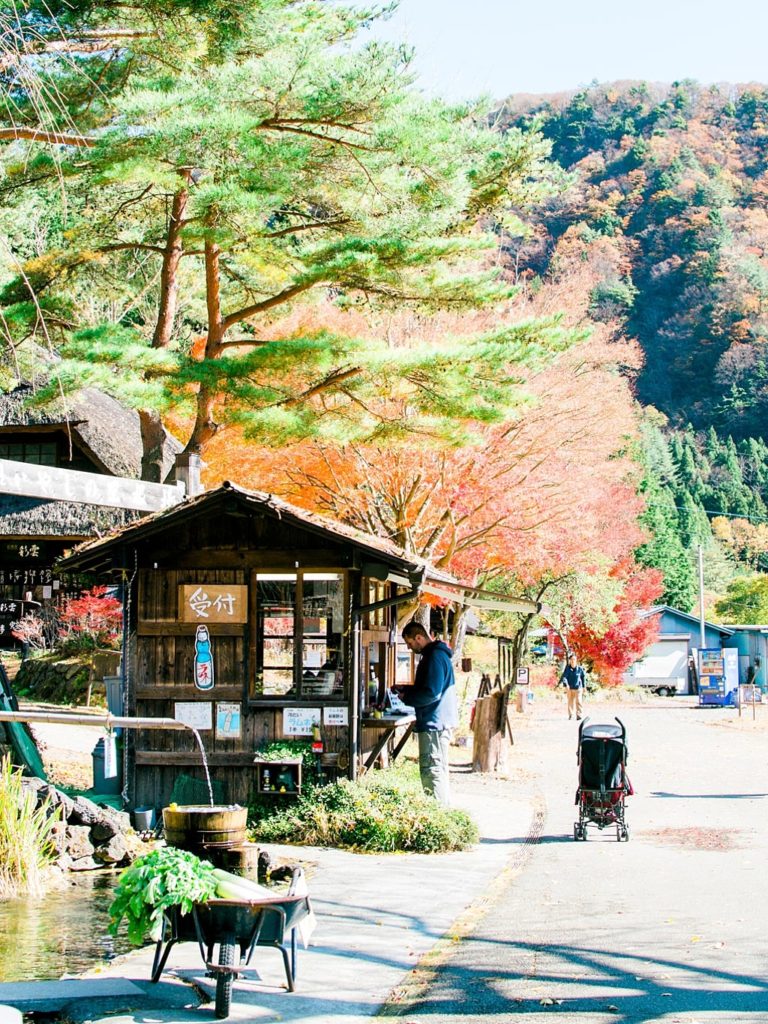 Probably one of my favorite locations in the area, Iyashi no Sato Nenba is a gorgeous little thatch-roof village with ponds, crafts, and tasty snacks. Step back in time to see how early Japanese villagers lived as you walk through the houses and take it all in with Mt. Fuji as a beautiful backdrop. Outside the village, in the parking area, be sure to buy some of the dried fruits, pickled vegetables, and honey!
How to get there: Green-Line Bus stop no. 48 (Saiko Iyashi-No-Sato).
34. Hire a nature guide in Aokigahara Forest (Suicide Forest)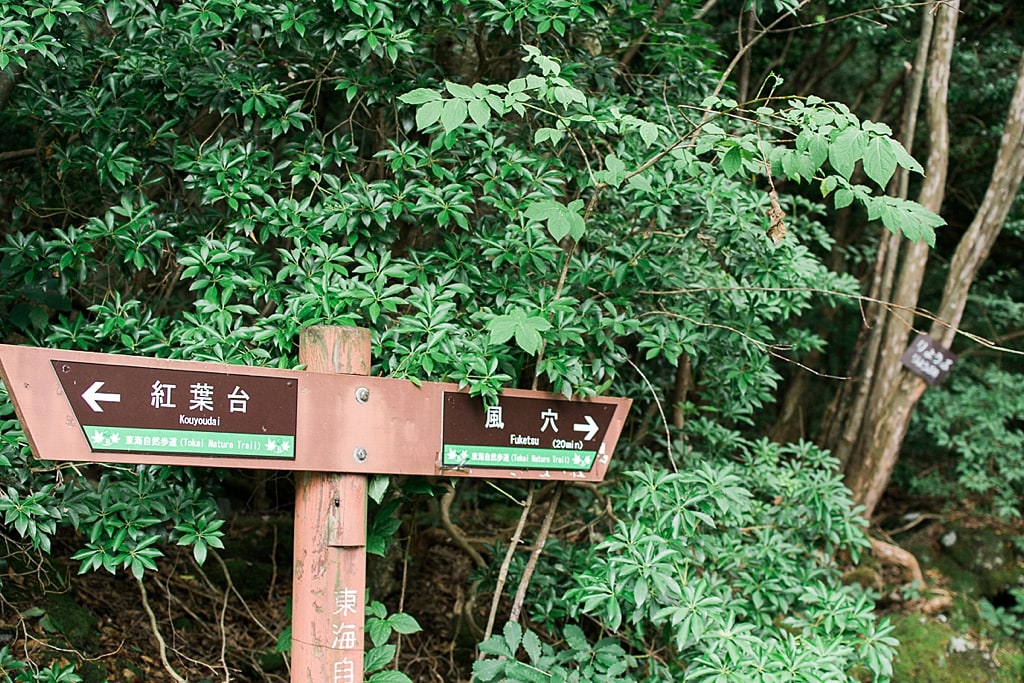 Best known for its unfortunate reputation, Aokigahara is like stepping straight into a forest imagined by J.R.R. Tolkien, missing only Elves and magic. The trees and forest floor are overgrown with brilliantly green moss and loads of mushrooms, making it look completely untouched by humans.
The forest is best experienced with a guide to take you along the path and the surrounding attractions to gain a better understanding of the area and the importance of the forest.
WARNING: Don't go here alone. You must join a private guided tour to explore this forest.
35. Bat Caves.
One of the three cave systems located near Aokigahara Forest, this cave was once home to a large population of bats and can be explored a short distance with or without a guide.
How to get there: Green-Line Bus stop no. 45 (Saiko Bat Cave / Lava Cave).
36. Fugaku Wind Cave.
Used in the past as a sort of natural refrigerator, the cave is the shortest and easiest of the 3 caves to explore and has a few store boxes of silkworm cocoons and lava shelves.
How to get there: Green-Line Bus stop no. 51 (Fugaku Fuketsu / Wind Cave).
37. Narusawa Ice Cave.
As the name suggests, the Ice Cave has many natural ice formations that reach down from the ceiling. It should go without saying, but be sure to dress warmly before going into the cave, as it remains below freezing year-round.
How to get there: Walk from Fugaku Wind Cave.
38. Walk the short trail of Koyo Dai in autumn (Koyo means "red leaves" in Japanese).
A beautiful 360-degree view awaits those who walk this short trail to the observatory located at the top. The view during the autumn imitates a carpet of reds, golds, and greens all leading to the snow-capped Fuji. Koyo Dai is hardly accessible by public transport, it's recommended to drive.
39. Mt. Sanko Dai, just 15 minutes from Koyo Dai.
Named for its view overlooking 3 of the 5 lakes (Saiko, Shojiko, and Matosuko), Sanko Dai is located along the Tokai Nature Trail, but can also be accessed near Lake Saiko. There are many other trails located near here as well, so take advantage of it if you're looking to spend some time outdoors!
40. Visit Saiko Wild Bird Forest during the Ice Tree Festival in winter.
Looking like trees trapped in crystals, the Ice Tree Festival, held from January to February, exhibits incredible natural ice formations as they form around the trees in the area. If you can't make it during the winter festival, the forest is also home to about 60 species of birds and hosts various different festivals throughout the year, including a mushroom and gardening festival.
How to get there: Green-Line Bus stop no. 49 (Saiko Yacho-No-Mori park).
Shojiko
Lake Shoji is the smallest of the Fuji Five Lakes and is very popular among fishing enthusiasts. Popular fish to get here is the crucian carp. The Blue-Line Sightseeing Bus runs around Shojiko only every 1-2 hours or 2-3 hours during the off-season. So we'd recommend that you drive around here.
41. Panorama Observatory Shita (aka Panorama Dai).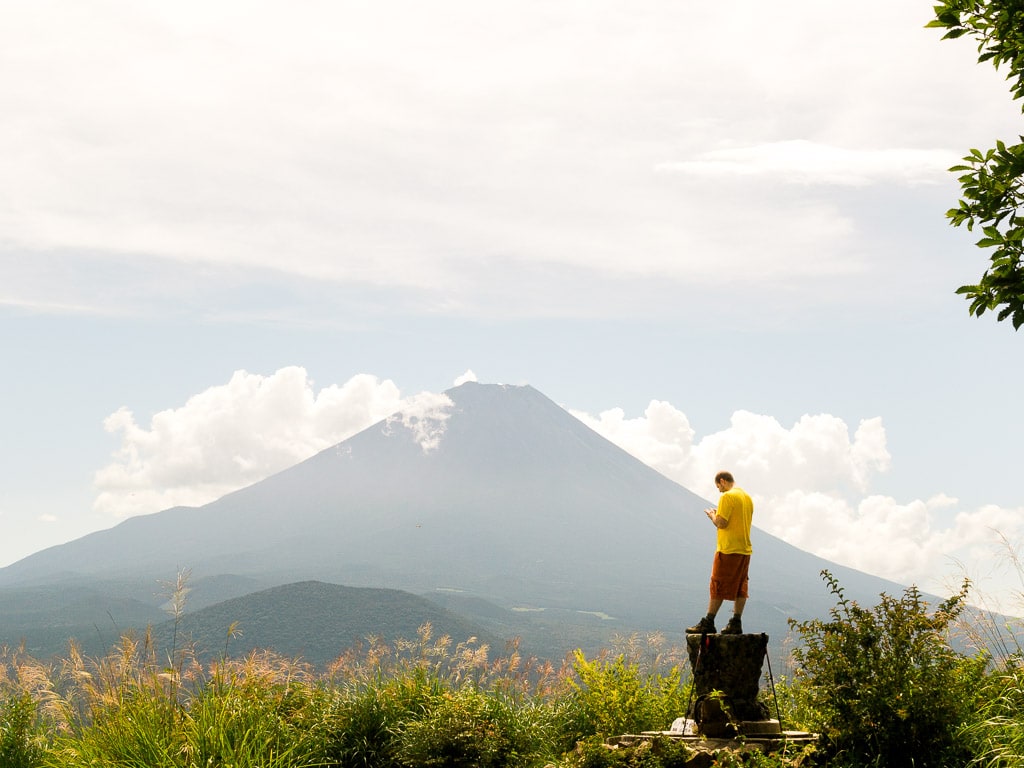 Located between Lakes Motosuko and Shojiko, Panorama-dai is my favorite 360-degree view in the Five Lakes area and is just a short hike to reach. Unlike many other places around here, there's no gift shop or food stall located at the top, just the view, and it's completely worth it!
42. Kodaki Fuji.
Shojiko is the smallest and least developed of the Five Lakes, so everything around it is all about nature. Here at Kodaki Fuji, you'll find yourself at the shore of the lake to take in the view of Fuji and the surrounding mountains.
43. Fishing.
The most popular pastime for many locals is fishing, and Shojiko, despite its size, offers some great fishing opportunities. There are a few places to rent boats and fishing gear for a day out on the lake.
Motosuko
Lake Motosu is the deepest lake of the Fuji Five Lakes. Interestingly, there's evidence that its water is connected underground to Lake Sai.
44. Visit the Fuji Shibazakura Festival in spring.
The most popular annual event near Lake Motosuko, each year between April and May the grounds near Chichibu turn radiant pinks and purples as the Moss Phlox fully blooms into a beautiful carpet of flowers. If you've missed the Sakura festivals held between March and April, then this is the next best thing!
45. Camp by the lake.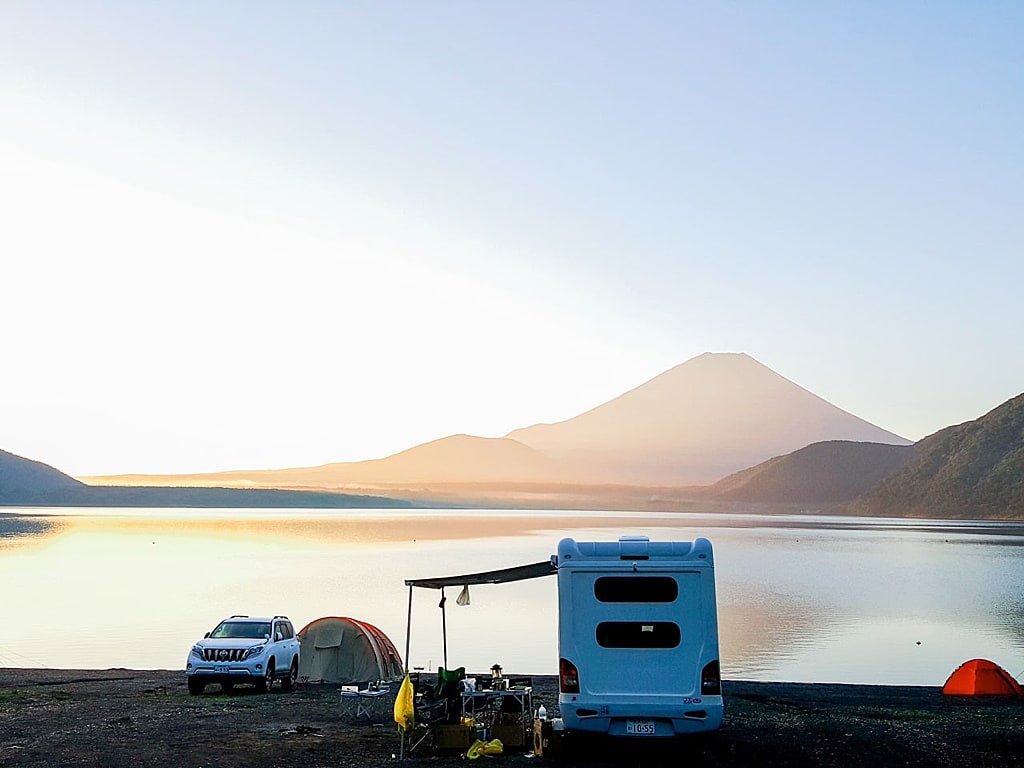 Motosuko isn't nearly as well-developed as Kawaguchiko and Yamanakako, which makes it a perfect location for camping and barbeques. There are a few free campsites around the area that offer some basic amenities, but you can stay at one of the paid grounds which offer cleaner amenities, and occasionally better views.
We recommend Koan campgrounds for the beautiful view of Mt. Fuji. For more information, read our article about how to camp in Lake Motosu with the best view of Mt. Fuji.
A little known observation point, Nakanokugatoge is located near the popular Koan campground, the view of Fuji found here can also be found on the back of the 1,000 yen bill. The observation point here is a simple 30-minute hike to reach and is a great detour for those camping near the lake.
Yamanakako
Lake Yamanaka is the biggest of the Fuji Five Lakes. Although its the biggest, it's the easiest to bike around because there's a dedicated path for cycling here. Driving is recommended when exploring the Yamanakako area.
If you're interested in exploring Lake Yamanaka on your own, read our article on Lake Yamanaka itinerary and things to do.
47. Bike the entire Lake Yamanaka.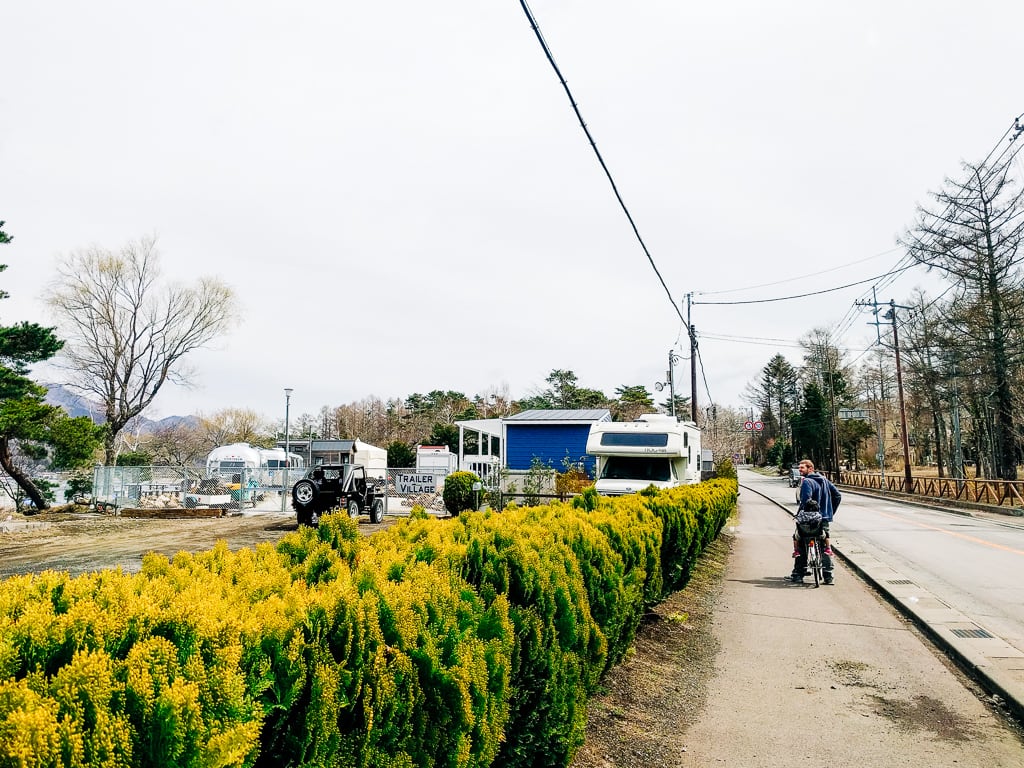 As with Kawaguchiko, Yamanakako also has a wonderful bike path surrounding the lake and has cheap bicycle rentals around the lake. In fact, the cycling path here is much better in Kawaguchiko and you can circle around for 2 hours. This is also the easiest way to explore the area since the buses don't run as often as you'd find in a major city.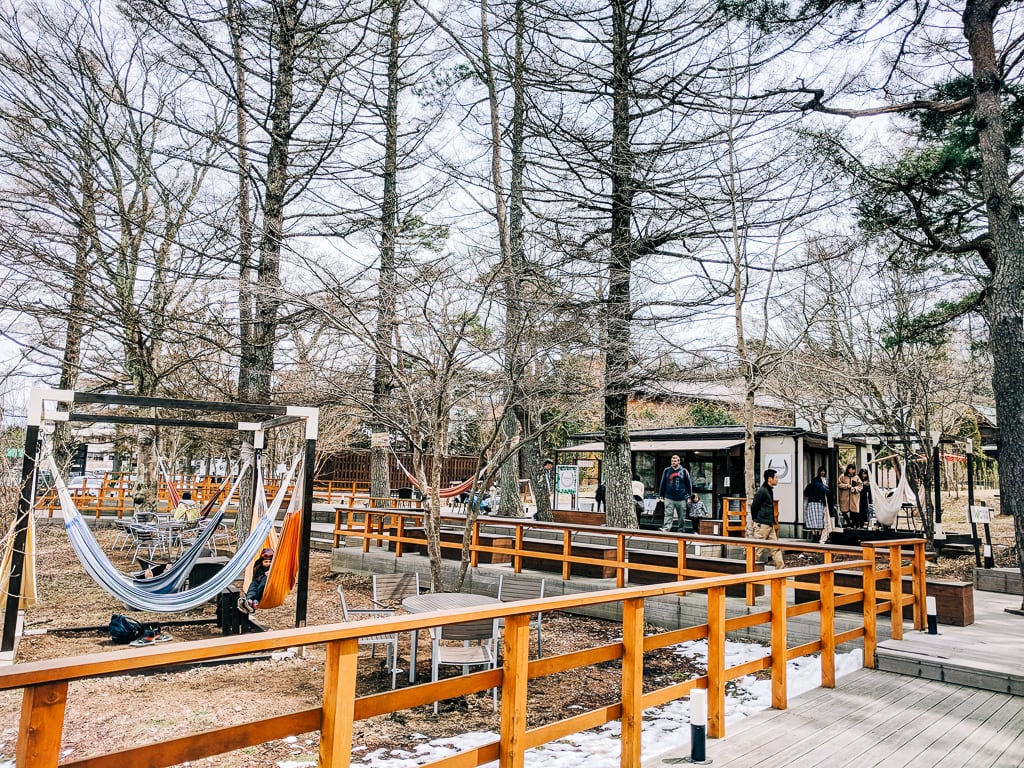 Take a break from biking around the lake with a cup of coffee, tea, or ice cream in this unique little cafe, where you can lay back in hammocks and relax.
This is one of our absolute favorite experiences that we've had in the Five Lakes area. This large western-style house is a family run business that has been operating for decades but just recently started offering their services online, which is how we found them.
The house is incredibly cozy, and they offer an incredible breakfast with the stay that really capped off a great experience. Don't forget to try their peanut butter! For photos, reviews, more information about this unique accommodation, visit this link.
50. Rent a Swan boat and pedal around the lake.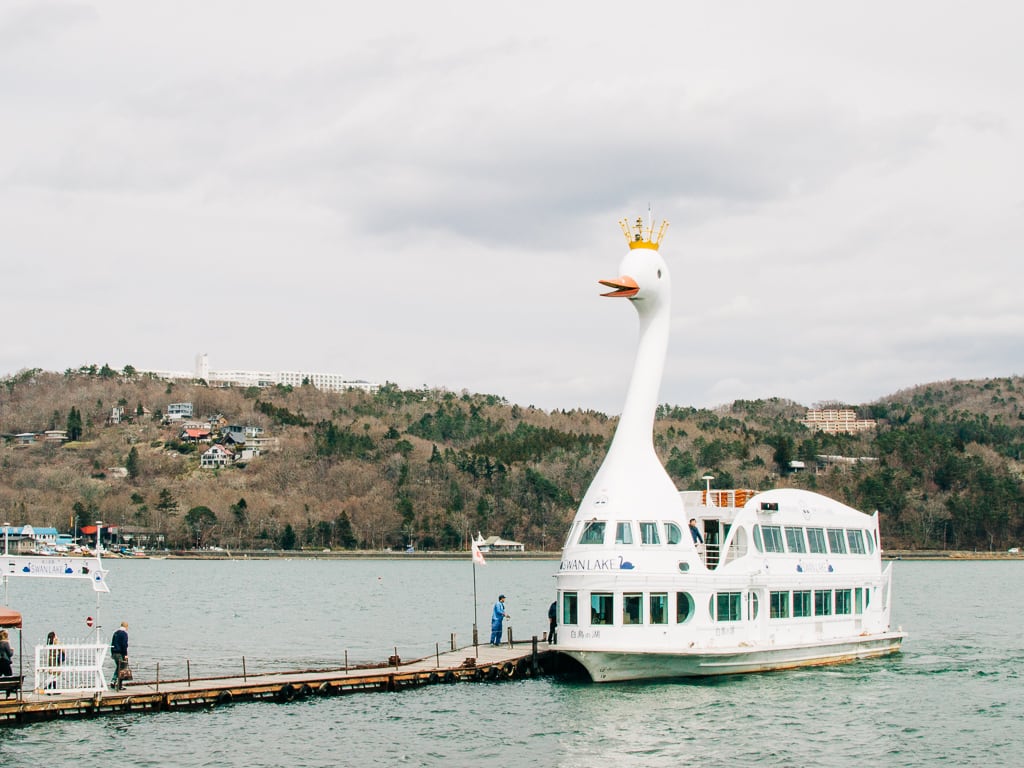 Spend some time out on the lake by renting a small pedal boat made to resemble the much larger Swan Boat which takes tourists around the lake. It can be a bit of a workout but offers some great photo opportunities and relaxation.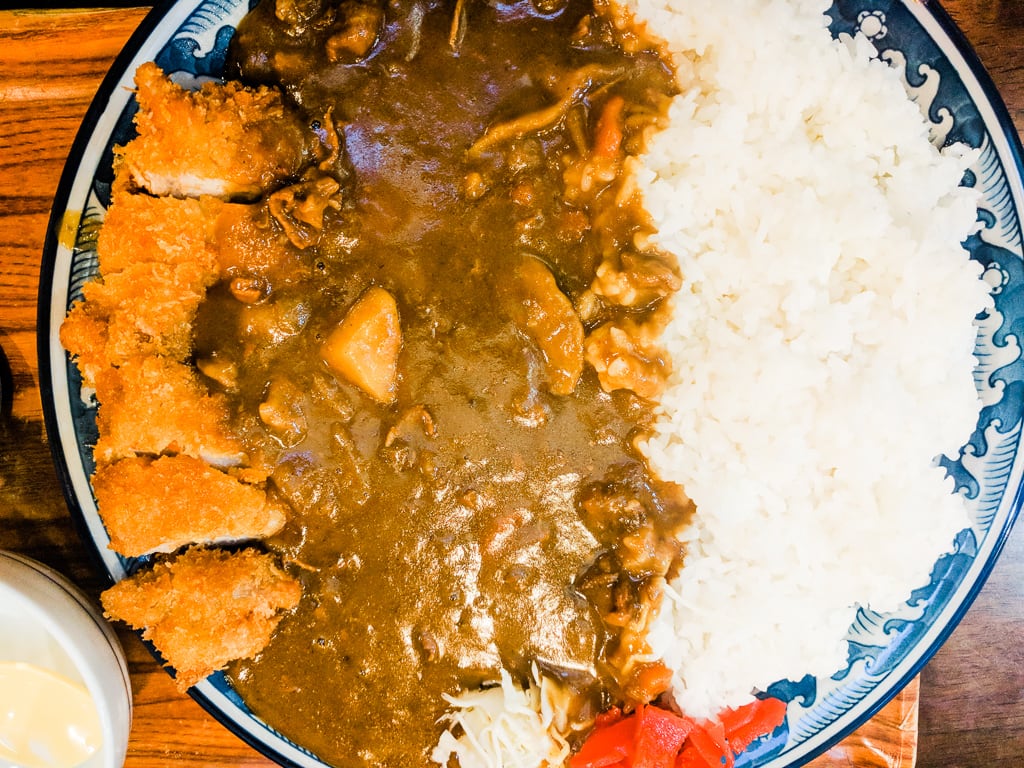 In a small unassuming building, we found this absolutely incredible Mom and Pop curry shop. Offering great food for low prices, along with very friendly owners, this is our favorite restaurant around Yamanakako, and we want to share it with you!
Benifuji no Yu Onsen is actually a popular onsen in Yamanakako. This offers a great place to relax after a long day, and also offers some great food with a ton of variety.
53. Visit Lake Yamanaka Panoramic Deck.
If you're looking for a great spot for a picnic, look no further than here. A popular Mt. Fuji viewing spot, this Panoramic deck can be accessed by either car, bike, or hike, so choose your favorite.
If you want a more dynamic view of the landscape, consider taking a helicopter tour for an unforgettable experience as you fly around Fuji and take in views you can't get anywhere else! Seeing Japan from altitude leaves you with some of the most breathtaking views you're likely to see in your lifetime, and many people go out of their way to hike up the tallest mountains possible to achieve these views.
Whew! That's a HUGE list! As long as Mt. Fuji is in the scenery, the areas of Fuji Five Lakes is absolutely worth visiting. How about you? Have you been to any of Mt. Fuji's Five Lakes? If so, which one is your favorite? Each has something unique to offer and has its own beauty!